Two Years to Tokyo: We Tell You Which U.S. Men's Distance Runners Will Be on the 2020 Olympic Team
By Robert Johnson & Jonathan Gault
July 31, 2018
Exactly two years from today, the track & field portion of the 2020 Olympic Games will kick off in Tokyo, Japan. About a month before that, the U.S. will hold its Olympic Trials in either Eugene, Sacramento, or Austin.
While the Olympic Trials is one of the greatest track meets in the world, they may not be necessary. Because today, we're going to spoil the drama and tell you who will be on the 2020 Olympic team.
Article continues below player
LRC co-founder Robert Johnson and LRC staff writer Jonathan Gault spent today putting together the U.S. men's distance roster for the 2020 Olympics (women coming tomorrow). For each event, 800 through marathon, we came up with a lock plus our predictions of the other guys who will make it in that event. Obviously a lot can change between now and 2020, and all of these guys have to make it to the Trials healthy. But this is our best stab at who will be suiting up in the red, white, and blue in Tokyo. Feel free to come back and mock us two years from now.
Men's 800
Lock: Clayton Murphy
JG other picks: Isaiah Harris, College Guy X
RJ other picks: Isaiah Harris, Donavan Brazier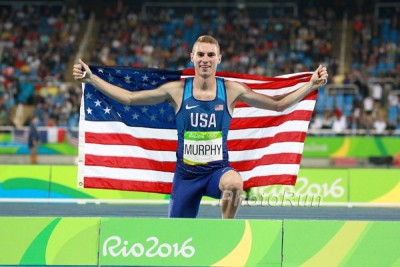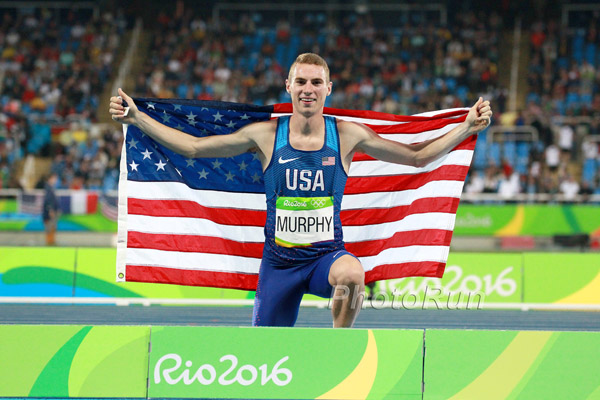 JG: When healthy, Murphy has been America's best 800 guy over the last three years. He ran 1:42 and earned Olympic bronze in 2016, and has run the country's fastest time in 2016, 2017, and 2018 (his 1:43.12 this year is over a second faster than #2 Harris). Murphy is also a smart, savvy racer who has the strength to navigate the rounds of an event like the Trials and will still only be 25 in 2020. He's making this team.
Harris, who finished 6th at the '16 Trials as a true freshman, has improved every year, and by 2020, when he'll be 23 years old, he should be into the 1:43s. Harris rarely makes mistakes and gets the most out of his talent, which is impressive, because he has a lot of it.
I'm a little torn over the third spot. Donavan Brazier, the 2017 U.S. champ, seems the obvious pick based on talent, and if it weren't for Murphy, I'd feel more comfortable picking him. But Brazier races differently when he's not clearly the best guy in the field, and he flamed out of the '16 Trials and '18 World Indoors. Drew Windle, who earned World Indoor silver in March, and Boris Berian, the 2016 World Indoor champ, are also options here.
But if history is a guide, the third spot could go to someone we haven't even heard of yet. Remember, the 800 is a young man's event. In July 2014, no one knew who Murphy or Berian were, yet both landed on the Olympic team two years later. Three of the past four U.S. Olympic teams have contained at least one collegian. I'm betting it becomes four of the past five in 2020.

RJ: I'm with you on Murphy. A TOTAL LOCK. As for the other two spots, I'm very confident in saying one of them will not be going to be College Guy X. I'm also very confident in saying that if your name isn't Drew Windle, Isaiah Harris, Donavan Brazier, or Boris Berian, then you might as well quit training right now or find a new country to run for. What talents. Has the US ever been this deep at 800? Four big talents and only two spots. I'm inclined to say Harris and Brazier.
Men's 1500
Lock: Matthew Centrowitz
JG's Other picks: Drew Hunter, Craig Engels
RJ's Other picks: Robby Andrews, Robert Domanic
JG: Centrowitz is, in my opinion, the U.S.'s greatest-ever 1500 runner, and while he'll be at the tail end of his prime (or slightly past it) in 2020 at age 30, that will still be good enough to make this team. Remember, last year he had the spring from hell with injuries and illness wreaking havoc with his training to the point that he bought a one-way ticket to Vegas and was about to end his season. He still finished second at USAs, just .12 off the win. Other than that, he's won in his last four appearances at USAs and has been on a different level than the rest of the Americans in the 1500. Come on, is the reigning Olympic champ not even going to make the team four years later? No way.
Even though Hunter ran 3:57 as a high schooler, I thought his best event as a pro would be the 5k as I didn't know if he had the leg speed to cut it in the 1500. So far, he's been proving me wrong — do you know that the 20-year-old Hunter has the #2 time in the country in 2018 (3:35.90)? As we saw at USAs this year, Hunter still has to work on his positioning, but he's an eager learner and the talent is undoubtedly there. Not many 20-year-olds finish 6th at USAs in the 1500; fewer still walk away disappointed with that finish, but Hunter has always had high expectations for himself. With two more years of seasoning, he'll be ready to make the team in 2020.
The third spot is a toss-up. Robby Andrews has made the last three U.S. teams and will be 29 in 2020. I'm certainly not counting him (or his kick) out. Ben Blankenship was an Olympic finalist in 2016, and even though he'll be 40 years old in 2020 (Kidding. I think.), he should be in contention. Johnny Gregorek was a World Championship finalist last year. Some college kid or recent college grad (Vincent Ciattei? Robert Domanic? Sam Prakel?) could make a big improvement between now and then. But I'll take Engels, who was 4th in the 800 and 5th in the 1500 at the '16 Trials, mainly because of his youth (he's 24, which is 2+ years younger than Andrews, Blankenship, and Gregorek).
RJ: I'm known for hyping up the next great American male runner. I said Dathan Ritzenhein would break 27:00 (he didn't, but he broke 13:00). A few years later, I was so excited about German Fernandez, I flew over to Jordan to watch him run world junior xc.
But I'm tired of getting burned so let me state right now that Drew Hunter isn't making an Olympic team in the 1500. He's not a 1500 runner. His coach admitted it in HS. Well, ok, since I'm having trouble coming up with three names I guess I could see him making it in the 1500 as I certainly think he's capable of running the standard. I just don't think he has the wheels of a 1500 guy.
Robby Andrews was on track for a great season – he ran 3:36.05, almost as fast as Hunter – before USAs but got sick. I think he's got a great shot at making it yet again. I think one of the former Ole Miss guys, Engels or Robert Domanic, could make it. Texas' Sam Worley, who was 5th at NCAAs, just behind Domanic, as a true frosh this year, is a big talent. Could he make it as a junior in college? I'm tempted to say yes but since my name is Robert I'll go with Robby and Robert for the final two spots.
Men's steeple
Lock: Evan Jager
Other picks: Stanley Kebenei, Hillary Bor

RJ: Jager as a lock is beyond easy to come up with. He's run 8:00 and won the last seven US titles.
But in my mind, there are two locks – Jager and Bor – but since you only thought Jager was a lock, I'm removing Bor as a lock because how can someone be a lock if the two of us don't agree?
I like Bor A LOT because he has run 8:13, 8:11 and 8:12 the last three years. It's hard to imagine someone who is consistently running sub-8:15 won't make the team. Kebenei ran 8:08 last year but wasn't top 3 this year as Andy Bayer, who ran 8:14 last year, beat him. I really hope Bayer, who was 4th in 2015, 2016, and 2017, isn't 4th yet again but it very well could happen.
JG: My heart goes out to Bayer, who was also 4th in the 1500 at the 2012 Trials (though he didn't have the standard). But I think he's destined to finish 4th again. Kebenei was banged up last this year but in 2017 he was 5th at Worlds and ran 8:08. That's way better than anything Bayer (or Bor) has ever done. And I agree that Bor, who beat Bayer by 2+ seconds at USAs this year, has consistently been better than Bayer (Bor is 9-2 all-time in the steeple against him). It's four good guys for three spots, and I haven't seen enough from Bayer to make me think the pecking order will change in 2020.
Men's 5000
Lock: Paul Chelimo (and Cheserek if he has citizenship)
JG's Other picks: Eric Jenkins, Grant Fisher
RJ's Other picks: Eric Jenkins, Sean McGorty
JG: The Chelimo pick is pretty obvious. He's the best 5k guy the U.S. has had since Lagat and is showing no signs of slowing down, most recently beating the best in the world to win his first Diamond League race in London. He's more likely to medal at the 2020 Olympics than he is to miss the team.
Jenkins was second behind Chelimo at USAs last year, and though he didn't make the World Championship final in London, he has the combination of strength and speed (3rd at USAs in the 1500 this year) to do some damage in the 5k. He's also almost two years younger than Ryan Hill (who will be 30 in 2020).
Usually there's no more than one American with an NCAA title in each graduating class, but the collegiate class of 2018 featured two: Sean McGorty and Andy Trouard, with a third, Fisher, returning for his senior year at Stanford. All three are big talents, but I think Fisher has the highest upside and most room for improvement: at 21, he's two years younger than McGorty and three years younger than Trouard. He is my pick for the final spot.
There is one more guy who could make the team, though: Edward Cheserek. If he has his citizenship in 2020, I'd bump Fisher and replace him with Cheserek. However, there is no indication that Cheserek will have his citizenship in time. Though Cheserek and his team have been loath to speak on the topic of citizenship, a 2016 New York Times Magazine piece said that his immigration lawyer didn't file his green card application until April 2016, meaning he likely wouldn't get his citizenship until 2022. Last year, the Eugene Register-Guard said that he's pursuing an exemption, but that even with the exemption, it would take five additional years for him to get citizenship. I'm just not optimistic he'll be a citizen by June 2020.
RJ: I think Jenkins is too talented not to make some sort of team. If he doesn't make this one, he might be able to make the 1500 team. If Cheserek is here, then we are all done. If not, there is one spot for the taking. Unfortunately, I think Hill ends up being like Chris Solinsky – very talented and accomplished but never on an Olympic team.
So who takes the third spot? I think Fisher – a two-time Foot Locker champ like Ritzenhein – is more talented but to me McGorty gets the nod. It's an interesting debate. Which ends up mattering more: talent (Fisher) or a professional training environment (McGorty)? I think McGorty will really benefit from being a full-time pro in the Bowerman Track Club (I'm assuming he signs with BTC) and he gets the third spot for me.
There is one other name I'm not giving up on: Lawi Lalang. He ran 13:00 and 13:03 in back to back years in 2013 and 2014 and is only 27. It wouldn't shock me if Scott Simmons resurrects him.
Men's 10,000
Locks: none
JG's picks: Hassan Mead, Shadrack Kipchirchir, Tyler Day
RJ's picks: Hassan Mead, Shadrack Kipchirchir, Leonard Korir
RJ: I'm going with an all-African-born team here. Hassan Mead is very talented. He's run 13:02 for 5000. Kipchirchir ran 27:07 at Worlds last year. And Korir has run 27:20. My only concern is Korir may be in the marathon as he's also got a 59:52 half-marathon best.
It looks like Jon has picked Korir for the marathon team. So if that happens, I need a fourth as there is a BIG dropoff after those three.
JG: Yeah, I'm putting Korir in the marathon. He's been running a lot of road races in recent years and really impressed with a 59:52 half in November 2017. With a 27:20 pb, I think his 10k medal chances are slim, but you never know in the marathon. I'm predicting he moves up for the 2020 Trials, which means I need a third. Abbabiya Simbassa, who has run 27:45 and was 4th at USAs in 2017, is an option. But I like Day, who at 21 has already run 28:04 and finished 3rd at NCAA XC for Northern Arizona, to blossom into a 10k stud by the 2020 Trials.
Men's marathon
Lock: Galen Rupp
Other picks: Shadrack Biwott, Leonard Korir

RJ: Since zero men have broken 2:14 this year not named Galen Rupp, I guess I'm fine with those picks. If Bernard Lagat, who will be 45 at the time of the Trials, makes the team, I think we should agree to give him a black page for a week.
JG: Biwott (three top-fives in majors since 2016) is great in championship-style marathons, while Korir has sub-60 half speed. Rupp is Rupp.
Lagat was one of the names I considered putting on this list. He was the #2 American at the World Half Champs this year and the only guy in front of him (Sam Chelanga) just retired. And he beat a bunch of good guys to win Peachtree this year. Eventually he has to decline, but I would love to see him try to make the marathon team in 2020. We thought Meb Keflezighi, who retired last year, was ancient when he made it in 2016, but Lagat is even older than Meb and is still going strong. Speaking of old guys, Abdi Abdirahman (top American in NYC the last two years) will be 43 in 2020 and I'm not totally counting him out either.
Jared Ward was 6th at the 2016 Olympics, but he hasn't run a good marathon since then. If you're looking for a dark horse, one guy I'm high on is Scott Fauble. Like Ward, he was a good XC runner in college at a mid-major power (Ward at BYU, Fauble at Portland). Fauble is also a true distance guy as he didn't break 14:00 until this year (13:50 indoors) but has run 28:00 and was 4th in the 10k at the 2016 Trials in brutal conditions. He ran 2:12 in his marathon debut last year in Frankfurt, and could be dangerous with a couple more under his belt by the Trials.
---
More: Talk about the 2020 US Olympic team on our world famous messageboard / fan forum: MB: The 2020 Olympics start 2 years today -Who will make the US team 800 through 10,000? These are our picks.