2020 USA Indoors, Men's Preview: Bryce Hoppel, Isaiah Harris Chase First US Title; Reigning Champ Craig Engels Faces Clayton Murphy & Josh Thompson in 1500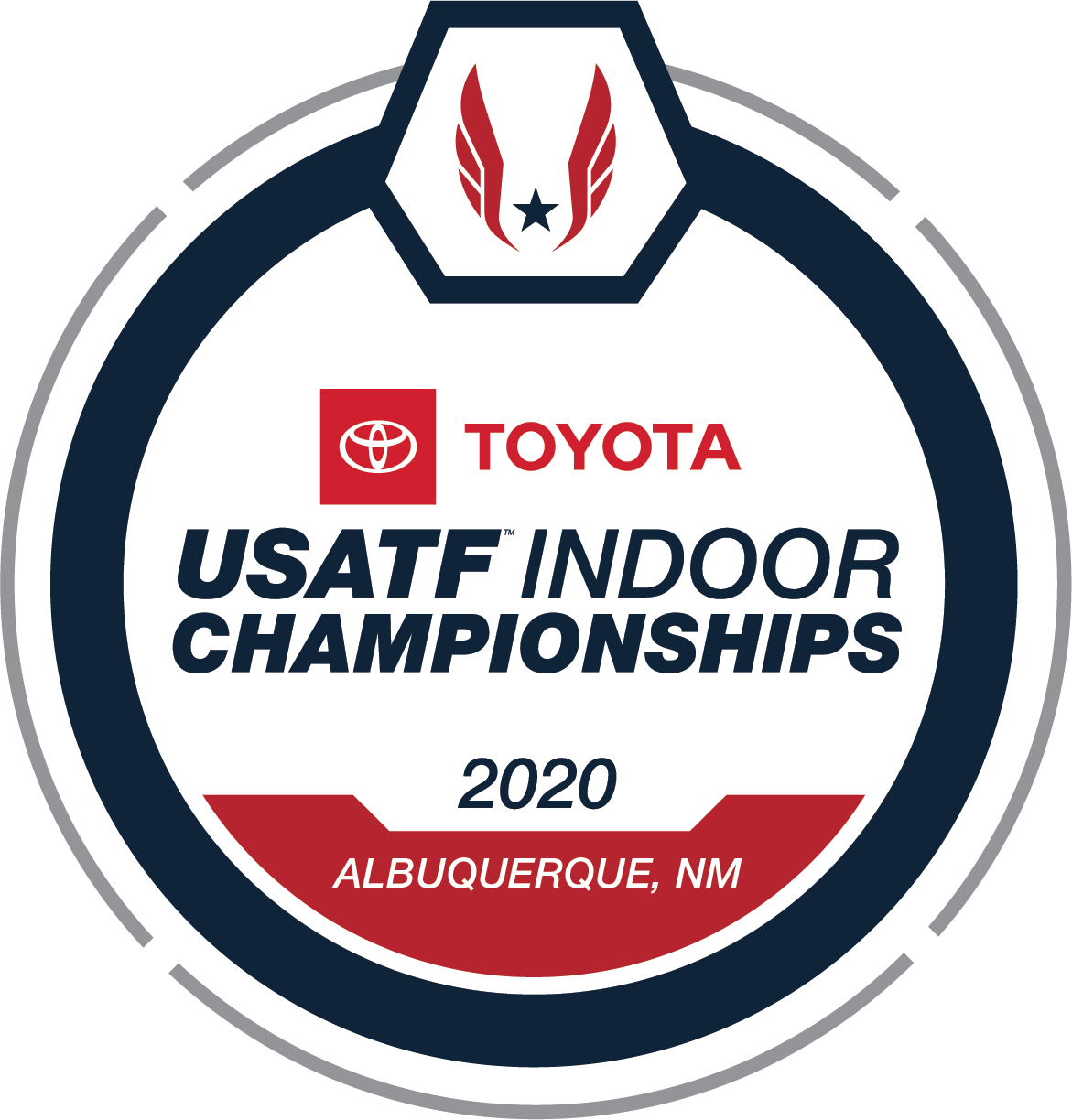 February 14, 2020 to February 15, 2020
By Jonathan Gault
February 13, 2020
So USA Indoors is here already. That was quick.
After a one-year experiment in Staten Island (which was supposed to host this year before USATF yanked the meet away), USAs is back in Albuquerque for the third time in four years. And despite the 5,300 feet of elevation, the distance fields are surprisingly competitive for a year when there's no World Indoor team to make. Shelby Houlihan, Elle Purrier, Craig Engels, Bryce Hoppel, Paul Chelimo, Ajee' Wilson, and Raevyn Rogers are among the big names headed to the Land of Enchantment this weekend (yes, Purrier qualifies as a big name now). Unfortunately, Donavan Brazier won't be there as coach Pete Julian told Ken Goe earlier this week that Brazier had "accomplished the things we wanted to accomplish indoors. We sharpened the blade a little bit. It's time to keep our eyes on the big prize." And Jenny Simpson won't be there earlier (her absence is explained here).
Article continues below player
After Purrier's heroics at Millrose, her showdown(s?) with Houlihan (they're both entered in the 1500 and 3000) represents the most intriguing matchup of the weekend. And while some of the other events feature obvious favorites, the timing of the meet — no one is truly peaking in the middle of February — creates an opportunity for some upsets. Just last year, we had Colleen Quigley outkicking Houlihan in the mile, 16-year-old Athing Mu taking down Rogers en route to an American record in the 600, and Drew Hunter winning the 2-mile out of the "slow" section.
What will happen this year? Our preview of the men's events in Albuquerque appears below. Our women's preview can be found here.
*Schedule, entries, & results *TV/streaming *All LRC 2020 USA Indoor coverage
Men's 3,000 (final Friday, 10:45 p.m. ET): Chelimo aims to regain his title
After picking up two US titles in 2017 and three in 2018, Paul Chelimo was shut out in 2019 as he skipped USA Indoors and was upset by Lopez Lomong in the 5,000 outdoors. He'll try to get back to winning ways in Albuquerque on Friday.
While 2019 was a down year for Chelimo by his standards, he was still the US's top finisher in the 5,000 at Worlds (7th) and finished as the runner-up at a Diamond League (the 2-mile at Pre). Add in his medal record (2016 Olympic silver, 2017 World bronze) and he has by far the best resume in this field. If he's on his game, he wins, and his commanding 7:50 win on a flat track at Camel City last weekend suggests that he is fit.
The man with the best chance at taking down Chelimo is the Bowerman Track Club's Ryan Hill. Hill was the last person to beat Chelimo at this meet, defeating him in Portland in 2016. And the 3,000 is Hill's distance: he's won two US titles (okay, one was in the 2-mile) and a World Indoor silver, and is the third-fastest American ever outdoors (7:30.93). If he's there with 200 to go, he can kick against anyone in the US.
The problem is that most of those accomplishments are from several years ago. Hill, who turned 30 two weeks ago, missed almost all of 2019 with an Achilles injury, and though he ran 7:50 — the same time as Chelimo — two weeks ago, he did so on a larger track in Seattle and, unlike Chelimo, failed to win the race (he lost to teammate Marc Scott, who ran 7:49). For Hill's first race in almost a year, 7:50 was a good effort, but he will need to recapture his form of 2015-16 if he is to defeat Chelimo.
Other guys that could factor here include steeple ace Hillary Bor, the Brooks Beasts' Izaic Yorks (dangerous in a slower race), and the District Track Club's Willy Fink, the surprising US leader (7:44) who beat Edward Cheserek in a mile last week. Rojo will probably demand that I mention Anthony Rotich as well, the three-time NCAA steeple champ who won the NCAA mile title on this track in 2014. The Kenyan-born Rotich, who gained US citizenship last year, has been on fire of late  as he won the US 5k road title in November and the US XC title in January, but it's been years since he's run anything fast on the track. This race will be a good test for him.
JG prediction: Chelimo FTW.
Men's 1500 (final Saturday, 5:11 p.m. ET): Engels shoots for repeat against Thompson & Murphy
Three guys stand out as potential winners here: Craig Engels, Josh Thompson, and Clayton Murphy. Let's make the case for each below.
Craig Engels, 25, Nike
Why he'll win: Did you see what Engels did last year? He won the US indoor title, then took down Centro in a tactical masterclass to win outdoors as well. He ran PBs in the 1500 (3:34) and mile (3:51), finished 5th at the Diamond League final, and took 10th at Worlds. Though his result in Doha (10th) was a little underwhelming, Engels showed himself to be a world-class miler and earned LRC's US #1 ranking for 2019.
Why he won't: Engels hasn't done anything impressive yet in 2020. He barely beat little-known Andrew Coscoran at the mile at BU on January 25 (in Engels' defense, he did run 3:56 and had pacing duties in the 5k the night before) and last week finished just 3rd in the 800 at Camel City, clocking 1:49 on the flat track to finish a second-and-a-half behind Murphy.
Josh Thompson, 27, Nike Bowerman TC
Why he'll win: Thompson burst onto the scene with his 3rd-place finish at USA outdoors last year and finished 2019 on a hot streak, earning wins at the Falmouth Mile, ISTAF Berlin meet, and The Match. In particular, his ability to close hard off any pace stood out: his 51.90 last lap at USAs was the fastest of anyone at USAs, despite running the majority of it in lane 2. He looked good in his one race so far in 2020, running 3:37 FTW in BU on February 1.
Why he won't: Thompson may have closed the fastest at USAs last year, but he was never a threat to Engels on the last lap; can he improve his tactics? Unlike Engels and Murphy, he's never won a US title.
Clayton Murphy, 24, Nike
Why he'll win: Murphy has been overshadowed by Donavan Brazier lately, so maybe you forgot that he's won four US titles and an Olympic medal and is still only 24 years old. And while Thompson's closing speed is terrific, he hasn't run 1:42 for 800 like Murphy has. Murphy also smoked Engels in an 800 just last week.
Why he won't: Murphy may have four US titles, but none of them have come in the 1500/mile. We know he's good at those events (3:36/3:51 pbs), but he hasn't found the same success as in the 800/1000. He looked awful in his mile season opener at the NBIGP on January 25 (4:03), but was much improved last week at Camel City, where he ran 1:47 for 800 and doubled back with a 4:00 mile less than an hour later.
JG prediction: While a win by any of these three wouldn't come as a surprise, Engels hasn't looked great so far in 2020 and Murphy is still adjusting to a new (old) coach in Lee Labadie. Though Thompson has only raced once, I'm banking on him to carry on his momentum into the Olympic year and earn his first US title this weekend.
[gravityform action="polls" id="854″ mode="poll" cookie="1 month" show_results_link="false" display_results="true" percentages="true" counts="false" ajax="true"]
Men's 800 (prelims Friday, 9:14 p.m. ET; final Saturday, 4:33 p.m. ET): The last two NCAA champions battle for their first US title
Donavan Brazier's absence is a bummer; as Wejo said on this week's podcast, any 800 is inherently more interesting with Brazier in it. The only silver lining is that the outcome at USAs is a little less predictable with Brazier staying home.
Bryce Hoppel will be favored to win his first US title. After a breakout 2019 season, Hoppel has been terrific so far in 2020, running 2:17 for 1000 in Boston in January and clocking an indoor pb of 1:45.70 (#3 in the world this year) last week at Millrose. The dude is a fierce competitor who knows how to win.
The only runner with a realistic chance of stopping him is his predecessor as NCAA outdoor champion, Isaiah Harris. Harris was just .14 behind Hoppel at USA outdoors last year despite an injury-plagued start to 2019. And he was just .31 behind Hoppel last week at Millrose. Hoppel, if he gets his tactics right, should win this race, but he has to make sure he protects his position, something he admitted at Millrose has been an issue this season (despite his success). At the NCAA level, he was good enough to run his way out of those problems, but the margin for error is slim in a pro championship final. He can't make any mistakes against Harris.
Aside from the big two, there are a few other guys who, though they likely won't win, should nevertheless be intriguing to watch in ABQ. One is Erik Sowinski. The three-time US indoor champ is 30 now and trending downward, but he looked lively for three laps at Millrose, leading through 600 before fading badly over the last lap. Sowinski has made seven straight US indoor finals, and it will be interesting to see what he does if he goes out a little more conservatively here.
Drew Windle, like Sowinski, is a World Indoor medalist who didn't have the best year in 2019. Windle just hasn't looked like the same guy since his silver medal in Birmingham in March of 2018, and failed to break 1:50 in either of his races this year. Now 27, can he resurrect a once-promising career?
One other guy to keep an eye on: Josh Hoey. Hoey was an Oregon commit who chose to sign with adidas out of high school in 2018, and his first year as a pro last year was rough: his fastest time was 1:49.45 (his HS PR was 1:47.67) and he bombed out of the first round of USAs. Now 20, Hoey ran an overall PR of 1:47.26 at BU on February 1, which is the third-best SB in this field (for reference, the time would rank him second in the NCAA). Making his first US final this weekend would be a good next step.
JG prediction: Hoppel always seems to find a way to win, unless he's racing against Donavan Brazier. I'm betting on that to continue in ABQ.