What to Watch For This Weekend: Lots of Great Distance Action at NBIGP, Tuohy vs. Cain, + Debuts for Brazier & McLaughlin & Trayvon Bromell Is Back
By Jonathan Gault
January 23, 2020
The 2020 US indoor track season is going to go by very, very quickly. While it seems as though nothing has happened yet, we're only three weeks away from USA Indoors (February 14-15 in Albuquerque), which serves as the qualifying meet for the 2020 World Indoors in Nanjing, China (March 13-15). Which means there are going to be a lot of meets in a short amount of time, with plenty of athletes searching for qualifying marks (USATF is mandating athletes have the World Championship standard by the end of USAs, which is a bit crazy considering it's going to be impossible for distance runners to qualify at altitude at USAs).
The packed schedule kicks off this weekend, with the John Thomas Terrier Classic and New Balance Indoor Grand Prix in Boston and the Dr. Sander Invitational in New York. Two weeks later, there's the Millrose Games and Camel City Elite. A week after that, it's USAs.
Article continues below player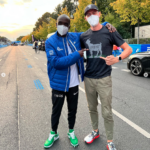 Kipchoge loves the 1:59:40 Shirt Get Yours Today
What a legend!
LetsRun.com will have boots-on-the-ground coverage in Boston and New York this weekend, so there will be plenty of interviews and analysis on the site later this week. To get you ready for all that, here's what a look at the best races and biggest storylines from what promises to be a terrific weekend of track. We present oure preview of the weekend's best events in the order that they occur so you can just print this out and use it as a program.
How to watch
John Thomas Terrier Classic: Flotrack (requires subscription)
Dr. Sander Invitational: USATF.TV( requires RunnersSpace+ subscription) or NBC Sports Gold; pro events from 12-2 p.m. ET Saturday
New Balance Indoor Grand Prix: Live on NBCSN or NBC Sports Gold from 6-8 p.m. ET Saturday
Entries
*New Balance Indoor Grand Prix  *Dr. Sander Invitational *John Thomas Terrier Classic
1) The group formerly known as NOP chases the Olympic 5k standard in Boston
Men's 5000, John Thomas Terrier Classic, Boston University, Friday, 8:30 p.m. ET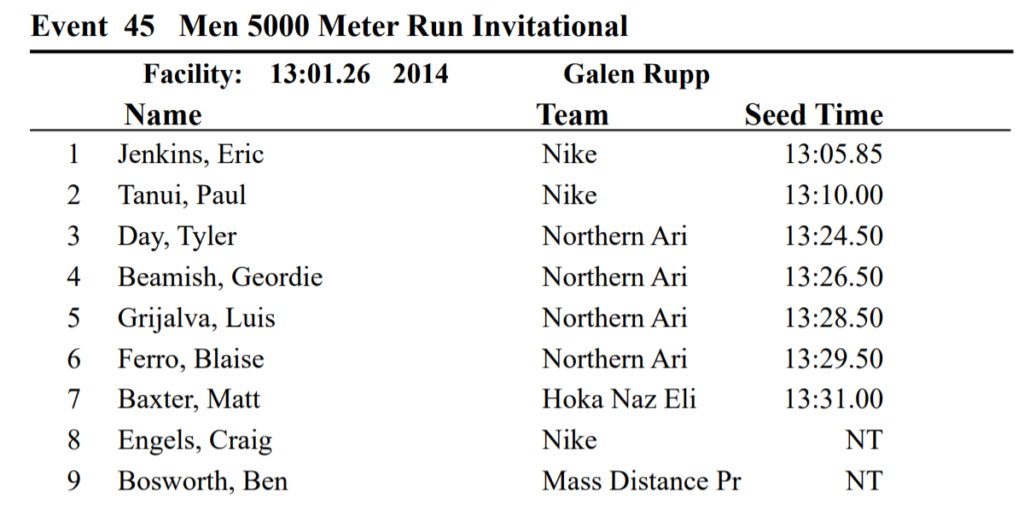 We're less than five months from the US Olympic Trials, but in typical USATF fasthion we still don't know whether USATF is going to incorporate world rankings into its Olympic selection criteria or go with its previous model of "top three finishers at the Trials with the standard." Because of that uncertainty, lots of athletes are going to be chasing the Olympic standards — much tougher than in previous years — just to be sure. And there aren't many better places to chase the standard for a distance runner than the Boston University track. Back in 2017, six Americans broke 13:20 in one race at BU; only five men did it the entire outdoor season that year.
The key number in this case is 13:13.50, which is the 2020 Olympic standard and the number on the minds of Eric Jenkins, Paul Tanui (the Olympic silver medalist in the 10k who, like Jenkins, is now coached by Pete Julian), and any of the NAU athletes (past and present) brave enough to follow. They'll have a great pacemaker to help them out: US 1500 champion Craig Engels is scheduled to tow the field through 3k at 13:13 pace. As we saw last year with Bowerman TC's time trial in the woods, everything is a lot easier when you have a total stud setting the pace (though Engels won't make it quite as far as Moh Ahmed did that night).
It will also be interesting to see if the NAU boys hang back, content to knock out an NCAA qualifier, or if any of them try to follow Engels. Tyler Day, with a 13:25 pb, is the fastest of the bunch. The collegiate record of 13:08 (Lawi Lalang) is safe, but sub-13:20 — something achieved by just six collegians in history indoors — isn't out of the question.
2) The best in the NCAA take on US champ Ajee' Wilson at 800m
Women's 800, Dr. Sander Invitational, The Armory, Saturday, 12:31 p.m. ET
Ajee' Wilson, the American record holder indoors and out and last year's LRC World #1, is the clear favorite here in her 2020 opener, but the battle for second should be fierce. Penn State's Danae Rivers and Penn's Nia Akins, who went 1-2 at NCAA indoors last year, are both entered, as is Olivia Baker (4th at 2019 USA outdoors) and 2018 NCAA outdoor champ Sammy Watson.
3) Cain vs. Tuohy: A battle of past and present phenoms over 3,000m
Women's 3k, Dr. Sander Invitational, The Armory, Saturday, 1:36 p.m. ET
It's not hard to see the similarities between Mary Cain and Katelyn Tuohy. Both are/were prep phenoms from New York, and Tuohy, a senior, is in a similar spot to where Cain was last decade — though by this point in her career, Cain had already run in a final att the World Championships and turned professional. For 2020, both women share a goal: qualify for this summer's Olympic Trials.
For Cain, 23, that would require resurrecting a career that has stalled in recent years due to body changes, injury and the fallout from her toxic stint at the Nike Oregon Project. Her comeback began in earnest on January 9, with her first track race since 2016, and continues on Saturday at the Armory. Cain ran 9:25 in that first race back and will be looking to lower her season's best against a field that also includes Shannon Osika, Amanda Eccleston, and Emily Lipari.
Tuohy, who will attend NC State next year, will be lining up against pros for the third time in her career. The first two went well: she broke the national high school record by running 9:01.81 for 3k at this meet last year, then finished second at the USATF Club XC champs in December (where she beat Cain by a minute). After a cross country season where Tuohy looked more vulnerable than usual (but during which she still went undefeated), how will her time on Saturday compare to last year?
4) Distance battles in Boston
New Balance Indoor Grand Prix, Reggie Lewis Center, Saturday
Almost every distance event at NBIGP has a star or two in it and that makes sense as the NBIGP is the lone US stop on the World Athletics Indoor Tour. This is a big-time pro meet and clearly the star attraction ovearll of the weekend. First up is the men's 3,000, which features Kenyans Edward Cheserek and Bethwell Birgen (3:31 1500 last year) against Adel Mechaal ('17 Euro indoor champ), Chris O'Hare, and American Izaic Yorks. The women's 1500 figures to be a battle between training partners Jessica Hull and Konstanze Klosterhalfen, while Emma Coburn and Elle Purrier highlight the women's 2-mile. There's another showdown in the men's mile between 2016 Olympic bronze medalists Clayton Murphy and Nick Willis, who will try to show he's still going strong at age 36.
LRC's pick for the race of the night is the men's 1000. You've got the 4th-placer at Worlds in the 800, American Bryce Hoppel, against the 5th-placer at Worlds in the 1500, Brit Jake Wightman, and if that's not enough, there's Spain's Saul Ordonez, the reigning World Indoor bronze medalist at 800. Wightman, with PRs of 1:44/3:31, is ideally suited to the 1000 (he's run 2:16 outdoors), but Hoppel showed he's a strong tactical runner with his NCAA indoor title last year and will be tough to beat.
5) Trayvon Bromell is back (and so is Asafa Powell)
New Balance Indoor Grand Prix, Reggie Lewis Center, Saturday, 7:06 p.m. ET
It's too early to start the Trayvon Bromell hype train. The guy hasn't raced indoors for four years and has only raced three times, period, since the 2016 Olympics. But man, what a talent he is. In 2014, at age 18, he became the youngest man in history to break 10.00, running 9.97 to win the NCAA title as a true freshman. At age 20, he medalled at Worlds in the 100, won World Indoors in the 60, and ran 9.84 in the 100. Since then, he's struggled to make it to the start line due to a series of injuries, but he's still only 24. The fact that Bromell is entered in the 60 in Boston is a good sign. Could it be the start of a comeback story for the ages?
Interestingly, one of the guys Bromell will face here is Asafa Powell, the Jamaican who finished second behind Bromell at World Indoors in 2016. Powell hasn't broken 10.00 since 2016, but Jamaican sprinting is so dire right now — only one Jamaican broke 10.00 last year — that he has a shot at his fifth Olympic team this summer (Powell ran 10.02 last summer). Does the former 100m world record holder have anything left in the tank at age 37?
6) Can Donavan Brazier break his own WR?
Men's 600,  New Balance Indoor Grand Prix, Reggie Lewis Center, Saturday, 7:48 p.m. ET
Donavan Brazier already owns the world record (okay, it's a world best, for you sticklers out there) at 600 meters indoors, running 1:13.77 to win USA indoors last year. And the only real question ahead of his race over the same distance on Saturday is whether he can break that record, because the rest of the six-man field is fairly lackluster.
While this race figures to be a procession for Brazier, it will be interesting to see what he's capable of this season. Remember, he missed the entire 2018 outdoor season and much of that fall due to an Achilles injury but returned better than ever in 2019, beginning with a sensational indoor campaign (including a 1:45.91 800 win at this meet) and ending with a world title and American record in Doha. Brazier is still just 22 years old; assuming he hasn't had any setbacks since Worlds, there's no reason to think he can't be even better this year. The sky is the limit for Brazier in 2020, and that starts on Saturday in Boston.
Side note: while the 600 is a better distance for Brazier, it would have been a lot more fun to see him race Hoppel, Wightman, et. al over 1000 here, where he could get a genuine challenge.
7) Sydney McLaughlin begins her 2020 campaign
Women's 500, New Balance Indoor Grand Prix, Reggie Lewis Center, Saturday, 7:55 p.m. ET
There will be a lot of eyes on the final event of the night because New Balance's biggest star, Sydney McLaughlin, is running the 500 meters. McLaughlin's rookie campaign went about as well as one could have imagined: a Diamond League title and a time of 52.23 in the World Championship final — faster than the WR at the start of the year. Unfortunately, McLaughlin ran into a buzzsaw in Dalilah Muhammad, who beat her out for the US and world titles, though McLaughlin can take solace in the fact that it took a WR to beat her on each occasion.
McLaughlin will be one of the faces of Team USA at this summer's Olympics, and her 2020 season begins on Saturday over an odd distance, the 500. While fellow Americans Jessica Beard, Kendall Ellis, and Gabby Thomas are all running the 300 here, McLaughlin will face some competition in the Netherlands' Lisanne de Witte, the Euro bronze medalist who was 3rd at last year's Diamond League final. Let's hope the race is more competitive than last year, when McLaughlin clobbered a field that was set up for her to crush.