Donavan Brazier Crushes World Record*, Runs 1:13.77 to Win 2019 USA Indoor 600m Title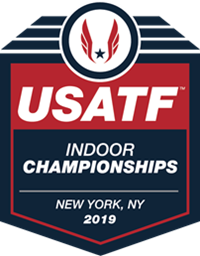 February 22, 2019 to February 24, 2019
By LetsRun.com
February 24, 2019
NEW YORK — During the first week of January, Donavan Brazier was taking his first steps back on a track after recovering from the Achilles injury that wrecked his 2018 outdoor season.
Two weeks after that, he wore spikes for the first time, running 1:15.46 for 600 meters at Texas A&M in his first race in 10 months.
Article continues below player
Today, less than two months after resuming workouts, Brazier became a world record holder*, running 1:13.77 to slash over a second off Michael Saruni's year-old mark of 1:14.79 in the 600. In so doing, he won his third US title and added another achievement to what is rapidly becoming one of the greatest ever indoor campaigns by an American middle-distance runner, having broke Johnny Gray's 27-year-old US 800 record with his 1:44.41 at the Millrose Games two weeks ago.
One of the key principles coach Pete Julian has tried to convey to Brazier in his first season as a member of the Nike Oregon Project is the importance of staying patient. Brazier, who has shown a tendency to panic in races in the past, has responded beautifully, and his composure was on display once again in today's 600 final.
400 hurdles specialist Kalmon Stokes took the race out quickly, 23.28 for the first 200, and Brazier, back in fourth, was not in good position early. But he calmly worked his way into second by halfway and moved past a tiring Stokes just before 400 (48.09). From there, Brazier pumped his arms and used his powerful upright stride to quickly open up an enormous gap.
As Brazier steamed away from the field, attention turned to the clock, where Saruni's record was in serious jeopardy. Brazier didn't even allow that drama to last long; he broke the record easily and finished well ahead of runner-up Sam Ellison of the BAA (1:15.20).
*Okay, technically it's a "world best"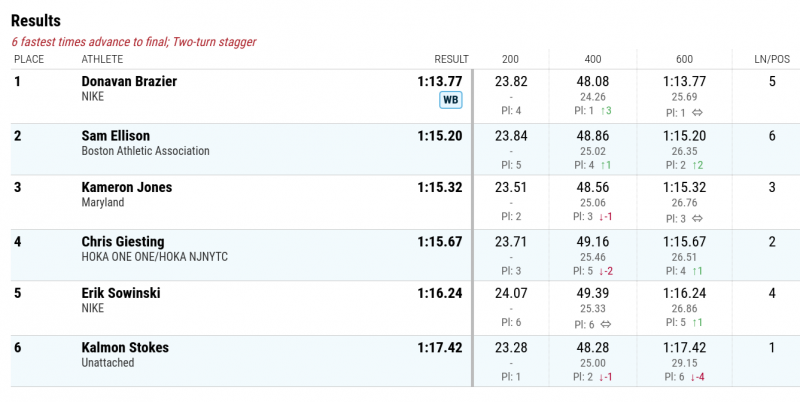 Quick Take: Brazier's performances this year have been incredible, but he's keeping things in perspective
Two weeks ago, Brazier broke a 27-year-old American record in the 800. Today, he broke the 600 WR by over a second. And he's not done; next week, he's headed to Boston to try to better his AR in the 800.
That sounds daunting, considering Brazier is the only American to have broken even 1:45 indoors, but Brazier pointed out that many of the US's top 800 runners haven't taken indoors seriously.
"The [American] 800-meter record indoor wasn't extremely fast," Brazier said. "Johnny Gray could have run faster indoors, I think, but he just never took indoors as seriously [as outdoors]…Johnny Gray could have run 1:43 indoors, realistically, he just never tried to."
Likewise, the indoor 600 isn't an event that is run very frequently — until last year, Cas Loxsom, hardly an 800 legend, was the world record holder. But 1:13.77 is no joke. It would put Brazier 6th on the all-time outdoor list (Gray has the WR at 1:12.81), and several of the names ahead of him — Gray, David Rudisha, reigning world champ Pierre-Ambroise Bosse — are quite accomplished.
Brazier also beat the old record by more than a full second. No longer is the 600m world best a soft record.
Quick Take: Donavan Brazier is intent on finishing the job in 2019
Last year, Brazier ran very well indoors (until his flameout at Worlds) but then he got injured and did not race at all outdoors. Fortunately for Brazier, there was no outdoor Worlds last year. But there is in 2019, and as pleased as Brazier is with how he's been running indoors, he said that outdoors is the season that really counts.
"A solid indoor season like this one I think is the perfect setup for outdoors," Brazier said. "If you just focus on indoor and that being your best, it can just be fool's gold and you kind of live off that for a while. I don't want to [do that]. I just want to use this as a stepping stone to outdoors."