Emma Coburn Says She Won't Run Any DL Steeples In 2020; Donavan Brazier Says He Wants to Race David Rudisha
By Jonathan Gault
January 24, 2020
BOSTON — Another track season is upon us (that was quick). Welcome back. There have been some changes.
Some of the biggest concern the Diamond League, which has a sponsor (Wanda) for the first time since 2012 and, in a related development, added a second meet in China to make 15 overall. But you won't see Emma Coburn running a steeplechase in any of them, as the 2017 world champion said on Friday she's upset with one of the other major changes to the circuit — the decision to strip the steeplechase, 200 meters, discus, and triple jump of their Diamond League status and remove them from the season-ending DL final in Zurich.
Article continues below player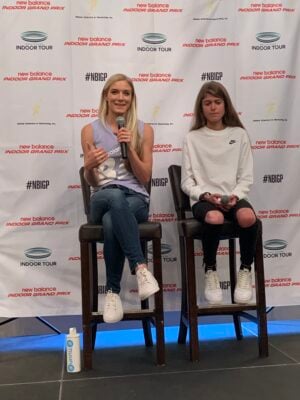 The Diamond League has said that the women's steeplechase will still be contested as a non-points event at five DL meets in 2020 (the same number as 2019), with prize money equal to point-scoring DL events. That's not drastically different from last year — except for the steeple's removal from the DL final, which offers significantly higher prize money — but Coburn, set to open her 2020 season tomorrow in the 2-mile at the New Balance Indoor Grand Prix, said she doesn't plan to run the steeplechase at any DL meet in 2020.
"I've been very frustrated about the steeple being cut from the Diamond League and was invited to race at a Diamond League race where there is a steeplechase in the TV window but turned it down just because I don't agree with what is happening," Coburn said. "So I don't want to compete in any races supporting the current system."
Coburn's husband/coach Joe Bosshard also told LetsRun that Coburn doesn't plan on running any steeples in World Athletics' rebranded Continental Tour, which features reduced prize money compared to the Diamond League (the steeple will be held three times on the Continental Tour — Nairobi on May 2, Tokyo on May 10, and Turku, Finland, on June 9). So where will Coburn race the steeple in 2020?
"You tell me," Bosshard responded.
Coburn said that she generally likes to zone out any distractions when she competes, but believes that it's important to speak up about issues that matter to her. This is one of them.
"I appreciate that people speak up and talk because I think as an athlete that's still competing, it's hard," Coburn said. "But when other athletes do that too, it makes your voice feel more protected and stronger, having allies."
Discuss: Emma Coburn protesting DL changes in 2020, will not run ANY steeples at DL meets
***
Donavan Brazier Is the Man to Beat Now at 800 Meters; Looking Forward to Racing Olympic Champ David Rudisha
Donavan Brazier was asked today if he should be viewed as the favorite for 800-meter gold at this summer's Olympics in Tokyo.
"I think if anybody's the favorite, I probably am because I won Worlds last year, but I don't think anybody can have that label to it yet," Brazier said. "Because [David] Rudisha was the favorite for the past eight years and no one's been nearly as dominant as him yet."
Brazier is right about the second part — he's not yet on Rudisha's level in the 800 (of course, neither is anyone else in the history of Planet Earth). But while Botswana's Nijel Amos and Kenya's Emmanuel Korir loom as threats, Brazier, as reigning Diamond League and world champion, undoubtedly begins 2020 as the man to beat over two laps.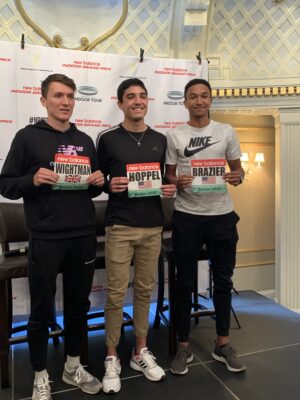 Brazier met Rudisha for the first time last year in Doha, just before running the World Championship final. Rudisha told Brazier he believed in him the most of all the runners in the race, and Brazier promptly repaid Rudisha's faith by running a championship and American record of 1:42.34.
At the time, Brazier believed Rudisha, who hasn't raced since 2017 due to injury, was retired. But a few days later, Rudisha made clear that he is not, telling the Olympic Channel he plans on defending his Olympic title in 2020. To win it, he'll have to go through Brazier. But at 31, does Rudisha have anything left in the tank?
"I'm definitely excited to race him because I've never raced him before," Brazier said. "Just when I was coming into the sport professionally, he was leaving. But I don't think he'll be back nearly as strong as he was in 2012, obviously, or 2016. I'd like to see him come back. I wish I could have raced him more in the 2016 era, so it could have been more competitive. I'm not saying he's not going to make a good comeback, but I think it's just going to be very, very hard."
Brazier will kick off his 2020 campaign on Saturday with the 600 meters at the Reggie Lewis Center, a distance over which he ran a world-best 1:13.77 last year. Brazier said his focus is the win, not the clock.
"I heard it's a slow track," Brazier said.
Brazier will not race with the familiar flying skull logo that adorned his kit in 2019; the Nike Oregon Project, of which Brazier was a member, was shut down after head coach Alberto Salazar was banned from the sport last fall for anti-doping violations. The change of uniform is about the only change this year for Brazier, however, as he is still coached by former NOP assistant Pete Julian.
Right now, Julian's group — which also includes US 1500 champ Craig Engels and World Championship 5,000m bronze medalist Konstanze Klosterhalfen — doesn't have an official name (I'm fond of Nike Oregon Pete, but my suspicion is Nike would prefer not to resurrect the NOP acronym). Does Brazier have any suggestions?
"We're thinking maybe call ourselves Phil's Knights, so then maybe [Nike co-founder] Phil Knight will just give us a bunch of money for our group or something like that," Brazier said with a smile.