Josh Methner Dominates, Poland's Zofia Dudek (16:45) Wins Thrilling Battle With Marlee Starliper To Claim 2019 Foot Locker Titles
By Jonathan Gault
December 14, 2019
In a race that will go down as one of the best in the meet's 41-year history, senior Zofia Dudek of Poland/Ann Arbor, Mich., outsprinted senior Marlee Starliper of Wellsville, Penn., 16:45.0 to 16:46.8, to win the 2019 Foot Locker Cross Country Championships in San Diego. Trailing Starliper late by roughly 15 meters coming down the last hill of the race, Dudek unleashed a huge move to take the lead with just under 400 meters remaining and just managed to hold off her rival, using a late burst with 50 meters to go to seal the victory.
The times were historically fast. Before today's race, Aisling Cuffe (16:53 in 2010) was the only girl in the last 25 years to have broken 17:00 for the 5k course at Balboa Park. Three girls managed that today, as sophomore Abby VanderKooi of Fremont, Mich., took third in 16:55.2. Last year's winner, junior Sydney Masciarelli of Northbridge, PA was 7th in at 17:19.4.
Article continues below player
Just like last week's NXN final, there was a dominant winner on the boys' side as Josh Methner of Mount Prospect, Ill., broke away on the main downhill on the course's first loop and ran unchallenged the rest of the way, clocking 15:08.8 to win over runner-up Carter Solomon of Canton, Mich. (15:16.9). Methner was the runner-up at NXN last weekend behind Nico Young.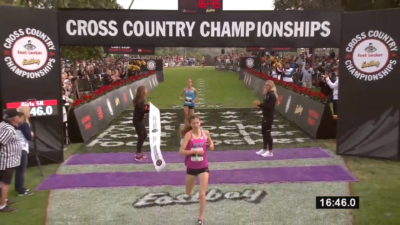 While the boys' race didn't feature much drama, the girls' race was full of it. It began as soon as the gun was fired as Bethany Graham of Aldie, Va., took the race out very hard, hitting 800 meters in 2:26 (15:12 pace). That pace was unsustainable, but it would remain fast as Katelynne Hart of Glen Ellyn, Ill., who led much of last year's race en route to a runner-up finish, took over the lead and once again began to push. She hit the mile in 5:09, four seconds faster than 2018, with Dudek, NXN runner-up Taylor Ewert (Dayton, Ohio), VanderKooi and Graham close behind her and the rest of the field strung out in their wake.
Just before two miles, Dudek moved onto Hart's shoulder, and by two miles (10:43.8), VanderKooi had joined them. Starliper, who had chosen to lay off the hot early pace (she was 6.7 seconds back at 1.5 miles), was also moving up nicely, and by 3600 meters, she, Dudek, Hart, and VanderKooi were running four-wide.
The stage was set for a terrific finish, and the athletes did not disappoint. Hart, sapped from her aggressive early running, fell off, and as they climbed the hill for the second time, Dudek and Starliper dropped VanderKooi. Starliper moved to the front as she and Dudek crested the hill and opened a five-meter gap, but could not increase it as she pushed down the hill.
That allowed Dudek to stay in striking distance, and though Starliper did respond to Dudek's big move with just under 400 to go, she could never get level with Dudek, who went on to win the title in one of the fastest races in FL history. It was a thrilling finish and if you have four minutes, we suggest you watch the final four minutes of the girls race below:
*Full Results *Full Video Race Replay
Quick Take: The girls' race was historically fast
This was the 34th time that Balboa Park had hosted Foot Lockers (it was held in Orlando from 1981-82 and 1997-01) and the first time that more than one girl had broken 17:00 in the same race. Starliper's time of 16:46 would have been good enough to win every FL in San Diego since 1994; VanderKooi's 16:55 would have won every edition but one. Both women were sensational today, but their times were only good for 2nd and 3rd today as Dudek was even better.
It would have been interesting to see how NXN champ Katelyn Tuohy would have fared today. Tuohy did beat Starliper convincingly at NXN last weekend, but she also barely beat Ewert, who finished over 30 seconds behind Dudek today back in 6th. 
Update: Bill Meylan's has published his speed ratings for Foot Locker and he gave Dudek at 169 – 6 points higher than the 163 that Tuohy earned at NXN – meaning Dudek would have theoretically won by 18 seconds although Meyland has admitted that Foot Locker generally produces higher speed ratings.
Instead, Tuohy chose to run against older competition at the USATF Club XC champs at Lehigh University. She did very well, finishing second in the 6k race, just four seconds behind 2010 Foot Locker champ Aisling Cuffe.
Fastest Girls' FL Times at Balboa Park
16:39.2 Melody Fairchild 1990

16:41.9 Julia Stamps 1994

16:43.7 Janet Smith 1983

16:43.8 Erin Keogh 1985

16:45.0 Zofia Dudek 2019
16:46.8 Marlee Starliper 2019

16:48.1 Cathy Schiro 1984

16:53 Aisling Cuffe 2010

16:55.2 Abby VanderKooi 2019

16:55.7 Erin Keogh 1986
Quick Take: Poland's Dudek's backstory is an interesting one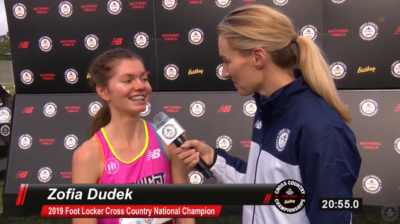 Last weekend, Dudek competed in a high stakes cross country meet. No, she wasn't at the NXN meet on Saturday. On Sunday, she placed 5th for Poland in the European Cross Country Championships U20 race in Lisbon, Portugal. Still just 17 (she turns 18 on Christmas), Dudek was easily the top 17-year-old in the race as the four women who beat her were all 19 and the next-best 17-year-old was 17th, 31 seconds back (although there was a 15-year-old who was 7th and 12 seconds back). Last summer, she won the European U20 3000 title for Poland in 9:29.82.
Dudek was born and primarily raised in Poland but according to a nice profile from the Detroit Free Press has lived in the US during six of the last nine years when her father has gotten jobs teaching economics at US universities. She spent 4th and 5th grade in Tampa when he taught at the University of South Florida and 7th grade in West Lafayette, Indiana, when he was at Purdue and then the last three years in Ann Arbor while he's been at Michigan.
Dudek is just the second girl who wasn't born in America to win a Foot Locker title and the 9th person overall. Fun fact: four of the five two-time winners on the boys' side were born outside of the US (Dathan Ritzenhein is the only two-time boys' champ born in the US).
Foot Locker CC Winners Who Weren't Born in The United States
Zofia Dudek (Poland) – 2019 girls' winner
Weini Kelati (Eritrea) – 2015 girls' winner
Grant Fisher* (Canada) – 2013, 2014 boys' winner
Edward Cheserek (Kenya) – 2011, 2012 boys' winner
Lukas Verzbicas (Lithuania) – 2009, 2010 boys' winner
Solomon Haile (Ethiopia) – 2008 boys' winner
Abdirizak Mohamud (Somalia) – 1996, 1997 boys' winner
*While Fisher was born in Canada, he was a US citizen at birth as his mother is American.
** We're not sure if Abdul Alzindani (1995 boys' winner) was born outside of the US.
MB: A Pole just won Foot Locker. List of runners who were born outside of the US who have won Foot Locker XC
Quick Take: Methner continues Illinois' run of success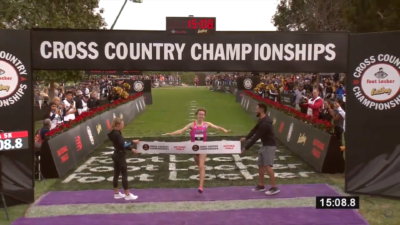 No state has been more successful on the boys' side at Foot Locker this century than Illinois, which has five victories by four athletes: Matthew Withrow (2003), Lukas Verzbicas (2009, 2010), Dylan Jacobs (2017), and Methner. 
Methner did one thing that none of his predecessors could manage, however: he broke Craig Virgin's longstanding state meet course record at Detweiller Park, running 13:49.9 to eclipse Virgin's 13:50.6 from 1972.
Methner was overshadowed by Nico Young — who put together one of the greatest XC campaigns in high school history this fall — last week at NXN, but Methner's 2019 season has been pretty incredible as well. His defeat to Young last week was his only loss all season, and he won Foot Lockers by over eight seconds.His win also continues a nice run for the Midwest. A runner from the Midwest has won 12 of the 20 FL titles since 2000.
Nothing like watching a LRC podcast listener DOMINATE the Foot Locker XC champs live on LRC. #footlockercc https://t.co/YbOmft8PMa pic.twitter.com/eTk5Dml1qS

— LetsRun.com (@letsrundotcom) December 14, 2019
Quick Take: Notre Dame continues to load up
Two years ago, Dylan Jacobs and Danny Kilrea went 1-3 at Foot Lockers and both committed to Notre Dame. This year, they were 29th and 50th at NCAA XC as part of ND's 8th-place team.
The Irish got an even better haul in 2019 as the top two finishers today — Methner and Carter Solomon — are both headed to South Bend next fall.
Quick Take: Props to Graydon Morris on a stellar four-year FL career
Texan Graydon Morris became just the second boy to race at Foot Lockers four times, joining eventual Olympian Jorge Torres (1995-98). Morris may not have closed out his career with a victory like Torres, but he finished a very respectable fourth. Overall, Morris was 34th, 2nd, 3rd, and 4th in his four appearances.
Quick Take: A great day for Michigan
Michigan went 1-3 in a historic girls' race and grabbed second in the boys' race. Not a bad day.

---
Be a fan and talk about the race on our world famous fan forum / messageboard: