In Case You Haven't Noticed, Texas A&M's 2020 Recruiting Class Is Officially Insane
By Jonathan Gault
December 16, 2019
Hey. I'm sure you're busy with Christmas shopping or voting for the RACE OF THE DECADE, but this simply cannot wait. Texas A&M is putting together an 800-meter recruiting class for the ages and I'm starting to freak out about it.
The school that produced recent NCAA champions Donavan Brazier, Sammy Watson, and Jazmine Fray has outdone itself.
Article continues below player
Texas A&M coach Pat Henry, who has won 36 NCAA titles (that's a real stat), said "overall [looking at both] men and women, this might be the best class we've ever signed." So yeah, this is a pretty big deal.
"This could be one of the best classes I've ever signed"

When the G.O.A.T. talks, the world listens #GigEm pic.twitter.com/3z8X4yJoVl

— Texas A&M Track & Field/Cross Country (@aggietfxc) December 9, 2019
It started a month ago, when A&M landed Japan's Allon Tatsunami Clay. If you haven't heard of him yet, you will soon. In May, Clay helped Japan to bronze in the 2x2x400 at the World Relays, splitting 50.60 and 50.04 with just a minute's rest. In June, the 17-year-old won the Japanese senior 800 title, taking down Sho Kawamoto — the six-time defending champion and Japanese record holder. Clay's time in that race was 1:46.59 — almost a full second faster than Brazier's high school pb. It would rank Clay third on the all-time US high school list, behind only Michael Granville (1:46.45) and George Kersh (1:46.58), and Clay did this as the equivalent of a high school junior. Kawamoto's Japanese record is only 1:45.75; it could fall before Clay even steps foot in College Station.
His range is also impressive: 47.94 for 800, 3:44.86 for 1500, 14:58.68 for 5,000. Again, he's done all this as a 17-year-old.
By itself, Clay's commitment would be big news. Then A&M signed US phenom Brandon Miller. In 2015, he ran an age-13 world record of 1:56.41. The next year, he ran an age-14 world record of 1:51.23. And in 2017, in the summer after his freshman year at John Burroughs High School in St. Louis, he ran 1:49.87 at the age of 15. Since then Miller's rapid improvement has slowed, but he remains a tantalizing prospect. He lowered his pb to 1:49.55 as a sophomore in 2018 and ran 47.42 for 400 in April 2019 before a hamstring injury cut short his junior season.
Miller is far from a sure thing — age-group phenoms don't always pan out, but sometimes they do — see Raevyn Rogers, who won five NCAA titles at Oregon and just earned silver at the World Championships.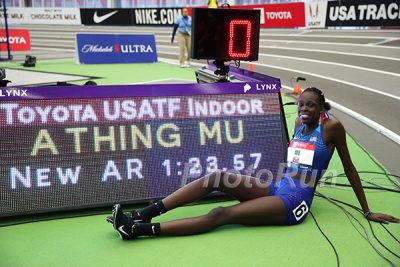 Then, on December 8, the Aggies landed the coup de grace: Athing Mu. Even if you haven't heard of Clay or Miller, you should definitely have heard of Mu, who earlier this year broke the American record (and almost the world record) to win the US indoor 600-meter title at the age of 16. Mu beat Rogers in that race — yes, the same Rogers who medalled at Worlds eight months later — and went on to run 2:01.17 to finish 5th at USAs in July, #6 all-time by a US high schooler.
The commitments of Clay, Miller, and Mu are the latest additions to a program that has become an 800-meter powerhouse. It started with Brazier running a collegiate record of 1:43.55 and winning the NCAA title in his sole season as an Aggie in 2016. Watson and Fray have won the last two NCAA outdoor titles, with Fray adding the NCAA indoor record (2:00.69) in 2017. Those three athletes have subsequently turned pro, but Texas A&M still has Devin Dixon (1:44.76 pb), the top returner from last year's NCAA outdoor meet (he was second behind Kansas' Bryce Hoppel).
It's a remarkable string of success, especially considering Texas A&M fired mid-distance coach Alleyne Francique in February 2018. Texas A&M declined to state why Francique, who submitted a charge of discrimination with the Equal Employment Opportunity Commission in 2018 alleging that Texas A&M illegally terminated his employment, was fired. Francique was subsequently hired at the University of Memphis, but later resigned.
We still have an entire track season to get through until Clay, Miller, and Mu arrive on campus in the fall of 2020 (assuming none of them turn pro in the interim). But it's never too early to get excited.
---
MB: Brandon Miller Commits to Texas A&M
MB: Japanese 17 year old has great range
MB: Athing Mu Commits to A&M – Should she have gone pro?