Brigid Kosgei Runs 2:14:04, Shatters Women's Marathon World Record at 2019 Chicago Marathon
By Jonathan Gault
October 13, 2019
CHICAGO — Just one day after Eliud Kipchoge covered the marathon distance faster than any man in history, Kenya's Brigid Kosgei accomplished the same feat for women at the 2019 Bank of America Chicago Marathon. And unlike Kipchoge, whose effort employed rotating pacers and just one "racer," this one will count as a world record.
For over 16 years, Paula Radcliffe's 2:15:25 world record, set at the 2003 London Marathon, had stood as one of the most unbreakable records in the sport of running. Radcliffe wasn't just the only woman to break 2:16; she was the only woman to break 2:17. Until today.
On a cool, crisp, slightly breezy day on the streets of Chicago (41 degrees Fahrenheit), Kosgei took a hammer to Radcliffe's mark by running 2:14:04 to smash the world record. On the strength of major marathon victories in Chicago last year and London earlier this year, Kosgei entered Sunday's race as the planet's top female marathoner. She finished it as the fastest woman to ever run the distance, and one of the sport's all-time legends.
Prior to Chicago, Kosgei had run 2:18 in her previous two marathons. And after running her second half in 66:42 in London in April — the fastest ever by a woman in a marathon — and the fastest half marathon ever in September (64:28 at the Great North Run, a course that is not world-record-eligible), it was clear she was capable of running much faster than that. She said on Friday in Chicago that she would target Radcliffe's 2:17:18 course record, weather permitting.
That plan changed. In Saturday's technical meeting, the tempo assigned for Kosgei's two male pacers, Geoffrey Pyego and Daniel Limo, was revised to 2:16:00. And on race day, even that wasn't fast enough. From the very first miles, it was clear Kosgei wanted not just Radcliffe's course record, but her world record as well. She passed two miles in 9:54 and five kilometers in a truly insane 15:28 — 2:10:31 marathon pace that put her ahead of all but 11 men (including every American save for 2017 Chicago champ Galen Rupp).
Kosgei would slow from there, but not enough to cost her the world record. She hit 10k in 31:28 and halfway in 66:59 — 63 seconds faster than Radcliffe's halfway split in London in 2003. Even as the wind picked up over the second half of the race (from 9 mph at the start to 15 mph), Kosgei kept ripping off sub-5:10 miles until she broke the tape in Grant Park to achieve marathon immortality.
Abu Dhabi champ Ababel Yeshaneh of Ethiopia earned much-deserved runner-up honors in 2:20:51 after going out in 68:22, showing the 2:20 she ran on the slightly short Abu Dhabi course last year was no fluke. Yeshaneh just held on to second as Gelete Burka ran 2:20:55 for third after going out in 71:11.
Emma Bates led the American charge with a negative-split 2:25:27 to place 4th (72:56-72:31), meaning that Bates has now run well in both of her two career marathons (she won her debut at CIM in 2:28:19 last year).

The fifth, sixth and seventh placers also PR'd as well as Ireland's Fionnuala McCormack ran 2:26:57 for 5th (2:30:38 previous pb), America's Stephanie Bruce ran 2:27:47 for 6th (previous pb of 2:29:20) and Lindsay Flanagan ran 2:28:08 (previous pb of 2:29:25). Two more Americans cracked the top 10 — Laura Thweatt (2:29:06, 8th) and Taylor Ward (2:30:14 pb for 10th, previous pb of 2:32:42).
American Jordan Hasay, who prior to the race had discussed attacking Deena Kastor's 2:19:36 American record, had a disastrous day in her first race since her coach Alberto Salazar was banned from the sport for four years for violations of anti-doping rules. Hasay dropped out early in the race after passing 5K in 22:20 (that's 3:08:29 marathon pace) due to a hamstring injury. Her former Nike Oregon Project team members, Galen Rupp and Mo Farah, also had poor showings less as Rupp dropped out just before 23 miles and Farah was 8th in just 2:09:58.
Quick Take: What a weekend of marathoning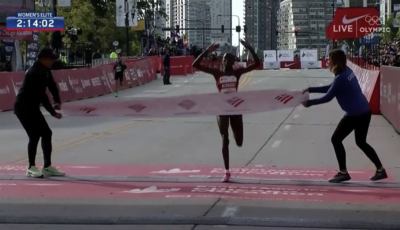 While Kosgei's 2:14:04 may not overshadow Kipchoge's 1:59:40 yesterday in Vienna in the mainstream consciousness, it was a far more unpredictable result. Not only had Radcliffe's WR stood for 16 years; no one had even come close to it. Only Mary Keitany made a concerted effort, hitting halfway in London in 66:54 in 2017 (she faded to 2:17:01) and 67:16 in 2018 (fading to 2:24:27).
Article continues below player.
So when Kosgei went out in 66:59, it was certainly possible that her race today would end in pain. Instead, she ran almost dead-even splits of 66:59 and 67:05.
It was clear beforehand that Kosgei was in incredible shape, particularly after her 64:28 at the Great North Run. The course record certainly appeared under threat. But a world record — a world record by 81 seconds? — not many would have predicted that.
Quick Take: How did this happen?
For so long, the marathon world had been Paula Radcliffe, then everyone else. Now it is Brigid Kosgei, then Paula Radcliffe, then everyone else. The gaps between the top three women of all time are massive, and the gap from Kosgei to Radcliffe (1:21) is almost as big as the gap from Radcliffe to Keitany (1:36).
2:14:04 Brigid Kosgei 2019 Chicago
2:15:25 Paula Radcliffe 2003 London
2:17:01 Mary Keitany 2017 London
So how did it happen? Well, a few things had to come together.
Kosgei is super fit

— Obviously, this is a prerequisite to run 2:14.

The weather was very good

— It wasn't perfect today in Chicago, as there was some wind throughout the race, but the temps, in the low 40s, were very good for running fast.

Kosgei paced herself better — In Kosgei's two previous WMM victories, she ran big negative splits: 70:09/68:26 in Chicago last year, then 71:38/66:42 in London in April. Clearly, she was capable of a lot faster than 2:18, and today she went out much more aggressively (66:59). Her first 5k was a little fast (15:28), but after that she was very consistent.


Kosgei's 5K splits


5K:

15:28


10K:

16:00 (31:28)


15K:

15:58 (47:26)


20K:

16:01 (1:03:27)


HALF: 1:06:59
25K: 16:06 (1:19:33)
30K: 15:45 (1:35:18)
35K: 15:57 (1:51:14)
40K: 15:58 (2:07:11)
Shoe technology has improved tremendously (see next point)

Quick Take: Another ridiculous run in the Nike Vaporflys
Since the Vaporflys were introduced officially in 2017, we've seen the following:

-5 different men have run faster than the world record that existed before the release of the Vaporflys (Dennis Kimetto's 2:02:57), including Kipchoge's 2:01:39 world record
-Eliud Kipchoge has run 2:00:25 and 1:59:40 in 26.2-mile exhibitions
-Two men have run faster than Zersenay Tadese's pre-Vaporfly half marathon WR of 58:23 (one later suspended for an ABP violation)
-7 performances have been recorded faster than Florence Kiplagat's pre-Vaporfly WR of 65:07 (albeit at least one of those runs wasn't run in Vaporflys)
-Brigid Kosgei has obliterated Paula Radcliffe's world record by 81 seconds
This is not a coincidence. Before today, one of the arguments Vaporfly non-believers clung to was that Radcliffe's WR — which was not run in Vaporflys — remained unchallenged, 16 years later. That is no longer the case. Kosgei just ran way faster than Radcliffe's WR, and she did it in Vaporflys.
The fact that a legendary record was just destroyed by a Vaporfly-wearing athlete should end any and all debate that the shoes have massively changed what is regarded as a fast time in the marathon.
Interestingly, Kosgei said she wanted to use the shoes she wore in London this spring (the Vaporfly 4% Flyknit, h/t Sara Germano) and was only convinced to switch to the pair of ZoomX Vaporfly Next%'s that she wore today after watching the INEOS 1:59 Challenge yesterday.
"My agent told me [I'm] supposed to use the pink one (the Next%), and I refuse," Kosgei said. "I was just 50-50 to use the pink one. But something come in my mind, say that yesterday, Kipchoge run and use the same shoes and the other pacemakers [did too]. Why not me?"
Note: The shoe in the tweet below is the shoe Kipchoge wore in Vienna — which was not the same as what Kosgei wore in Chicago.
I mean, look at that thing pic.twitter.com/uY0kvzO0B7

— Cathal Dennehy (@Cathal_Dennehy) October 13, 2019
Quick Take: Yes, Kosgei is represented by Federico Rosa
It needs to be said: the woman who just destroyed one of the most remarkable records in distance running is represented by a man who has seen many of his biggest stars — two-time Chicago champ Rita Jeptoo, Olympic marathon champ Jemima Sumgong, three-time world champ Asbel Kiprop — busted for doping. Just as former NOP athletes have drawn scrutiny for their association with Alberto Salazar after his ban for anti-doping rules violations — regardless of whether there have been allegations against the athletes themselves — there will be questions about anyone who produces remarkable performances while represented by Rosa.
There have been no allegations against Kosgei. Here's her PR progression in the marathon, by year:
2015: 2:47:59 Porto
2016: 2:24:45 Lisbon
2017: 2:20:22 Chicago
2018: 2:18:35 Chicago
2019: 2:14:04 Chicago
When Kosgei was asked about doping by other Kenyan athletes, she said that it didn't take place in her training camp.
"Me, I don't know about those [other] people [who were banned]," Kosgei said. "It's far from me and the other colleagues, there are different camps where we train. Me, I don't know about doping. Each and every person can run clean, we must work hard."
Quick Take: Kosgei believes women can run faster — much faster
Kosgei's time is 81 seconds faster than any other woman has ever run, yet she thinks it can be improved upon.
"If a lady can prepare good and they have no injury, no what and what, they could run even 2:14 to reduce even two minutes, they can reduce [to] 2:12 or maybe one minute to be 2:13," Kosgei said.
In fact, she went even further than that: "I think 2:10 is possible for a lady," Kosgei said.
Quick Take: Jordan Hasay withdrew with hamstring problems
Hasay was not made available for interviews by race organizers this morning, but her agent Ricky Simms did provide a statement.
"Jordan felt a sharp pain in her hamstring after 2 miles and had to stop. She stretched and tried to go again but was unable to run."
Obviously, today was a disaster for Hasay Chicago as she didn't even make it a quarter of the way through the race. The top priority for Hasay is the Olympic Trials, and it made sense for her to shut things down early if she felt something wrong; it remains unclear how serious the injury is.
Hasay has been exceptional in the three marathons she has finished in her career, but today showed her Achilles' heel: her health. She had to scratch from both of her 2018 marathons due to injury, and she dropped out today for the same reason. When she hits a marathon, she hits a home run, but right now she's only batting .500, which is great in baseball but not so great in marathoning. If she can make it through the Olympic Trials 4.5 months from now in one piece, she should make the team. But with an injury to heal and a new coach to find, that's not close to a guarantee.
Quick Take: Emma Bates leads the PR parade for Americans; now she's getting married
Bates came in trying to run 2:24, and though she wound up a little short of that, she was pleased to run a big PR of 2:25:27 for 4th. She credited pacer Ben Bruce for taking her through halfway in 72:56 with fellow American Stephanie Bruce (Ben's wife) and Fionnuala McCormack, and then she focused on trying to catch as many men in the second half as she could.
One of the reasons Bates wanted to run Chicago was to gain more experience in the marathon before next year's Olympic Trials. One of the biggest lessons she took from CIM? She felt that her buildup for that race, 20 weeks, was too long. She shortened it to 12 weeks this time around and was pleased with the results.
"That made a huge difference," Bates said, adding that she didn't feel as worn down during the end of her buildup, as she had before CIM. "I felt so smooth throughout the entire process."
This weekend was big for Bates, and next weekend will be too: she's marrying her fiance/coach, Kameron Ulmer.
Talk about the action on our messageboard.
Kosgei's Splits
2 miles: 9:54. Kosgei and Yeshaneh behind her.
5K: 15:28. Kosgei in 12th overall, ahead of all American men except for Rupp.
Mile 4: 20:02
Mile 5: 25:10
Mile 6: 30:14|
Mile 7: 35:32
Mile 8: 40:33
Mile 9: 45:42
Mile 10: 50:58
Mile 11: 56:04
Mile 12: 61:12
Mile 15: 1:16:41
Mile 16: 1:21:55
Mile 17: 1:26:57
Mile 18: 1:32:00 (5:04)
Mile 19: 1:37:04
Mile 20: 1:42:12
Mile 21: 1:47:19
Mile 23: 1:57:39
Mile 24: 2:02:24
Mile 25: 2:07:53