Brigid Kosgei Is Your New Queen as She Destroys the Greatest Marathon Field Ever Assembled in London
By LetsRun.com
April 28, 2019
LONDON — Brigid Kosgei of Kenya is the new queen of women's marathoning. Facing the greatest women's marathon field ever assembled, after a slow opening half marathon of 1:11:38, Kosgei blitzed the second half of the race in 66:42 to win in 2:18:20 and absolutely destroy the field. Vivan Cheruiyot was second, nearly two minutes back in 2:20:14. Roza Dereje won a three-woman battle the final quarter mile for third ahead of Gladys Cherono and Mary Keitany. American Emily Sisson was next across the line in her debut in 2:23.08 in sixth place, the second-fastest debut by an American woman.
The stacked women's field showed no desire to run fast early on as they let the first three pacemakers — including half marathon WR holder Joyciline Jepkosgei, who was supposed to make her marathon debut in Hamburg today — go immediately. Instead, everyone decided to run with the one pacemaker assigned to the second group (Eunice Chumba), and at 15k, the leaders were three and a half minutes slower than in 2017 when Keitany set the women's course record (going out crazy fast). At halfway (1:11:22), 42-year-old Sinead Diver of Australia actually held a 16-second lead on the main contenders.
Article continues below player
A 5:08 15th mile started the racing and was followed by a 5:12 mile. Soon it was only three women up front, Kosgei, Cheruiyot, and Dereje. A 5:02 16th mile put Kosgei a few steps ahead of Cheruiyot with Dereje dropped. Kosgei was not done attacking and a 4:57 mile 18 opened the gap on Cheruiyot to 20 meters and was followed by a 5:00 mile.
Cheruiyot clawed her way back to Kosgei when the paced slowed to 5:10. Mile 21 was 5:14, but Kosgei was about to attack again for good. Her 22nd mile was 5:05 and Cheruiyot was dropped for what would be the final time as unofficially Kosgei blitzed the last 4 miles in 5:00, 5:05, 5:03, 5:06 to crush the field. Simply unbelievable. Her second half was the fastest half marathon by a woman in a full marathon.
Top 20 results and analysis appear below:
Top 20 Results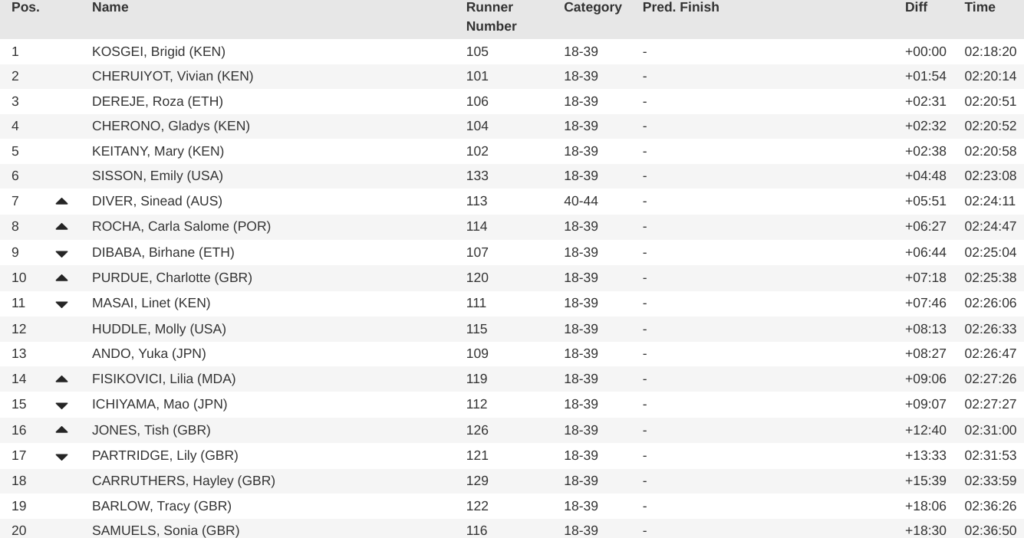 Brigid Kosgei with a dominant display to claim #1 marathoner in the world status
Prior to the race, Kosgei was full of confidence saying, "it's easy for me to run 2:17." While she didn't run 2:17 today, after today's performance we don't doubt she could have with a faster first half. Regardless of the finishing time, Kosgei is now the #1 women's marathoner in the world.
Kosgei came in on a tear with a win at last fall's Chicago Marathon and then a sub-30 10k on the roads, a half marathon win in Houston and a $100,000 half marathon win at the Bahrain Night Half Marathon. Today, she upped her game even more.
Kosgei's 66:42 second half today was the fastest half marathon in a women's race (Mary Keitany had run for 66:54 for the the first half in London 2 years ago, and 66:58 for the 2nd half in NY last year).
And her last 5 miles today were simply amazing. Unofficially the slowest of her final five miles was 5:06 according to http://hm.hwinter.de/?p=1966#more-1966
Quick Take: Paula Radcliffe's 2:15:25 is still simply amazing
Whenever a woman puts on a performance like Kosgei's today, we start to think about whether she can challenge Paula Radcliffe's 2:15:25 which was set in London 16 years ago.
Radcliffe's record was set before the renaissance of Kenyan and Ethiopian distance running, before the recent explosion of EPO positives in Kenya, and before the new advances in shoe technology and no one has come within a minute and a half of it. The fastest anyone has come was Keitany's 2:17:01 two years ago in London off of too fast a first half. If you had to bet money on anyone who might be able to run in the 2:15s now, the best bet would be Kosgei. Prior to today we would have bet on Keitany, but Keitany indicated she might not be in her best shape for London and that proved the case today although she still ran well.
Quick Take: Australia's Sinead Diver PR'd for 7th at age 42
There were three other non-African runners besides Sisson in the top 10 and all of them PR'd to get there. Australia's Sinead Diver was 7th in 2:24:11 pb (previous pb of 2:25:19), Portugal's Carla Salomé Rocha was 8th in 2:24:47 (previous pb of 2:25:27) and Britain's Charlotte Purdue was 10th in 2:25:38 (previous pb of 2:29:23).
Diver's story is the most interesting. She was born in Ireland but moved to Australia in 2002. She started running in 2010 after giving birth to her oldest son. Less than a decade later, she's now a 2:24 marathoner. Her pb heading into last year was 2:31:37 but she lowered that to 2:25:19 in winning Melbourne last October. 2:24:11 makes her the third-fastest in Australian history, after Benita Willis (2:22:36) and Lisa Ondieki (2:23:51).
Purdue took nearly 4 minutes off her pb to join the 2:25 club.
Quick Take: Emily Sisson was happy with her debut but Molly Huddle wasn't with her PB
We have a separate article on the two Ray Treacy-coached athletes here:
LRC Emily Sisson Backs Up the Hype With 2:23:08 Debut in London Marathon She set an American record for a women's only race and just missed Jordan Hasay's fastest-ever American debut of 2:23:00. Molly Huddle PRd but wasn't happy, "Today just wasn't good."
Unofficial splits from hwinter.de
Mile 1: 5:29
Mile 2: 5:28
Mile 3: 16:20 (last year they went through in 15:13). 16 women in lead pack, including Sisson and Huddle.
Mile 4: 5:28 Birhane Dibaba and Roza Dereje now separating a bit from the large women's pack. They're with one pacer.
Mile 5: 5:27 Now the rest have caught them just after 5 miles
Mile 6: 5:17. Fastest mile of the race so far. Can't see pacemaker anymore. Huddle and Sisson, who stepped back briefly, have rejoined lead pack.
10k: 33:42, four seconds behind pacemaker Eunice Chumba (2:22:12 projected finish time). Lead pack down to 12 (plus pacer)
Mile 7: 5:31. Diver back to the front.
Mile 8: 5:32, Diver now up by 40 meters.
Mile 9: 5:23. Diver's lead now is big. 100m+
15k: 50:45 for Diver. She's 13 seconds up on the chase pack of 11, which still includes Huddle/Sisson. Exactly 4:00 slower than they were two years ago when Keitany set women's-only course record.
Mile 10: 5:26. Diver's lead only continuing to grow.
Mile 11: 5:21
Mile 12: 5:27
Mile 13: 5:33
HM: 1:11:22 for diver, chasers 16 seconds back. Huddle/Sisson a further 11 seconds back in 1:11:49.
Mile 14: 5:26 Diver is caught.
Mile 15: 5:08, fastest mile of the race. It's 7 women and a pacer (Chumba). Cheruiyot, Masai, Dereje, Kosgei, Dibaba, Keitany, Cherono. Pacer off at 16 miles.
Mile 16: 5:12 Cheruiyot is leading this push, and they have finally caught jepkosgei and one other of the pacers. She continues to push, and by 17 miles, everyone except Cheruiyot, Dereje, and Kosgei has been dropped.
Mile 17: 5:02. Kosgei now moving to lead. Has two steps on Cheruiyot. Dereje dropped. Cheruiyot now side by side with Kosgei at 18 miles.
Mile 18: 4:57 Kosgei attacking again. This time she is getting a gap. Gap now up to 20 meters. Doesn't take drinks just after 30k.
Mile 19: 5:00 Cheruiyot now dropped at this point.  
Wait just a second! Cheruiyot has caught Kosgei. Did she go too fast too early?
Mile 20: 5:10. Kosgei now moves in front of Cheruiyot again.
Mile 21: 5:14. Kosgei attacking again and has opened a 10-meter lead.
Mile 22: 5:05. Cheruiyot dropped, it looks like for good this time. Kosgei's lead is 100m+
Mile 23: 5:00
Mile 24: 5:05
Mile 25: 5:03
Mile 26: 5:06