2019 Worlds Women's 10K Preview: Sifan Hassan Chases First World Outdoor Title
By Jonathan Gault
September 25, 2019
We've seen some craziness in the women's 10,000 over the years, from Molly Huddle doing the same in 2015 to Almaz Ayana showing up and destroying everyone after not racing all year in 2017. In a year when no one knows quite what to make of the women's 10,000, what madness lies in store in Doha?
Ayana, once again, has been almost invisible. She missed all of 2018 with a knee injury and has raced only once in 2019, finishing dead last in the 3k at the Pre Classic in June. The Netherlands' Sifan Hassan and Kenya's Hellen Obiri are the two biggest names in the field, yet neither had run a 10k before this year.
UPDATE: Ayana has withdrawn from Worlds.
All of which means there's plenty of uncertainty in the first track final of the 2019 World Championships. Could one of the Americans (Molly Huddle, Emily Sisson, Marielle Hall) sneak in for a medal, a la Infeld in 2015 or Kara Goucher in 2007? Let's take a deeper look.
How to watch: TV/streaming information *Full 2019 Worlds schedule/entries/results
Other LRC event previews: W 800 * M 100 * W marathon * W steeple * M 5,000
LRC $200,019 prediction contest * LRC 2019 Worlds coverage hub
Article continues below player.
Race time
Final: Saturday, September 28, 2:10 p.m. ET

2019's fastest performers (among women entered)
1. Letesenbet Gidey, Ethiopia 30:37.89
2. Netsanet Gudeta, Ethiopia 30:40.85
3. Senbere Teferi, Ethiopia 30:45.14
4. Emily Sisson, USA 30:49.57
5. Molly Huddle, USA 30:58.46
The Race for Gold
Hassan and Obiri are the two most accomplished women in the field, and they'll be the two key women to watch in Doha. Both are running multiple events at Worlds — Obiri is doing the 5k and 10k, while Hassan is entered in the 1500, 5k, and 10k — but the 10k comes before any of the other events, so both women will be running it fresh (right now, Hassan seems to be planning to run the 10k before making a decision on the 1500 vs. 5k after the race).
It's a little hard to know what to expect as neither woman has ever run the 10k at a major championship before. In fact, Hassan was almost exclusively a 1500 runner as recently as three years ago, but she's expanded her arsenal since joining Alberto Salazar's Oregon Project at the end of 2016.
Hassan has to be regarded as the favorite after putting together one of the greatest seasons in the history of distance running. She broke the world record for 5k on the road in February (14:44), ran a 3k time at the Pre Classic (8:18) that only doped-up Chinese women have surpassed outdoors, ran 4:12.33 to break a 23-year-old world record in the mile in Monaco, then crushed everyone in both the 1500 and 5k in the Diamond League finals. In the 1500 in Zurich, she closed in a phenomenal 57 seconds to win in 3:57; in the 5k in Brussels, she was just as dominant, posting video-game splits at the end of the race:
I know it was a few days ago now, but I just had a look at Sifan Hassan's closing splits during her 14:26.26 run in the 5000m in Brussels

final 3000 – 8:30.46
final 1500 – 4:02.4
final 1000 – 2:33.48
final 800 – 2:02.56
final 400 – 59.46
final 200 – 28.76

— Jon Mulkeen (@Statman_Jon) September 10, 2019
Yes, Hassan's exploits have come at shorter distances, but with a 65:15 half marathon best, she's got the strength to be an outstanding 10k runner as well. If she's still in this race with a mile to go, it's hard to see her losing.
Obiri was one of the women left in Hassan's wake in Brussels. After winning the world 5k title in 2017 and the DL title in 2017 and 2018, Obiri finished a well-beaten 4th in Brussels, seven seconds back of Hassan. But considering her championship record — Olympic 5k silver in 2016, World 5k gold in '17, World XC gold in '19 — she has to be regarded as a contender for the win in Doha. Obiri also beat Hassan in the 5k in London earlier this summer (14:20.36 to 14:22.12) and her 1500 pb, while not quite on Hassan's level, is an impressive 3:57.05. Consistency has been an issue for her in 2019, no doubt, but when she's on her game, she's one of the planet's most dangerous distance runners.
Behind the big two, there's a huge group of contenders, led by Ethiopia's Letesenbet Gidey. The bronze medallist at World XC in March, Gidey ran a world-leading 30:37 to win the Ethiopian trials in July and finished second in the DL 5,000 final (she also ran 8:20 at Pre in June). Still only 21 years old, she is a monster talent — she won the junior race at World XC in both 2015 and 2017 — and this race could serve as her coming-out party at the senior level.
Other women who should be in the mix: half marathon world champ Netsanet Gudeta and 2015 World Champs 5k silver medalist Senbere Teferi of Ethiopia, and 2017 World Champs 10k bronze medalist Agnes Tirop of Kenya, who also beat Hassan in the London 5k earlier this summer.
The Americans
Whether an American has a shot to medal in this event usually comes down to how strong the East African competition is. In 2015, when the Kenyan and Ethiopian squads were fairly weak, the Americans had a shot to medal and Emily Infeld capitalized. A year later, the competition was much better at the Olympics; Molly Huddle set the American record and only finished 6th, while Infeld wound up getting lapped.
The field in Doha isn't as strong as it was at the Olympics, but it's still too deep for the Americans to consider medalling. Five women in this field (Hassan, Obiri, Gidey, Tirop, and Teferi) have broken 14:25 for 5k. Huddle has never broken 14:40, while Emily Sisson and Marielle Hall have never even broken 15:00. Even at her best, Huddle wouldn't have much chance at a medal, and, after shifting her focus to the marathon, she's not as good over 10k as she was a few years ago. The gap to the East Africans is simply too large to overcome in this race.
However, both Huddle and Sisson ran strong 10ks in Stanford in March (30:49 for Sisson, 30:58 for Huddle), and that was in the thick of marathon training. They will have a good shot at bettering their showings at Worlds from two years ago, when Huddle was 8th and Sisson 9th. That will put them squarely in the mix for top non-African-born honors, along with the Netherlands' Susan Krumins (5th in 2017), and Brits Stephanie Twell and Eilish McColgan.
JG prediction: 1. Hassan 2. Gidey 3. Obiri
Hassan has been historically great in 2019, and after what she did in the DL finals, I just don't see her losing this race. Gidey looks like Ethiopia's next star in the 10k, and I think she'll beat Obiri, who didn't look great in the DL final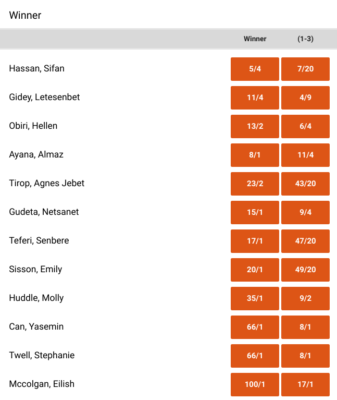 Betting advice: Hassan is the best distance runner in the world, and we can get better than even odds (5/4) on her to win this race? Yes, we're taking that bet. For a longer shot, Tirop to win at 23/2 is a decent option.