Colorado's Dani Jones kicks to another NCAA title, wins 5000 in 15:50.64
By LetsRun.com
June 8, 2019
AUSTIN, Tex. — With a lap remaining in tonight's women's 5,000-meter final at the 2019 NCAA Outdoor Track and Field Championships, it wasn't hard to predict what was going to happen. If there's one thing collegiate distance runners have learned to fear, it's Colorado's Dani Jones on your shoulder in the final 400 meters of a race, and as Arkansas' Taylor Werner hit the lead with Jones a meter behind her, the outcome seemed preordained. Surely Jones, who had kicked her way to NCAA indoor 3k and DMR titles in 2017 and a cross country title last fall, would pull away to win yet another national title?
Yup.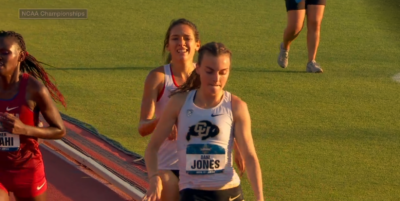 Werner did her best, but Jones was untouchable over the final 100 meters, swinging wide and pulling away to win thanks to a 64.60 last lap. Jones finished in 15:50.64, with Werner taking second in 15:51.24 and Alabama's Esther Gitahi running a pb of 15:51.85 for third.
Article continues below player.
With the win, Jones joins Jenny Simpson as the only Colorado women to earn four NCAA titles (Emma Coburn and Kara Goucher have three each). Werner, meanwhile, was a huge part of Arkansas' NCAA-title-winning effort. In addition to the eight points she scored today, she put up five in the 10,000 on Thursday for a total of 12. Arkansas won the team title by seven, 64-57 over USC.
Perhaps because of the 90+ degree temperatures, the pace was not fast early; aside from the first 200, the field did not drop below 5:00/mile pace until the final lap. 10k champ Weini Kelati of New Mexico, as is her custom, went to the front with a mile to go, but her move was not as strong as in the 10k on Thursday and proved less effective; she would winnow the lead pack to six with two laps to go but could not respond once Werner took the lead just before the bell.
That set the stage for Jones to kick away and win yet another national title.
Dani does it again!

Winning the 5,000m Championship! ?#ncaaXC Champion ➡️#ncaaTF Champion pic.twitter.com/QQk3MQIJbh

— NCAA Track & Field (@NCAATrackField) June 9, 2019
Results
1 Dani JONES JR Colorado 15:50.65
2 Taylor WERNER SO Arkansas 15:51.24
3 Esther GITAHI JR Alabama 15:51.85 PB
4 Josette NORRIS SR Georgetown 15:52.05
5 Weini KELATI SO New Mexico 15:54.46
6 Makena MORLEY JR Colorado 16:02.89
7 Fiona O'KEEFFE JR Stanford 16:07.84
8 Hannah STEELMAN SO Wofford 16:14.58
9 Jessica PASCOE JR Florida 16:17.82
10 Bethany HASZ SO Minnesota 16:18.13
11 Caroline ALCORTA SR Villanova 16:18.66
12 Alexandra HAYS SO Columbia 16:19.45
13 Jaci SMITH SR Air Force 16:22.42
14 Abbey WHEELER JR Providence 16:23.42
15 Charlotte PROUSE JR New Mexico 16:26.57
16 Allie OSTRANDER JR Boise State 16:28.19
17 Abby NICHOLS SO Ohio State 16:37.45
18 Angie NICKERSON SR Southern Utah 16:38.08
19 Jessica DROP JR Georgia 16:40.84
20 Rachel DADAMIO JR Notre Dame 16:43.69
21 Joyce KIMELI SO Auburn 17:02.91
22 Julia PATERNAIN FR Penn State 17:13.82
Adva COHEN SO New Mexico DNF
Devin CLARK JR Arkansas DNF
Jones bounced back from a stress reaction in her fibula earlier this year to win NCAA title #4
Jones' best and favorite event is the 1500, and that's the one she'll run at USAs next month. But she opted for the 5k here, in part due to a stress reaction in her fibula that she suffered earlier this year. That sidelined her for a month and a half, followed by two months of no running on the ground (instead, she mostly trained on an Alter-G). Finally, in mid-April, she returned to training on solid ground, but rather than rush the speed work needed to hone her kick for an NCAA 1500, she opted for the longer event here. It proved a successful decision, as even a full-strength Jones would have had her hands full with Sinclaire Johnson and Jessica Hull in today's super fast 1500 final.
While the obvious preference is for an athlete to never suffer an injury, Jones' setback could be a blessing in disguise as she was able to build slowly into the 2019 outdoor season, which is longer than usual with USAs in July and Worlds in September/October. Running Worlds won't be a problem for Jones if she qualifies as she has no XC eligibility remaining (she does have indoor and outdoor next year).
It was all about the team for Werner
At the start of the 5000, Arkansas was 8 points down on USC with only the 5000 and 4 x 400 left but after the event the score was tied thanks to Werner's clutch performance.
Werner said the team battle motivated her to a career best finish.

"I got tired with like a mile to and I was like, 'No my team needs me. I need to do this,'" said Werner after the race.
When Werner took the lead just before the bell, she said was surprised she kept it as long as she did and at one point even thought to herself, 'Why is no one passing me?' While Jones did eventually pass her, Werner gave it her all and was ecstatic when Arkansas coach Lance Harter told her she had tied the score after the race.
"Thank goodness, because that hurt soooo bad. I'm glad it was worth it," said Werner.
As Werner was talking to us, the 4 x 400 was started and we taped Werner watching the end of the race when Arkansas won the title after USC dropped the baton.
Here is Warner's reaction.
Props to Wofford's Hannah Steelman, who was a double All-American today
The top three finishers in the steeple were all attempting the steeple/5k double today — a particularly grueling one, considering the conditions. And while Charlotte Prouse and Allie Ostrander struggled, finishing 15th and 16th, respectively, Wofford's Hannah Steelman grinded out an eighth-place finish in the 5k to go with her third in the 5k, making her a double All-American.
Previously, Ostrander was the only woman to finish in the top eight in both events at the same NCAA meet, doing so in both 2017 and 2018.
MB: Hannah Steelman? Gets no Love from LCR
The ESPN broadcast of this race was awful
While we don't like it when the broadcasters cut away from the 5,000, we understand why they do it. Often not much happens before the final mile, and broadcasters have to pay the bills (commercials) or cover field events in progress.
But ESPN's broadcast of the women's 5,000m final was simply awful. First, they spent 90 seconds in the middle of the race playing a phone interview that Jill Montgomery had conducted with Renaldo Nehemiah, whose longstanding collegiate 110 hurdles record was broken by Grant Holloway yesterday. During the interview, ESPN cut away from the 5,000 to show a few highlights from yesterday's race. But mostly, they showed a full-screen graphic about Nehemiah.
That's right. ESPN showed a full-screen graphic rather than a live NCAA final. We get that some viewers may want to hear from Nehemiah, but why not overlay the audio on live footage of the 5,000? Even if you want a graphic of Nehemiah, at least use picture-in-picture to show us how the race is going.
Later, with three laps to go, the audio cut to sideline reporter Larra Overton to give an explanation about the steps Ostrander was taking to bounce back from her steeple double, with the camera focusing on Ostrander. It wasn't a bad idea for a package, but it was something that needed to be used earlier in the race or not at all. By the time they highlighted Ostrander, she was well back from the leaders; cutting away from the leaders to show her specifically only frustrated the fans who truly cared about the race.
Those were production choices, but the announcing was poor as well. As the race entered its final stages, Montgomery highlighted Werner, saying that the race was set up for her because of her strong kick. Montgomery is right; Werner has a good kick. But if she had done her homework, she'd know that Dani Jones — a three-time NCAA champion — has an even better kick.
Even when Dwight Stones did mention Jones' name, he didn't list any of her credentials and gave no indication of how good she is. Any serious distance fan would know Jones was the overwhelming favorite with a couple of laps to go, but the announcers didn't seem to have any idea. Why did they hype up Werner? Likely because this crew also handles the SEC meet, and Werner won the SEC 5k for Arkansas.
We said it after the 10,000 and we'll repeat it ourselves. It's very hard to do a track and field broadcast without a distance analyst, which is what ESPN did this year. It's much easier to do a broadcast without a sprints/jumps analyst. A distance analyst can fake it in a sprint race MUCH easier than a sprint analyst can fake it in a distance race as no sprint race lasts longer than a minute so there is only a tiny amount of time for a lack of expertise to show itself. During a 15- or 30-minute distance race, if you don't really know what you are talking about it, it will become obvious.
Talk about NCAAs on our world famous messageboard/fan forum:
America, You're Welcome!! Austin showcases a real Diamond League meet