Sinclaire Johnson of Oklahoma State becomes 2nd fastest collegian ever, wins thrilling NCAA 1500 duel with Jessica Hull
By LetsRun.com
June 8, 2019
AUSTIN, Tex. — How do you beat someone who hasn't lost a track race for over a year?
How about by running the second-fastest time in collegiate history — with the sun beating down in 96-degree heat, no, less?
Oklahoma State's Sinclaire Johnson took down defending champion Jessica Hull of Oregon in a classic NCAA 1500-meter final, ripping off an incredible four-second PR of 4:05.98 to pull by Hull with 50 meters to go. Hull's time of 4:06.27 was the fourth-fastest ever by a collegian, but it was only good for second today, such was the brilliance of Johnson, who closed in 30.5 for her final 200 meters (62.68 last lap). Johnson's 4:05:98 was a new meet record and also is the #2 time in collegiate history.
4️⃣:0️⃣5️⃣.9️⃣8️⃣
No. 2 All-time!

Oklahoma State's Sinclaire Johnson is an #ncaaTF Champion! pic.twitter.com/EJpgmBTSAM

— NCAA Track & Field (@NCAATrackField) June 8, 2019
The pace was fairly quick early on, with BYU's Whittni Orton taking the field through 400 meters in 67 seconds, Hull and Johnson sitting right behind her. With two laps to go, Notre Dame's Jessica Harris made a move to the front, and by 800 meters (2:15), she Hull, Orton, and Johnson had separated from the rest of the field.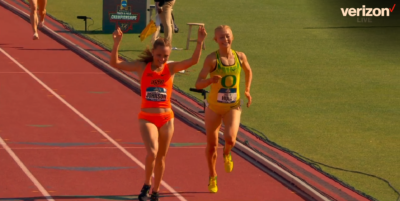 Orton began falling back on the third lap, and at the bell, Harris led with Hull and Johnson perfectly-positioned to strike in second and third. The rest of the field was well back and out of it as the leaders were moving, splitting 65.75 from 700 to 1100.
Though Harris had done what she could to separate, she had not managed to gain any gap on the supremely fit Hull and Johnson, who looked poised to move by her at any moment. It was Hull who attacked first, striking with 300 meters to go, but Johnson matched it immediately, the two women streaking away from a spent Harris.
Hull was really hitting the gas now, but Johnson would not budge an inch, content to sit on the reigning champ around the final turn. Finally, with 50 meters to go, Johnson unleashed, edging ahead as Hull, for the first time this year, could not respond.
That's how it would finish, as Harris recorded her best individual finish in five NCAA finals, holding on for third in 4:11.96. Rhode Island sophomore Lotte Black capped a breakout sophomore season by running her second PR of the meet to finish fourth in 4:13.02. Indoor mile champ Julia Rizk struggled and wound up last.
What incredible performances up front
If you told us before the meet that Jessica Hull would run 4:06 in the final, we would have assumed she'd have won this race. That just goes to show how impressive Johnson was. The only collegian to run faster for 1500 was Jenny Simpson, who ran 3:59.90 against the pros at the 2009 Pre Classic.
One woman who knows how Hull is feeling right now is Sally Kipyego. Today's race was very similar to the 1500 final at the 2008 NCAA championships. Kipyego, representing Texas Tech, ran 4:06.67 in that race — faster than the previous collegiate record — but didn't win as Hannah England of Florida State ran 4:06.19.
Results
1 Sinclaire JOHNSON JR Ok. State 4:05.98 PB FR MR
2 Jessica HULL JR Oregon 4:06.27 PB
3 Jessica HARRIS SR Notre Dame 4:11.96 SB
4 Lotte BLACK SO Rhode Island 4:13.02 PB
5 Dillon MCCLINTOCK JR Michigan State 4:13.57
6 Ella DONAGHU SO Stanford 4:13.62
7 Jenny CELIS SR Oklahoma State 4:14.30
8 Whittni ORTON JR BYU 4:14.73
9 Taryn RAWLINGS SR Portland 4:15.03
10 Jessica LAWSON SO Stanford 4:16.04
11 Molly SUGHROUE SR Oklahoma State 4:18.06
12 Julia RIZK SR Ohio State 4:19.31
This race shows how insane Jenny Simpson's collegiate record is
Johnson and Hull ran the #2 and #4 times in NCAA history today, and unsurprisingly that meant that they finished well clear of a field that contained the best collegians in the country. Yet Johnson is still over five seconds behind Simpson's collegiate record. Granted, Simpson had pro competition to run against at Pre, but 3:59 in college is simply phenomenal.
Johnson was watching in the stands last year, now she's the national champ
Last year, Johnson finished last in her heat at NCAAs in 4:27.71 and watched the final in the stands. Now she's the 2nd fastest collegian in history and the NCAA champ.
"I knew that I could do it but to do it in the fashion I did – I mean Jess Hull is an awesome competitor, she hadn't lost a race – 2, 3 national titles to her name – so beating her and to run what I did, honestly I'm at a loss for words. I really can't believe it," said Johnson after the race, who called year's NCAAs "heart-breaking".
This year was the opposite of heart-breaking as in addition to getting a win and PR, Johnson also got an unexpected gift – the world standard. Johnson said that Hull went up to her after the finish and said, "Dude we just hit the world standard." Indeed they had as the world standard is 4:06.50.
When Johnson was asked if she'd keep her season going, Johnson said she didn't know what she'd be doing but it was clear she was surprised that she had the worlds standard and might need to consider trying to go there.
As for tactics, Johnson followed her pre-race plan of waiting as late as possible (the final 50) to take the lead from Hull. She wanted to wait until late and then go and never look back and that's what she did.
When asked what coach Dave Smith, who was extremely confident in Johnson when we talked to him before the race, said to her before the race, she said not much as pre-race talks make her nervous.
"He believes in me and I know it. I don't need him saying it every time I stop on the track.
I don't know. I really don't know."
Hull realized instantly she had the World standard; next up — the Pre Classic
As an Aussie, Hull clearly has Worlds ambitions as she realized she hit the Worlds standard right when she crossed the line.
As a former champ, she obviously wanted to win this evening but she said she executed her race plan perfectly (go to the lead with 300 to go) and was simply beat by someone who was better. There is no shame in not repeating. No woman has repeated as NCAA 1500 champ in 15 years, since Tiffany McWilliams of Mississippi State won her 2nd straight CAA title here in Austin in 2014. Only three women have ever won the NCAA 1500 more than once.
Women with more than 1 NCAA 1500 Title
Suzy Favor – Wisconsin – 4 – 1997-1990
Mary Jane Harrelson – Appalachian St. – 2 – 1999 and 2001
Tiffany McWilliams – Mississippi St. – 2 – 2003 and 2004
Looking ahead, Hull said she'll be competing in the Pre Classic, where she'll face a stacked field including reigning world/Olympic champ Faith Kipyegon.
Notre Dame's Jessica Harris was thinking she'd run a little faster than she did today but is looking forward to USAs and a pro career
What a season for Lotte Black of Rhode Island
At the start of the spring, no one would have pegged Lotte Black for 4th in the country in the 1500 meters. A redshirt sophomore, Black had never even qualified for NCAA regionals before 2019 and entered the season with a PR of 4:40 after mostly running the 800/1000 in her first two years.
Then she dropped a massive 4:20 pb at the Raleigh Relays in March and has kept on improving, getting down to 4:17 at Princeton in April and 4:13 in Thursday's prelims. She PR'd once again today (granted, only by .01) to cap a breakout year by finishing 4th.
Talk about NCAAs on our world famous messageboard/fan forum: