3 Massive Reasons To Get Excited For The 2019 London Marathon: Kipchoge Vs. Farah, Women's Race For The Ages, Huddle Vs. Sisson
By Jonathan Gault
April 22, 2019
No marathon brings out the stars like London. On Sunday, the two biggest names in the distance running world, Eliud Kipchoge and Mo Farah, will square off for the second time over 26.2 miles at the 2019 Virgin Money London Marathon. By itself, Britain's top athletics star trying to conquer the greatest marathoner the world has ever seen would be enough to build a hype train capable of smashing through a brick wall.
But this is the London Marathon, where they like to do things BIG. The men's race in London doesn't just feature Kipchoge and Farah, but Ethiopians Shura Kitata, Mosinet Geremew, and Leul Gebresilasie, meaning they've got the entire top five from LetsRun's 2018 world rankings, plus half marathon world record holder Abraham Kiptum.
Article continues below player
And yet, the men's field is still comparatively weaker than the women's field, which we christened the greatest ever assembled when it was announced three months ago. Even with the late withdrawal of Ethiopian legend Tirunesh Dibaba, who is expecting her second child, it's a race worth drooling over. Four of the six reigning World Marathon Majors champions will be on the start line, in London champ Vivian Cheruiyot, New York champ Mary Keitany, Chicago champ Brigid Kosgei, and Berlin champ Gladys Cherono. All four of those women have run broken 2:19 within the last two years; no marathon in history has ever featured four sub-2:19 performers. With women's marathon times dropping around the globe, and good weather in the forecast (keep those fingers crossed), we could be in for something truly special on Sunday.
American fans will have a reason to get up early on Sunday morning as well. Two, in fact, as Molly Huddle will be traveling across the pond to take a shot at a fast time while Emily Sisson will make one of the most-anticipated American marathon debuts in recent years.
We'll have on-site coverage from London beginning on Wednesday, but before then, here's something to whet your appetite: a guide to the three biggest storylines of the 2019 London Marathon.
1) Can Mo Farah (or anyone else) finally defeat Eliud Kipchoge?
This is going to be the biggest storyline in the British press this week. After a successful third-place finish in London last April and a European record of 2:05:11 to win his first major in Chicago in October, Farah has proven himself to be one of the world's best marathoners. There's only one place to go from there: challenging Kipchoge, the gold standard in the event, who is getting older and must surely lose a marathon at some point, right?
The problem with that storyline is that Kipchoge looks even more invincible than he did a year ago. Ahead of 2018 London, we heard rumblings that Kipchoge could be on the decline. That Breaking2 had taken too much out of him, that — gasp! — he had actually trailed in a marathon at 2017 Berlin. Then he went out and won London for the third time and, last fall, ran a 2:01:39 world record in Berlin, a number so absurd that it still doesn't look like an actual marathon time seven months later.
You're seriously betting against a guy who just ran 2:01 in his last marathon? Good luck.
No, if the 2018 Berlin version of Kipchoge shows up in London this week, everyone else is screwed. But what about an average Kipchoge performance?
Well, Kipchoge has run London three times. Here's how he has fared:
| | | | |
| --- | --- | --- | --- |
| Year | Place | Time | Comment |
| 2015 | 1 | 2:04:42 | #6 time ever in London |
| 2016 | 1 | 2:03:05 | Course record |
| 2018 | 1 | 2:04:17 | #3 time ever in London |
| AVERAGE | 1 | 2:04:01 | |
Okay, so the average Kipchoge London performance is 2:04:01. That time would have won every London Marathon except one: the 2016 race, which was won by, you guessed it, Kipchoge himself.
So for Kipchoge to even venture into the realm of beatable would require him to decline from the level he's maintained for the past 4+ years (he's lost just one of his 11 career marathons, 2013 Berlin, where it took a world record to beat him).
Eventually, Kipchoge will decline. But what evidence is there to suggest that that decline is imminent? He just ran his fastest time ever in his 11th career marathon.
Well father time must eventually catch up to Kipchoge right? True, but Kipchoge is officially only 34 years old — two year YOUNGER than Mo Farah.
Remember, we're in uncharted territory here. It's hard enough to become the undisputed number one marathoner in the world, and those that have recently attained that title (Geoffrey Mutai in 2011, Wilson Kipsang in 2014) haven't been able to hold it for much more than a year. Yet Kipchoge hasn't lost a marathon since September 2013, and he's been the undisputed world #1 for four full years, ever since his first London victory in 2015. Everything about the marathon, from the brutally high mileage required in training to the one-shot-deal nature of the event, where one cramp to derail a race, says that nobody should be able to dominate the event for as long as Kipchoge has. And yet here he still stands, atop Mount Marathon. At this point, it's foolish to make any predictions about when his reign might end.
Farah's transition to the marathon has gone as good as anyone could have expected. He impressed in London last year, showing no fear in going out in 61:00 for the first half on a hot day and holding on bravely for a 2:06:21 third-place showing. In Chicago in the fall, he ran a brilliant tactical race and closed well to win in 2:05:11. He even won some plaudits from the great Kipchoge, who said he was "really impressed with the mind and the thoughts of Mo Farah" after watching the race:
But did you catch what Kipchoge said after that? He said of Farah's 2:05:11 win, "It was not really fast. It was a tactical race."  Which, when you consider Kipchoge has run 2:05:00 or faster in 9 of his last 10 marathons (the 2016 Olympics being the only exception)…kind of makes sense. Farah said after Chicago that he's "definitely better off going slower and finishing fast towards the end of the race. That definitely suits me a little better."
But that only works if Farah is in control of the race, and he can't control Kipchoge. If Kipchoge wants to go out in 61:00 again (or faster?!?) in London this year, there's nothing Farah can do about it.
The other thing worth mentioning: while this race will be hyped as Kipchoge vs. Farah, in reality it's Kipchoge vs. Everyone. The fact is, Farah is a lot closer to the other top guys in this field than he is to Kipchoge. Shura Kitata, who beat Farah by 1:32 in London last year, is back this year, and he's joined by Mosinet Geremew (who set the course record in Dubai last year and finished 13 seconds behind Farah in Chicago) and Leul Gebresilasie, who was one of only three men to break 2:05 twice last year, running 2:04:02 in Dubai and 2:04:31 to break the course record in Valencia. The chances are way better that one of those guys beats Farah than Farah beats Kipchoge.
2) The greatest women's marathon field ever
It sounds like hyperbole, but it's true: on paper, there's never been a better women's marathon than 2019 London.
When the field was announced in January, the stats were simply ridiculous: London contained five of the six reigning WMM champs from 2018 (plus the 2018 Dubai champ), and four of the five fastest women of all time.
Things have changed a bit since then. Tirunesh Dibaba has scratched, and the stellar runs by Ruth Chepngetich and Worknesh Degefa in Dubai this year mean that London now features #2, #6, #7, and #9 on the all-time list as opposed to #2, #3, #4, and #5. But this race remains comically loaded. A brief run-through of some of the studs running in it:
Mary Keitany – Three-time London champ and four-time NYC champ is the greatest marathoner of her generation. Coming off one of the all-time great marathon performances in New York, where she closed the second half in an unfathomable 66:58 to win by 3:14.
Vivian Cheruiyot – The Olympic 5000 champ is also a marathon stud with a 2:18:31 win in London last year and a runner-up finish in New York.
Gladys Cherono – Ran course record of 2:18:11 to win Berlin last fall.
Brigid Kosgei – The hottest runner coming into the field, she's been on fire since winning Chicago last fall in 2:18:35 with dominant half marathon wins in Houston and Bahrain. In the latter race, she ran 65:28 to beat 2:17 marathoner Ruth Chepngetich by 41 seconds and World Half champ Netsanet Gudeta by 1:21.
Roza Dereje – Ran 2:19:17 to set Dubai CR last year (since broken) before taking second to Kosgei in Chicago. Won Barcelona Half in 66:01 on February 10.
Birhane Dibaba – Ran 2:19:51 to win Tokyo last year, missing CR by four seconds.
Plus Americans Molly Huddle and Emily Sisson (we'll get to them in a minute).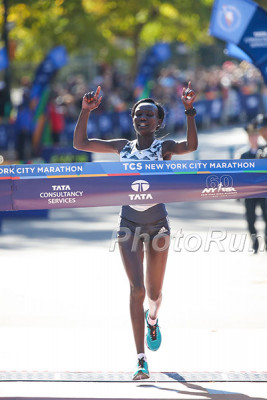 Those women aren't just marathon studs: they're marathon studs who are all in form, as, with the exception of Keitany, who just blew everyone away in New York, all of their PRs have been set since the start of 2018. Before last year, there had only five sub-2:19 female marathoners in history; 2019 London will have four women who have broken 2:19, three of whom did it last year.
And that gets to another reason to be excited about this race: we are in a golden age for the women's marathon. While Paula Radcliffe's world record remains untouched, more women are running faster than ever before: since the start of 2018, seven women have broken 2:19. Two years ago, Keitany stunned everyone by running 2:17:01 to win London, but a similar winning time in 2019 would not come as a surprise. Two women just broke 2:18 in Dubai, and this field has far more top-tier talent on paper.
Of course, it's precisely because London has so much top-tier talent that the winning time was "only" 2:18:34 last year: Keitany and Dibaba, with the aid of male pacers, made an assault on Radcliffe's 2:15:25 world record and both wound up blowing up after an absurd 31:46 opening 10k and 67:16 opening half (at which point Dibaba was already gone).
But there's reason to believe the pace will be more reasonable this time around. For one, there are no male pacemakers for the women this year, which likely means no WR attempt and a far more sensible first half — assuming that Keitany doesn't do what she did in 2017, when she went out in 66:54. And considering Keitany changed her approach last fall, going out slowly in New York before blowing the field away over the second half, she may not be as eager to push the pace from the gun in London.
The weather also looks good for Sunday: a high of 60 degrees and cloudy, which would be almost perfect if not for the 15 mph winds in the forecast. If those die down a notch by race day, then we could see some more incredible times on a course that has produced the two fastest ever on the women's side (Radcliffe's 2:15:25 and Keitany's 2:17:01).
3) Molly Huddle goes for a fast time as Emily Sisson makes her much-anticipated marathon debut
The women's race starts at 4:25 a.m. ET on Sunday morning, which makes it a tough ask for US fans to get up and watch live. But at the very least, you need to watch this thing on-demand through NBC Sports Gold as soon as you wake up because big-time American talents like Huddle and Sisson very rarely opt for London over Boston. Good things can happen when they do: London is where Deena Kastor set her American record of 2:19:36 in 2006.
Huddle is in London for one reason: to run fast. With the Olympic Trials (and potentially the Olympics) next year, this will be Huddle's last opportunity to get a fast pb for a while, and she wants to make the most of it.
"We've always been looking to run one that would potentially be on a fast course," says her coach Ray Treacy. "She's put it off to run New York and Boston the last couple of years and kind of promised herself that when London came around this time that she would do it."
Huddle is coming off a pb of 2:26:44 in New York last fall, good for fourth overall, but that came on a tough course with a big negative split (75:50/70:54). Put Huddle on a faster course with a faster first half and she should be able to blow 2:26 out of the water. Plus Treacy says she's in better shape than she was in NYC.
The 27-year-old Sisson, meanwhile, is finally stepping up to the marathon, a distance Treacy has believed she would excel at since her college days at Providence. It's always best to be cautious until an athlete actually runs their first marathon, but all signs point toward Sisson joining Jordan Hasay as the next US marathon star.
Treacy says that Sisson has "thrived" on marathon training, adding that "I don't think the buildup could have gone better."
The results back that up: in January, before she got into her serious buildup, Sisson ran a huge half marathon pb of 67:30 in Houston, just five seconds off Huddle's American record. And on March 29 at Stanford, she beat Huddle and clocked another huge pb of 30:49 in the 10,000.
For context, Hasay ran 67:55 ahead of her first marathon at 2017 Boston and wound up setting the American debut record of 2:23:00. Sisson heads into London having run faster in the half and is making her debut on a faster course. The one difference: we know that Hasay was born to run the marathon; Sisson still has to go out there and prove it.
We'll have more on Huddle and Sisson later this week, but Treacy says that the plan for both of them is to go out in around 71:00 for the first half and see what they can do from there. If they can handle that, they'll be on for something special, as only five Americans have ever broken 2:22.