Sir Mo Farah Wins Chicago Marathon in 2:05:11 as Galen Rupp is 5th and Suguru Osako Breaks Japanese Record
By LetsRun.com
October 7, 2018
CHICAGO — It's official: Mo Farah is a marathon stud.
The expression was a little more pained, the final 400 meters nowhere near as fast, but the end of the 2018 Chicago Marathon very much resembled so many of the track races we've seen over the past decade — Farah dispatching his rivals and Moboting his way to victory across the finish line in a European record of 2:05:11.
It wasn't just the finish that looked familiar: Farah ran Chicago like a track race, employing several of the tactics that had propelled him to an unprecedented 10 global titles on that surface. Farah chose to hang in the back of the lead pack in the early stages (Farah was 12th of 13 in the lead pack at halfway in 63:06), content to bide his time and avoid leading for as long as possible. He even let the leaders surge and open a gap on him. Yet when Farah did move to the front, 23 miles into the race, he did so with purpose, taking the race by the scruff of the neck by reeling off splits of 4:41, 4:42, 4:40, and 4:47 for his final four miles — all into a stiff headwind — to pare a lead pack of six down to two.
Eventually, only Farah and Mosinet Geremew, the Dubai Marathon champion and course record holder (2:04:00 pb), remained. Then Farah made his move for glory just before the 2:03:30 mark and it quickly resulted in submission: Geremew had nothing left, and immediately looked over his own shoulder to make sure he could hold onto second.
The victory and glory belonged to Farah as Geremew finished second in 2:05:24 but the biggest payday of the day went to third placer Suguru Osako of Japan and the Nike Oregon Project. He finished third in a Japanese record of 2:05:50 and collected a cool 100 million Japanese yen bonus ($879,350) for breaking the 2:06:11 national record. Rotterdam champ Kenneth Kipkemoi of Kenya was fourth in 2:05:37 and Khalid Khannouchi's American record of 2:05:38 lives another day as Galen Rupp finished 5th in 2:06:21.
Details on the Race: Farah Gets Dropped By Leaders 30k In
The first 10k was not that fast for a rabbited world class marathon (30:11) but then a pair of sub-14:50 5ks got field to 20k in 59:48 and the half in 1:03:02. Thirteen men were still within 5 seconds of the lead with all the main contenders there minus Augustine Choge, who dropped out before halfway in his marathon debut. The pace then really lagged the next 5k (15:30) and Geoffrey Kirui started putting in some surges to string out the pack. The pace didn't really get going until the 17th and 18th miles which were covered in a very quick 9:02 with Kirui pushing the pace and only Birhanu Legese of Ethiopia (2:04:15 in Dubai this year), Kipkemoi and Geremew able to stay with Kirui, as they opened up a gap of at least 20 meters on the chasers led by Rupp.
Article continues below player.
Mo Farah was content to stay further behind Rupp, but after the 20th mile Farah began to lead a group of former Nike Oregon Project training partners (Rupp, Farah and Osako) in an attempt to catch the leaders; they would draw level with the front group during mile 21, which Farah & co ran in under 4:40. Legese eventually fell off, reducing the lead pack to six, and Galen Rupp was the next to crack as he fell off by 35k as Kirui continued to push. During the 23rd mile Farah took over the pushing at the front and Kirui began to crack. Geremew was the only one who could stay with Farah, as Osako tried to stay close. It came down to Farah versus Geremew and once Farah made his move, it looked like the Mo Farah we are all so used to seeing on the track.
Results below quick takes:
Quick Take: Mo Farah is now one of the world's best in the marathon — and that came as no surprise to his coach
After the race, we spoke to Farah's coach Gary Lough, who was pleased but not surprised by Farah's victory today. Lough said that he thought Farah was in 2:04 shape before London and had continued to train well since.
"It's not a surprise," Lough said. "We spent a lot of concentrated time together, big block in the spring, big block now, and getting to see what he's been able to churn out every day made me confident in his ability to be able to pull something like this off."
Indeed, Farah himself thinks that he has yet to reach his potential as a marathoner, saying that "low 2:04 or high 2:03 is possible" under better conditions (while the temps (high 50s) were good the humidity was over 90% today as it rained at times during the race + there was a headwind of around 10 mph from 2.5 to 7.5 miles and 23.5 miles to the finish).
Lough, who in addition to being Farah's coach is the husband of women's world record holder Paula Radcliffe, said he and Farah did some things differently in this buildup than before London, adding in some more challenging workouts (which he felt Farah was more prepared to handle after his London buildup) and more mileage (which was easier to handle as they were at lower altitude than Farah's London buildup in Ethiopia).
"I know I'm capable of mixing with the guys and can run a decent time," Farah said. "Today it just shows, in terms of the depth of the guys, who was in the race, to come away with a win, British record, European record, it's definitely up there. In terms of myself, I know as well I could have gone a lot faster today."
Farah also said that he believes he is better in slower marathons, where he can use his speed over the final miles as he did today.
"What I've learned today is I'm definitely better off going slower and finishing fast towards the end of the race. That definitely suits me a little better. It just depends how much slower I need to go the first half."
Looking ahead, Lough said that Farah will run at the World Championships in Doha next year. And while most assumed Farah will run the marathon there, Lough left the door open for a return to the track as he said that they still haven't decided what event Farah will run in Doha.
Galen Rupp: "They were just better than me"
2:06:21 is a respectable time for Galen Rupp, but in the era of 2:01:39 marathons, it's not good enough to win a rabbited World Marathon Major. And Galen Rupp knew that afterwards.
Rupp said that he had no regrets with the way he raced today. He hung with the leaders as long as he could and once he dropped off, he fought to finish as highly and quickly as possible.
"I ran the best race I could today," Rupp said. "I wouldn't say that anything went wrong, it just wasn't my day today. Give credit to those guys for running the race that they ran, but they were just better than me."
QT: The Second Group of Americans Goes Out in 2:06:09 Pace and…
A slew of Americans not named Galen Rupp — Elkanah Kibet, Ahmed Osman, and Parker Stinson — went out very aggressively, hitting 5k in 14:57 (2:06:09 pace) just 5 seconds behind the leaders. They would stay together through the half (1:05:12) and even 35k. Kibet held on best the final 7k as he was second American in 2:12:35 and Stinson and Osman would fade to 2:14:29 and 2:14:40 (5th and 6th Americans in race). Aaron Braun ran a much smarter race to take third American honors in 2:13:16 after going out in 1:06:16.
Word to the wise: we're all for guys trying to smash barriers, but if you're trying to nip under 2:10 in the marathon, don't go out at 2:06 pace.
QT: Suguru Osako Picks up $879,000 and beats Galen Rupp

The big surprise among current or former Nike Oregon Project members was not Mo Farah beating Galen Rupp, but Suguru Osako finishing ahead of Rupp. Both are in the NOP, but Osako's primary coach is Pete Julian and Rupp's primary coach Alberto Salazar. Osako's run also broke the 2:06:11 Japanese record in the marathon which earned him 100 million yen ($879,000). Osako's run and chances of getting on the tough Japanese Olympic team gets it's own full-recap here, but we have comments from coach Julian below.
QT: Augustine Choge DNF

Choge has run 1:44.86 for 800, 12:53 for 5k, and 59:26 for the half marathon but his marathon debut did not go well. He fell off the lead pack by 10k, really slowed down the next 5k, and then dropped out.
Dickson Chumba, the Tokyo champ, was with the leaders through halfway, but would fall off the lead by 35k and also drop out.
Top 20 below. Full results here.
Talk about the race on our messageaboard: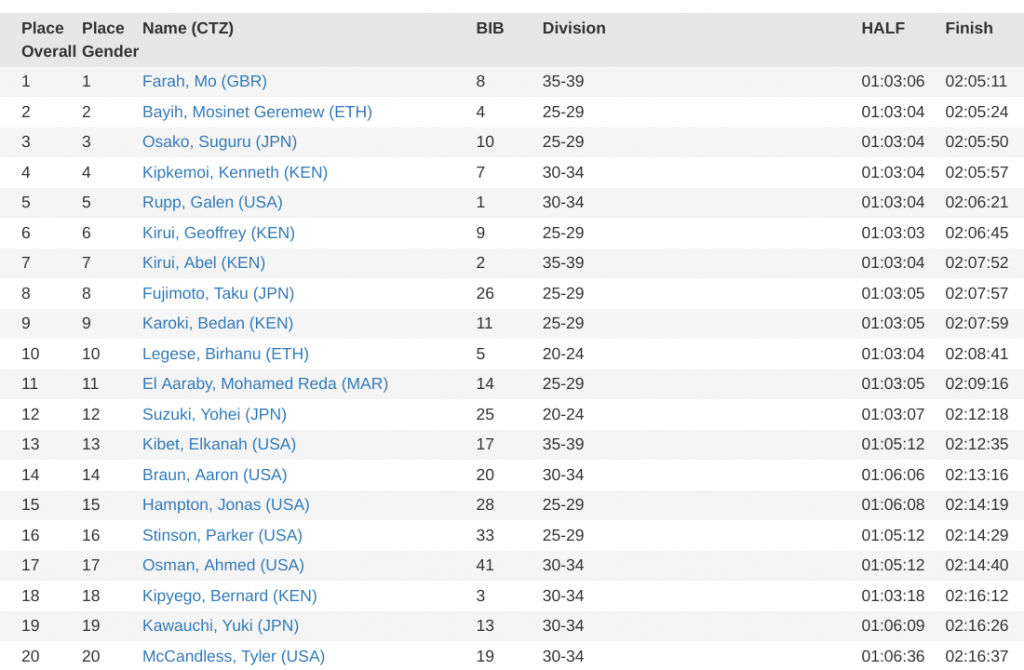 Top Women's Results