Marathon Madness in Dubai: Getaneh Molla Runs 2:03:34 Debut Record; Ruth Chepngetich (2:17:08) & Worknesh Degefa (2:17:34) Move to #3 & #4 On All-Time List
By LetsRun.com
January 25, 2019
Stunning.
That's the word that comes to mind after the 2019 Dubai Marathon. Even with Dubai's reputation for producing fast times from little-known runners, it had never seen anything like what we witnessed on Friday morning..
On the men's side, Ethiopia's 12:59 5000 performer Getaneh Molla earned the win in 2:03:34 — the fastest debut marathon ever*. It was also a course record (the third straight year the men's CR has gone down in Dubai) and makes Molla the eighth-fastest marathoner of all time. He finished six seconds ahead of countryman Herpassa Negasa (previous pb of 2:09:14), who would have been the headline on a normal day as as he ran a 5+ minute PR of 2:03:40. Negassa is now the 10th-fastest marathoner of all time.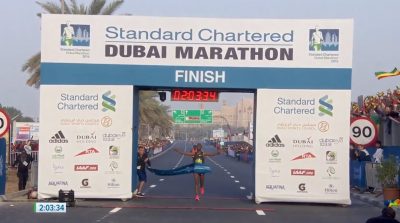 But Friday's race in Dubai was anything but normal, because the times in the women's race were even more incredible than those in the men's. Winner Ruth Chepngetich of Kenya — who ran a 4-minute PR 2:18:35 to win in Istanbul less than 11 weeks ago — clocked 2:17:07 to obliterate the course record by over two minutes and move to #3 on the world all-time list. Only Paula Radcliffe (2:15:25) and Mary Keitany (2:17:01) have ever run faster. Runner-up Worknesh Degefa, who won Dubai in her debut two years ago, also ran historically fast: her 2:17:41 puts her #4 on the all-time list and ranks as the fastest non-winning time in history. It was a PR of over two minutes.
Temperatures were similar to what they were in past years (65 degrees Fahrenheit, 86% humidity), but the runners still managed to run super fast, perhaps taking advantage of the 6:00 a.m. start time (it was 6:30 prior to 2018), meaning the sun did not rise until over halfway into the men's race (7:03 a.m.). It was also hazy during the race, meaning they weren't exposed to searing sun during the second half.
*Moses Mosop ran a wind-aided 2:03:06 in his debut at the 2011 Boston Marathon, but that course was not record-eligible.
Men's race
The men's race went out fast. The pacers were tasked with hitting halfway in 61:30, and wound up running a more sensible 61:43, leading a massive group of 14 men (three of whom were pacers).
Inevitably, the hot pace took its toll on the field, and men gradually began to peel off the pack over the second half of the race. 2016 Boston Marathon champ Lemi Berhanu was one of the first casualties just after halfway; Guye Adola, whose debut record Molla broke (2:03:46), succumbed at 27k. Both men would ultimately drop out (2011 10k world champ Ibrahim Jeilan, slated to make his marathon debut, was a DNS).
By 35k (1:42:17), it was down to a two-man battle between Molla and Negasa, both of whom were still on pace to run 2:03:19. But they too, eventually began to feel the effects of all those fast miles, and ran their 36th kilometer in 3:06 — the slowest of the race. That allowed Ethiopian Asefa Mengstu, 4th here last year, to catch back up, but he wouldn't linger for long. Despite running their slowest 5k of the race (14:59), Molla and Negasa successfully shook him off and crossed 40k together in 1:57:16.
Article continues below player.
They would run together until just under half a mile to go, when Molla opened up a small gap on Negasa. Totally spent, Negasa had no answer and Molla gradually stretched his lead down the home straight to win by six seconds.
Women's race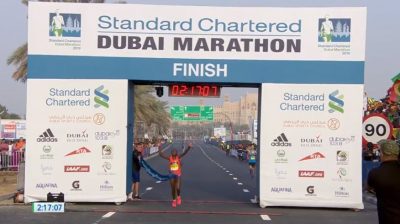 The men's fast start was nothing compared to the women's race, where three athletes — Chepngetich, Degefa, and Ethiopian Worknesh Edesa (2:24:04 pb) passed halfway in a ludicrous 68:10 (the male pacers, who would run with Chepngetich for most of the race, had been assigned 69:30).
Edesa eventually faltered between 25 and 30k, leaving Chepngetich and Degefa to battle each other for the win. They were on sub-2:17 pace through 30k and stayed together through 35k, but Chepngetich pulled away after that and would run all alone — sans pacers — the rest of the way.
Chepngetich always looked the more likely to win. Even before Degefa dropped off, Chepngetich had been the one running near the front of the group, pushing the male pacers to up the tempo. Degefa, meanwhile, was content to tuck in behind and follow along. The only time Chepngetich ever looked to be in trouble came at the drinks stations, where she had trouble picking out her bottle on multiple occasions. If not for those mishaps, she may have joined Radcliffe as the only women ever under 2:17.
Despite her fast start, Edesa did manage to hold on for third in a nearly three-minute pb of 2:21:05.
Results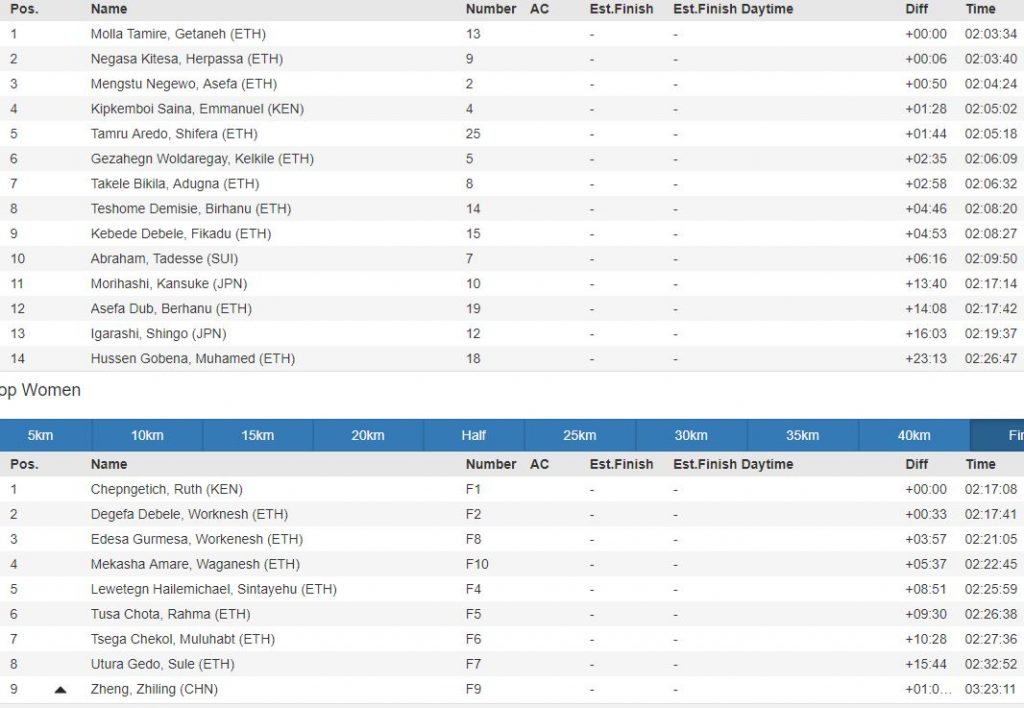 Quick Take: Molla appears to be the real deal and we think he'll have staying power
If running 2:03:34 in your debut wasn't good enough to stamp yourself as a potential future star, then we've got some more ammunition for Molla fans.

Yes, Dubai has a history of guys running super fast and winning in their debuts, but not all of those guys go on to become big stars. From 2012-14, Ayele Abshero, Lelisa Desisa, Tesfaye Mekonnen all ran in the 2:04s to win their debuts in Dubai. The bad news is none of them have ever run faster.
That being said, all of them have gone on to do some good things. Of the three, we'd only call Desisa a star as he has won multiple majors since, but Mekonnen did run 2:04 again two years later in Dubai and Abshero has twice since been top 5 at London since. Then there's 2016 winner Tesfaye Abera, who ran a 5-minute PR of 2:04:24 to win in 2016 but ran 2:16 and 2:07 in his two marathons in 2017 and didn't race a marathon at all in 2018.
If you are asking us to predict, we'd say we think Molla will be more like Desisa moving forward. He has an impressive track pedigree (12:59 5k last year) and won three of the five half marathons he ran in 2018, finished second in the other, and was 5th at World Half in the third. There aren't that many sub-13:00 men who are great at the marathon, but those that we can think of off the top of our heads — Eliud Kipchoge, Mo Farah, Galen Rupp — are all extremely great and have won majors. Molla could be next in line.
Oh yeah, one more thing about Molla. His $100,000 first-place check was far from the biggest of his career. Last February, he was the winner of the half marathon in Riyadh that had the crazy $266,650 payout for first place (SAR 1,000,000, men only).
Quick Take: Ruth Chepngetich EASILY destroyed the record for quickest back-to-back sub-2:20s and looks like a force to be reckoned with moving forward but….
Ruth Chepngetich first broke 2:20 (and 2:19) just 75 days ago on November 11, when she ran 2:18:35 in Istanbul (a four-minute PR). With her 2:17 today, that is EASILY the quickest any woman has run back-to-back sub-2:20 marathons as the previous quickest belonged to Tirunesh Dibaba at 168 days.
Only eight women in history have ever broken 2:20 in the marathon more than once in their entire careers. Of those eight, only three of them before today had ever broken 2:20 within the span of a 365 days.
Quickest Repeat Sub-2:20s in history
Ruth Chepngetich – 75 days in 2018-2019
Tirunesh Dibaba – 168 days in 2017 and 343 days in 2017-18 (the 343 days included a DNF)
Catherine Ndereba – 182 days in 2002-2003
Paul Radcliffe – 182 days in 2002 and 182 days in 2002-2003 (she ran back-to-back-to-back sub-2:20s).
Rita Jeptoo (doper) – 190 days in 2013-14
Chepngetich is certainly a force to be reckoned with moving forward. According to tilastopaja.eu, she's run four career marathons and all four have gone well (3 wins, slowest time of 2:22:59). At the half, she's won 5 of her career 10 half marathons but she was just 13th at World Half and 4th at Copenhagen last year; her half pb is 66:19. The only negative is she's represented by Federico Rosa, who has represented the two biggest EPO cheats in marathon history in Rita Jeptoo and Jemima Sumgong (plus Asbel Kiprop).
Quick Take: Dubai cuts prize money in half and times get…faster?
Before the race, we wrote an article about how the prize money in Dubai was greatly reduced this year — from an overall purse of $816,000 and a first-place prize of $200,000 last year to an overall purse of $385,000 and a first-place prize of $100,000 this year. But if you thought that the reduced purse would slow down times, you could not have been more wrong.
Why were the times so fast today up front?
The men's pacing was slightly more conservative than in previous years, so that may have helped a little.
Dubai Marathon first-half splits, 2016-2019
2019: 61:43 (2:03:34 winning time)
2018: 61:36 (2:04:00 winning time)
2017: 61:33 (14:26 first 5k; 2:04:11 winning time)
2016: 61:39 (2:04:24 winning time)
The weather wasn't all that different from previous years. Here's the temperature at 6 a.m. local time for the last five Dubai Marathons:
2019: 65 degrees, 61 dew point, 86% humidity. 6 mph wind. That being said, once the sun came up the dewpoint dipped to under 60.
2018: 61 degrees, 57 dew point, 88% humidity. 3 mph wind.
2017: 70 degrees, 59 dew point, 68% humidity. 10 mph wind.
2016: 63 degrees, 57 dew point, 82% humidity. 3 mph wind.
2015: 59 degrees, 52 dew point, 77% humidity. 3 mph wind.
However, there were two important things to note about the weather. Number one: it actually got cooler during the race today. Our iPhone weather app said 65 degrees at the start but 63 degrees at the finish. Number two: in 2018, the race start moved from 6:30 to 6:00. That's an extra half hour of running in the shade; perhaps it's no coincidence that the men's and women's course records were broken in both 2018 and 2019.
Of course, there are other factors that may be at play as well. One is probability: if you send out a bunch of marathoners on 2:03 pace every year, chances are at least one or two of them hang on and run fast. And as the level of global marathoning continues to increase, the odds of someone being able to hang on increase as well. And why is the level of global marathoning increasing? See our next point…
Quick Take: adidas athlete Herpassa Negasa ran his huge PB wearing Nike Vaporflys
We don't want to say that the Nike Vaporfly 4% shoe is the only reason that marathon times are getting faster — Mary Keitany blasted a 66:58 second half in New York just two months ago in adidas shoes — but the fact is that many of the fast times recently have come in the Vaporflys, including Eliud Kipchoge's 2:01:39 world record last year.
In Dubai today, the top two men wore Vaporflys, as did women's winner Chepngetich (runner-up Worknesh Degefa — who also ran 2:17 — did not). But you better believe the athletes are taking the running shoe arms race seriously. After every major marathon, someone seems to pop up on the LetsRun messageboard trying to suggest that a non-Nike athlete tried to surreptitiously race in Vaporflys. In Dubai, we actually had proof.
Check this out:
If you can't beat em, join em! @letsrundotcom @jgault13 #DubaiMarathon #vaporfly pic.twitter.com/ki4JjTubG7

— Reed Breuer (@ReedBreuer) January 25, 2019
That is runner-up Herpassa Negasa, who raced in an adidas kit but wore Nike's Vaporfly shoes, which he appears to have painted/dyed (you can still make out the Nike swoosh in the image above; it was quite obvious on video).
Negasa, by the way, ran a PR of over five minutes (2:03:40) and is now the 10th-fastest marathoner of all time.
Talk about the spectacular 2019 Standard Chartered Dubai Marathon on our world famous messageboard / fan forum:
MB: Official 2019 Dubai Marathon Discussion Thread
MB: If Kipchoge ran Dubai…