2018 LRC World & US Rankings, M Marathon: Eliud Kipchoge (Duh) & Galen Rupp Are World & US #1s
By LetsRun.com
January 1, 2019
As 2018 draws to a close, it's once again time to publish the fifth annual LetsRun.com world and US rankings. From now until the end of the year, we'll be ranking the top 10 men and women in the world (plus the top five Americans) in the 800, 1500/mile, 3000 steeplechase, 3,000/5,000, and marathon.
Since these rankings are obviously subjective, we'll lay out the criteria we're using for them:
Not all marathons are created equal. Finishing second to Eliud Kipchoge in the London Marathon is different than finishing second to Yuki Kawauchi in the Boston Marathon.
Season-best times were given some consideration, but we didn't penalize a runner for having a slow sb if they ran tougher marathons.
Head-to-head results factor heavily in the ranking criteria if it's close between two runners for a spot.
While we strive to be objective with our rankings, with only two (occasionally three, but sometimes just one) data points for each marathoner, it's inevitable that some subjectivity comes into play in these rankings, more so in the marathon than any other event.
LRC 2017 men's marathon rankings * LRC All 2018 Year-End Rankings
LRC's coverage of the 2018 World Marathon Majors
Tokyo LRC 2018 Tokyo Marathon: Dickson Chumba & Birhane Dibaba Win, Amy Cragg Runs US #5 A-T 2:21:42, & Yuta Shitara Runs 2:06:11 to Set Japanese Record and Win $936,000
Boston LRC The People's Marathoner Yuki Kawauchi Wins the 2018 Boston Marathon
London LRC Crazy 4:22 Opening Mile and 13:48 Opening 5k Can't Stop Eliud Kipchoge from Winning London Marathon in 2:04:17
Berlin LRC The Greatest Ever – 2:01:39 – Eliud Kipchoge Crushes World Record to Win 2018 Berlin Marathon
Chicago LRC Sir Mo Farah Wins Chicago Marathon in 2:05:11 as Galen Rupp is 5th and Suguru Osako Breaks Japanese Record
New York LRC Lelisa Desisa (2:05:59) Holds Off Shura Kitata & Geoffrey Kamworor to Win His First NYC Marathon Title
Men's Marathon World Rankings
Before we begin, a shoutout to LRC visitor David Graham. Graham puts out his own men's marathon rankings every year and does a great job, so a tip of the hat to Graham, who came up with some interesting facts and provided a baseline for our own analysis. This year, he wrote nearly 5000 words about the men's marathon: David Graham's 2018 Marathon Rankings and Musings.
Article continues below player.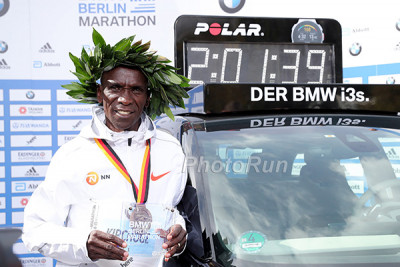 1. Eliud Kipchoge • Kenya • 34 years old
2018 results: 1st London (2:04:17), 1st Berlin (2:01:39 WR)
What more is there to say about this man? Even before this year's Berlin Marathon, Kipchoge was the greatest marathoner of all time. Then he arrived in the German capital and ran a time that still doesn't look right when you type it out: 2:01:39.
No one was supposed to run that fast for years. Dennis Kimetto's old world record stood at 2:02:57, and while everyone knew Kipchoge was capable of breaking it on the right day, few expected him to take that much time off — a full 78 seconds, the largest WR improvement in 51 years. But Kipchoge has made a career of defying expectations. He wasn't supposed to show up at the 2003 World Championships as a gap-toothed 18-year-old and upset Hicham El Guerrouj and Kenenisa Bekele. He wasn't supposed to win the 2015 Berlin Marathon with his insoles flapping in the breeze. Marathoners are supposed to have bad days, get hurt, make a mistake with fueling, and otherwise give the impression that they're you know, mortal.
But Kipchoge has a habit of making the impossible real. Prior to Kipchoge, no one had ever run sub-61:00 for either half of a marathon. Kipchoge closed his second half in Berlin in 60:33. Without pacers. After a 61:06 opening half.
Kipchoge's marathon career has been so monumental that he has forced us to change the way we view the word "dominant." Because so many things have to go right in a marathon, we consider a marathoner dominant if they win two or three races in a row. Mary Keitany is the dominant marathoner of her generation on the women's side, yet she has never won two marathons in a single year. Kipchoge has won two marathons — all but one of them majors — in four of the past five years (but for Breaking2, it would be five of five).
| | |
| --- | --- |
| Overall | |
| Comfort | |
| Cushioning | |
| Durability | |
| Appearance | |
| Value | |
Despite accomplishing so much in the marathon already, we're still excited to see where Kipchoge goes from here. Does he make another crack at the two-hour barrier after coming less than one second per mile away in 2017? Does he try out a new race, like Boston or New York? Does he try to improve on his own world record in Berlin? And how long can his unbeaten streak go?
2. Shura Kitata • Ethiopia • 22 years old
2018 results: 2nd London (2:04:49), 2nd New York (2:06:01)
While Kitata didn't win a marathon in 2018, he produced two performances that would have resulted in victories in almost any other year. On an uncharacteristically warm day in London in April, he finished second in 2:04:49 despite hitting halfway in 61:00 — the fastest-ever first-half split in a marathon (Breaking2 excluded). London attracts the best field of any major marathon, and considering Kipchoge was the only man to beat him, Kitata's run in London this year — where he finished 1:32 ahead of third-placer Mo Farah — has to be considered one of the best of the year.
Kitata's second marathon of the year in New York was just as impressive. After pushing the pace throughout the early stages, Kitata fell 11 seconds off the leaders at mile 24 only to charge back in the final mile and chase down leader Lelisa Desisa in Central Park. Though Kitata never quite got there (he came as close as two seconds behind), it made for a thrilling conclusion and he was rewarded with a runner-up showing in 2:06:01 — the third-fastest time ever run in New York.
If you don't think Kitata should be #2 since he didn't win a race in 2018, we understand and think one could easily rank him #5 for that reason, but the way we see it, second to Kipchoge in London is basically a win in any other race in the world.
3. Mo Farah • Great Britain • 35 years old
2018 results: 3rd London (2:06:21), 1st Chicago (2:05:11)
Farah won in Chicago but he lost to Kitata by 92 seconds when they raced head-to-head in London, which meant we gave the nod to Kitata at #2. Still, this was an outstanding year for Farah in the marathon. Remember: 12 months ago, Farah had just one career marathon under his belt, a 2:08:21 in London in 2014. While it's fair to say that that race wasn't an accurate reflection of his marathon potential — Farah had yet to go all-in on the marathon at that time — it was no guarantee that Farah would end 2018 as one of the world's top marathoners. Yes, he put together one of the greatest track careers in the history of the sport, with 10 global golds across the 5k and 10k, but given the miles on his legs and his top-end speed (3:28 for 1500), it was fair to wonder whether Farah would be able to replicate that sort of success in a much longer race. And then there is the motivation factor: at 35 years old, and with four Olympic golds to his name, would Farah bring the same drive and commitment to marathon training that he did to his track career?
The answer, in a word, was yes. Working under new coach Gary Lough, Farah could not have faced a much tougher test in his return to the marathon: a loaded London field that included the GOAT, Kipchoge; an unseasonably warm day; and a blazing early pace (4:22 first mile, 13:48 first 5k, 61:00 first half) that immediately forced Farah to choose whether to follow the leaders and risk a blowup or drop back and risk allowing a massive gap to form. Farah chose the former option, and despite some drinks mishaps, held on remarkably well to finish third in 2:06:21. With that experience under his belt, he headed to Chicago, where he dispatched a quality field to record his first career marathon victory in a European record of 2:05:11.
Kipchoge remains the favorite for the 2020 Olympic title, but Farah has added his name to the shortlist of contenders.
4. Mosinet Geremew • Ethiopia • 26 years old
2018 results: 1st Dubai (2:04:00 CR), 2nd Chicago (2:05:24)
In terms of times, no marathon was deeper than Dubai this year as the top five were separated by just eight seconds (all under the old course record) and the top seven all broke 2:05 (including six at 2:04:15 or faster). And in that race, it was Geremew, running just his third career marathon, who came out on top in 2:04:00 — the fastest non-Kipchoge time of the year. Throw in a competitive second-place showing in Chicago, where he was with Farah until the final mile, and Geremew was one of the top marathoners in the world in 2018.
LRC Mosinet Geremew & Roza Dereje Win 2018 Dubai Marathon — The Deepest Marathon In History As 7 Men Break 2:05 & 4 Women Break 2:20
5. Leul Gebreselassie • Ethiopia • 25 years old
2018 results: 2nd Dubai (2:04:02), 1st Valencia (2:04:31 CR)
Gebreselassie was one of three men to break 2:05 twice in 2018, and he did so by finishing a close second in Dubai (under the old CR) and winning in Valencia (in course-record time). The average of his two marathons in 2018 was 2:04:16 — only Kipchoge was faster. And yes, Gebreselassie was helped out by running on two fast courses, but a 2:04 is a 2:04.
As friend of LRC David Graham points out, the adidas-sponsored Gebreselassie is the highest-ranked runner who didn't wear Nike's Vaporfly shoes this year.
6. Lelisa Desisa • Ethiopia • 28 years old
2018 results: DNF Boston, 1st New York (2:05:59)
We're giving anyone who DNF'd Boston a pass as the apocalyptic conditions caused a staggering 62.5% of the elite men's field to drop out. Desisa's other 2018 marathon was New York, and after coming close there on numerous occasions (2nd in '14, 3rd in '15 and '17), Desisa earned the win to join the exclusive list of men to have won both Boston and New York. The conditions could not have been more different from Boston in NYC as the near-perfect weather (47 degrees, sunny, minimal wind at the start) led to a slew of fast times and Desisa joining two-time champion Geoffrey Mutai as the only men ever under 2:06 in New York.
Desisa only finished one marathon this year, but when that one marathon is a 2:05 win in New York, you still place highly in our world rankings.
7. Kenneth Kipkemoi • Kenya • 34 years old
2018 results: 1st Rotterdam (2:05:44), 4th Chicago (2:05:57)
Kipkemoi, a 59:01 half marathoner, shaved almost four minutes off his PR (set in Gongju, South Korea, last year) by clocking 2:05:44 to win a competitive Rotterdam Marathon (three other men broke 2:06) — the fastest time on that course since Kipchoge's 2:05:00 in 2014. In the fall, he finished a respectable 4th against a tough field in Chicago, just ahead of Galen Rupp, Geoffrey Kirui, and Abel Kirui — major champions all.
8. Sisay Lemma • Ethiopia • 28 years old
2018 results: 5th Dubai (2:04:08), 2nd Prague (2:07:02), 1st Ljubljana (2:04:58 CR)
Yes, Lemma was only 5th in Dubai, but he was 5th in a historically deep year in a time that would have won every previous Dubai Marathon. And of the four men that beat him, only one managed a second sub-2:05 in 2018 — Leul Gebreselassie, who ranks fifth on this list. In fact, Lemma was only one of three men worldwide to break 2:05 twice this year, after Gebreselassie and Kipchoge. Throw in a respectable runner-up showing in Prague behind Rupp and Lemma deserves to be in our top 10.
9. Lawrence Cherono • Kenya • 30 years old
2018 results: 7th London (2:09:25), 1st Amsterdam (2:04:06 CR)
For the last couple of years, we've wondered what Cherono, who set course records in Honolulu in 2016 and 2017 and a CR in Amsterdam last year, could do in a World Marathon Major. In 2018, Cherono made the leap to the big leagues, running London, but he struggled in the heat, hanging with the leaders through 15k but ultimately fading after splits of 61:34/67:51. Hopefully that doesn't discourage Cherono from running more majors in the future as he demonstrated his full potential by returning to Amsterdam and setting a course record for the second year in a row in 2:04:06 (the fastest non-Kipchoge/non-Dubai time of the year).
10. Tamirat Tola • Ethiopia • 27 years old
2018 results: 3rd Dubai (2:04:06), DNF Boston, 4th New York (2:08:30)
Tola was 3rd in Dubai in January, clocking a PR of 2:04:06 (five seconds faster than his CR in Dubai last year) and after dropping out in Boston, he added a top-four finish at a major in New York, where the top three all ran top-five times all-time on the NYC course.
U.S. Rankings
1. Galen Rupp • Nike Oregon Project • 32 years old
2018 results: DNF Boston, 1st Prague (2:06:07), 5th Chicago (2:06:21)
Rupp continues to run on another plane of existence from the rest of the US marathon corps; as the rest of the country's marathoners failed to break 2:12 for the second year in a row, Rupp ran 2:06 in Prague and Chicago. Boston, obviously, did not go the way Rupp planned due to the weather, but he showed resilience in bouncing back three weeks later to run a PR in Prague — the fourth-fastest marathon ever by an American, and the fastest ever by an American-born man on a record-eligible course (only Ryan Hall's wind-aided 2:04:58 at 2011 Boston and Moroccan-born Khalid Khannouchi's 2:05:38 at 2002 London and 2:05:56 at 2002 Chicago were faster).
Though Rupp failed to successfully defend his Chicago title, he acquitted himself well, mustering a 2:06:21 but losing out to some superior performances on the day.
"I ran the best race I could today," Rupp said after the race. "I wouldn't say that anything went wrong, it just wasn't my day today."
Rupp had been hampered by an Achilles injury during his Chicago buildup, and after feeling it flare up over the final miles of the race, he underwent heel surgery to correct the issue. That will keep him out of a spring marathon next year (not necessarily a bad thing — as Shalane Flanagan and Des Linden have shown in recent years, taking a break after a long stretch of non-stop training can be a blessing in disguise), and it will be interesting to see how Rupp responds after the first major injury of his professional career. Will he come back with a fall marathon or be content to take things slow and wait until the Olympic Trials to make his return?
2018 Prague Marathon recap LRC Galen Rupp Runs 2:06:07 to Smash PB and Win Prague Marathon
2. Shadrack Biwott • Hansons-Brooks Distance Project • 33 years old
2018 results: 3rd Boston (2:18:35), 9th New York (2:12:52)
When ranking the non-Rupp Americans, the biggest question is how to value the results of this year's Boston Marathon. Biwott was third in that race, which would normally make him a no-brainer for the second spot in our rankings. But only two African elites finished Boston this year (one of them, Geoffrey Kirui, finished ahead of Biwott); because of their numbers advantage, simple math dictated that some American was going to finish highly, which is how Sarah Sellers wound up second in the women's race.
In the women's rankings, we left Sellers out of our top 5 for the US; while she ran a commendable race in Boston, we didn't want to rank her higher than someone like Amy Cragg or Shalane Flanagan even though her 2nd in Boston was higher than Cragg and Flanagan's best WMM finishes in 2018. However, we're not doing the same for Biwott because he had two top 10 showings at a major this year. He was terrific in Boston (and don't call it a fluke; remember, he was 4th in 2017) and then he finished just behind both Jared Ward and Scott Fauble in New York – our #3 and #4 picks for the US.
3. Jared Ward • Saucony • 30 years old
2018 result: 6th New York (2:12:24)
Just seven weeks before the race, Ward almost pulled out of the 2018 New York City Marathon. Ward had come to New York a year earlier and struggled to a 12th-place finish in 2:18, and now a hamstring injury had caused him to drop out of his tuneup half marathon in the Czech Republic. Almost two years removed from his last good race, a 6th-place finish at the 2016 Olympics, Ward did not want to show up on another marathon start line at less than 100% and walk away with another disappointing performance. But NYC elite athlete consultant David Monti convinced Ward to give it a shot, and on September 29 — just five weeks from race day — he emailed Monti to confirm his participation.
It was the right decision. Ward wound up 6th in New York, the top American in a deep domestic field, despite a buildup that was less than ideal. The result reaffirmed his status as one of the country's top marathoners — perhaps the top marathoner while Rupp is on the shelf — and put Ward firmly in the mix to make his second Olympic team at the Trials in Atlanta in 2020.
Looking ahead to 2019, there is reason to believe that we still haven't seen the best of Ward (even in his Rio buildup, he was battling injury, though it didn't fully manifest itself until 2017). How high can he finish in Boston in April?
4. Scott Fauble • HOKA One One Northern Arizona Elite • 27 years old
2018 result: 7th New York (2:12:28)
Only four seconds behind Ward in New York was Fauble, the US's top under-30 marathoner. Fauble made his potential clear by finishing 4th in the 10,000 at the 2016 Olympic Trials, and after that sort of result on the track, few Americans would have made their marathon debut as early as he did — he was just 25 when he ran Frankfurt last year. But Fauble showed it was a wise decision, running 2:12:35 in Frankfurt and lowering that PR to 2:12:28 in New York. Like Ward, he'll run Boston this spring and will be a contender to finish as the top American there.
5. Chris Derrick • Bowerman Track Club • 28 years old
2018 result: 10th New York (2:13:08)
Again, this is a tough one. What to value more: Derrick's 10th-place 2:13:08 in perfect running conditions (albeit on a tough course) in New York? Or Tyler Pennel's 4th-place 2:18:57 in the worst possible running conditions (also on a tough course) in Boston?
Both of them beat some decent runners (Derrick finished ahead of 2:10 guys Juan Luis Barrios and Ryan Vail and 2:11 guys Tadesse Yae and Tim Ritchie; Pennel beat 2:08 guy Abdi Nageeye, 2:10 guy Reid Coolsaet, 2:11 guys Elkanah Kibet and Stephen Sambu, and veteran American Abdi Abdirahman). It was close.
In the end, we went with Derrick. There was one guy who beat both Pennel in Boston and Derrick in NYC — Shadrack Biwott. He beat Pennel by 22 seconds; he beat Derrick by 16.
---
More: LRC David Graham's 2018 Marathon Rankings and Musings LRC vistor David Graham is back with his annual men's marathon musing. This year, he comes in at a record 4,823 words.
LRC 2017 men's marathon rankings * LRC All 2018 Year-End Rankings