Ethiopians Birhanu Legese (2:04:48) and Ruti Aga (2:20:40) Run Fast Despite Poor Conditions and Win First Marathons Of Their Careers in Tokyo
By LetsRun.com
March 3, 2019
On a day featuring far from ideal weather, a pair of Ethiopians picked up their first career marathon wins at the 2019 Tokyo Marathon today as Birhanu Legese broke free in the 31st km and went on to win the men's race in dominant fashion (by two minutes) in 2:04:48 while Ruti Aga, who had finished 2nd in her last three marathons — all majors — won the women's race by 21 seconds in 2:20:40.
Men's Race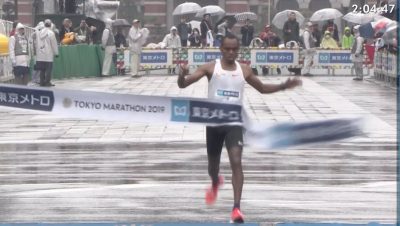 Even though the weather today was far from ideal for running fast (in fact, it reminded us of a poor man's version of last year's Boston Marathon weather as it rained during much of the race and it was just 42.3 Fahrenheit — 5.7 C — at the start, although the wind was modest), both races started out extremely fast.
Article continues below player
In the men's race, a group of 10 (eight racers, two pacers), including three Japanese men, went through halfway in 1:02:02-1:02:05. Behind them, counting pacers, a total of 46 men went out under 2:10:00 pace, including 29 men who went out in under 2:07:00 pace.
In the end, Mother Nature ended up destroying just about everyone not named Birhanu Legese as only Legese and runner-up Bedan Karoki ended up breaking 2:08, and only four men total, including zero Japanese, broke 2:10:00. Coming into the race, 98 Japanese men had broken 2:10, so history will have to wait a little longer to see the 100th sub-2:10 Japanese man. Last year, 14 men, including nine Japanese, broke 2:10 in Tokyo.
Literally as the lead pack of eight racers hit halfway, the top three Africans pulled clear as Legese, who ran the third-fastest debut in history last year to place 6th in Dubai (2:04:15) before finishing 10th in Chicago last year, defending champ Dickson Chumba of Kenya, as well as the Japanese-based Kenyan Karoki pulled clear. They'd stay together until Chumba fell off in the 30th kilometer. In the 31st kilometer, Karoki fell off and the final 11+ kilometers turned into a coronation for Legese. The only drama being whether Legese would somehow break Wilson Kipsang's 2:03:58 course record despite the poor conditions. Legese was still on 2:04:06 pace at 35k before he finally slowed on the way home but he did end up with the second sub-2:05 in Tokyo history.
Behind Legese and Karoki, it was pretty much absolute carnage. The three Japanese men who dared try to run with Legese for the first half all blew up spectacularly. Japanese national record holder Suguru Osako of the Nike Oregon Project dropped out before 30k, whereas 2:08:16 marathoner Shogo Nakamura ended up running 2:14:52 by going 62:04-72:48. And his second half was better than Yuki Sato's, as the 2:08:48 performer ended up running 2:15:07 (62:04-73:03). One messageboarder summed up Sato's day perfectly by writing, "MG Sato second half was 73:03. He went out at 2:04:08 pace and had a second half at 2:26:06 pace. From 40km to finish, he ran 9:50. That is 3:09:31. One of the biggest blowups ever."
The top Japanese finisher ended up being collegian Kensuke Horio, who came out of the second pack. But that pack also blew up big-time as Horio ran 2:10:21 the hard way after a 63:27 first half. Horio is coached by Masakazu Fujiwara, the holder of both the Japanese debut and collegiate record of 2:08:12. The top three Japanese men in the race all qualified for the Japanese Olympic Trials, which will be held in September, by breaking 2:11:00.
The lone American elite in the race, Matt Llano, also blew up big-time. Llano ran 2:20:51 after a 65:48 first half. 
Women's race
In the women's race, the leaders hit halfway in 69:44 but the pace would gradually slow from there. At 30k (1:39:39 – 2:20:10 pace) and 35k (1:56:43 – 2:20:43 pace), there were still six women within a second of the lead but the final 7.2 km belonged to Aga, who refused to be the bridesmaid for a fourth straight major. She picked it up every so slightly through 40k (1:56:43 – 2:20:41 pace) and that gave her an eight-second lead that would only grow to the finish. Ethiopians Helen Tola (2:21:01), Shure Demise (2:21:05), and Kenyan Florence Kiplagat (2:21:50) all held up pretty well to finish 2nd-3rd-4th. 21-year-old Mao Ichiyama took top Japanese honors in her debut in 2:24:33 for 6th, but that didn't qualify her for the Olympic Trials as she didn't break 2:24:00.
Quick Take: Two deserved winners won both their first marathons and majors today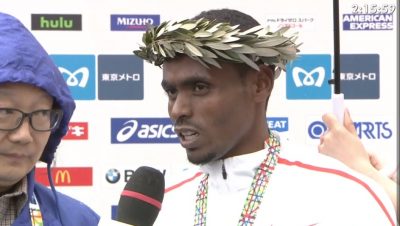 While Legese had never finished higher than sixth in his first two career marathons, his win was far from a fluke. Remember, he ran the third-best debut in history last year in Dubai (2:04:15), where LetsRun.com co-founder Robert Johnson had picked him to win as Legese came in very credentialed, having won two of the world's most prestigious half marathons (New Delhi in 2015 and RAK in 2016).
As for Aga, in addition to having finished second in three straight majors, she is also the 8th fastest marathoner in history (2:18:34). The fact that she had never won a marathon until today — let alone a major — was a testament to the fact women's marathoning is stronger than ever in 2019 and she's never shied away from the competition.
Before today, Aga was the only one of history's 31 sub-2:20 women who had never won a marathon.
More: Talk about 2019 Tokyo on our world famous fan forum / messageboard.