A Total Joke: Several Top Pros Are Skipping USA Indoors to Run a 5K Time Trial in Boston
By LetsRun.com
February 22, 2019
On Sunday afternoon, 15 minutes after the 2019 USATF Indoor Championships wrap up, some of the United States' fastest distance runners will run a 5,000-meter race in Boston to try to qualify for a meet that will be held seven months from now. It is a ridiculous situation that tells you everything you need to know about the state of track & field right now, a sport where only one or two meets truly matter and where all too often the stakeholders act out of self-interest rather than what is best for the sport.
The Bowerman Track Club's Karissa Schweizer, Vanessa Fraser, and Courtney Frerichs, New Balance's Kim Conley, the American Distance Project's Julius Bor, Emmanuel Bor, Biya Simbassa, Hillary Bor, and Kirubel Erassa, and the BAA's Trevor Dunbar are among the athletes entered in the elite 5,000-meter races at the Last Chance Invitational at Boston University, where the goal will presumably be to knock out the IAAF World Championship standard (13:22.50 for men, 15:22.00 for women). Edward Cheserek is also entered in the race, but since he is not American he does not have the option of running at USAs.
Article continues below player
So what is wrong with this picture?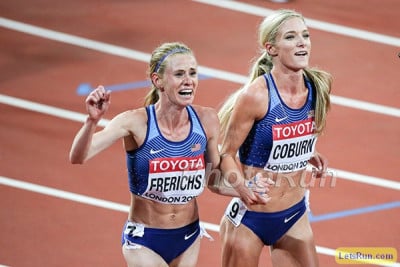 1) If you're an elite distance/middle distance runner and you're in shape, you should either be racing at USA Indoors this weekend or not at all
Apart from Frerichs, the American record holder and reigning World Championship silver medalist in the steeplechase, we would hesitate to call any of these athletes "stars," but they are certainly among the best distance runners in the country. Schweizer is a five-time NCAA champion, has run 15:02, and is a good bet to make this year's World Championship team in the 5k. Conley is a two-time Olympian. Hillary Bor was 7th at the 2016 Olympics in the steeple and was 8th in our 2018 World Rankings. Emmanuel Bor was the runner-up at USA XC three weeks ago. The competition at USAs is worse because of their absence.
For these athletes to skip their national championship — one of the few professional track & field events in this country shown on national TV — in order to run a non-televised race where no one cares who wins (every single one of these athletes would rather hit the standard than win the race) is a slap in the face to fans of the sport. In particular, Frerichs and Hillary Bor (who may be used as pacemakers for their teammates at BU) don't even need to hit the 5k standard this weekend as they'll be trying to make Worlds in the steeple. If the athletes don't care about USAs, why should the fans?
There's another meet at BU next weekend, where Yomif Kejelcha will be trying to break the mile world record. If the athletes and their coaches really don't want to run at USAs, they should have chosen that meet for their 5,000 instead.
2) USATF deserves plenty of blame here too
In a perfect world, all of these athletes would be competing at USAs. But even if USATF can't force athletes to run USAs, they still have some options to prevent this situation from happening. One idea we like: instituting a rule that no performances achieved this weekend can be used to qualify for Worlds (with exceptions for performances achieved at USAs and by collegians at their conference meets). That would force athletes to either run USAs or wait a week to try to hit the standard.
Another idea: since we've known about this race for weeks, once USATF learned these 5,000-meter races were happening, why didn't they invite the athletes to run it as an exhibition event at USAs? It's not a great solution as you'd create the awkward situation of athletes racing at a national championship but not for a national championship, but it's a better solution than them running at a completely separate meet in Boston. But if you had the race in Staten Island, USATF could at least hype it up and get the fans into it — watch some of the US's best athletes begin their journey to Doha!
There's another reason USATF shoulders blame for this situation: unlike in years past, they're not allowing athletes to chase the World Championship standard after USA Outdoors. How does that affect the Last Chance Invitational in Boston? Let us explain.
The reason all these athletes are running at BU this weekend is to hit the World Championship standard. And the reasons why they would try to hit that standard in Boston makes sense: they're in shape and they're guaranteed perfect conditions on a fast track. But why do it now?
The better question is, why not? Anyone who is hoping to make the 2019 World Championship team needs to be prepared for a long season and will have to run well at USAs (July 25-28) and Worlds (September 27-October 6). What athletes don't want to do is worry about trying to get in top shape way before USAs — and way, way before Worlds — because it might take them multiple attempts to knock out the World standard. If you are in shape now and have a chance to knock out the standard — thus allowing you to focus only on running your best at USAs — you'd be foolish not to take it.
If USATF allowed athletes to chase the standard (the IAAF qualifying window closes on September 6), we likely would not be in this situation. If you're good enough to make the US team in a distance event, you're definitely good enough to run the World standard with six weeks to chase it. But for some reason, USATF would rather rush athletes into achieving the standard before USAs rather than try to send the best team possible.
An even better solution would be for the IAAF to step in and make it a rule that in any event where a country has at least three athletes achieve the World Championship standard, that country is allowed to pick the top three at its national championships for the World team — regardless of whether the top three have the standard. That would end the need for athletes to go chase times when other athletes in the country have already hit the time.
***
We don't want to totally rip athletes like Schweizer, Frerichs, and Hillary and Emmanuel Bor. All of them have committed to running World XC next month, a move we vigorously applaud — we need as many top US pros running World XC as possible. We understand why they're running at BU (also, if they were to run at USAs, they would have had to run another indoor meet this year to get a qualifying mark). But, quite simply, by running this time trial in Boston, they (and by they, we mean the athletes, agents, coaches — whoever was involved in the decision-making process here) are devaluing our national championships, which can hardly afford to be devalued further.
To be honest, we mainly blame "the sport" and USATF. We totally get why if you don't have the standard, you don't want to get yourself in top shape by mid-June to make sure you get it with plenty of time to recover for USAs in late-July for a Worlds that won't end until October. If USATF had put USAs later in the summer (two months before Worlds is too early) or let people chase the standard or had more prize money at USA Indoors, we likely wouldn't be writing this rant.
Where is the forward thinking from those running our sport?