2019 USATF Indoor 600/1000 Prelims: Athing Mu Smashes HS 600 Record (1:26.23) to Set Up Showdown with Raevyn Rogers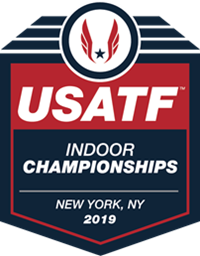 February 22, 2019 to February 24, 2019
By LetsRun.com
February 23, 2019
NEW YORK — The prelims in the men's and women's 600 and 1000 meters at today's 2019 Toyota USATF Indoor Championships are in the books, and while US stars Ajee' Wilson (600), Donavan Brazier (600), and Clayton Murphy (1000) all looked fantastic in recording the fastest qualifying times of the day, World Indoor 800 silver medalist Drew Windle was not as fortunate as he missed out on the 600 final by .23 of a second (the 600 finalists were decided strictly on time; Windle was second in heat 4 in 1:17.14).
Sixteen-year-old Athing Mu may not have the hardware of Wilson, Brazier, or Murphy, all of whom have won multiple US titles, but she showed that she very much belonged in her first senior national championship by running the fastest time of the day in the women's 600 at 1:26.23. The time slashed almost a second off Sammy Watson's US high school record (1:27.13), is faster than any US collegian has ever run, and ranks her #5 all-time on the US indoor list. All of a sudden, Raevyn Rogers, who won her heat in 1:26.53 (no one else was under 1:27), has some competition in Sunday's final as she goes for her first US title.
Article continues below player
Beyond Windle — who has struggled to return to the form of his brilliant 2018 indoor campaign — there were no major casualties in qualifying. Drew Piazza, 5th at USAs in the 800 outdoors last year, was the biggest name not to make it as he could only manage fourth place in heat 3 of the 1000. 2017 USA outdoor 1500 champ Robby Andrews did not look great in heat 1 of the 1000, taking a distant third in 2:22.01 behind heat winner Murphy, who ran 2:20.23 despite shutting it down late. But Andrews did make it in as a time qualifier — a welcome reprieve after failing to make the outdoor 1500 final last year.
The women's 1000 went exactly to form as the three Americans who have broken 2:00 this year in the 800 — Wilson, Ce'Aira Brown, and Laura Roesler — all got to the lead by second lap and never relinquished it, with each winning their heat.
Full results for all sections can be found here.
Quick Take: The men's 600 WR could fall tomorrow
Donavan Brazier ran 1:15.64, the fastest time of the day, to win heat 1, but there's reason to think he could run significantly faster tomorrow and challenge Michael Saruni's year-old world record of 1:14.79. Brazier intentionally backed off the pace early, and while that was due in part to his heat being the fastest of the day (Je'von Hutchinson hit 200 in 23.05; no other heat went out faster than 23.98), it was clear that Brazier had more in the tank; he didn't take the lead until the backstretch of the final lap and cruised home from there.
It's not hard to imagine Brazier running a full second faster in the final, which would give him the WR. But he has to want it — if he doesn't get to the lead early, he may lose too much time and it can be difficult to pass in the 600. But that's exactly why he should get out hard and get into the front early — it's his best chance of winning.
Quick Take: The women's 600 final is suddenly a lot more interesting
With Wilson, Brown, and Roesler all opting for the 1000, going into the weekend, it didn't look like Raevyn Rogers, who was 2nd at USAs in both the indoor and outdoor 800 last year, would have much competition in her quest to win her first national title. But after Athing Mu's big run in the first heat, the final is suddenly significantly more interesting.
Between the two of them, we'd still pick Rogers FTW. She's six years older (22 vs. 16) and has way more experience in championship environments. How will Mu bounce back tomorrow after running a big PR today?
That said, Mu's run today was super impressive, and though her 800 PR of 2:03.98 (on a flat 200m track) is way slower than Rogers' (1:57.69 outdoors, 1:59.99 indoors), her 400 PR (52.55 indoors this year) isn't that far off Rogers' overall 400 PR of 52.06 last year outdoors (though Rogers has split sub-50 in the 4×400). We're definitely way more excited for this final than we were 24 hours ago.
Robby Andrews interview
Kristin Andrews interview
Kristin is Robby's sister and qualified for USAs in the 600 but did not advance today.
Ajee' Wilson interview
Drew Windle interview