Danny Mackey Says Beasts Can Run a Sub-16 4 x Mile World Record; Craig Engels is Focused on 1000m Win, Not American Record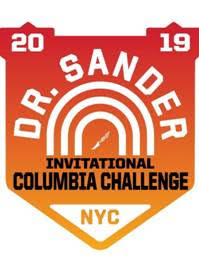 January 26, 2019
By LetsRun.com
January 25, 2019
NEW YORK — Tomorrow's Dr. Sander Invite at the Armory in New York plays second fiddle to the Millrose Games here in two weeks and to the New Balance Indoor Grand Prix Saturday in Boston, but Brooks Beasts head coach Danny Mackey said his team has had this meet and the 4 x mile world record attempt circled on its schedule since October. Mackey said he believes that his team is capable of going sub-16, but the focus will be on breaking the 16:12.81 world best* set by the HOKA ONE ONE New Jersey*New York Track Club two years ago (meet preview here).
HOKA NJ*NY will have a team in the race, but Mackey knows his team is the favorite. Not only do the Beasts have the best mile PRs in the field, but all four of his guys are fit as they all raced two weeks ago and as Mackey said "it went really well."
Article continues below player
Mackey knows if he threw all four of his guys into a mile race individually they would all go sub-4, but all it takes is one bad leg to derail the record, the win, or the sub-16. "That's what's scary about it. No one can have a bad day," he said.
Mackey found that out first-hand in 2014. His guys had a shot at the 4 x 800 record, but on the first leg, one of the most reliable rabbits in the sport, Matt Scherer, had a terrible leg, running 1:54, and his team's shot at the record was gone.
There will be a rabbit in the field on the first leg to start things off for at least the first 400 at 60-second pace. Mackey said he has told his runners to go out in 2:00 to 2:02 and try to kick off that rather than going out faster, as the biggest way to get in trouble is to go out too fast.
The Brooks order will be Beasts rookie David Ribich leading off, then Henry Wynne, Brannon Kidder, and 2018 USA 1500 runner-up Izaic Yorks on the anchor.
Mackey expects the NJ*NY team to be competitive. Brooks is putting up $5,000 to the winner of the race.
Craig Engels Talks Yomif Kejelcha, Donavan Brazier, and Ethiopian Genetics
Word on the street is Nike Oregon Project runner Craig Engels is very fit. Before the press conference, there was speculation among insiders that Engels wanted the rabbit to go faster so he could target the American 1000m record. But during the press conference, Engels said he had heard the rabbit was supposed to go out in 52 and that was too fast. He said ideally he would come through in 1:50 and kick from there.
The American record belongs to the late David Torrence at 2:16.76 and it's unlikely going out in 1:50 would result in the record. Engels said winning is his priority, "[My coach's] biggest thing is we win races. A lot of times if you go for an American record and blow up, you don't win. I think we'll go for the win this time and if it's a fast race then we'll get the American record," he said.
Engels also talked a little bit about his new training partners, Ethiopia's Yomif Kejelcha and American Donavan Brazier. Engels said Kejelcha could run a 3:47 mile indoors (the world record is Hicham El Guerrouj's 3:48.45). Engels will race Kejelcha in the Wanamaker Mile in two weeks, where the world record could fall.
Engels was asked what he thought when he found out Kejelcha was added as a late entrant to the Millrose Games this year, "I was kind of pissed actually. It's usually all Americans and Nick Willis, you know. And now we have Ethiopian in there and you have to deal with that," he said.
When asked what Kejelcha had that he didn't, Engels replied, "genetics" and then gave a laugh before saying, "I guess we're all on a level playing field in reality, but he's lived at altitude his whole life and trained at altitude his whole life."
Engels jumps into workouts occasionally with Kejelcha, but Kejelcha is a 5k guy and Engels an 800/miler. Recently Engels has been working out more with new training partner Brazier. He said they recently did a very quick 600, 400 (50), 300 (37), 200 (24) workout.
Discussion: Craig Engels on Kejelcha Being in Wanamaker "I was kind of pissed actually. It's usually all Americans and Nick Willis"
The other featured individual race at the Dr. Sander Invite is the women's 3000, where high school sensation Katelyn Tuohy will be racing the pros for the first time. She was in class, so she obviously couldn't make the press conference.
The one field eventer at the press conference was 2015 shot put world champion Joe Kovacs.
We were so shocked at him talking about his diet — a dozen eggs for breakfast, a pound of red meat for dinner — that we wrote an article on it: LRC What Do Shot Putters Eat? Dozen Eggs, Pound of Red Meat, 4,500 to 5,500 Calories a Day According to Joe Kovacs
*Full 2019 Dr. Sander Invite Coverage Here
*Discussion: Craig Engels on Kejelcha Being in Wanamaker "I was kind of pissed actually. It's usually all Americans and Nick Willis"