Katelyn Tuohy Racing the Pros for the First Time, 4 x Mile World Record Attempt: 2019 Dr. Sander Invite Preview
By LetsRun.com
January 24, 2019
NEW YORK — The professional track and field season in New York City gets underway this weekend with the 2nd Annual Dr. Sander Invitational Columbia Challenge Saturday at the Armory, but if this meet is going to be remembered a year from now, it may be because of a high schooler.
Katelyn Tuohy, the North Rockland (N.Y.) High School star, will be racing the professionals for the first time and trying to break Mary Cain's high school indoor 3000m record of 9:04.51. The all-time fastest indoor 3000 by a high school girl is Alexa Efraimson's 9:00.16 from 2014, which came on an oversized track.
Article continues below player
The field assembled to take on Tuohy is one that is not head and shoulders above her. If Tuohy runs well, she should be very competitive and more than have a shot at the record.
Below are the women in the field, along with their 3,000m PRs and recent races.
| | | | |
| --- | --- | --- | --- |
| Athlete | Affiliation | 3000 PR | Recent Races |
| Kampf, Heather | Asics | 8:51.27 | 4:51 road mile |
| Eccleston, Amanda | Brooks | 8:59.69 | 4:33 mile |
| Neale, Amy-Eloise | Reebok Boston | 9:01.96 | None |
| Fulton, Eleanor | USA | 9:02.84 | |
| Tuohy, Katelyn | High School | 9:05.26 | 4:39 mile |
| Bell, Rolanda | Hoka One One | 9:09 | |
| Kunc, Katy | Hoka One One | 9:17.60 | |
| Garry, Kira | Hoka One One | 9:20 | |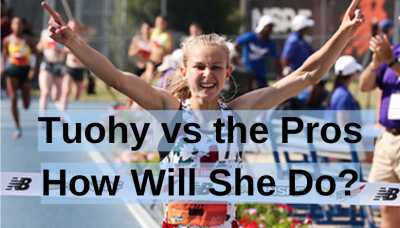 Heather Kampf won this race two years ago in a quick 8:51, but she missed the entire 2018 track season with injury and is just getting going again. Amanda Eccleston just missed the 2016 Olympic team in the 1500 by .03 and has run a 4:33 mile indoors already this year, so we're making her the favorite, but she's a better miler than 3000 runner. Amy Eloise-Neale is a former NCAA runner-up in cross country, but this is her 2019 indoor debut. Eleanor Fulton is sharp and beat Shannon Rowbury in Rowbury's return from pregnancy two weeks ago in Washington, but 9:02.84 is not out of Tuohy's wheelhouse.
Tuohy herself has run a 4:39 mile this indoor season, which leaves her a bit behind Eccleston, but Tuohy was running all alone versus high schoolers and working on finishing hard. After her mile, she told lohud.com, "Today was all about getting a race in. My goal was consistent 35s (35-second laps) and working on my finishing speed." If Tuohy wasn't ready to take on the pros, she could easily skip this race. All indications are this is a big focus on her indoor season, so we expect her to be ready.
And don't forget Tuohy, 16, is only a high school junior.
4 x Mile World Record Attempt Headlines the Pros + Ajee' Wilson + Engels v Andrews v Gregorek at 1k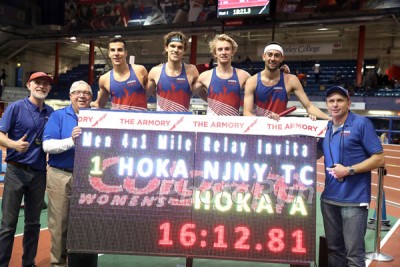 In terms of the pros, the headliner at the meet in the distances is American 800m star Ajee' Wilson, who will be running the 600m against fellow US Olympian Chrishuna Williams. The top distance race on the men's side looks to be the 1000m, where three of America's best milers — Craig Engels, Robby Andrews, and Johnny Gregorek — will square off. The men's 3000 (Ben Flanagan, Sam Parsons) and women's 1,000 (Natoya Goule and Laura Roesler) should be pretty good as well.
And we also have another record attempt, and this one isn't a high school or even collegiate or American record attempt, but a world record attempt. In the men's 4 x mile relay, the Brooks Beasts team of  Brannon Kidder (3:56.06 mile PR), David Ribich (3:58.09), Henry Wynne (3:55.23), and Izaic Yorks (3:53.4) will be racing the Hoka One One NJ*NY TC team of Jesse Garn (3:57.23), Travis Mahoney (3:58.08), Rob Napolitano (3:57.48), and Ryan Manahan (3:58.57).
They will be after the world record* of 16:12.81, which was set two years ago by NJ*NY.
*Since the IAAF doesn't recognize an indoor 4 x mile world record, this will technically be a world best
Considering the Brooks team has faster PRs, is more race fit (Kidder ran 2:19 for 1000m, Wynne 7:52 for 3000m, Ribich 7:54, and Yorks 7:55 two weeks ago), and the Brooks PR guy is sending out releases on this race, we expect them to get the record.
We've listed the full fields for the top pro races below. The meet also will have our new favorite indoor event: the 4×200, with USA vs Jamaica.
The main pro portion of the meet is from noon to 2 p.m. Eastern on Saturday, with the 3000 at 1:16 and 4 x mile at 1:45. (A few pro events are on Friday, as are a ton of college events). The meet will be broadcast on NBC Sports Gold and USATF+, and LetsRun.com will be on-site Friday for the press conference and Saturday for the action. More info here. Key start lists below.
Women's 600m: Ajee' Wilson vs Fellow Olympian Chrishuna Williams
Event 30  Women 600 Meter Run Invitational (6) Finals
===============================================================================
 Sat 1:36pm
           Name                        Year School                                
===============================================================================
Section 1  Finals
  1    163 Price, Madeline                  Canada                      
  2    243 Kosichenko, Olga                 CPTC New Bal                
  3    283 Barowski, Cecilia                Hoka One One                
  4    330 Williams, Chrishuna              Nike                        
  5    103 Wilson, Ajee                     adidas                      
  6    470 Baker, Olivia                    USA               

Other Events
Event 7  Women 1000 Meter Run Invitational (9) Finals
===============================================================================
 Waterfall 7-9 outside, 1-6 inside
 Fri 1/26 @ 11:42am
           Name                        Year School                                
===============================================================================
Section 1  Finals
  1    290 Schappert, Stephanie             Hoka One One                
  2    308 Piccirillo, Angel                Juventus                    
  3    286 Iyevbele, Kenyetta               Hoka One One                
  4    307 Cleirigh- Buttner, Siofra        Ireland                     
  5    248 Saunders, Claudia                District Tra                
  6    328 Osika, Shannon                   Nike                        
  7    329 Roesler, Laura                   Nike                        
  8    102 Goule, Natoya                    adidas                      
  9    330 Williams, Chrishuna              Nike                        
 
Event 57  Women 1 Mile Run Invitational (12) Finals
===============================================================================
 Sat 12:18pm
 Watefall 9-12 Outside, 1-8 Inside
           Name                        Year School                                
===============================================================================
Section 1  Finals
  1    291 Wilson, Heather                  Hoka One One                
  2    241 Herrick, Stephanie               CPTC New Bal                
  3    327 Farber, Lianne                   New Balance                 
  4    490 Hutchinson, Nicole            SR Villanova                   
  5    375 Shields, Anna                    Point Park U                
  6    495 McArthur, Rachel              SO Villanova                   
  7    289 Morrissey, Jamie                 Hoka One One                
  8    282 Aragon, Dani                     Hoka One One                
  9    474 Paquette, Lauren                 USA                         
 10    377 Nelson, Karisa                   Samford Univ                
 11    328 Osika, Shannon                   Nike                        
 12    288 Mansy, Megan                     Hoka One One                
 
Event 59  Women 3000 Meter Run Invitational (9) Finals
===============================================================================
 Sat 1:16pm
 Waterfall 7-9 Outside, 1-6 Inside
           Name                        Year School                                
===============================================================================
Section 1  Finals
  1    284 Bell, Rolanda                    Hoka One One                9:09
  2    285 Garry, Kira                      Hoka One One                
  3    287 Kunc, Katy                       Hoka One One                
  4    376 Eloise- Neale, Amy               Reebok Bosto                
  5    144 Kampf, Heather                   Asics                       
  6    145 Eccleston, Amanda                Brooks                      
  7    471 Fulton, Eleanor                  USA                         
  8        Tuohy, Katelyn                NY NY                          
  9    282 Aragon, Dani                     Hoka One One                
 
Event 27  Women 4x200 Meter Relay Invitational (2) Finals
===============================================================================
 Sat 1:28pm
     School                                                                 
===============================================================================
Section 1  Finals
  4  USA  'A'                                                     
  5  Jamaica  'A'                                                 

===============================================================================
 Sat 12:08pm
           Name                        Year School                                
===============================================================================
Section 1  Finals
  2    875 Page, Champ                      USA                         
  3    748 Gray, Nick                    SR Ohio State                  
  4    734 Chambers, Marcus                 Nike                        
  5    736 Dukes, Dedric                    Nike                        
  6    876 Wright, Dontavius                USA                         
 
Event 31  Men 600 Meter Run Invitational (6) Finals
===============================================================================
 Sat 1:32pm
           Name                        Year School                                
===============================================================================
Section 1  Finals
  1    869 Perezchica, Andres               USA                         
  2    660 Ibadin, Edose                    District Tra                
  3    527 Robinson, Byron                  adidas                      
  4    735 Cherry, Michael                  Nike                        
  5    737 Sowinski, Erik                   Nike                        
  6    692 Giesting, Chris                  Hoka One One                
 
Event 8  Men 1000 Meter Run Invitational (8) Finals
===============================================================================
 Sponsor: Waterfall 6-9 Outside, 1-5 Inside
 Fri 1/26 @ 11:55am
           Name                        Year School                                
===============================================================================
Section 1  Finals
  1    658 Palumbo, Victor                  CPTC New Bal                
  2    614 Sauer, Alek                   SR Columbia                    
  3    693 Hernandez, Jeremy                Hoka One One                
  4    661 Prince, Quamel                   District Tra                
  5    558 Lasater, Brandon                 Atlanta TC                  
  6    557 Gregorek, Johnny                 Asics                       
  7    525 Andrews, Robby                   adidas                      
  8    738 Engels, Craig                    Nike Oregon                 
 
Event 60  Men 3000 Meter Run Invitational (14) Finals
===============================================================================
 Sat 12:55pm
 Waterfall 10-14 Outside, 1-9 Inside
           Name                        Year School                                
===============================================================================
Section 1  Finals
  1    524 Gidabuday, Sydney                Adams State                 
  2    528 Thies, Jeff                      adidas                      
  3    529 Winter, Connor                   adidas                      
  4    559 Thomson, Jacob                   BAA                         
  5    695 Updike, Isaac                    Hoka One One                
  6    685 Santana, Alfredo                 GSTC NB                     
  7    739 Mann, Jordan                     Ocean State                 
  8    691 Crawford, Graham                 Hoka One One                
  9    684 Atkin, Sam                       Great Britai                
 10    740 Oakley, Julian                   Ocean State                 
 11    791 Flanagan, Ben                    Reebok Bosto                
 12    790 Campbell, Kemoy                  Reebok Bosto                
 13    526 Parsons, Sam                     adidas                      
 14    694 Leet, Michael                    Hoka One One                
 
Event 28  Men 4x200 Meter Relay Invitational (3) Finals
===============================================================================
 Sat 1:32pm
     School                                                                 
===============================================================================
Section 1  Finals
  3  All Stars  'A'                                               
  4  USA  'A'                                                     
  5  Jamaica  'A'                                                 
 
Event 61  Men 4x1609 Meter Relay Invitational (4) Finals
===============================================================================
 Sat 1:46pm
     School                                                                 
===============================================================================
Section 1  Finals
  2  Villanova  'A'                                               
  3  Duke  'A'                                                    
  4  Brooks  'A'                                                  
  5  Hoka One One/NJNY  'A'                                       
 
Event 51  Men Shot Put Invitational (7) Finals
===============================================================================
 Sat 11:30am
           Name                        Year School                                
===============================================================================
Flight 1  Finals
  1    819 Plesko, Nace                     Slovenia                    
  2    583 Young, Jordan                    Canada                      
  3    584 Xiaxing, Wu                      China                       
  4    732 Awonusi, Anu                     Manhattan Co                
  5    714 Pless, David                     Ironwood                    
  6    713 Jensen, Curtis                   Ironwood                    
  7    877 Kovacs, Joe                      Velaasa / NY