2018 LRC World & US Rankings, W Marathon: Vivian Cheruiyot & Des Linden End Year As World & US #1s
By LetsRun.com
January 1, 2019
As 2018 draws to a close, it's once again time to publish the fifth annual LetsRun.com world and US rankings. From now until the end of the year, we'll be ranking the top 10 men and women in the world (plus the top five Americans) in the 800, 1500/mile, 3000 steeplechase, 3,000/5,000, and marathon.
Since these rankings are obviously subjective, we'll lay out the criteria we're using for them:
Not all marathons are created equal. Finishing second to Eliud Kipchoge in the London Marathon is different than finishing second to Yuki Kawauchi in the Boston Marathon.
Season-best times were given some consideration, but we didn't penalize a runner for having a slow sb if they ran tougher marathons.
Head-to-head results factor heavily in the ranking criteria if it's close between two runners for a spot.
While we strive to be objective with our rankings, with only two (occasionally three, but sometimes just one) data points for each marathoner, it's inevitable that some subjectivity comes into play in these rankings, more so in the marathon than any other event.
Article continues below player
LRC 2017 women's marathon rankings * LRC All 2018 Year-End Rankings
LRC's coverage of the 2018 World Marathon Majors
Tokyo LRC 2018 Tokyo Marathon: Dickson Chumba & Birhane Dibaba Win, Amy Cragg Runs US #5 A-T 2:21:42, & Yuta Shitara Runs 2:06:11 to Set Japanese Record and Win $936,000
Boston LRC Des Linden Wins The 2018 Boston Marathon, Ends The American Women's 33-Year Winless Streak
London LRC Vivian Cheruiyot Does It Again, Pulls Off Huge Upset and Wins 2018 London Marathon in 2:18:31
Berlin LRC The Greatest Ever – 2:01:39 – Eliud Kipchoge Crushes World Record to Win 2018 Berlin Marathon
Chicago LRC Brigid Kosgei Wins 2018 Chicago Marathon in 2:18:35, Becomes 9th Woman To Break 2:19:00 As No Americans Break 2:30
New York LRC A Run for the Ages: Mary Keitany Blasts 66:58 2nd Half to Win Fourth New York City Marathon Crown
Women's Marathon World Rankings
1. Vivian Cheruiyot • Kenya • 35 years old
2018 results: 1st London (2:18:31), 2nd New York (2:26:02)
Six women broke 2:19 for the marathon in 2018 — a rather incredible feat considering only five women had ever done it before this year. Yet only one of them can be World #1 (you could even make the case that Mary Keitany — who did not break 2:19 this year — should be #1 after her dominant NYC Marathon victory). And maddeningly for the selectors (i.e. us), every woman who broke 2:19 this year lost at least once.
We chose Vivian Cheruiyot, who won London (the most stacked race of the year) by 1:42 and finished second behind Keitany in New York. The only other woman with a first and a second in WMMs in 2018 was Brigid Kosgei (2nd London in 2:20:13, 1st Chicago in 2:18:35), but Cheruiyot's SB was four seconds faster and — more importantly — she beat Kosgei head-to-head in London.
The criticism of Cheruiyot as World #1, of course, is that she lost to Keitany in New York. And Cheruiyot didn't just lose that race — she finished a whopping 3:14 behind Keitany, who closed her second half in an otherworldly 66:58. But in London, Cheruiyot beat Keitany by more than twice as much (7:32). Cheruiyot simply lost to an outstanding performance by Keitany in NYC, leaving her with one great marathon (London) and one very good one in which she beat two reigning WMM champs (Shalane Flanagan, Des Linden). That's enough for us to put her at #1 in a tight race.
One other thing worth mentioning: we grade by results. It's very possible that, had Keitany (67:16 at the half) and Tirunesh Dibaba (67:39) elected not to chase Paula Radcliffe's world record on a hot day in London that one of them, and not Cheruiyot, would have broken the tape on the Mall. Keitany very well could have been, actually we imagine she probably was, fitter than Cheruiyot at that point in time. But we have to go by the results, and the results say Keitany finished 5th in London in 2:24:27.
As for Cheruiyot, 2018 was a massive year in her development as a marathoner. She faced a tough debut in London in 2017, running splits of 1:07:54/1:15:56 on a day where Keitany ran 2:17:01. She rebounded with a 2:23 win in Frankfurt that fall, but would she be able to translate that performance to a major? The answer was a resounding yes, and — assuming she can weather the notoriously fickle Kenyan selection process — Cheruiyot, the Olympic 5,000m champion on the track, should be in contention for the marathon title at Tokyo 2020.
2. Brigid Kosgei • Kenya • 24 years old
2018 results: 2nd London (2:20:13), 1st Chicago (2:18:35)
After finishing second in Chicago last year and winning Honolulu in both 2016 and 2017 (in the latter race, she sliced more than five minutes off the course record), Kosgei seemed poised for a major breakout in 2018 and that's what happened as she ran a PR of 2:20:13 to take second in London before running another big PR to win Chicago in 2:18:35. With many of the Kenyan marathon stars getting up there in age (Cheruiyot and Berlin champ Gladys Cherono are 35; Keitany turns 37 in January; Edna Kiplagat is 39), Kosgei, who just ran 29:54 on New Year's even, could soon be the female face of the event in Kenya.
3. Gladys Cherono • Kenya • 35 years old
2018 results: 4th London (2:24:10), 1st Berlin (2:18:11 CR)
Cherono's run in Berlin was one of the most impressive of the year (Cheruiyot's 2:18:31 in London and Keitany's 3+ minute win in NYC were both superior performances, though they were slower times) as she ran the world's fastest time this year — 2:18:11 — to shave over a minute off of Mizuki Noguchi's 13-year-old course record. Cherono also now ranks #4 on the all-time list, behind only Radcliffe, Keitany, and Dibaba. That she was not a slam-dunk pick for the #1 spot (and in fact, tumbled all the way to #3 in our rankings) shows just how strong the competition was in 2018.
But the fact is that Cherono raced our World #1, Vivian Cheruiyot, and our World #2, Brigid Kosgei, straight-up in London and wound up a well-beaten 4th. Cheruiyot, Kosgei, and Cherono all chose not to follow the crazy pace set up front by Keitany and Dibaba (the trio hit halfway together in 68:56) and in the end, Cheruiyot and Kosgei simply outraced Cherono over the second half as Cheruiyot remained on roughly the same pace (69:35 second half) to run 2:18:31, Kosgei faded slightly (71:17) to run 2:20:13 and Cherono struggled home (75:14) to run 2:24:10. Considering all three women had an impressive major win, we decided to go with the order of finish in London. Thus, Cheruiyot-Kosgei-Cherono.
4. Roza Dereje • Ethiopia • 21 years old
2018 results: 1st Dubai (2:19:17 CR), 2nd Chicago (2:21:18)
Dereje's 2:19:17 SB put her at #7 on the 2018 world list, and while you could argue that she also received a bump from achieving it in Dubai, a course on which many athletes have run fast only to fail to replicate their performance in other races, the fact is that Dereje did run 2:19:17. And she did it to win a historically deep race — the first one ever in which four women broke 2:20 (and the first one ever where six women broke 2:21). Clearly, it was a talented field that she beat in Dubai, and she showed it was no fluke with a respectable runner-up finish in Chicago in 2:21.
5. Mary Keitany • Kenya • 36 years old
2018 results: 5th London (2:24:27), 1st New York (2:22:48)
Keitany wins the award for most outrageous splits of 2018. Check them out:
2018 London: 67:16/77:11
2018 New York: 75:50/66:58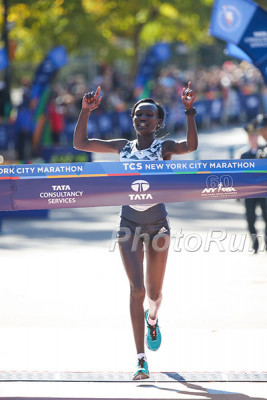 One of those races, obviously, worked out better for Keitany than the other. In London, she bravely (foolishly?) chased immortality and Radcliffe's seemingly unbreakable WR and, like Icarus, paid the price after flying too close to the sun. In New York, meanwhile, Keitany elected to stay patient; after being burned in London, she was not going to make the same mistake, and, somehow, ran even faster for her second half in New York than she did for her first half in London.
Earlier this year, Molly Huddle, who finished 4th in NYC in 2:26:44, ran 67:25 in Houston to set the American record in the half marathon. So after watching Keitany split a full 27 seconds faster (66:58) in New York — the fastest ever second half in a women's marathon — her competition could do nothing but stand in awe.
"Holy crap," Huddle said. "That's not [just] a fast second half. It's amazing."
"I don't have the physical capability to have any answer for that," added reigning NYC champ Shalane Flanagan.
As brilliant as Keitany was in New York — she crushed a field that included the reigning NYC, Boston, and London champs by 3:14 — she ran two marathons in 2018, and her London result has to be taken into account. She lost to Cheruiyot, Kosgei, and Cherono in that race, and as a result she is lower in these rankings than all three of them. Keitany does not have the consistency of Eliud Kipchoge, but on her best day, she is just as dominant.
6. Ruti Aga • Ethiopia • 24 years old
2018 results: 2nd Tokyo (2:21:19), 2nd Berlin (2:18:34)
Aga, who debuted in the marathon in 2016, has run Berlin three years in a row and left with a PR each time: 2:24:41 for 3rd in 2016, 2:20:41 for 2nd in 2017, and 2:18:34 for 2nd this year — the second-fastest non-winning time in history (only Tirunesh Dibaba's 2:17:56 in London last year was faster). Aga, who also took down a good field to win the Houston Half Marathon back in January has now finished second in three straight major marathons; could a win be on the horizon in 2019?
7. Ruth Chepngetich • Kenya • 24 years old
2018 results: 2nd Paris (2:22:59), 1st Istanbul (2:18:35 CR)
Chepngetich has put up some very impressive results in a marathon career that began last fall: a 2:22:36 win in Istanbul in November 2017, a 2:22:59 runner-up finish in Paris in April 2018, and a 2:18:35 win in Istanbul in November 2018 to move into a tie for #7 on the all-time list.
The concern, however, is that it could all be too good to be true. We're not calling out Chepngetich as a doper; there's no proof for that assumption. But the fact is that athletes represented by her agency, Rosa & Associati, have produced a string of doping positives over the last few years, and associations (and perceptions) matter. For Chepngetich to come from virtually nowhere (two results on her Tilastopaja page prior to 2017) to a 2:18 marathon in the span of less than two years is suspicious, to say the least.
8. Tadelech Bekele • Ethiopia • 27 years old
2018 results: 3rd London (2:21:40), 1st Amsterdam (2:23:14)
Okay, so Bekele, Cherono, and Keitany all won a marathon in 2018 and all finished in the top five in London. Bekele beat both Cherono and Keitany in London, yet she's ranked well behind both here? How does that work?
Well as stated in our rankings criteria, head-to-head is important, especially if it's close between two runners for a spot. But Bekele's win in Amsterdam simply was not as impressive as Cherono's win in Berlin or Keitany's in New York. For starters, both Berlin and New York are major marathons, while Amsterdam is not. The runner-up in Berlin was Ruti Aga, who ran 2:18:34. The runner-up in New York was our World #1, Vivian Cheruiyot. The runner-up in Amsterdam was Shasho Insermu, who had never broken 2:30 before that day (she ran 2:23:28 in Amsterdam).
Furthermore, Cherono ran 2:18:11 (the sixth-fastest marathon ever by a woman); Keitany won by 3:14 and almost broke the NYC course record despite going out in almost 76 minutes for the first half; Bekele ran 2:23:28 in Amsterdam, missing the CR by over two minutes on a day where the men's CR fell and three men broke 2:05. Bekele had a fine season, but Cherono and Keitany were better overall (despite losing to Bekele in London).
9. Meskerem Assefa • Ethiopia • 24 years old
2018 results: 2nd Hong Kong (2:29:42), 1st Nagoya (2:21:45), 1st Frankfurt (2:20:36)
Ranking Assefa wasn't easy. If you want to argue she had just of good of a year as Aga in our #6 spot, we aren't going to disagree too much. How do you value two wins at good marathons (but not WMMs) vs. two seconds in majors? We think Aga's year was better as her 2:18:34 was significantly faster than any of Assefa's races in 2018 and her 2:21:19 in Tokyo was faster than Assefa's 2:21:45 win in Nagoya.
10. Birhane Dibaba • Ethiopia • 25 years old
2018 results: 1st Tokyo (2:19:51), DNF Chicago
It seems crazy to think that a WMM victory in sub-2:20 is barely enough to crack the top 10, but this was the deepest year ever for women's marathoning, with six sub-2:19s and 11 sub-2:20s (both all-time records). For context, those six sub-2:19s account for 37.5% of all sub-2:19s in history, while those 11 sub-2:20s account for 26.2% of all sub-2:20s in history.
You could argue that Yebrgual Melese, with her 2:19:36 in Dubai (3rd) and 2:20:36 win in Shanghai should have this spot over Dibaba, but considering who Dibaba beat in Tokyo — Berlin runner-up Ruti Aga (#7 in our rankings) and World Champs bronze medallist Amy Cragg — she gets the nod for #10.
U.S. Rankings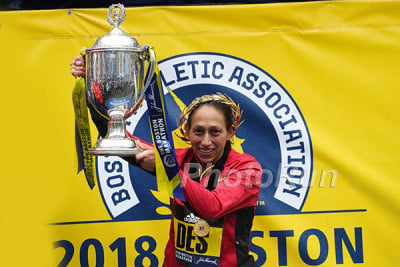 1. Des Linden • Brooks • 35 years old
2018 results: 1st Boston (2:39:54), 6th New York (2:27:51)
In our men's marathon rankings, we mentioned how difficult it was to assess the results of the 2018 Boston Marathon and their impact on this year's world rankings. But at LetsRun.com, we have a rule: when you win the freaking Boston Marathon, you're the US #1.
Linden's victory in April ended a 32-year drought for American women, and while the circumstances surrounding her victory were unique — the freezing rain and 25 mph headwinds were once-in-a-generation conditions — Linden is no Sarah Sellers, who ran a fine race in Boston but would never have been in contention in normal weather. Linden began the race as two-time Olympian with seven top-five finishes at World Marathon Majors. She was two seconds away from winning Boston in 2011. Linden was nobody's favorite, but she entered Boston as she has most of her major marathon appearances, in the category of "if she catches a break or two, she could win." Linden caught a big break with the weather, and she won.
And that is what the marathon is about. With most elite marathoners only racing once or twice a year, you need to make the most of your opportunities. That's what Shalane Flanagan did last year in New York on a day where Mary Keitany was not at her best. That's what Eliud Kipchoge did this year in Berlin when presented, finally, with good conditions for running fast. And that's certainly what Linden did in Boston in April. Forty years from now, those who witnessed it will remember the weather (how can you not?). But there will be others that will only see 2018: Des Linden on the list of Boston Marathon champions. And that is what counts.
2. Amy Cragg • Nike Bowerman Track Club • 34 years old
2018 result: 3rd Tokyo (2:21:42)
3. Shalane Flanagan • Nike Bowerman Track Club • 37 years old
2018 result: 6th Boston (2:46:31), 3rd New York (2:26:22)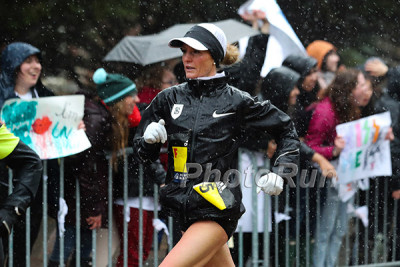 Both Cragg and Flanagan have a case as the US #2 this year. Both were 3rd in a World Marathon Major, and while Cragg ran over four minutes faster in Tokyo than Flanagan did in Boston, the races were very different as Flanagan's first half was just 75:49 before she hammered home in 70:33 for the second half.
Though NYC was undoubtedly tougher at the top than Tokyo, Cragg actually claimed the more impressive scalps. The 4th-placer in Tokyo was 2:20 woman Shure Demise, with 2:21 woman/2015 World Champs silver medalist Helah Kiprop in 5th. In NYC, Flanagan finished directly ahead of Molly Huddle (2:26 pb, though she's only run three marathons — all in NYC or Boston — and ran 67:25 to set the US half marathon record this year) and Rahma Tusa (2:23 pb, three-time Rome champ). Add in that Cragg ran a much faster time and that gives her a slight edge for the #2 spot over her BTC teammate.
If 2018 NYC was indeed Flanagan's farewell to the sport — she has given no immediate indication that she intends to return but has not officially retired — then it was a fine way to go out. It was not the storybook ending of 2017, but perhaps that is fitting for Flanagan. No doubt she had some incredibly high highs during her decorated career — Olympic silver at Beijing 2008, a World XC bronze in 2011, that NYC win last year — but what defined Flanagan more than anything was consistent excellence. Flanagan made every US Olympic/world team from 2004 through 2016 and missed out by just one spot in 2017 despite being — in her own words — the least prepared she'd ever been for a major race following the stress fracture that derailed her winter/spring season.
Whenever Flanagan showed up for a race, no matter the surface, you knew two things: she was (almost certainly) going to race well, and if someone was going to beat her, they would have to work for it. So it was no surprise that, after deciding to defend her title in NYC in November, she went out and ran 31 seconds faster (2:26:22) than she did in her winning effort last year, mouthing "I love you!" to the fans in Central Park on her way in. Once again, she finished as the top American, her third top-three performance in three NYC Marathon appearances.
4. Molly Huddle • Saucony • 34 years old
2018 results: 13th Boston (2:50:28), 4th New York (2:26:44)
In 2018, Molly Huddle's aim was to prove that she belonged in the discussion with Linden, Cragg, and Flanagan as the best female marathoner in the US. She didn't quite get the chance to do that in Boston; despite arriving on the line in terrific shape, she, like many others, struggled in the weather and was forced to stagger home in 13th place. But in New York, conditions were perfect for racing and Huddle delivered on her potential, finishing 4th, just 22 seconds behind top American Flanagan and 1:07 ahead of Boston champ Linden.
Huddle remains a force at the shorter stuff — she set the AR in the half this year (67:25) and won her fourth straight US 10,000 title on the track — but she showed in New York that she will also be dangerous moving forward in the marathon.
5. Kellyn Taylor • HOKA One One Northern Arizona Elite • 32 years old
2018 result: DNF Boston, 1st Grandma's (2:24:29 CR)
Taylor was another athlete whose best-laid plans ran awry in Boston, but she made the most of her fitness and clocked 2:24:29 to win Grandma's Marathon two months later — the second-fastest time by an American this year.
##
We imagine some of you will be outraged that we don't have American Sarah Sellers in our top five even though she was second in Boston, but Sellers was more than four minutes back in 2:44:04 and then she only was 18th in New York in 2:36:37.
Yes, we know we gave Linden a lot of credit because she won Boston but there is a big difference between winning and being the first non-elite to cross the finish line in a race when a huge percentage of the elites dropped out.
---
LRC 2017 women's marathon rankings * LRC All 2018 Year-End Rankings