Vivian Cheruiyot Does It Again, Pulls Off Huge Upset and Wins 2018 London Marathon in 2:18:31
Cheruiyot comes from behind to win and is now the forth fastest woman in history after chopping more than 5 minutes off her pb
by LetsRun.com
April 22, 2018
LONDON – Coming into 2018 Virgin Money London Marathon, all of the focus was on Tirunesh Dibaba and Mary Keitany and whether they could break Paula Radcliffe's 2:15:25 world record. Now that the race is in the books, all of the focus is on Kenya's Vivian Cheuiyot, who pulled off another huge upset and won in 2:18:31 to become the fourth fastest woman in history.
Article continues below player
Even though the race was held in warm conditions, not ideal for a world record attempt (64 at women's start, 71 at men's finish), both Dibaba and Keitany, with the help of male pacers, threw caution to the wind and went for the WR from the gun. They ran the first 5k, which does feature a near 100 foot drop, in 15:46 – that's 2:13:04 pace. The hit 10k in 31:46 – that's 2:14:03 pace. By mile 10, Dibaba fell off the lead and eventually would drop out before 35k.
Keitany hit halfway in 67:16 but she didn't stay on WR pace for long as a 5:37 15th mile put her behind pace (WR pace is 5:09.9 per mile). The question now was, Could she hold on for the win?
No.
Cheruioyot, who stunned the world and Almaz Ayana to win the Olympic 5000 title in Rio two years ago by coming from behind, came from behind to upset a heavy favorite once again by running a sensible pace. Cheruiyot spotted Dibaba nearly 30 seconds on each of the first three 5k segements (29 seconds at 5k (16:15), 67 seconds at 10k (16:38, 32:53), and 92 seconds at 15k (16:25, 49:18)) but between 15k and 20k she only lost 9 seconds (16:13, 1:05:31) and by 25k, after hitting halfway in 68:56, she was already gaining on Keitany.
At 30k, Cheruiyot still trailed by 1:16, but by 35k it was clear she'd soon be in the lead as she was only 12 seconds down. Shortly after 35k, Cheruiyot blew by Keitany and cruised to victory, her 2:18:31 time was a massive 5+ minute pb (2:23:35 was her pb coming). Very impressive particularly given how warm it was.
Chicago runner-up and Honolulu course-record holder Brigid Kosgei of Kenya, who went out with Berlin Champ Gladys Cherono  well ahead of Cheruiyot in third and fourth (they were  38 seconds ahead of Cheruyiot at 10k), ended up second in a new pb of 2:20:13 (previous pb of 2:20:22) as Ethiopia's Tadelech Bekele, the 2017 Amsterdam champ, completed the podium in third in a pb of 2:21:40 (previous pb of 2:21:54).
Late in the race, Keitany was reduced to a shuffle but she did persevere to the finish, crossing the line in 5th in 2:24:27, after running the final 2.195 kms in 10:04 – that's 7:22.8 mile pace. None of the three Americans in the elite field PRd as Stephanie Bruce was 10th in 2:32:28, Becky Wade 11th in 2:35:01 and Liz Costello 13th in 2:40:04.
Analysis and videos below results.
Elite results. (Mile by mile splits at bottom of article).
| | | | | |
| --- | --- | --- | --- | --- |
| 1 | CHERUIYOT, Vivian (KEN) | 18-39 | +00:00 | 02:18:31 |
| 2 | KOSGEI, Brigid (KEN) | 18-39 | +01:42 | 02:20:13 |
| 3 | BEKELE, Tadelech (ETH) | 18-39 | +03:09 | 02:21:40 |
| 4 | CHERONO, Gladys (KEN) | 18-39 | +05:39 | 02:24:10 |
| 5 | KEITANY, Mary (KEN) | 18-39 | +05:56 | 02:24:27 |
| 6 | CHELIMO, Rose (BRN) | 18-39 | +07:32 | 02:26:03 |
| 7 | DIBABA, Mare (ETH) | 18-39 | +09:14 | 02:27:45 |
| 8 | PARTRIDGE, Lily (GBR) | 18-39 | +10:53 | 02:29:24 |
| 9 | BARLOW, Tracy (GBR) | 18-39 | +13:38 | 02:32:09 |
| 10 | BRUCE, Stephanie (USA) | 18-39 | +13:57 | 02:32:28 |
| 11 | WADE, Rebecca (USA) | 18-39 | +16:30 | 02:35:01 |
| 12 | MURRAY, Rebecca (GBR) | 18-39 | +21:06 | 02:39:37 |
| 13 | COSTELLO, Liz (USA) | 18-39 | +21:33 | 02:40:04 |
QT: Vivian Cheruiyot is officially a stud marathoner. Here's how she won London 2018.
Before the race, Keitany and Dibaba appeared to exist on a different plane from the rest of the women's marathoning world. But Vivian Cheruiyot now officially belongs in the discussion of the world's best marathoner. It wasn't just that she beat Keitany and Dibaba today; it was how she did it, clocking 2:18:31 to become the fourth-fastest woman of all-time (only Keitany, Dibaba, and Paula Radcliffe have run faster) on a day where conditions were not conducive to fast times.
Everything was different from last year's race, when she hung on for fourth in 2:23:50 despite going out in a blazing 67:42 in her marathon debut.
"Last year, you saw, she chased Mary in the first 10 miles," said her coach/agent Ricky Simms.  "She let her go a little bit and then she was in no man's land between them. She just said, Oh, I've never been in a race before when I didn't cover the leader. And no matter how many times we spoke about it before the race last year, when you're [in the race] she's like, No I can't let her get away ahead of me."
Cheruiyot proceeded to win Frankfurt last fall in 2:23:35, but despite the victory, Simms felt a change was necessary. During her decorated track career, Simms had always been in daily contact with Cheruiyot, but that had changed once she shifted to the marathon.
"She got a little bit like, oh, it's marathon, I just need to do lots of long runs and she wasn't as good a communicator," said Simms. "After Frankfurt, we sat down and said, hey it has to be daily. I need daily [updates] using your Garmin."
Simms had never coached a marathoner before Cheruiyot and said he's received advice from world record holder Paula Radcliffe, who lives across the street from him in Monaco. One change they made in this buildup was to up Cheruiyot's mileage to around 110 per week; that's much higher than her two previous buildups, where Simms said Cheruiyot was still doing "track mileage."
Going into London, Simms felt Cheruiyot was capable of 2:18 or 2:19 on a great day, but in order to run, she had to run smart. And she did that, running fairly even splits of 68:56-69:35.
Simms said that he was happy when he found out the top two would be going out on 67:30 pace. The faster the pace early on, the greater the chance of a blowup. He told Cheruiyot not to go with them, and knew that after what happened here last year, she would follow those instructions.
"With Vivian, throughout her track career, she does exactly what you ask her to do," Simms said. "And you can't ask for more from an athlete.
"…I said there's no way you're going with the lead group. Someone from your group can win the race if the girls fall off the edge of the cliff. And that someone can be you if you run smart.
"I wanted her to wait as long as possible. She actually started moving a little bit earlier than I would have liked her to, when she passed Mary. I would have been happy for her to pass in the last mile, but she was feeling okay."
Even with that game plan, Cheruiyot knew that Keitany was going to be a threat, even going out at world record pace.
"I didn't know that I was going to win because I remember last year, Mary ran 66:50-something and she won in 2:17," Cheruiyot said. "So she's a strong lady and you cannot say she's going to die."
The scary thing is, the 34-year-old Cheruiyot still has room to improve. She didn't incorporate many long tempos in this buildup, a staple of almost all marathon training, and one would expect that she could have gone even faster today had the temperature been 20 degrees cooler.
QT: Mary Keitany is Fearless
Keitany went out way too fast today and paid the price just as Tirunesh Dibaba did. What happened to Keitany makes Eliud Kipchoge holding on and running a quick time in the men's race even more impressive.
We were going to criticize Keitany and her male pacers for going out too fast, but the crazy thing is Keitany went out faster last year without male pacers and still ran 2:17:01.  Here are this years' splits compared to last year's.
| | | |
| --- | --- | --- |
| | Keitany split today (2017 split) | Time for 5k segment today |
| 5k | 15:46 (15:31) | 15:46 |
| 10k | 31:46 (31:16) | 16:00 |
| 15k | 47:46 (47:15) | 16:00 |
| 20k | 1:03:50 (1:03:25) | 16:04 |
| half way | 1:07:16 (1:06:54) | |
| 25k | 1:20:24 (1:19:42) | 16:34 |
| 30k | 1:37:03 (1:36:05) | 16:39 |
| 35k | 1:54:36 (1:52:39) | 17:33 |
| 40k | 2:14:23 (2:09:37) | 19:47 |
| Finish | 2:24:27 (2:17:01) | |
As you can see, Keitany really hit the wall today even though she wasn't running as fast as she was in 2017. But the conditions were much warmer today and that affected her.
"The weather was not good. It was hot and humid," Keitany said. "So what is important is I finish."
Keitany could easily have stepped off once she saw the world record slip away, but she toughed it out, even though she wasn't moving at much more than a shuffle when she crossed the finish line. She was clearly in pain and later said she thought it was the most difficult marathon of her career.
Keitany has bounced back in the past from big blow-ups so don't think this effort will tamper her fearlessness. In 2011 in New York, she went out in 1:07:56 and blew up and finished in 2:23:38.
QT: More progress for Kenya's Brigid Kosgei
Kosgei debuted with a 2:47:59 in Porto in November 2015 (she won) and has improved with (almost) every marathon. She ran 2:27 in her next one in Milan in April 2016, 2:24 in her third in Lisbon, and capped off 2016 with a 2:31 win on a tough Honolulu course.
She opened 2017 by taking 8th in Boston, but followed that up with a 2:20:22 pb in Chicago behind Dibaba and a massive 2:22:15 CR in Honolulu. Today, she PR'd again and notched her second straight runner-up finish in a major in 2:20:13. She obviously has the ability to win a major at some point, but when someone else runs 2:18 (as Dibaba did in Chicago and Cheruiyot did today), it's very hard to win the race.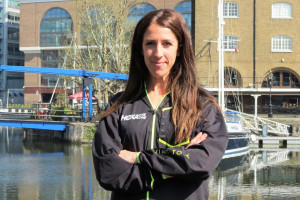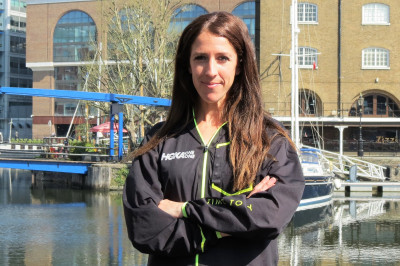 QT: Americans Stephanie Bruce and Becky Wade finish 10th and 11th
Though neither Bruce (10th, 2:32:28) nor Wade (11th, 2:35:01) were able to PR, both ran solid races. Bruce went out with the 2:28 group and hit halfway in 74:03 alongside Brits Lily Partridge and Tracy Barlow with Wade 34 seconds back in 74:38.
Both would slow down in the second half as the warm, sunny, and humid conditions took their toll. Bruce wound up losing the battle to Partridge (an impressive 8th in 2:29:24, a 3+ minute PR) and Barlow (9th in 2:32:09) but hung on for 10th, her second straight top-10 in a major (she was actually slower than the 2:31:44 she ran in New York last fall, which shows you how tough it was to run today). Wade missed accomplishing the same feat by one spot as she was also 10th in Chicago last year.
Talk about the race on our fan forum/ messageboard. MB: Official 2018 London Marathon Live Discussion Thread
Mile by Mile Splits
Pacers supposed to go out in 67:30, 69:00
64 degrees, 77% humidity, 6 mph wind out of SSW
Mile 1: 5:06 Cherono and Kosgei go out with Keitany and Dibaba initially but during mile 2 they began to drop back behind a different pacer.
Mile 2: 5:06 (10:12)
Mile 3: 5:01 (15:13)
5K: 15:46  2:13:03 pace.
Mile 4: 5:14 (19:27)
Mile 5: 5:06 (25:33) Keitany passes her water bottle to Dibaba
Mile 6: 5:09 (30:42) Still Keitany and Dibaba way out in front
10K: 31:46 (16:00)
Mile 7: 5:18 (36:00)
Mile 8: 4:57 (40:57)
Mile 9:  5:09 (46:06)
15K: 47:46 Dibaba falling back by a few meters.
Mile 10: 5:10 (51:16) Dibaba about 10 meters behind.
Mile 11: 5:07 (56:23). DIbaba now dropped, about 45 meters behind and she's running alone.   35 seconds faster than Radcliffe's WR split (56:58).
Mile 12: 5:13 (61:36)
20K: 63:50
Mile 13: 5:13 (66:49)
HALF: 67:16, Keitany out on her own
Mile 14:  5:16 (72:05)
Mile 15:  5:37 (77:42) She is now behind WR pace at 2:15:48 projected finish Keitany really slowed down that last mile. She just lost 27 seconds on WR pace.
25K: 1:20:24 (2:15:42 pace). Split was 16:34 for last 5k. Keitany still out in front, Dibaba 31 seconds behind in 1:20:53.
Mile 16: 5:11 (1:22:53)
Mile 17: 5:22 (1:28:15) 2:16:06 pace.
Mile 18: 5:18 (1:33:33) Keitany running a fair amount behind the pacers.
30K: 1:37:03 for Keitany. Dibaba has been caught by Kosgei/Cheruiyot. DIbaba stops running and drops out.
Mile 19: 5:30
Mile 20: 5:27
Mile 21: 5:42 for Keitany. Cheruiyot has now separated from Kosgei and closing the gap on Keitany. Can she get her?
35K: 1:54:36 for Keitany, Cheruiyot only 12 seconds behind. Cheruiyot just powers by Keitany shortly after 35k.
1:56:32 cheriuyot blows by keitany
Mile 22: 5:50 (leader to leader)
Mile 23: 5:19
Mile 24: 5:16
40K: 2:18:20 for cheruiyot. 1:27 up on Kosgei in second. Mary Keitany in 4th.
Talk about the race on our fan forum/ messageboard. MB: Official 2018 London Marathon Live Discussion Thread