Brigid Kosgei Wins 2018 Chicago Marathon in 2:18:35, Becomes 9th Woman To Break 2:19:00 As No Americans Break 2:30
By David Monti, with additions by LetsRun.com
(c) 2018 Race Results Weekly, all rights reserved
Kenya's Brigid Kosgei scored a convincing win at today's 41st Bank of America Chicago Marathon held in cool, but very humid and rainy conditions.  Kosgei, 24, completely dominated the second half of the women's race to win her first major by nearly three minutes in a personal best 2:18:35, the third-fastest women's time ever in Chicago, to take home the $100,000 first-place prize. In the process, Kosgei became the 9th woman to break the 2:19:00 barrier as she moved to #7 on the all-time women's marathon list.
Kosgei won by running a big negative split as she ran 70:09 for the first half and 68:26 for the second half.
The Race
Five women started today's race with PRs of sub 2:21:00 and by 15-K, a leading pack of those five women had developed: Kosgei, 2018 Dubai Marathon champion Roza Dereje (ETH), 2018 Tokyo Marathon fourth-placer Shure Demise (ETH), two-time Chicago Marathon winner Florence Kiplagat (KEN) and two-time Tokyo Marathon winner Birhane Dibaba (ETH).  Those five would stay together –accompanied by a clutch of sub-elite men– through halfway (1:10:09) and 25-K (1:23:29).
The next 10 kilometers would decide the race.  Kosgei ran 16:32 between 25-K and 30-K, fast enough to drop both Kiplagat and Birhane (who then dropped out with a leg injury).  But Kosgei really upped the pace over the next 5-kilometer segment, blasting 15:36 through 35-K to put the race away.  She opened such a big lead that even the long shot of the lead motorcycle's television camera couldn't pick up anyone behind her.
"I was happy, I was able to move today, no struggling, no nothing," Kosgei said in her post-race television interview.  She added: "I was OK because of the rain, I enjoy."
Article continues below player.
Kosgei ended up winning by two minutes and 43 seconds over Dereje (2:21:18).  Demise was third in 2:22:15, Kiplagat fourth in 2:26:08, and Kenya's Veronicah Nyaruai was fifth in 2:31:34.  Top American honors went to Sarah Crouch in sixth in a new pb of 2:32:37 (previous pb of 2:32:44). 2016 Olympic triathlon gold medalist Gwen Jorgensen, who gave up the sport of triathlon last year to focus on a new goal of Olympic gold in the marathon in 2020, finished a disappointing 11th in her second marathon in 2:36:23, a personal best.  Greek Olympian Alexi Pappas came up well short of the Greek record of 2:33:40 as she ran 2:43:40 for 28th.
Another American hopeful, Laura Thweatt, dropped out after reaching 15-K in 53:31 (2:30:33 pace).
1984 Olympic champ Joan Samuelson, now 61, came up short in her bid to become the first 60+ woman to break 3:00 as she ran 3:12:13, well short of Bernadine Portenski's age 60 world record of 3:01:30 and also short of the US 60+ record of 3:10:27 (Kathryn Martin).
Quik Take Analysis by LetsRun.com
Quick Take #1: A much deserved first major win for Kosgei
In our race preview, we noted that Kosgei was second in her last two majors (2017 Chicago, 2018 London), running 2:20 in both races and losing only when people ran 2:18 to beat her. That type of consistency was bound to result in a major win sooner or later but by running a negative-split 2:18 today she proved she may be able to win a major even when everyone else is on top of their game.
Kosgei, just 24, has now run 9 marathons and she has done amazingly well in 8 of them, finishing 1st or 2nd in all but one. Here is her marathon record before today.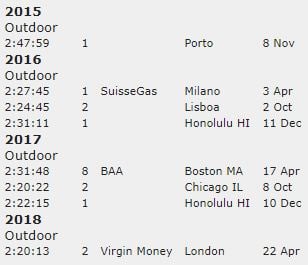 Quick Take: Crouch came in with the 10th best PB in the field but left with a 6th place showing
This was the 5th straight year that Crouch, 29, a former star at Western Washington, has run Chicago and today she matched her career best showing from 2014 by finishing 6th, running 7 seconds faster today than she did in 2014 to claim top American honors.
Crouch, who is sponsored by 361°, trains with her sisters in Flagstaff (two of the three have qualified for the Olympic Trials, but Crouch says she is hoping that all three will be running in Atlanta in 2020). She said that in Chicago, she was inspired by a quote that she has heard attributed to Julius Caesar: "If you want to take the island, burn your boats." Essentially meaning: if you want to achieve something, put yourself in a situation where you have no other option but to succeed.
"I feel like today in that marathon, I burned my boats by going out at 2:30 pace and I gave myself no other option but to succeed or to fail out at a spectacular level," Crouch said.
Ironically, Crouch did neither. She didn't run 2:30, but she didn't blow up spectacularly either (her 2:32:37 was still a PR). Crouch said that she was still on 2:30 pace at 22 or 23 miles, and though she slowed down significantly over the final 5k, estimating that she was going 8:00 pace on the final hill, she held on well enough to finish as the top American.
Crouch year by year in Chicago
2014 2:32:44 – 6th
2015 2:32.51 – 12th
2016 2:33:48 – 9th
2017 2:38:27 – 13th
2018 2:32:37 – 6th
What's next for Gwen Jorgensen? We'll answer this question in a separate article that is coming soon.
Leading Women's Results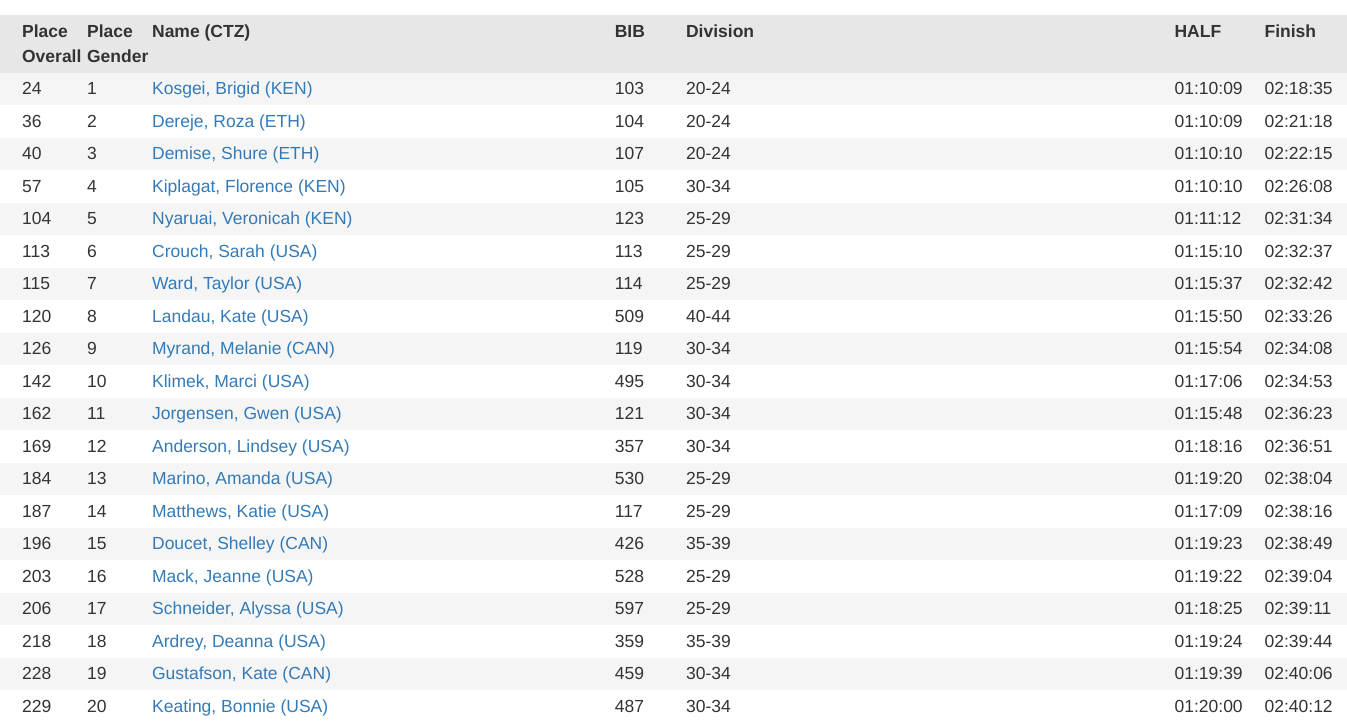 More: Men's Race Recap: MO FARAH WINS CHICAGO IN  2:05:11, Rupp 5th, Osako Breaks Japanese Record, BRIGID KOSGEI 2:18:35
Full Chicago Marathon Coverage