Paul Chelimo and Shelby Houlihan Complete Doubles, Win 1500 Titles at 2018 USATF Indoors
by LetsRun.com
February 18, 2018
ALBUQUERQUE, N.M. — A day after picking up dominant wins in the 3000 meters, Shelby Houlihan and Paul Chelimo both doubled back and won the 1500s today at the 2018 USATF Indoor Championships.
Their victories came in contrasting styles though as Chelimo was perfectly positioned in the lead over the final 400 and had plenty of time to salute to the crowd coming home as he had a few meters on the rest of the field once he hit the finishing stretch. Houlihan, on the other hand, only got to the front just before the tape as she found herself with a ton of ground to make up. She was just 8th with 400 to go and 6th with 200 remaining but she got the win thanks to a last 200 of 30.3 (unofficial split; the official splits for Houlihan on the meet website are incorrect).
Full race recaps, results and analysis appear below.
Women's Race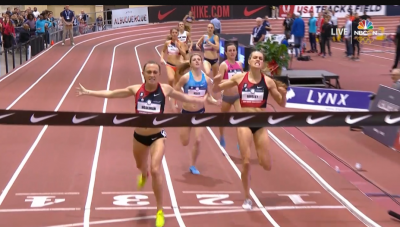 Rachel Schneider, who has had a breakout 2018 indoor campaign, did the early leading in this one taking the field through 800 in 2:19.14. Not much happened until Schneider and the rest of the field approached 400 meters to go (3:10.71 for Schneider) and people started to get antsy. 2017 World Championship team member Sara Vaughn made a big move up from the back of the pack to get behind Schneider but Schneider continued to lead until almost 1200 (3:26.58) when Cory McGee made a bold inside move to grab the lead.
At the bell (3:42.02), McGree led with Vaughn in second and Quigley and Schneider right behind Vaughn, but Schneider and Quigley were headed in opposite directions. On the backstretch, Vaughn moved into the lead but as she moved into the lead she was being followed closely by Quigley, who was in turn was being closely tracked by Shannon Osika, who was in turn being tracked by Houlihan.
Coming off the final turn it looked like this: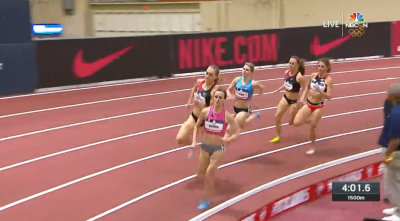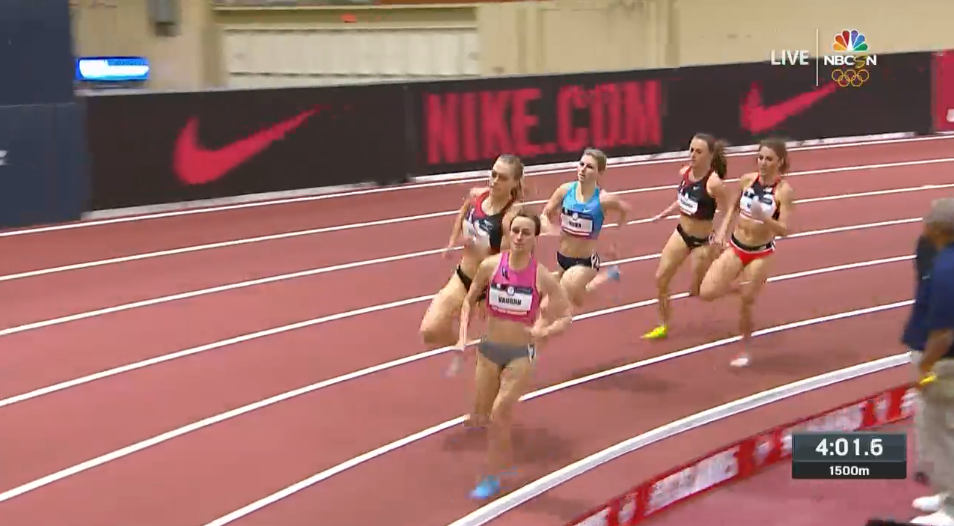 Article continues below player.
But Quigley soon moved past Vaughn, who started to fade. The next person to pass Vaughn was Houlihan, who was moving the fastest of all. Would there be enough space to catch Quigley? Yes.
Behind those two Osika, the 24-year-old Michigan grad who 4th at NCAA Outdoors in 2016 and 7th at USA Outdoors in 2017, passed Vaughn for the important third spot as Houlihan is likely to only run the 3000 at Worlds meaning Osika will get to run for Team USA.
QT: Shelby Houlihan is making a name for herself
If you're an American 1500/3000/5000 runner and your name is not Jenny Simpson, you should be very afraid when Shelby Houlihan pulls up on your shoulder. The 25-year-old Arizona State grad has now won five national titles at five different distances on the track in the last 12 months, mostly by relying on her devastating kick. Tonight, she completed the 1500/3000 double after doing the mile/2-mile double at this meet last year.
That is some serious hardware, and it's not hard to imagine Houlihan adding a bunch more over the next few years. Her accomplishments still lag behind women like Molly Huddle and Shannon Rowbury, but Houlihan is closing the gap with every victory, and it's not sacreligious to compare her to them.
"I'm very humbled to even try to fill their shoes but I'm hoping I can kind of keep chipping away each year," Houlihan said.
Houlihan was also adamant that, despite national titles in the 1500, mile, 3000, 2-mile, and 5000 in the past 12 months, she is not changing her Twitter handle (@shelbo800).
"Never," she said, when asked whether she would change it. "I think it's important to remember where you came from."
Houlihan began her career as an 800 runner and actually made the USA outdoor final in that event in 2014.
QT: Colleen Quigley was pleased to make the team, but disappointed to finish 2nd
Quigley said she felt that she ran the best race she possibly could have, but even that was not enough to deal with Houlihan's kick. And while she did what steeple rival Emma Coburn could not and made it onto the team to Birmingham, the feeling was bittersweet as she was denied a first national title on the track.
"I really thought I could win out there today, and that would be obviously a big deal for me. I haven't won a national championship yet, indoor or outdoor. So I thought this might be a really good opportunity for me. A few major players in the 1500 weren't here tonight. And so I was like, this could be a little opening for a steeplechaser to come in and show some wheels. But Shelby's just — she's so fast."
QT: Shannon Osika is probably going to Worlds, but it may take a while for it to register
Though the 1500/3000 double is doable in Birmingham, Houlihan said yesterday that she would probably only run the 3000 (today she backed off that and said she would have to decide with her coach). Assuming Houlihan only runs the 3000, Osika would be next in line to go. Osika may want to hold off on completely celebrating until Houlihan officially opts out. After today's race, she was still in a state of shock.
"I can't really fathom it (making Worlds) quite yet," Osika said.
QT: Kate Grace suffered from the flu and discusses whether she "goes home devastated"
Grace made the Olympic 800m final in 2016 and made the Worlds team at 1500 last year but switched to Jerry Schumacher's Bowerman Track Club this year. Her first nationals under Schumacher wasn't a good one. But Grace said she got sick last week with something flu-like, which probably affected her today. But having said that, she said she didn't want to use that as a total excuse as she admitted the transition to Bowerman hasn't been easy as the workout are harder and she's running more mileage. "His workouts are taking a lot out of me. I'm totally not killing them yet. I look at Shelby and the girls who have been there two years and see how incredible they are… I want to give myself the time to be where they are now." At the end of the video below Kate says that likely is her last indoor race and discusses whether she is going "home devastated" (that phrase is an LRC meme).
Men's Race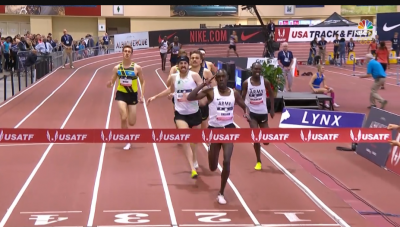 Early on Kirubel Erassa and Shadrack Kipchirchir alternated the lead for a while making some wonder if the 3:39.50 qualifying time might be in the cards, but things slowed down greatly after 800 (1:59.13) and it soon became clear guys were just going to race it out. And Chelimo was perfectly positioned to battle for gold as he was in the top 3 throughout the final 800 of this one and in the lead for the final 400.
At the bell (3:16.46), Chelimo led with Engels and Kipchirchir side by side behind him with Ben Blankenship in fourth. On the backstretch, that quartet plus fifth placer Brannon Kidder separated themselves from the rest of the pack but Kidder had some work to do as he was always a couple of meters behind Blankenship.
By the time they came off the turn, Chelimo had daylight on the others and he'd go on to win thanks to a 26.46 last lap. Midway down the backstretch Blankenship, who had the fastest last lap of anyone in the field at 26.37, moved into second as Engels edged Kipchirchir, who lost some momentum when he ran into Engels from behind on the final turn and lost his balance briefly, for third.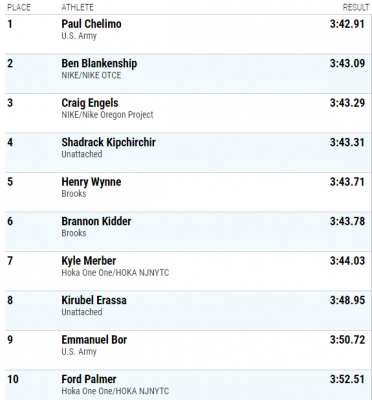 QT: Paul Chelimo won't reveal the secret to his newfound tactical success, but it seems to be pretty obvious where he strategy came from this weekend
Despite winning two medals in the last two global championships, Chelimo has not been great at positioning himself late in races, but that changed this weekend. In yesterday's 3000 and today's 1500, Chelimo got to the lead by 400 to go and held it all the way home.
We asked him afterwards how he managed to improve his tactics, and while Chelimo demurred — "that will be my big secret," he told us — it seems clear that he's taken some classes at the Mo Farah Finishing School. Farah won most of his global titles by getting to the lead with a lap or two to go and holding off all comers from the front.
That's a great strategy, though it helps a lot when you are the best guy in the field, as Farah was in the past and Chelimo is now domestically. Chelimo deserves credit for improving a weakness, but the big test will come in two weeks' time in Birmingham where it will be harder to get and keep the lead against the world's best.
QT: Ben Blankenship is a great 1500 runner and an odd duck
Blankenship was frank after the race explaining that it would have been a huge blow for him to come up short of making the World Championship team.
"It was going to be a f***ing waste if I didn't [make the team]," Blankenship said. "I worked all season, I was patient. I came up here and just did my work."
But isn't that always the case?
"I think when you're younger, you're not 30, 38 years old at this point, it gets harder. Your time's coming to the end."
Wait, what? Is Ben Blankenship 38 years old?
No one knows for sure. As a LetsRun poster noted on the messageboard, there are several conflicting reports about his birth date, and when we asked him about it today, he exited the mixed zone while providing the cryptic response: "You'll have to just find it out on my tombstone."
Blankenship may not be willing to share his age publicly, but we're pretty sure he's not 38.
MB: The mysterious age of Ben Blankenship
QT: Craig Engels' persistence pays off as he's off to Worlds
Engels is in his first full season as a pro, but he's already had a number of near-misses at US championships. He was 4th in the 800 and 5th in the 1500 at the 2016 Olympic Trials and missed out on going to Worlds in the 1500 last year by .02 of a second. This year, it took him three tries to hit the World Indoor standard, but he got it last week in Boston and took care of business today in Albuquerque. Engels said that after missing the standard in his first two attempts, it was tough to stay confident.
"I tried not to [doubt that I would make the team]," Engels said. "I mean it's hard not to do that, but I think I did a good job of staying composed and being realistic. It worked out."
Now it's on to Worlds, and, as members of the Nike Oregon Project always do, Engels is aiming high.
"I don't go into a race not looking to win," Engels said. Perhaps the nicest aspect about today's race is Engels will get a weekend off next week as he's raced four weeks in a row.
Talk about the action on our world famous fan forum / messageboard.