Matthew Centrowitz Returns to the Top and Wins his 5th outdoor US 1500 title
By LetsRun.com
June 23, 2018
DES MOINES, Iowa — Matthew Centrowitz is back on top of the U.S. 1500-meter ranks. Not that he ever really left. Most of his domestic competitors would trade their left arm for Centrowitz's "down" year in 2017, which included a U.S.-leading 3:33.41 and a runner-up finish at the U.S. championships.
But last year, Centrowitz never quite looked like the championship ace U.S. fans have come to know, as he was beaten at USAs for the first time since 2012. Today, despite being shuffled to the back of the pack early in the race, Centrowitz did what he always does: he worked his way into good position, closed better than anyone, and won his fifth U.S. 1500 title in 3:43.37. The Brooks Beasts' Izaic Yorks was a surprise second in 3:43.63, while Centrowitz's Nike Oregon Project teammate Eric Jenkins was the best of the rest, taking third in a blanket finish in 3:43.74 after making a hard move to get the race going with two laps to go.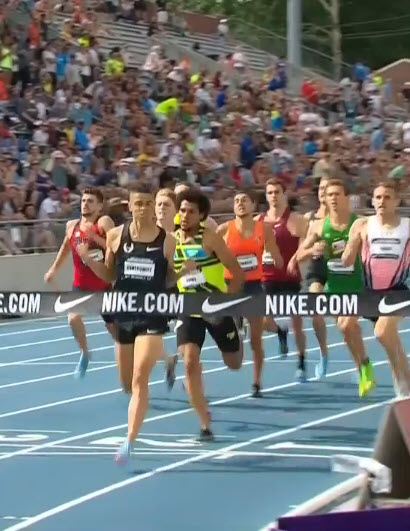 Oregon's 3:36 man Sam Prakel ended up 7th one spot lower than he finished at NCAAs but he probably deserved a higher finish as he had the lead for most of the last lap until Centrowitz came by in the homestretch. Prakel was still third two-thirds of the way home but would be passed by 4 guys in the final 35 meters.

Article continues below player.
There was a mass of bodies coming down the homestretch as the finish in this one was VERY tight. The difference between second and tenth was just .59 of a second and the margin between first and 11th in this race was just 1.05 seconds. Centrowitz certainly was deserving of the victory as he had the fastest next to last (57.06) and last lap (53.59) of anyone in the field. He also measured the last lap very well as we think his final lap of 53.59 was almost dead even — something very close to 26.8, 26.8.
That being said, he wasn't a whole lot better than everyone else in this one and it's unlikely he would have won had he tried to pull an Asbel Kiprop and come from way back on the final lap. But Centrowitz's tactics are what have taken him from a great talent to an all-time great racer, and the key to Centrowitz's victory was the give move he made on the outside as he approached 800 meters.
Early on, Centrowitz had the lead on the first lap — and considering the fact the pace was slow (63.06 at 400, 2:07.35 at 800), we thought he might try to replicate his Olympic strategy and win from the front. However, a lap later he found himself swallowed up by the pack. 600 meters into the race, Centrowitz was in the pack but he decided he didn't want to be there and he went way wide on the homestretch — out into lane 3 — so he could make sure he was in a position to move up. Only 11th with two laps remaining, Centrowitz made his move to the front as he approached 800 and then he was perfectly positioned the rest of the way.
As a result, Centrowitz is now a 5-time US champion at 1500. Only three men have won more than 5 US 1500/mile outdoor titles but only one of them has done so in the last 80 years — Steve Scott won six in the 1970s and 1980s ('77, '78, '79, '82, '83 and '86). George Orton also won six between 1892 and 1900 and Joie Ray won 8 between 1915 and 1923.
Centrowitz was clearly pleased to win a big race again as pulled a double fist pump across the finish line before putting his hand to his ear and mimicking a phone call.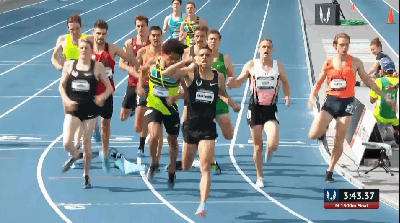 Centrowitz later posted on Instagram that he was calling 911 to report a murder: "Hello 911…I'd like to report a murder. 5th USA Outdoor National Title ???."
The victim?
"They knew who they are," Centrowitz said.
Results appear below. Post-race analysis and videos below results.
MB: Matt MF Centro 
MB: Official 2018 USATF Outdoor Championship Day 3 Discussion Thread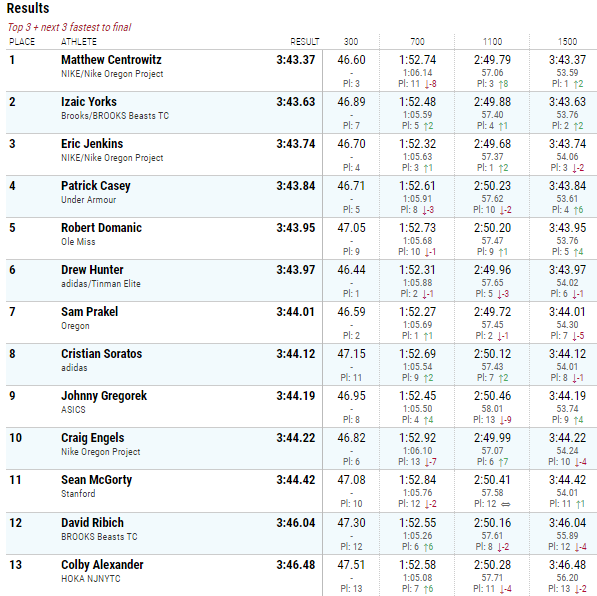 Quick Take: Being in good position is a lot easier when you're super fit
When Centrowitz retires, he'll be known first and foremost as an Olympic champion, but also as a guy who was almost never out of position. Even today, when he found himself in lane 3 and 11th place with 800 to go, he quickly remedied that and was exactly where he needed to be when the real racing began.
How does he do it? Even Centrowitz himself doesn't quite know the answer, but he pointed out that it's easier to run smart when you have the fitness to do whatever you want on the track.
"You have to be super fit to be able to make some of those moves," Centrowitz said. "And I learned that, to be honest with you, last year at the London World Champs. So I just had the worst buildup I could possibly have. Just when I was getting going, I had another strained hamstring or groin and had to miss some time and so I went into the World Champs completely unfit, for me.
"And no one wanted to take it and I found myself in the front like I normally do in the first round last year and I couldn't hold anyone off and everyone just went around me. And I realized after that race, I was like, man, you gotta be incredibly fit to be able to do those moves that I would just do, like, in my sleep."
Eric Jenkins also noted in his interview that many Americans will defer to Centrowitz in the 1500 given his accomplishments.
"Everyone kind of cues off him," Jenkins said. "That's what happens when you get in these big races. You kind of wait. You don't want to just kick and have him be on you because you know you're not gonna outkick him."
Centrowitz said that's definitely something he's noticed ever since he medalled at Worlds as a collegian in 2011. In his Centrowitz's first race as a professional in 2012, no one went with the rabbits. Only after talking to one of his competitors after the race did Centrowitz realize why.
"They're like, Dude, you're the medalist, man. That's your job."
Centrowitz noticed it in Des Moines this week too, in his prelim. Centrowitz was in last for the first half of the race and noticed several guys in front of him checking over their shoulders to monitor his position — even the guy in second-to-last.
"I'm like, dude, what are you looking back here for? It's just you and me, man."
QT: Izaic Yorks surprises in 2nd
Izaic Yorks had a tremendous senior year at Washington in 2016, running a fast 3:53 mile and getting second at NCAAs in the 1500 to Clayton Murphy. Last year as a pro he didn't improve and he had never placed higher than 10th at USAs until today.
This winter he did PR in the indoor mile, but outdoors had not done anything that indicated a runner-up finish. Yorks said he developed a slight hamstring issue during his second stint at altitude this year that hampered him. He opened up with a 5k outdoors, because his coach is "crazy" he said. But before today his outdoor SBs were only 1:48.20, 3:58.4, and 13:53.48 — nothing that indicated a runner-up finish.
Yorks said each of his outdoor races was an improvement, and he put it all together today.
He said he was pleased with the performance but a small part of him wanted to win. "After a hard transition year, and a rough start to the outdoor season it lights a fire," he said.
Yorks credited the true team atmosphere of his Brooks Beasts team for part of his performance. He held a wolf figurine in his hand in the mixed zone and when asked what it was he said the entire team has them and brings them to workouts and races. Yorks came up with the idea from his dad's experience in the military where platoon leaders often hand out a trinket to their platoon members "that represents the unity and strength the group has."
The Brooks Beasts group is expanding with DII 1500 champ David Ribich (12th today after getting spiked in prelim) joining, in addition to D1 1500 star Josh Kerr (though Kerr will be based in New Mexico until he finishes his degree). Yorks praised Ribich's toughness and then when asked about Kerr said, "I look at Josh and he honestly is probably better than I am, so I am always looking for someone I can scaffold."
Quick Take: Eric Jenkins is still a 5k guy, but he proved (again) that he can run a very good 1500
Jenkins has won some big mile races in the past — the 2016 Fifth Avenue Mile, where he defeated Centrowitz fresh off an Olympic title, as well as the 2017 Wanamaker Mile at Millrose — but there's a difference between a 5k guy running a fast 1500/mile (think Mo Farah/Galen Rupp) and performing well over that distance in a championship final. But Jenkins went up against a deep field today and more than held his own, taking third overall.
Jenkins knew his best bet to perform well was to make a move before the last lap, and he did that with just under two laps to go. While he did wind up getting shuffled back, he succeeded in dulling some of his competitors' kicks and was able to hold off all but two of them in the home straight.
Though Jenkins was very happy with how he ran today, he said that he's still planning on doing the 5k at major championships as he may not have the 800 speed to become world-class in the 1500.
QT: Drew Hunter: "I think I could have competed for the win if I had not screwed up with 600 to go."
This is only Drew Hunter's second year as a pro, but he's had some success and was hoping to really contend for the first time at a USATF Championship. He led early but gave up the lead after 800m on the backstretch when Eric Jenkins and Sam Prakel went by. Then when Centro moved up on his outside with 600m to go, Hunter would be boxed in for the rest of the race.
When asked how he felt about his performance he said, "Frustrating. I think I could have competed for the win if I had not screwed up with 600 to go. I felt good on the homestraight but when you've got a wall of 4 guys in front of you there is not much you can do. I wish I could go back out there and run it again but I went for it."
Hunter will go race in Barcelona this summer and then put a lot of emphasis on the London Diamond League meet, which he will be racing.
Talk about the men's 1500 on our world famous messageboard: MB: Matt MF Centro.
MB: Official 2018 USATF Outdoor Championship Day 3 Discussion Thread