2018 Chicago Marathon Preview: Three Sub-2:20 Women Do Battle + How Will Gwen Jorgensen Fare In Her First Serious Marathon?
By LetsRun.com
October 3, 2018
It's Chicago Marathon race week, and we've already hyped up the head-to-head showdown between Galen Rupp and Mo Farah (LRC As They Prepare To Face Off At The Chicago Marathon, A Look At The History Of Former Training Partners Mo Farah & Galen Rupp), the stellar men's field (LRC 2018 Chicago Marathon Preview: Rupp vs. Farah, But Is Geoffrey Kirui Better Than Both of Them? Plus Augustine Choge's Incredible Range & The Search for the Next American Sub-2:10), and the first serious marathon for Olympic triathlon champion Gwen Jorgensen (LRC 5 Questions With Olympic Champ Gwen Jorgensen Before The Chicago Marathon). Now it's time to take a detailed look at the women's elite field.
There's no way to avoid saying it. The Chicago women's has undoubtedly lost some starpower over the last month. First, Jordan Hasay — who ran 2:20:57 in Chicago last year, the second-fastest time ever by an American woman — withdrew with a heel injury. Then World Championships bronze medalist Amy Cragg, who ran 2:21:42 in Tokyo this year, followed suit, pulling out after a setback in her buildup left her unprepared to race on Sunday. While Chicago was able to replace them with Florence Kiplagat, a two-time Chicago champion, the loss of the race's two most prominent American women hurts.
Article continues below player
But, as they say, the show must go on.
There are still three sub-2:20 women on the start list, including 2018 Dubai champ/CR holder Roza Dereje (2:19:17 pb) and 2018 Tokyo champ Birhane Dibaba (2:19:51). We'll also get our best look yet at how Gwen Jorgensen's marathon transition is going as she will battle Laura Thweatt (2:25:38 pb) for top American honors. Let's run through the elite field.
What: 2018 Bank of American Chicago Marathon
When: 7:30 a.m. local Sunday (8:30 a.m. ET)
TV: Live on the Olympic Channel starting at 8:00 a.m. ET.
Race will also air locally on NBC5 and will be streamed on
NBCChicago.com and NBC Sports Gold.
Women's Elite Field
Reminder: since the start of 2013, all 38 World Marathon Major winners have entered the race with a sub-2:25 PR. As a result, below we've listed the women in Chicago this year with a sub-2:25 pb, plus a few other notable entrants (the full elite field is can be found here).
| | | | |
| --- | --- | --- | --- |
| Name | Country | PB | Note |
| Roza Dereje | Ethiopia | 2:19:17 | Ran huge 3 min PR to set CR in Dubai in Jan. |
| Florence Kiplagat | Kenya | 2:19:44 | 2015/2016 Chicago champ hasn't finished a marathon since April '17 |
| Birhane Dibaba | Ethiopia | 2:19:51 | Tokyo champ was 3rd in 2014 and 2015 |
| Brigid Kosgei | Kenya | 2:20:13 | Last year's runner-up was 2nd in London in April |
| Shure Demise | Ethiopia | 2:20:59 | 4th in Tokyo in Feb. |
| Laura Thweatt | USA | 2:25:38 | Ran 2:25:38 (#9 on US all-time list) in London in April '17 but this is her first marathon since |
| Gwen Jorgensen | USA | 2:41:01 | This is her first marathon since switching to running full-time |
| Alexi Pappas | Greece | Debut | Greek Olympian hasn't raced since November 2016 |
Major Champions
Roza Dereje — Ethiopia, 21 years old, 2:19:17 pb (2018 Dubai), 67:00 half
Last three marathons: 3rd 2017 Vienna (2:25:17), 1st 2017 Shanghai (2:22:43), 1st 2018 Dubai (2:19:17)
We know little about Dereje's backstory — she doesn't even have an entry in the Chicago Marathon media guide — but what we do know is that she is fast. Dereje debuted with a 2:34 in 2015 but lowered that to 2:26 in 2016 and has now PR'd in three straight races, going 2:25:17 in Vienna, 2:22:43 in Shanghai and, most recently, a 2:19:17 course record in Dubai in January.
That Dubai performance alone makes Dereje one of the top contenders in Chicago. The big question is whether Dubai was her peak — as it often can be for runners — or whether she has even more room to improve. Dereje has raced two half marathons since Dubai. She PR'd in the first (67:00 in Istanbul in April) but was only fifth in Bogota in July in 76:20 (The time by itself isn't that important as it's at altitude), 1:40 behind Brigid Kosgei (whom she'll face in Chicago) and 4:46 behind winner (and World Half champ) Netsanet Gudeta.
Dereje doesn't have as much experience as the other leading contenders — Chicago will be her first Abbott World Marathon Major (though we listed her in this category of major winners because Dubai is basically a major in our book) — so she might not be the safest bet, but her upside is very high.
Birhane Dibaba — Ethiopia, 25 years old, 2:19:51 pb (2018 Tokyo), 67:47 half
Last three marathons: 2nd 2017 Tokyo (2:21:19), 10th 2017 Worlds (2:29:01), 1st 2018 Tokyo (2:19:51)
Like Dereje, Dibaba is coming off a big win/PR in a winter marathon, taking Tokyo in 2:19:51. Unlike Dereje, she has an extensive track record to back that performance up, as that was her second Tokyo victory (she's also finished second twice) and in addition to third-place finishes in Chicago in 2014 and 2015. Dereje may have a higher ceiling, but Dibaba, who has finished in the top five in 13 of her 14 career marathons and has seven top-three finishes in majors, is the more consistent athlete.
Florence Kiplagat — Kenya, 31 years old, 2:19:44 pb (2011 Berlin), 65:09 half
Last three marathons: 1st 2016 Chicago (2:21:32), 9th 2017 London (2:26:25), DNF 2017 Chicago
Kiplagat has had a rough last 18 months. She entered Chicago last year as the two-time defending champ but her coach Renato Canova warned that Kiplagat was only at "90%" of where she was the year before due to some injury issues. Kiplagat made a go of it, but the relentless early pace (Tirunesh Dibaba ran her first 5k in 16:09) was too much and she wound up dropping out. After that, she developed a lower leg injury that prevented her from running a spring marathon — in fact, she hasn't raced at all in 2018. She did get back to easy running over the summer, but it wasn't until August that she felt that her fitness was coming around enough to run a fall marathon. As a result, she was a late addition to the Chicago field, but the fact that she feels confident enough to race is a good sign.
"Once we were convinced [about her fitness], we spoke to Chicago but we did not want to force things if we were not sure she could be competitive," says her agent Valentijn Trouw. "She did a combination of long runs and speed work that convinced her that okay, I'm coming towards a level that I can be competitive. She knows what it takes to be competitive."
Indeed, Kiplagat especially knows what it takes in Chicago, a race she won in 2015 and 2016. Kiplagat may no longer have the speed of a few years ago when she was breaking world records in the half marathon, but she has the experience to be a major factor in Sunday's race.
The Two Other Women Who Could Win
Brigid Kosgei — Kenya, 24 years old, 2:20:13 pb (2018 London), 66:35 half
Last three marathons: 2nd 2017 Chicago (2:20:22), 1st 2017 Honolulu (2:22:15), 2nd 2018 London (2:20:13)
Tuneup race: 2nd in 67:52 at Great North Run on September 9
Had Kosgei chosen different races to run this spring and last fall, it's very possible she would be in the previous category as a major champion. The best performance by a female marathoner last fall was Tirunesh Dibaba's 2:18:31 in Chicago. Kosgei was second in that race, running a PR of 2:20:22. The best performance by a female marathoner this spring was Vivian Cheruiyot's 2:18:31 in London. Kosgei was second in that race, too, running another PR of 2:20:13. In between those two races, she won the Honolulu Marathon in 2:22:15, slicing over five minutes off the course record. The good news for Kosgei is that we have likely already seen the best performance by a female marathoner this fall — Gladys Cherono's 2:18:11 in Berlin — which means she may finally be able to win a major in Chicago.
All the signs point to a big performance by Kosgei on Sunday. Her tuneup race at the Great North Run went well as she finished second in 67:52, just nine seconds behind Cheruiyot (who is a total stud). And remember, at both 2017 Chicago and 2018 London, Kosgei went out really fast (69:10 in Chicago, 68:56 in London) and held on bravely in the second half for a personal best. With no superstar like Dibaba or Mary Keitany in the field on Sunday, Kosgei should be able to go out a little slower, which could help her dip into the 2:19s. And that is usually a winning recipe in Chicago: Kosgei's 2:20:22 last year was the sixth-fastest time ever run in Chicago (and the second-fastest non-winning time).
Shure Demise — Ethiopia, 24 years old, 2:20:59 pb (2015 Dubai), 68:53 half
Last three marathons: 2nd 2017 Dubai (2:22:57), 5th 2017 Worlds (2:27:58), 4th 2018 Tokyo (2:22:07)
Of the five women with a realistic shot at the win, Demise is the least likely to achieve victory. She has the slowest PR of the bunch, 2:20:59, which she ran in her debut in Dubai in 2015, and she hasn't broken 2:22 since. Taking fourth in Tokyo in February wasn't a bad result, but considering Birhane Dibaba won that race (2+ mins ahead of Demise) and is running Chicago Sunday, there's not a compelling reason to pick Demise over the other contenders.
She's more of an insurance pick in case everyone else is off their game.
The Americans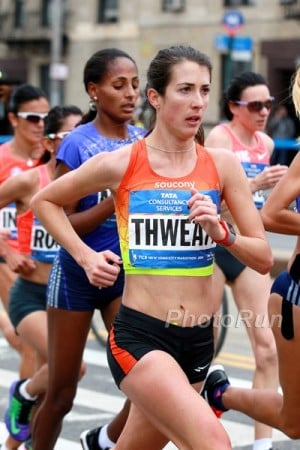 Laura Thweatt — USA, 29 years old, 2:25:38 pb (2017 London), 70:17 half
Last two marathons: 7th 2015 New York (2:28:23), 6th 2017 London (2:25:38)
Thweatt is firmly ensconced in the second tier of US female marathoners. That's not meant as an insult to Thweatt — who has run very well in her two career marathons — but rather it's a reflection of just how strong that top tier (Flanagan, Hasay, Linden, Huddle, Cragg) is right now.
It's debatable whether Thweatt will ever break into that top group, but it certainly hasn't helped that she's been repeatedly bothered by osteitis pubis, inflammation of the joint between the pubic bones. Even as she was preparing for London last year — where Thweatt ran her PR of 2:25 — she had to train through OP, and after London the condition caused her to miss six months of training. She was so far behind that she skipped a spring marathon in 2018 as well, and though she has raced four times this year — including a half marathon pb of 70:17 in Australia in July — Chicago will be her first marathon in 18 months (Runner's World's Sarah Lorge Butler has more on Thweatt's recovery here).
Thweatt told Butler that she thinks a PR is possible in Chicago. She'll need to lower that PR quite a bit if she is to break through to the next level and contend for the 2020 Olympic squad, but first things first. The fact that Thweatt is healthy and racing again is good, and a PR in Chicago would be a sign that she's headed in the right direction.
Gwen Jorgensen — USA, 32 years old, 2:41:01 pb (2016 New York), 70:58 half
Jorgensen has been one of the most fascinating athletes in the sport ever since she announced her plans to switch from triathlon to marathoning in November 2017. The early returns have been mixed — her 15:15 5,000 on the track in February, less than six months after giving birth, was super impressive, but it's also her best performance of the year according to the conversion calculators (she has also run 70:58 for the half marathon in May and, most recently, 33:21 on the roads for 10k at Beach to Beacon in August). Jorgensen has been quick to point out that while she doesn't enjoy getting beaten — a rarity in her triathlon career — her priority in 2018 has been adjusting to marathon training, with results on the track and road races a secondary concern.
Jorgensen is looking at Chicago in a similar way, telling LetsRun "this year has been all about training for the Olympic Trials in 2020." But make no mistake: Chicago also represents the truest assessment to date of how Jorgensen's marathon transition is going. We don't judge marathoners by how they run in their prep races; we judge them by their marathons, and Jorgensen hasn't run any yet (her 2:41 in New York two years ago doesn't really count considering Jorgensen barely did any serious marathon training before that one). A bad result in Chicago won't signal the end of the world — again, at this time last year, she was still a triathlete — but the clock is ticking.
When Jorgensen announced her switch to the marathon, there were 27 months to the Olympic Trials. Eleven of those months have now passed. And after Chicago, Jorgensen may only run one more marathon before the 2020 Trials — with the Olympic Trials in February 2020, it's possible she skips a fall marathon in 2019 (that's what Bowerman TC teammates Flanagan and Cragg did before the '16 Trials). Even though she's been a marathoner for less than a year, it's important that Chicago goes well, if only to provide a mental boost that the hard work of the last 11 months have not been in vain.
But that prompts another question: what constitutes a "good race"? It's not like we have past comparisons for this sort of thing, and that's why we posed the same question to the LetsRun messageboard: What's a successful run for Gwen Jorgensen on Sunday in Chicago?
So far, Jorgensen hasn't answered that question. Earlier this week, we did a Q&A with her (read it now if you haven't already: LRC 5 Questions with Olympic Champ Gwen Jorgensen before the Chicago Marathon) and she admitted that she has "no idea" how Chicago will go on Sunday and would not give any specific time/place goals.
Obviously, trying to compete with the top women is foolish. This race will likely be won around 2:20 and Jorgensen isn't coming close to that. But after Shure Demise (2:20:59), there's a big jump to the next-fastest woman in the field (Thweatt at 2:25:38) and then another big jump to the next-fastest woman after that (Alyson Dixon at 2:29:06).
That puts both Thweatt and Jorgensen in an interesting spot. Does Thweatt go out with the leaders, go out on her own pace (where she will still have sub-elite men to run with), or hang back with the next group of women? For Jorgensen, it's a little simpler — if Thweatt hangs back with the non-African elites, that's where Jorgensen should be as well — but what if Thweatt goes out on 2:25 pace? Does Jorgensen try to follow or hang back?
The truth is, no one knows how it will all play out — and that is when the sport is at its most interesting.
More on Jorgensen:
LRC 5 Questions with Olympic Champ Gwen Jorgensen before the Chicago Marathon
MB: What Is Gwen Jorgensen Thinking?
MB: GWEN JORGENSON: mad Im not in 2:19 shape, some yall gonna EAT CROW
MB: What's a successful run for Gwen Jorgensen on Sunday in Chicago?
[gravityform action="polls" id="733″ mode="poll" cookie="1 month" show_results_link="false" display_results="true" percentages="true" counts="false" ajax="true"]
 More on Chicago: Complete 2018 Chicago Marathon Coverage