Conseslus Kipruto Unleashes Furious Kick to Win 2018 Diamond League Steeplechase Final with One Shoe!
By LetsRun.com
August 30, 2018
If the Olympic title in 2016, world title in 2017, and Commonwealth and African titles in 2018 weren't enough, then the Diamond League title earned tonight by Conseslus Kipruto at the 2018 Weltklasse Zürich track and field meeting, achieved after he ran virtually the entire race with just one shoe, put an exclamation point on Kipruto's status as the best steeplechaser on the planet.
On a night with near-perfect conditions for fast distance running (63 F, 3 mph wind), the men's steeplechasers showed early on they had no desire to run fast. Instead, this race was run tactically and served as the unofficial world championship for 2018. Given his past accomplishments, Kipruto winning a tactical, championship-style race isn't a surprise; it's basically expected. But to do so after losing his shoe coming off after the first water jump, with more than 5 full laps to run, was truly remarkable.
As the racers made the turn onto the homestretch after the first water jump (1:25 into the race), this happened.
How many guys do this 1:25 into the race and WIN the race?

In the Diamond League final?

Conseslus "One Shoe" Kipruto is insane.https://t.co/3X8d65THCA pic.twitter.com/J9GINKbZRi

— LetsRun.com (@letsrundotcom) August 30, 2018
Kipruto is a steeple GOD. https://t.co/vHN3J7w6Zr @KipConseslus pic.twitter.com/OOessqCCZf

— LetsRun.com (@letsrundotcom) August 30, 2018
In terms of pace, the lead racers were more than three seconds back of the lead rabbit at 1k (2:41 for the lead racers) and then they really backed off on the second kilometer as they hit 2k in 5:33. With the pace dawdling, it was the unheralded Nicholas Bett of Kenya, the 2013 world youth silver medallist who has an 8:10 pb, who took the lead shortly after 2k. On the backstretch of the penultimate lap, 2018 world leader Soufiane El Bakkali of Morocco went to the front but the serious racing hadn't begun as there were still five men in the lead group heading into the penultimate water jump. American Evan Jager was the 5th of those men at that point but showed he wanted to be in the mix as he moved up to a tie for the lead at the bell with El Bakkali, who had become visibly angry with a lap and a quarter remaining when he got clipped from behind but did not fall.
The real racing began in earnest on the backstretch when El Bakkali put in a surge as he came off the turn. He and Kipruto put an instant gap on the rest of the field and it was clear that the race was now a two-person battle for the $50,000 prize.
Coming into the final barrier, El Baakali still led but a Kipruto hadn't throw in the towel and he managed to get a very narrow win late, winning in 8:10.15 to El Baakali's 8:10.19, eerily similar to last year's DL final. Jager ended up best of the rest in 8:13.22.
Results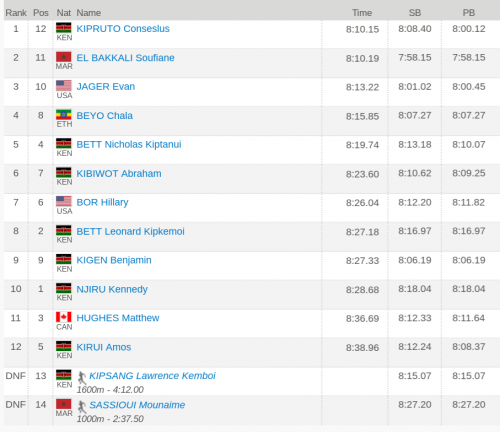 What a finish! pic.twitter.com/3DzSAcrfPf

— Chris Chavez (@ChrisChavez) August 30, 2018
Quick Take: What gutsy performance by Kipruto
What heart. What a champion. He easily could have dropped out, but he didn't. He easily could have settled for second in the tough battle on the last lap, but he didn't. He's a great champion.
If you didn't watch this race live, go back and watch it on replay. It blew us away. Here is a text message exchange between a few staffers about it: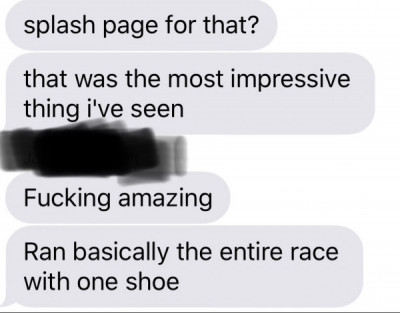 As @PaulSwangard just said on @NBCSN, "1️⃣?, 1️⃣ ??" for @KipConseslus – #DiamondLeague steeplechase champ! pic.twitter.com/rOKze1HGPG

— Prefontaine Classic (@nikepreclassic) August 30, 2018
Here's a shot of Kipruto's foot post-race courtesy of his agent Michel Boeting. Kipruto's victory was not without sacrifice, as he told race organizers: "I have big pain. I am injured because I lost my left shoe. That was a mess. But it motivated me to fight as hard as I could. So the race went well."
This foot just won a Diamond. @Diamond_League @KipConseslus pic.twitter.com/VjB7xgKpSi

— Michel Boeting (@one4onesports) August 30, 2018
Quick Take #2: The athletes in Brussels loved this race, none more than Paul Chelimo
If you have 35 seconds, do yourself a favor and watch this video. It's a reaction shot of the meet hotel in Brussels, where the athletes competing in tomorrow's DL final watched Kipruto's race unfold on TV. Paul Chelimo was so excited that he…well, just watch the video:
SCENES IN BRUSSELS!

Did y'all see that 3000 steeplechase finish?!?! With only one spike!!!@Paulchelimo ?#DLFinal pic.twitter.com/mqiCYAScuf

— SPIKES (@spikesmag) August 30, 2018
Quick Take #3: The all-time sub-8 list still contains 12 names
It's amazing that Kipruto isn't one of those 12.
The 15 Fastest Steeplers in History
1 07:53.63 WR Saif Saeed Shaheen QAT 2004
2 07:53.64 AR Brimin Kipruto KEN 2011
3 07:54.31 Paul Kipsiele Koech KEN 2012
4 07:55.28 AR Brahim Boulami MAR 2001
5 07:55.72 Bernard Barmasai KEN 1997
6 07:55.76 Ezekiel Kemboi KEN 2011
7 07:56.16 Moses Kiptanui KEN 1997
8 07:56.81 Richard Mateelong KEN 2012
9 07:57.29 Reuben Kosgei KEN 2001
10 07:58.15 Soufiane El Bakkali MAR 2018
11 07:58.41 Jairus Birech KEN 2014
12 07:59.08 Wilson Boit Kipketer KEN 1997
13 08:00.09 AR Mahiedine Mekhissi-Benabbad FRA 2013
14 08:00.12 Conseslus Kipruto KEN 2016
15 08:00.45 AR Evan Jager USA 2015
Quick Take #4: Will Evan Jager ever break 8:00?
We're sure that many American fans were disappointed that the pace wasn't hot and there was never any hope that Jager would make history and become the first non-African-born runner to break 8:00. Before the race, we tweeted the following:
"Right now, @EvanJager is running for history. If he doesn't break 8:00 here, he may never do it. 63 degrees and no wind. That's Stanford type conditions with a Diamond League quality field."
In Monaco, nearly six weeks ago, Jager ran 8:01.02. Why he wouldn't want to go for a sub-8 today (we guess he could still try it at the Continental Cup or set up a time trial) is hard for us to comprehend (unless he's had some setbacks in training).
That being said, we guess we shouldn't be too surprised by Jager's tactics today as in the biggest race of the year he ran exactly how he said he'd run when we talked to him at the Pre Classic this year. Back in May, Jager told us he didn't want to be the guy that tries to push the pace in the middle of the race like he's done in the past (last year he took the lead with 4 laps remaining at Worlds and he also pushed in the middle of the Olympics, which was an 8:03 race).
"I just want to work on just not being the guy to push from a mile out in races this year. Things happen to go slow and guys don't want to push the last three laps, I'm not gonna feel responsible for making sure the race is going fast. And I want to focus on my own race and just run free and relaxed."
The fact is, whether he pushes the pace or not, Jager is the third best steepler in the world right now. We just wish he'd taken another crack at sub-8 besides Monaco this year. Yes, he could still try to do it next weekend at the Continental Cup, but with the big money on the line ($30k for 1st) we doubt it happens there.
Given the fact that it's a non-world championship year, we'll reiterate what we wrote prior to the Pre Classic this year:
"We know one thing. Evan Jager had better run more than three international steeples this year (that's what he ran last year). There are no Worlds to peak for so he needs to hit the DL circuit."
---
More: LRC 2018 Weltklasse Zürich Full Recap: Noah Lyles and Caster Semenya remain perfect as Hellen Obiri and Luvo Manyonga earn narrow wins We recap all of the action for you from the first of two DL finales in Zurich.
Talk about the meet on our world famous messageaboard.