American Evan Jager Comes Up Short In Quest For Gold, Settles For America's 1st-Ever Men's World Championship Steeple Medal
By LetsRun.com
August 8, 2017
LONDON — For 30 years, there had been order in the men's steeplechase. A Kenyan — or in the case of Qatar's Saif Saaeed Shaheen, a Kenyan-born — athlete had won the gold medal for 21 straight global championships. And more often than not, the silver too (17 out of 21).
On Tuesday night, US fans were hoping that Evan Jager, a 28-year-old from the Chicago suburbs, could upset that order by becoming the first American-born man to win the steeplechase — or any men's distance event — in the history of the IAAF World Championships, which date to 1983. However, Kenya's Coneslus Kipruto, the reigning Olympic champion who prior to Worlds hadn't finished a race since June due to injury, was able to pull away from Jager over the final 300 meters just as he did last year in Rio and win gold in 8:14.12. This time Jager, who entered the race as the betting favorite, had to settle for bronze (8:15.53) as Morocco's Soufiane El Bakkali grabbed the silver in 8:14.49. Jager's bronze was still historic as it's the first-ever by an American man or woman in the steeple at the World Championships.
Article continues below player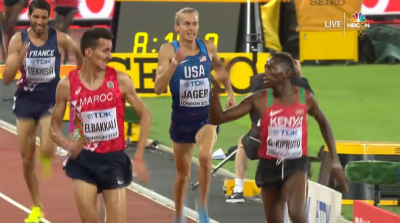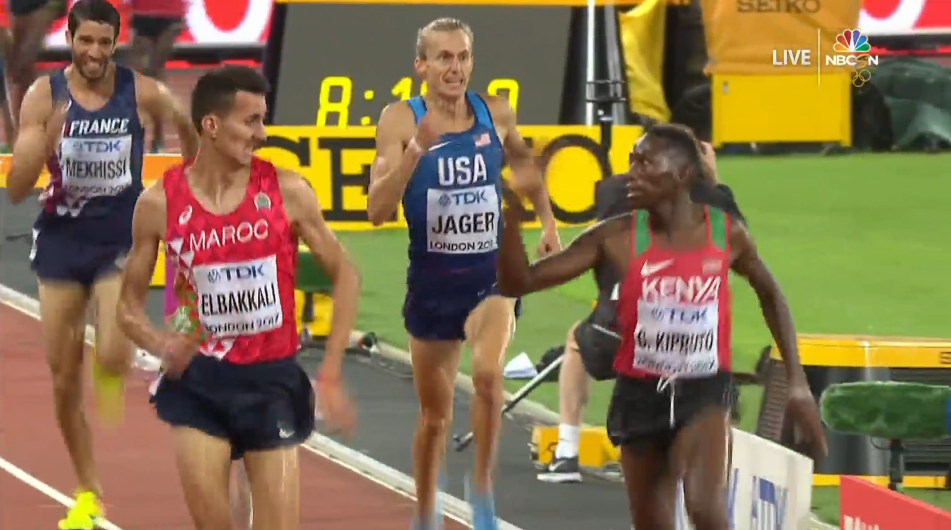 Two-time Olympic silver medallist Mahiedine Mekhissi of France was fourth (8:15.80) and American Stanley Kebenei fifth (8:21.09). The championship career of the most decorated steepler in history, Ezekiel Kemboi (6-time global champ), came to an end without a medal as he faded to 11th after running with the leaders for all but two laps.
The race (American can view final lap here)
The race went out very slowly (2:51.81 first kilometer — that's 8:35 pace) and it remained that way, with the field mostly bunched together, until Jager went to the front with a mile to go. From there, the American began to string it out and by 2k (5:25.46), the lead pack was down to four men — the three gold-medal contenders (Jager, Kipruto and El Bakkali) and the 35-year-old Kemboi, who was trying to turn back the clock and earn a staggering 10th global medal.
But Kemboi could not hang on to the pace Jager was setting, and he was dropped on the penultimate lap, leaving Jager, Kipruto and El Bakkali together at the bell. El Bakkali, who had a rough final hurdle of his penultimate lap, looked to be struggling to hold onto the pace, but Jager, who led by two meters at the bell, was struggling to create additional separation — a problem with the big kicker Kipruto close behind him.
Entering the backstretch, Kipruto made his move, and though he did not drop Jager immediately, things weren't looking good for the American as El Bakkali went by him as well just before the final turn. Jager was able to keep it close through the final water jump, but as they swung onto the home straight, he could not match the leaders' final acceleration as Kipruto hit the straight in front with El Bakkali on his shoulder. Kipruto was eventually able to open a gap of about a meter and a half, but he launched into an extremely premature celebration coming off the final barrier with 30 meters to go, turning toward the crowd (and El Bakkali) and celebrating even though his rival was just a couple of strides behind him. To celebrate that early, in that fashion, was an act of supreme arrogance and confidence, but it made no difference in the outcome. Kipruto is that good.
Perhaps it's fitting that Kipruto celebrated his victory in such fashion. His predecessor as world champion, Ezekiel Kemboi, was known almost as much for his finish-line celebrations and shirtless dance moves as he was for winning steeple titles. And after the race, Kemboi told his protege, "Conseslus, take the baton," letting Kipruto know that it's now up to him to continue Kenya's dominance in the steeple. Apparently Kipruto's duties also involve celebrating like a champ as Kipruto's celebration tonight — which also involved stripping off his shirt within seconds of crossing the finish line — rivaled anything the great Kemboi produced during his own illustrious career.
***
Update: For the second year in a row, France launched an absurd protest on a ticky-tack violation in an attempt to move Mekhissi up from 4th to 3rd. In Rio, the protest was successful as Ezekiel Kemboi was ruled to have stepped inside the line coming off one of the water jumps, promoting Mekhissi to bronze in his place. This time, they protested the same thing — that Jager had stepped inside the line after the water jump — and while the Jury of Appeals ruled that Jager did step on the line, they concluded that he gained no advantage as Jager stepped on the straight part of the line. That means that Jager, thankfully, gets to keep his medal.
More details, including the full Jury of Appeals decision, available here: LRC The French Have Done It Again (Almost) – The French Protested and Tried To Get Evan Jager Stripped of His Medal For Stepping on The Line
Results and then analysis appear below.
Quick Take: Nothing was going to stop Conseslus Kipruto from extending Kenya's dominance tonight
Kipruto was second in Moscow in 2013 and second in Beijing in 2015, and despite battling an ankle injury that limited him to just one track session since the Kenyan Trials in June, he was not going to let anything stand in the way of a first-place finish tonight. He admitted, however, that he doubted himself coming into the race as he has been getting treatment up to four times a day while in London, including twice before tonight's race.
"Last night, I was so afraid of Evan Jager, Bakkali from Morocco," Kipruto said. "But today in the morning, I wake up and say, 'I'm better, I'm Olympic champion. I'm the best in the event, I'm going to beat them.' And it was my duty to defend the title [for Kenya]."
Kipruto explained that he loved the crowd cheering for him and wanted to acknowledge them with his own celebration. Kipruto is no stranger to early celebrations, as they're a frequent sight during his Diamond League wins, and he knew El Bakkali wasn't going to catch him even though Kipruto began celebrating outrageously early.
"The last 400 meters, I always know I am strong," Kipruto said. "When I'm [in] that area, I know I'm strong."
Now that he's world and Olympic champion, there's only one thing left for Kipruto to accomplish: the world record. Kipruto said he definitely wants it and will try for a fast time in Brussels on September 1, but he acknowledged that it may take some time to break it (remember, Kipruto hasn't even broken 8:00 yet; the world record is 7:53.63).
Quick Take: Kipruto's gold saved the Kenyans from total embarrassment
Kenya takes great pride in the steeplechase and many of the Kenyan reporters in the mixed zone were asking the Kenyans after the race whether they were worried Kenya would lose this race for the first time since 1987. Just check out this excerpt from an article in Tuesday's Daily Nation paper in Kenya:
Amazing quote here from Kenyan newspaper Daily Nation with Kenyan elections + Worlds steeple final on tap tonight.https://t.co/gChh6K0Pca pic.twitter.com/NsvejNgMcf

— LetsRun.com (@letsrundotcom) August 8, 2017
Fortunately for Kenya, their future looks secure with the brilliant Kipruto. But if his injury had been more serious, Kenya would have been seriously embarrassed in London. Two years after going 1-2-3-4 in this race in Beijing, Kenya (with the same four men) had guys finish 11th and 12th in the final with one guy (Brimin Kipruto) failing to make the final at all.
"Sometimes we sweep medals, but the important to us is to be, especially, gold," Kipruto said. "We look [at] gold so much…In the morning we spoke about that, we say if not sweep the medals, gold belongs to Kenya. And it was my duty."
Quick Take: The fact that Evan Jager's bronze is viewed as something of a letdown shows just how brilliant he is
In any other distance event, a bronze medal by an American would be treated as an unqualified success. Even when Jenny Simpson won her silver on Monday night, it was viewed as a big deal — and  Simpson had medalled three separate times in the past.
But Jager has been so good over the last few years, particularly this year, that it was somewhat disappointing for him to "only" come away with a bronze tonight. We're not trying to dispute the enormity of what he accomplished — earning the U.S.'s first-ever steeple medal at the World Championships is truly impressive — but rather to acknowledge how high Jager has raised the bar.
When Jager adopted the event in 2012, the idea of an American medalling in the steeple was ludicrous. This year, the expectation was not just that Jager would medal, but that he would challenge for gold, and he did exactly that. He just wasn't quite as good as Kipruto and El Bakkali tonight.
It was a bit strange to hear Kipruto say in the press conference until last night he thought Jager was going to beat him.
"I was frustrated by my injury. I thought I was going to lose to these two guys… Today I changed my plan, I'm the Olympic champion. I know I'm the best in the event… I'm going to follow Evan Jager until the last 300 meters, I will go in front of him and I always know when it comes to the last 150 meters as long as I jump the water jump, I know no one is going to beat me there," Kipruto said. It sounded so simple, yet it also acknowledged that his primary concern in the race was an American. After the press conference, Jager told us off camera when he heard Conseslus talk about how he thought Evan was going to beat him that it didn't make Jager feel worse that he didn't win. Jager viewed it as a compliment.
QT: Jager Himself was disappointed not to win, but still happy to medal
Jager is a track geek and a student of the sport (when he was listed on a hacked database as "likely doping," he came to LetsRun.com to try to figure out what was going on), so he knew he was the betting favorite tonight and apologized "if anyone lost money on me." But forget about the betting lines, Jager himself came in thinking he could win the race, and he ran like a guy trying to win the race. Conseslus Kipruto also knew Jager would run like a guy trying to win the race, and for Jager, that meant pushing the pace.
"I thought it was going to go a little slow the first k(m) and if that happened we thought it was best for me to try and get rid of guys by trying to go hard from three or four or laps to go. You make it a strength race by going from a little further out. I thought I was the best 3000m steeplchase(r) in the field and I just wanted to make it hard. It's tough, it's hard to run over half the race in the lead and still win. I was essentially a rabbit for Conseslus and El Bakkali. I knew those guys were probably strong enough to be there with a lap to go but I was just hoping I did enough to take the kick out of their legs and still have something left that last 200m to hold them off."
That proved not to be the case even though they didn't blow by Jager and he stayed with them until they pulled away after the final water jump when the fatigue set in. Jager had to settle for the bronze. 
"I'm a little disappointed that I didn't come away with the win but I'm happy I stayed in the top 3 and got on the podium," Jager said. When pressed if he was a little disappointed or a "whole lot" disappointed, Jager said, "I'm still happy I got a medal. I'm just a little disappointed."
QT: Jager may have to get in 7:45 shape to beat Kipruto!
Evan Jager knows how good Conseslus Kipruto is (world and Olympic gold, plus 2 Worlds silvers and he's only 22) and how young he is. That could spell trouble for Jager as he continues to try to figure out how to win gold.
"He's going to be a great championship runner for a long time. He could be another [Ezekiel] Kemboi (the greatest championship steeplechaser ever) which would be really frustrating," said Jager of Kipruto.
But at this point, Jager is all-in on trying to get a gold. He's just not sure how to exactly do it.
"Maybe I'll have to get in 7:45 shape and just run right from the get-go and hammer. I don't think I can let it come to a kick. I know Conseslus can run like 48 seconds for 400 meters so I'm not going to beat him for 400 meters," said Jager.
Considering the world record is 7:53, Jager may never get in 7:45 shape, but Jager said in the future a guy like El Bakkali might determine he needs a fast race to try and get gold and work with Jager to make it fast.
Being the world champion is never easy, which Evan Jager certainly realizes. He said before he was established as a pro his goal was to get a medal and earn the respect of the top pros. Jager has now done that twice over. But the jury is out on whether he will ever get the only medal missing on his mantle – a gold.
***
Jager said despite the bronze this year vs. the silver in Rio, he feels stronger this year than last. Ane he also said he felt the field this year at Worlds was stronger than the Olympics as there were 4 Kenyans instead of 3, the Ethiopians had improved, as had guys like Stanley Kebenei, Matt Hughes and of course El Bakkali.
Quick Take: Stanley Kebenei is not satisfied with 5th in the world
The last three years, Kebenei fell in his biggest race of the year, the latter two costing him a spot on Team USA. In 2017, Kebenei stayed on his feet in the World Championship final, and the result was a fifth-place showing.
Given that Kebenei had never made a U.S. team before this year, many would view that performance as a success. But Kebenei wanted a medal tonight, and was disappointed in himself for not responding to Jager's move midway through the race.
"I learned that as soon as the top guys start taking the lead, you should be right there so that you can just follow them all the way, which I didn't do," Kebenei said. Kebenei added that he almost fell when Jairus Birech stumbled nearby him, and he felt that prevented him from responding to the move when it was made.
While we admire Kebenei's confidence in his abilities, that's not why he failed to medal tonight. When you lose by 6+ seconds in a distance race, it's not because you responded to the move too late. It's because you weren't fit enough to respond to the move.
Maybe that will change in two years, though. Kebenei has already gone from 8:18 to 8:08 in one year under coach Scott Simmons and expects more improvements will follow.
"I'm gonna come back fresh and ready to contend for the gold medal. Not even a silver or a bronze or anything else. Just the gold."
Quick Take: Ezekiel Kemboi is a marathoner now…or is he?
Kemboi went for it tonight and with two laps to go, it looked as if the 35-year-old might steal an unlikely medal to go with the nine he already owns. It was not to be, however, as he faded badly and wound up in 11th place.
Ezekiel Kemboi said that after competing in the championships in London, he'll move up to the marathon. He said this…in 2012 as well prior to the London Olympics. So forgive us if we're a little hesitant to believe Kemboi when he said after tonight's race that, once again, that his plan is to move up to the 26.2-mile distance, with a planned debut of April 2018.
Considering Kemboi will be 37 by the next Worlds in 2019 and already has six global golds, we're more inclined to believe him this time around but we'll never say never when it comes to Kemboi.
Talk about the race on our fan forum: