2018 Weltklasse Zürich Recap: Noah Lyles and Caster Semenya remain perfect as Hellen Obiri and Luvo Manyonga earn narrow wins
by LetsRun.com
August 30, 2018
The first of two back-to-back Diamond League finals was held Thursday night at the Weltklasse Zürich meet and the stars of track and field put on a show.
21-year-old Noah Lyles showed he is the present and future of the 200m as he capped a perfect season at 200m by going sub-19.7 for the fourth straight time. Caster Semenya, in what may have been her final performance in the Diamond League, extended her win streak at 800m to 28, Hellen Obiri held off a fierce challenge from Sifan Hassan at 5,000m, Luvo Manyonga won the long jump on the final jump, and Murielle Ahoure got the upset win in the 100.
We recap all the action below except for the men's steeplechase, where Conseslus Kipruto put on the performance of the night as he ran nearly the entire men's steeplechase with one shoe and still pulled out an incredibly tight victory. The steeplechase gets its own recap here: Conseslus Kipruto Unleashes Furious Kick to Win 2018 Diamond League Steeplechase Final with One Shoe!
Reminder. There was $100,000 in prize money on the line for each DL event. That's 3.33 times the normal $30,000 at a regular DL event.
Note, we apologize for not posting full results like we normally do but the IAAF had technical problems and never was able to send them out.
Prize Money
1st – US$50,000
2nd – US$20,000
3rd – US$10,000
4th – US$6000
5th – US$5000
6th – US$4000
7th – US$3000
8th – US$2000
Women's 800: Caster Semenya lays waste to the field; Niyonsaba only 6th
If this was Caster Semenya's final Diamond League race — or at least her final race as this version of Caster Semenya, before the IAAF's new hyperandrogenism regulations kick in this November — then it was a fitting microcosm of the past three years of the women's 800. There was Semenya, and then, quite a bit further back, there was everyone else.
Article continues below player.
Opting, as she had in Paris and Moncao, to serve as her own pacemaker, Semenya got out fast and at the bell (56.06), Semenya had an enormous lead, 1.6 seconds up on Jamaica's Natoya Goule in second. Semenya ran completely unchallenged over the final lap, but could not hold on as well as she did in Paris and Monaco as she had to settle for 1:55.27 compared to the 1:54's she clocked at those two meets.
That said, Semenya was more dominant this time as she won by a ridiculous 2.59 seconds compared to 1.61 in Paris and 1.36 in Monaco.
The battle for second was a good one. Goule held that position at the bell, but Niyonsaba passed her on the first turn of the bell lap only for Goule to pass her back as they entered the final turn. Immediately, however, Niyonsaba repassed, but it remained tight. Entering the home straight, Niyonsaba barely led with Goule on her inside and American Ajee Wilson on her outside.
Niyonsaba almost always wins these battles for second, but she didn't have it tonight as Wilson closed best in 1:57.86, .63 ahead of Goule in third. Niyonsaba faded all the way to sixth place in 1:59.11 — she hasn't run slower in a Diamond League since May 2013.
Quick Take: 28 in a row for Semenya
Whether you believe Semenya should be competing or not, there's no doubt that she's been dominant. If she can make it to September 8 without losing, that will make it three full years unbeaten in the 800 meters, during which time Semenya has racked up an Olympic title, a world title, three DL titles, and 28 consecutive victories. And of all those victories, few were as dominant as this one. It's almost impossible to win an elite 800 by 2.59 seconds but that's what Semenya did tonight. Semenya may never be seen on the Diamond League scene again, but if you're wondering if she wanted to go out with a world record she said afterwards, "The world record is actually not on my mind."
Quick Take: Francine Niyonsaba may not be 100%
In 26 of her last 28 800's before tonight, Niyonsaba had either won or finished second behind Semenya. Tonight, she was just sixth — her lowest finish in an 800 since July 2015. While Niyonsaba was mixing it up with the chase pack until the home straight, she did not have her usual close and may not have been 100% — she was shown lying on the track receiving treatment right after the race concluded.
Quick Take: Could 2019 be the year Ajee Wilson takes over the 800?
As mentioned above, the new IAAF hyperandrogenism regulations are due to come into effect in November. We're not totally confident that they'll pass muster — and Semenya has already announced she is challenging them — but if Semenya and other hyperandrogenous athletes are not allowed to compete in 2019, Wilson — who has silver at the last two World Indoors and bronze at the last World outdoors — will be the woman to beat.
One man who believes that is Wilson's agent Ray Flynn, who hinted at the coming rules change after tonight's race:
https://twitter.com/RayPFlynn/status/1035257512143069187
Women's 5,000: Hellen Obiri wins a thriller thanks to 27.39 final 200
Hellen Obiri has had her ups and downs in 2018. But she has been at her best when it matters most, none more so than tonight, where the Kenyan repeated as Diamond League champion with a thrilling 14:38.39 victory over Sifan Hassan in a race that came down to the wire.
Obiri was at the front early to ensure an honest pace, following behind the three rabbits to pass 1600 meters in 4:38.6 (14:30 pace, though that was slower than the 14:10 world record pace that the rabbits were supposedly tasked with). But once the final rabbit dropped out at 2800 meters, Obiri decided to back off the pace, running 73.6 from 3000 to 3400. Obiri would keep the pace relaxed, and even as Agnes Tirop, the winner in Birmingham last week, took the lead with 1k to go, she did not pick it up. At the bell, six women — 2015 world silver medalist Senbere Teferi, Tirop, Doha winner Caroline Kipkirui, Obiri, Hassan, & Genzebe Dibaba — were still together as the 1600m segment from 3000 to 4600 had been covered in just 4:53.9 (15:18 pace).
But all that was merely preamble for an epic final lap. Hassan made the first big move, seizing the lead with 300 meters to go as Teferi and Obiri followed behind. But Obiri had been playing the long game, and just like the poker player who responds to a raise by coming over the top with a re-raise, she made an even bigger move to steal the lead midway down the backstraight. Hassan was caught unawares, and though Obiri had not succeeded in dropping her, she had the inside track as they entered the final turn.
Hassan continued to track Obiri around the turn, waiting until the final straight to make her final move. But Obiri simply would not falter; halfway down the home straight, it looked as if she would be caught, but she did not give in and won thanks to a stellar 27.39 final 200 (58.59 final lap). Hassan, who will race the 1500 in Brussels tomorrow after a seven-hour car journey, came up just short, .38 behind.
Quick Take: What a beautiful, gutsy race from Hellen Obiri, who once again came up big when it mattered
Obiri has taken her lumps this year — she was just 14th at the DL opener in Doha, and finished a well-beaten 3rd in Birmingham last week (though both of those were in the 3k) — but she's building a resume as one heck of a championship performer.
After a taking Olympic silver in 2016 and winning Worlds and the DL final in 2017, Obiri continued racking up the hardware in 2018 with titles at the Commonwealth Games, African Champs, and, once again, the DL final. Her only championship blemish came at World Indoors, where she was 4th in the 3k.
Obiri got the pace going early, perhaps hoping to tire out Hassan, but chose to back off when the rabbits dropped out. She backed her kick, even against Hassan, who has been in great 1500 form this year, but it paid off as her 58.59/27.39 close tonight was sensational. One of the toughest things to do in running is to hold off a big move when you know it's coming. Obiri knew Hassan would respond off the final turn but battled the entire way and was rewarded with a big win.
Quick Take: You can't really blame Sifan Hassan for this one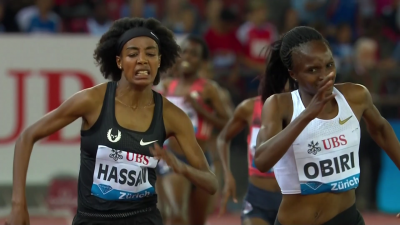 Okay, if you really want to nitpick, you might argue that Hassan should have made a more forceful move with 300 to go/worked harder to hold off Obiri when Obiri came from behind.
But let's be real here. While Obiri has a fast pb (3:57.05), Hassan trounced her in the mile in London last month, and Obiri has been nowhere near as good in 3ks as she has in 5ks in 2018. Obiri looked totally out of gas at the end of the 3k last week in Birmingham. When Hassan made her move, we assumed it was game over, and normally, it would have been: she closed in 58.87/27.57, which is damn good in a 14:38 race. Even when Obiri went by, Hassan didn't try to do anything stupid, staying patient around the final turn before attacking off the bend. She just got beat by a better runner on the day. No shame in that.
That said, Hassan felt that she could have done better.
"I could have won this race," she told race organizers. "When Hellen started to sprint, I could have just gone with her, too. I do not know. I could have gone in front on the last 400 or 500 meters."
Men's 1500: Timothy Cheruiyot Is Perfect at 1500
If there is a rabbit in the race, make no doubt about it, Timothy Cheruiyot is the best 1500m runner on the planet. Cheruiyot ran 3:30.27 to win the Diamond League final and cap a perfect Diamond League season as Elijah Manangoi was runner-up in 3:31.16 and Ayanleh Souleiman 3rd in 3:31.24.
The pace started hot in this one, 54.71, but slowed to 1:52.27, and when the final rabbit dropped out at 1000m, Cheruiyot was in the lead and he wouldn't give it up. Manangoi made a bold move for the lead on the backstretch but Cheruiyot held him off and led going around the final bend. When Cheruiyot made his final bid for home coming off the turn, there was no response from Manangoi, who would fade and barely hold off Souleiman for 2nd. At the bell, the top 6 had been clear of everyone else, and would just slightly rearrange their order, except for Filip Ingebrigtsen, who had been 4th and would fade to 7th.
QT: A record-breaking DL year for Cheruiyot
Cheruiyot became the first man to win 5 Diamond League 1500/miles in the same season tonight with his win. Plus, he also won the non-Diamond League Bowerman Mile. He was perfect on the Diamond League season. Today's victory was dominant, by an impressive .89 seconds (roughly 6.3 meters or 20 feet).
However that was only the 4th-largest margin Cheruiyot won by this year. He won in Rome by 2.57 seconds, in Paris by 2.06 seconds, and in Monaco by 1.23 seconds (and 1.39 in the non-DL mile at Pre). Pretty amazing.
QT: Rongai Athletics Club continues its domination
Cheruiyot won all the Diamond League races this year, while his Rongai Athletics training partner Manangoi won the Commonwealth Games and African champs. Those two are also the only runners under 3:30 this year. For a LetsRun.com profile on the group and coach Bernard Ouma, click here.
More: Conseslus Kipruto Unleashes Furious Kick to Win 2018 Diamond League Steeplechase Final with One Shoe!
Sprints
Noah Lyles Caps a Perfect Year at 200
For the second straight year, Noah Lyles went undefeated in the Diamond League at 200.
But his dominant win in 19.67 over Ramil Guliyev (2nd in 19.98) tonight showed Lyles is at a different level in 2018.
In 2017, Lyles only ran at two Diamond League races, and only broke 20 seconds once despite going undefeated at 200 in the Diamond League.
This year he went sub-20 in all five of his Diamond League races and has gone sub-19.7 in his last 4 races. Simply amazing.
Only 10 men have ever gone sub-19.7 not at altitude. As Nick Zaccardi points out, only two men have gone sub-19.7 four times in a season: Usain Bolt and Lyles.
Men to break 19.7 seconds in the 200m four times in one year.

Usain Bolt — 2009
Noah Lyles — 2018

In this year alone, Noah Lyles has broken 19.7 twice as many times as Michael Johnson did for his entire career.

— Nick Zaccardi (@nzaccardi) August 30, 2018
Moreover, Lyles has now broken 19.7 in his last four 200 races.
.@LylesNoah's last four 200m races:

19.69
19.69
19.65
19.67

What he is lacking is consistency. And a bit of speed. If he improves in those two areas, I think he could be quite good.

— Jon Mulkeen (@Statman_Jon) August 30, 2018
Bolt went sub-20 in his first race of 2010 as well, so five is the most number of meets in a row someone has gone sub-19.7. Bolt turned 23 years old in 2009. Lyles turned 21 this year, so finally Lyles is old enough to celebrate with a drink, but instead of viewing him as super young, it may be best to view him as entering his prime years. With a World Championship in 2019 and an Olympics in 2020, that is great timing.
Men's 400: Fred Kerley wins as Steven Gardiner pulls up
2017 world championship silver medallist Steven Gardiner of The Bahamas, who had been out since early June with an injury but returned with a 44.43 last week, appeared to be well on his way to victory as the runners in the men's 400 rounded the final turn. However, he soon pulled up injured (he initially visibly backed off and tried to keep going) and his loss was Fred Kerley's gain as Kerley earned a narrow victory in 44.80.
Nathan Strother, who didn't even make the NCAA final for Tennessee this year (4th at USAs, however) and somehow got into the DL final after finishing last in his lone DL appearance, made the most of his opportunity to race here by finishing second in 44.93.
QT: Steven Gardiner's greatness was limited by injury in 2018
Steven Gardiner ran sub-44 in both his previous Diamond League 400s this year. He also ran 19.75 for 200 in April and then pulled up in the 200 in Stockholm on June 10. He did not race again until he ran 44.43 last week, but tonight he showed he wasn't fully back to health. If he can get healthy for 2019, look out.
Women's 100: Murielle Ahoure wins it as Marie-Josee Ta Lou is finally beaten
World indoor 60m champ Murielle Ahoure got a terrific start and never gave up the lead, holding on to win in 11.01, a slightly disappointing time considering Marie-Josee Ta Lou and Dina Asher-Smith have both run 10.85 this year. But Ta Lou, who had not lost a 100 all year until tonight, never looked comfortable and began straining well before the line. Asher-Smith held form better but couldn't catch Ahoure, who won for the second time this year (she also won in Oslo).
Ahoure was pleased to get the win, "Oh my God, I am soooo excited. Before the African championships I had to pull out, I was so disappointed because I missed the African championships. I was not sure about my shape then. I wanted to do at least one more race. I am so happy to come here and to win it. My coach told me concerning execution "Show everybody what you have got." Now I will go home to Houston, Texas and get some rest and get ready for next year. This is my first Diamond Trophy. I am so excited and so happy. In Africa we have got so much talent, I want to inspire many girls in my home country. In this final we were also many African sprinters, four athletes."
Women's 400 Hurdles: Dalilah Muhammad wins
Americans Dalilah Muhammad and Shamier Little had raced four times this year at 400 hurdles with each defeating the other one twice. The Olympic champ Muhammad snapped her two-race loss streak to Little and won the tie-breaker and DL title tonight in 53.88 as Little was second in 54.21.
Men's 400 Hurdles: Karsten Warholm earns narrow win
With the two fastest men in the world and the two men who didn't lose a 400 hurdle race all year long sitting this one out (Abderrahman Samba won the Asian Champs earlier this week and Rai Benjamin called it a season more than a month ago), this race ended up being a great battle between the 3rd and 4th fastest men on the year.
2017 world champ Karsten Warholm of Norway (#4 this year at 47.64) had a tiny lead heading into the final hurdle but Kyron McMaster (#3 at 47.54) was gaining on him and in the end McMaster ended up getting the victory at the line in 48.08 to Warholm's 48.10.
Women's 4×100: Great Britain wins it
Zurich always ends with the 4×100, and through three legs, it looked as if the home fans would leave happy as the Swiss team had a big lead coming off the final exchange. But Switzerland had spent its best sprinter, Mujinga Kambundji, on leg #3, while Great Britain still had European champion Dina Asher-Smith waiting on anchor. Just as she did at Europeans, Asher-Smith made up the gap and gave Great Britain the win in 42.28.
Field Events
Men's Shot: Tom Walsh wins historically deep shot
In a historically good shot put, Kiwi Tom Walsh got the win with a 22.60 meet-record heave in round 2, his first heave over 22 meters since June 13. American Darrell Hill was fantastic all night long as he threw over 22 meters four different times — something he had done once in his life before tonight. He ended up finishing second with farthest runner-up throw in history (22.40) as for the first time in history two men threw beyond 22.40m.
Wow, 22.60m DLR for Tom Walsh in the shot! Still two and a bit rounds to go.

This is just the second shot put comp in history with three guys beyond 22.00m. The other was way back in 1986.

— Jon Mulkeen (@Statman_Jon) August 30, 2018
It's also the first comp in history with two guys beyond 22.40m, four beyond 21.90m and five beyond 21.80m.

— Jon Mulkeen (@Statman_Jon) August 30, 2018
Men's Long Jump: Luvo Manyonga wins it on final jump
South Africa's Luvo Manyonga saved his best for last as he jumped 8.36 to edge countryman Ruswahl Samaai by .04 and pick up an extra $30,000 ($50,000 for 1st at DL final, $20,000 for 2nd) and got revenge on Samaai, who edged Manyonga for gold at the African champs.
Heading into the final jump, Samaai was in the lead as both he and Manyonga had jumped 8.32 but Samaai had the best 2nd jump (8.30m).
Men's javelin: Andreas Hofmann continues Germany's run of dominance
Not many countries can claim the 2016 Olympic, 2017 world, and 2018 Diamond League champion in the same event. And only Germany can claim those honors with three different athletes: Thomas Rohler won in Rio in 2016, Johannes Vetter won in London in 2017, and now Andreas Hofmann is the Diamond League champion after winning in Zurich tonight. Hofmann was the only man to eclipse 90 meters on the night, going 91.44 in round three to give him the win over Estonia's Magnus Kirt.
Women's triple jump: Caterine Ibarguen holds on for narrow victory
Ibarguen, 34, won her fifth DL title in the last six years with a 14.56-meter effort in round two. That was just enough to prevail in a tight competition, as Jamaica's Shanieka Ricketts came up one centimeter short of the victory.
Women's high jump: Lasitskene wins as expected
Russian Mariya Lasitskene did what she almost always does – win. Lasitskene was the only athlete over 1.94 without a miss and then she was the only athlete over 1.97, which she made on her 2nd attempt.
Lasitskene, who did lose in Rabat earlier this year, has now won 50 of her last 51 competitions. 20-year-old Yuliya Levchenko of Ukraine, the 2017 silver medallist at Worlds, was second.
Women's Pole Vault: Katerina Stefanidi back on top
Stefanidi had a perfect 2017 outdoor season, going undefeated and winning Worlds and the Diamond League.
2018 was not as smooth for Stefanidi, but she won the European championships and then tonight the Diamond League final as Sandi Morris had to play second fiddle to Stefanidi once again.
Women's javelin: Belarus' Tatsiana Khaladovich wins on final throw
Khaladovich was in third place entering the sixth and final round, but she got out to 66.99 meters on her last effort, good enough for her first Diamond League title.
---
Talk about the meet on our world famous messageaboard. MB:
More: Conseslus Kipruto Unleashes Furious Kick to Win 2018 Diamond League Steeplechase Final with One Shoe!