Edward Cheserek Destroys Hagos Gebrhiwet at 2018 NBIGP to Complete Epic 3:49/7:38 2-Day Double
by LetsRun.com
February 19, 2018
BOSTON –  During his four years at Oregon, Edward Cheserek became a legend in the US by winning 17 NCAA titles. This weekend, he started working on becoming a legend at the world level by pulling off a insane double. A day after running the second-fastest indoor mile ever (3:49.44), tonight Cheserek picked up the biggest win of his fledgling pro career as he used a 27.53 final lap to lay waste to the world's fastest 3000 man in 2018, Hagos Gebrhiwet of Ethiopia, to win in 7:38.74 as Gebrhiwet settled for second in 7:41.79.
The Race
Fifty seconds into the race, Cheserek, who was running behind rabbit Jordan Mann, moved to the outside making it clear to everyone in the field that if they wanted to run fast, they'd have to chase the rabbit. And for five laps, the world leader Gebrhiwet, did exactly that as he covered the 1st k in 2:32.33. However, on the 6th lap, Gebrhiwet suddenly backed off the pace (running a 32.33) and a gap opened up. Interestingly enough, it was Spain's Adel Mechaal, a man who was 4th at Worlds in the 1500 and one would think would be happy for things to go slow, that decided he didn't want to run slow. He started to chase after the rabbit and at 1600 (4:05.41 for Mechaal) he had a nearly three-second lead on chase pack.
Article continues below player.
Mechaal put out a valiant effort to steal the race but it was not to be. Mechaal didn't slow a great deal — every single lap of the race for him was a 30 or 31 — but the African-born stars behind him would close hard as Cheserek's km splits were as follows: 2:32.50 – 2:38.48 – 2:27.76.
With 600 remaining, Mechaal still led by nearly 2.5 seconds (2.49 to be exact) but his lead barely lasted another lap as he was slowing down (his next lap was 31.83) and the chase pack was picking up (each of Cheserek's final 3 laps were under 30). At the bell (7:11.22), Cheserek led but Gebrhiwet was right behind him. Would Cheserek be able to hold him off?
Oh yes he would. The last lap was a coronation for the king as Cheserek as he blasted away from Gebrhiwet on the back-stretch and won by 3.05 seconds as Gebrhiwet only could manage a 30.29.
Behind the stars up front, the chase was on for the World Indoor standard of 7:52.00. Ben Rainero de Haan, who has been chronicling his training on the messageboard this winter, would come up just short in 7:54.33 – a new LRC pb (previous pb of 7:58.52). Since the official LRC singlet is banned by the IAAF for having too large of a logo, he wore a Tracksmith singlet and hand-wrote LRC on top of it.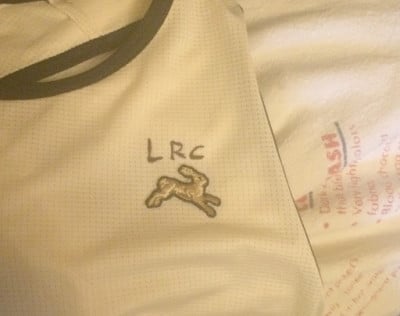 MB: Can I break 7:52 for 3000?
Results and analysis below.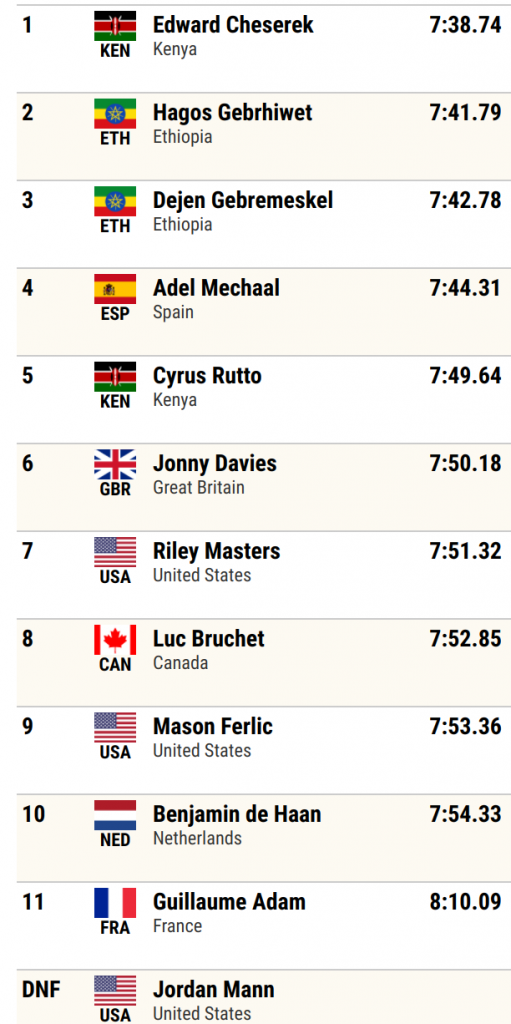 Quick Take: What Cheserek did this weekend was RIDICULOUS
Cheserek pulled off some impressive doubles/triples in college: he won the 3k, 5k, and DMR at NCAA Indoors in 2016 and won the 3k and 5k and placed second in the mile at NCAA Indoors last year. But what he did over the past 24 hours in Boston blows all of that out of the water.
Yesterday, he ran the second-fastest indoor mile ever. Tonight, just under 24 hours later, he raced a three-time global medalist in Hagos Gebrhiwet, an Olympic silver medalist in Dejen Gebremeskel, and last year's 4th-placer in the 1500 at Worlds, Adel Mechaal, and made them look like the college kids he routinely destroyed during his time at the University of Oregon.
In fact, that may be selling Cheserek short. He wound up putting almost three seconds on Gebrhiwet in the final lap (his final winning margin was 3.05); he only won the 3k at NCAAs by .30 of a second last year. And this was against a guy who ran 7:37.91 a week ago — the fastest time in the world since 2014.
That being said, Gebrhiwet's performance wasn't nearly as strong as it was a week ago in Karlsruhe — he closed that race in 25.73 and could only manage 30.29 in a slower race tonight — but he's still really, really good. And Cheserek absolutely destroyed him, even with a 3:49 mile in his legs.
It should also be noted that Cheserek hasn't backed off much in training for these races. He says he's still running 100 miles a week, even while traveling and racing.
Cheserek either didn't realize the magnitude of what he accomplished this weekend or was having a laugh.
"It was a good weekend," Cheserek said. "Not bad for me…I did okay in the mile."
MB: CHESEREK IS THE REAL DEAL- He just destroyed Hagos G and ran 7:38.74
Quick Take: Cheserek says he wants sub-13:00 outdoors
Cheserek said he felt a bit tired after his race last night but when his coach and agent asked whether he wanted to race tonight, he told them "Let me just run it," referring to it as his "cooling down race."
We asked Cheserek whether it was frustrating to be really fit and not able to compete in a major championship, and he compared it to dealing with an injury.
"It's frustrating being injured but you must be happy for yourself, proud of yourself because of the hard work you put in. Every single day, I go to bed early, wake up in the morning, I know what I'm doing, I know what shape I'm gonna be. I want to be like this guy, keep looking forward and follow the footsteps of some guys like Lagat, Galen Rupp, all those guys."
He said that he doesn't know whether he'll race again indoors but that he'd like to break 13:00 this summer in the 5,000.
Quick Take: Cheserek declined to answer if he had considered running for Kenya, but explained why he wants to run for the U.S.
Though Cheserek didn't come to the U.S. until high school, he said he considers it the country where he grew up and that's why he wants to run for the U.S.
"I went to college here, high school here," Cheserek said. "I love the country really well. I've got to be proud of [the place] that made me to grow up to be a man now."
Read about the other events of the 2018 NBIGP Here: 2018 NBIGP Recap: Jenny Simpson > Emma Coburn, Donavan Brazier Runs 1:45.11, & Chris O'Hare Keeps Rolling.
Talk about the NBIGP on our messageboard.