2018 NBIGP Recap: Jenny Simpson > Emma Coburn, Donavan Brazier Runs 1:45.11, & Chris O'Hare Keeps Rolling
By LetsRun.com
February 10, 2018
BOSTON – The  2018 New Balance Indoor Grand Prix – the lone US stop on the IAAF World Indoor Tour – did not disappoint as Donavan Brazier nearly broke the American record, Jenny Simpson PR'd and Edward Cheserek completed an insane double. We recap all of the mid-d and distance events and IAAF World Tour events for your below, starting with the mid-d/distance events. Edward Cheserek was so good this weekend he got his own article: LRC Edward Cheserek Destroys Hagos Gebrhiwet at 2018 NBIGP to Complete Epic 3:49/7:38 2-Day Double.
Women's 800: Westaway wins convincingly
Article continues below player
Canadian Jenna Westaway, who is now training in Boris Berian's group, got the win in 2:01.22 ahead of Americans Raevyn Rogers (2:01.73) and Charlene Lipsey (2:02.05). Not much to report on this one as Westaway got our fast behind the rabbit and never gave up her lead.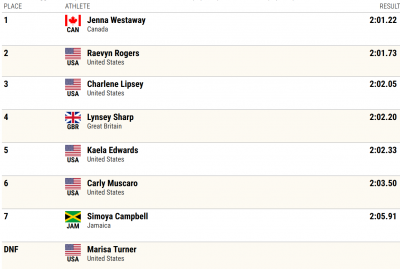 Quick Take: Jenna Westaway is breaking out
Before this year, Westaway's PR was 2:01.89 (also indoors) and dated to 2014, when she was 19 years old. It took her four years to improve it to 2:01.50 at 2018 Millrose, but only seven days to lower it again, to 2:01.22 today.
Westaway recently joined coach Carlos Handler at Big Bear Track Club after graduating from the University of Calgary last year and said that extra strength work has been the key to her breakout this year. She's hoping to be selected for Canada's World Indoor team next month.
Quick Take: Lipsey unfortunately looks like the Lipsey of old
Last year, in her first under coach Derek Thompson, Charlene Lipsey had a dream season running 1:58.64 indoors and 1:57.38 outdoors. So far this year, she's looked like the pre-Thompson version of herself when she was consistently a 2:02-2:03 performer indoors (she ran 2:02-2:03 every year between 2012 and 2015).
Men's 1500: Chris O'Hare Wins the Battle of the Scots
A week after winning the Wanamaker Mile title, Chris O'Hare kept his hot running going as he won again tonight, this time in a meet record of 3:37.03 — the #4 time in the world this year.
Unlike last week, when O'Hare broke the race open mid-race, O'Hare was content to bide his time in this one. O'Hare didn't initially go with the rabbit; only Garrett Heath followed him closely early on but by the time it was time to race, O'Hare was perfectly positioned as he moved into second behind Heath with 300 to go. Just before the bell (3:10.89 for O'Hare), O'Hare went to the lead and never relinquished it as he crushed his last 200 in 26.14. Fellow Brit Jake Wightman, the 2013 European junior champ who has a 3:34 pb outdoors, tried to run O'Hare down but was unable to do so, finishing second in 3:37.43.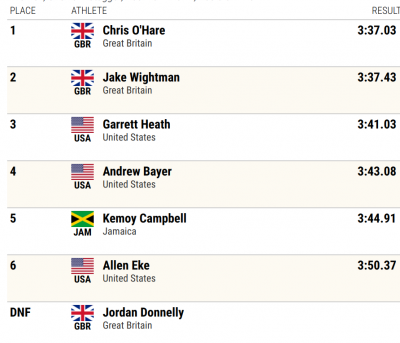 Quick Take: Chris O'Hare knew that whoever timed his move right was going to win tonight
O'Hare and Wightman both hail from Edinburgh and they've been racing each other for over a decade. Last year, both enjoyed career years, with O'Hare winning the British Champs (over Wightman) and Wightman winning the Oslo DL and Emsley Carr Mile in Birmingham (over O'Hare). Tonight, O'Hare got the jump on Wightman by moving into second with 300 to go and into the lead at the bell, and he never surrendered it.
"Whoever times their kick right typically wins," O'Hare said of his matchups with Wightman.
Men's 800: Boris Berian Goes For It But Fades as Donavan Brazier Runs 1:45.11 (US #2 All-Time)
The first part of the men's 800 was all about the return of 2016 World Indoor champ Boris Berian. Berian, who hadn't finished a race since the Rio Olympics, certainly didn't start conservatively as he went right with the rabbit and hit 200 in 24.95 and 400 in 50.28. Yes, a guy who hadn't raced in more than a year had the guts to take it out in 50.28.
With such a blistering pace, Brazier was the only one near the lead. Just before the bell (1:18.16), Brazier went to the lead and he never looked back. He ran hard all the way to the line and even dipped at the line even though he had a massive lead as he was hoping to get the 1:45.00 American record. Brazier came up just short in 1:45:11 as Germany's Marc Reuther ended up second in 1:46.78. Berian faded to last in 1:50.17.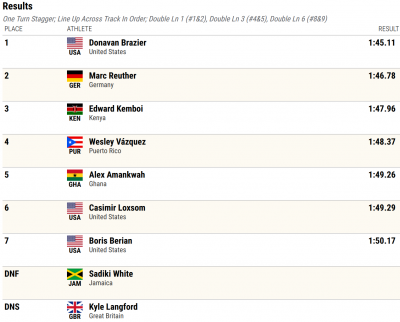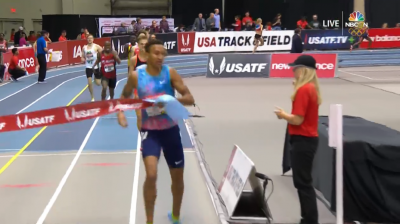 Quick Take: Donavan Brazier should buy Boris Berian a beer — when he turns 21 in April
After the race, we suggested Brazier buy Berian a beer as he served as the perfect rabbit for the first three laps. Brazier said he might — if he was old enough (he turns 21 in April). Brazier was actually hoping to use tonight to hone his tactics, but once Berian took off, he knew that wasn't an option.
"The time isn't first, but when you're in a race with Boris and all these competitive guys, a win's gonna come with a fast time," Brazier said.
Brazier's time was an improvement on the 1:45.35 he ran last week in New York, but he remains #2 on the all-time U.S. indoor list behind Johnny Gray's 1:45.00. There was a funny moment on press row when we saw a staffer at Global Athletics (Brazier's agency) perform what looked to be a fist-pump — which made sense considering how fast Brazier ran. In actuality, it was a air-punch of frustration as he knew how close Brazier was to becoming the first American ever under 1:45 indoors.
Though he's still only 20, Brazier has a year on the pro circuit under his belt already and is starting to mature. He knows what he needs to do to win next week in Albuquerque.
"I'm hoping if I'm in the race, it isn't ever tactical," Brazier said. "And I'll change that if it is."
Quick Take: Boris Berian looked like the old Boris Berian tonight — for 600 meters
Berian ran bravely tonight, but missing essentially an entire year of training, he hasn't built his strength back yet, and that showed over the final 200 meters. But Berian wasn't going to let that stop him pushing the pace.
"Whatever it is, in shape or out of shape, I'm gonna go out, I'm gonna do my thing. I enjoy leading. So finish strong or die, I'm still gonna go out."
Berian said he won't race again until the outdoor season.
MB: Oh so close!! Donavan Brazier just misses the AR – 1:45.11. Boris Berian races with GUTS.

Women's 1500: Dawit Seyaum holds off Aisha Praught-Leer
800 meters into the women's 1500 (2:09-2:10), it appeared to be a snoozefest as sub-4 Ethiopians Gudaf Tsegay and Dawit Seyaum had more than a three-second lead on the rest of the pack. However, the Ethiopians, both of whom medalled at World Indoors two years ago, weren't quite ready to run really fast and soon started to slow.
As a result, the chase pack caught up with two laps remaining when Sarah McDonald, the 2017 British Indoor champ with a 4:05 pb, showed no fear as once she caught up she went to the lead. She held it until just before the bell (3:34.15), when Aisha Praught-Leer, the Millrose champ at 3000 last week, went to the lead. Could Praught-Leer win the two biggest victories of her pro career on back-to-back weekends?
No.
On the backstretch, Seyaum, fought back and ended up winning in 4:04.38 thanks to a 30.03 final 200 as Praught-Leer settled for second in a new lifetime pb of 4:04.95 (previous pb of 4:05.52 outdoors).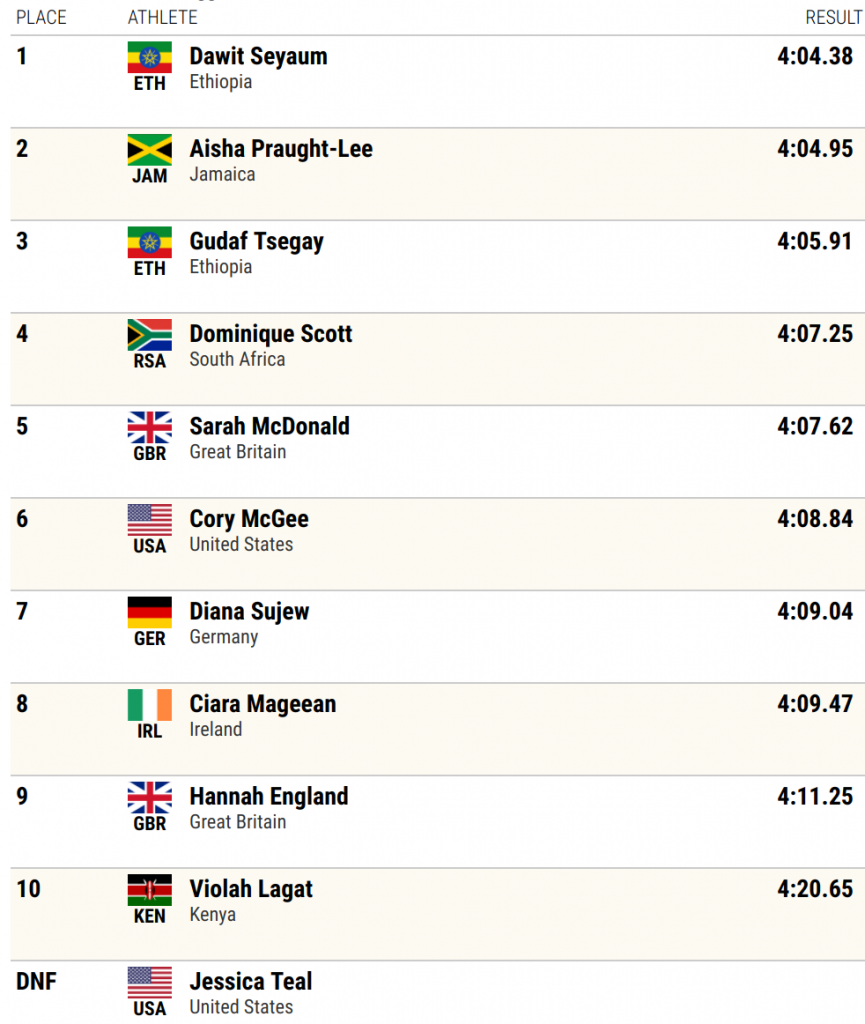 Women's 3000: Jenny Simpson Wins It, Remains Undefeated vs. Emma Coburn on the Track
The much-anticipated matchup between Jenny Simpson and Emma Coburn ended up as it always does on the track: with Simpson winning. Simpson took the lead with 300 to go and never looked back, closing her final lap in 29.86 to win 8:40.41 as Ethiopian teenager Fotyen Tesfay was second in 8:41.08. Coburn, who took over the leading duties after the rabbit stopped at 2k, ended up fourth in 8:43.57 as Brit Steph Twell took third in 8:41.94.
The race
Race organizers were hoping for a sub-8:40 race and the rabbiting by Steph Brown was exquisite as she hit halfway in 4:20 but then the pace slagged a bit as they hit 2k in 5:58.70 (8:43 pace). Once Brown stepped off, the pace really slowed as 2k was hit in 5:48.70 as Coburn ran the next two laps in 36.42 and 36.67. Things picked up a little bit on third to last lap (35.7) before increasing to 32.81 on the penultimate lap and 29.86 on the last lap.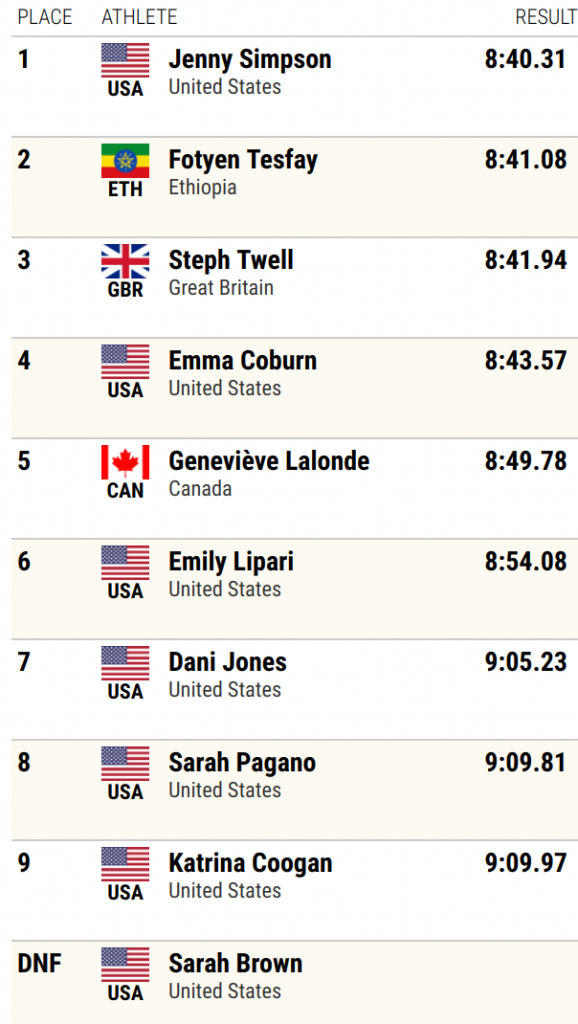 Quick Take: A nice win for Jenny Simpson in her only indoor appearance of the year
Tonight's 8:40.31 was an indoor pb for Simpson as her previous pb was the 8:42.03 she ran to set a then NCAA record (broken by Karissa Schweizer last week) at the 2009 NCAA champs. Her outdoor pb is 8:29.58. According to tilastopaja.org, Simpson is now 11-0 against Coburn on the track.
Quick Take: Jenny Simpson said she felt a small "pang of guilt" for sitting on Emma Coburn, but tonight was about getting the win
Simpson said that before tonight, she had never felt bad on sitting on another runner in a race. Tonight, however, she said she felt just a pang of guilt for sitting on Coburn during the second half of the race. But this is professional track & field, and there is rarely any room for sentiment.
"That guilt is very fleeting," Simpson said. "When you go around them and you feel well and the race is really on because there's people behind me that want to beat me."
Simpson said that apart from the last 10 days, she had done very little to prepare specifically for this race as she's been building her base during the winter.
"I'm pleasantly surprised with how well I felt at the end and kind of a little bit wish I knew what I was in shape to really do if I really pushed and try to see every second that was there, but today was just really about just trying to win."
Simpson won't run USAs next week. She said that her goal is always to be running strong at the end of the season, and that for her, it's simply not possible for her to recover from the outdoor season, come back and race a full indoor season and still make it all the way through the outdoor season running well. Considering Simpson times her peak better than anyone, it seems like the right approach for her.
Quick Take: Who is Fotyen Tesfay?
If you are wondering who Tesfay is, don't feel bad. Prior to tonight her claim to fame was getting 4th at World Juniors in 2016 at 8:47.46. Last year, she ran a 15:12 pb so tonight's results was a good one for her.
HS Boys Mile: Hengst wins and confirms he's no longer at McDonogh and also not at Bishop Shanahan
In the boys' mile, 2017 Penn Relays champ Dalton Hengst, who was 4th at Millrose last week, decided he was going to be patient tonight and waited until the final 150 meters before exploding to the front. He wound up closing in 28.04 seconds for his final lap to win by .68 of a second in 4:10.57.
Hengst, a senior, recently left his high school — the McDonogh School in Owings Mill, MD — and it was reported that he had transferred to Bishop Shanahan in Pennsylvania. Hengst said that was not the case.
Hengst confirmed that he was no longer at McDonogh but did not explain why. He said that he is currently taking online classes but that he has not transferred to Bishop Shanahan.
On Thursday, Baltimore County Police closed an investigation into an alleged assault at McDonogh School after being unable to substantiate the allegation. A police spokesman said the allegation was of an assault between male students, but did not name any of the parties involved.
"My time at McDonogh was great but just something to the world: don't believe everything you hear, because I've seen a lot of stuff out there that's just out-of-this-world crazy," Hengst said.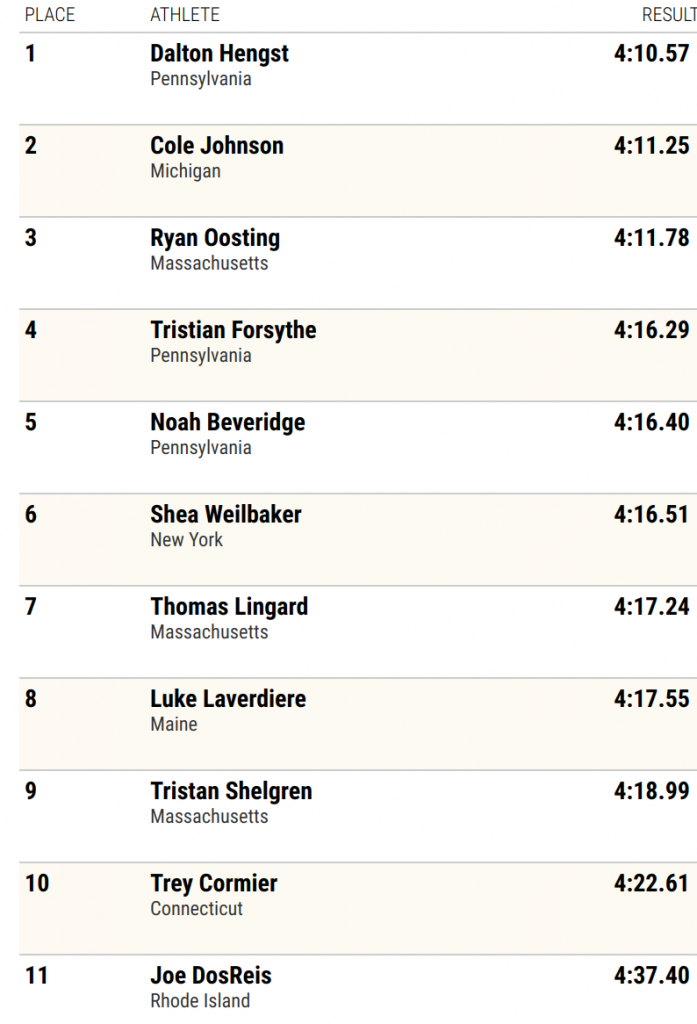 HS Girls Mile: Chmiel Wins
New York's Kelsey Chmiel, who was 2nd at Millrose last week, flipped the script on Millrose winner Gabrielle Wilkinson of Pennsylvania as Chmiel won this time in 4:44.84 to Wilkinson's 4:46.95.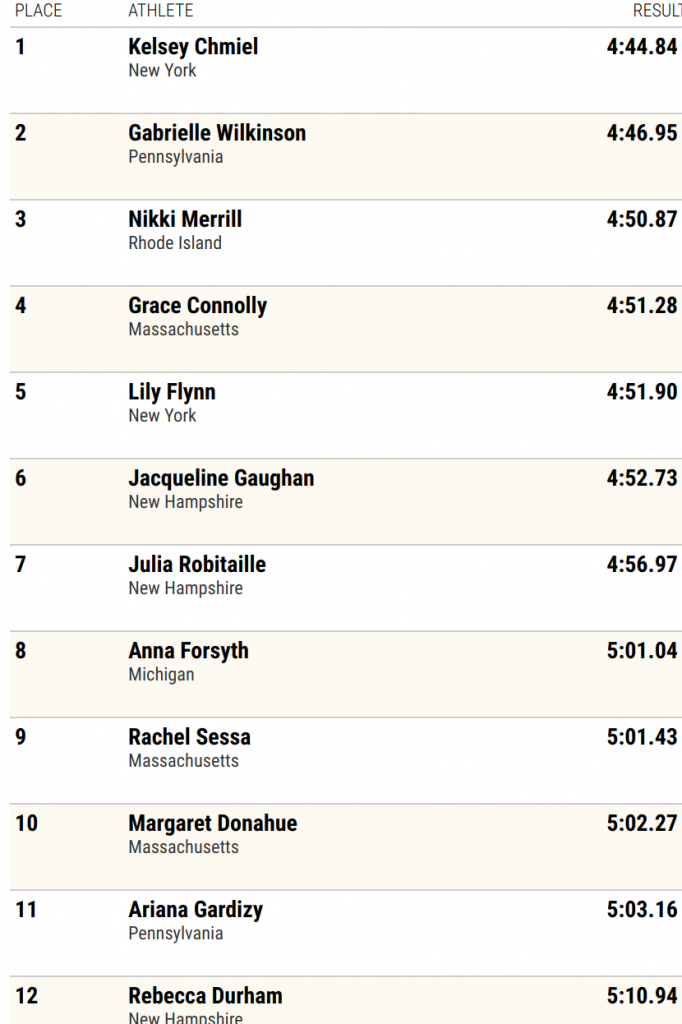 Sprints / Field Events
Men's 60: Christian Coleman wins again, adjusting to life as a track star
Coleman ran very well once again, taking the victory in 6.46, the #3 time in the world this year and he clearly let up before the line. He said his main aim was simply to come out and win and said he felt good doing it.
Noah Lyles also PR'd for the second week in a row, clocking 6.57 — not bad for a 200-meter specialist.
Coleman's entrance to the mixed zone was delayed by several minutes as he signed a bunch of autographs and said that it's been a bit of an adjustment becoming the center of attention this year.
"[I didn't sign many autographs] during the season last year," Coleman said. "Over in London [at Worlds], they're really crazy about track so I had a little taste of it there. But as the season's gotten going this year, I've gotten a lot of [attention] this year, so it's been an honor."
Women's 60 Hurdles: Nelvis Gets Narrow Win
Sharika Nelvis won the women's 60 hurdles by a tiny margin — .007 — as she and Christina Manning were both given the same time of 7.89 with Jasmin Stowers third with 7.98.

Quick Take: Manning and Nelvis are very evenly matched
You gotta give the hurdlers credit. Unlike short sprinters, they aren't afraid to each other. Nelvis and Manning, who are the 2nd and 3rd fastest women in the world this year, have now raced four times in the last two weeks and never been separated by more than .04.
Jan 26 Berlin: Nelvis beat Manning by .04 in 7.94 (finishing 4th and 5th)
Feb 3 Karlsruhe: Nelvis beat Manning by .01 in 7.81 (1st and 2nd)
Feb 6 Dusseldorf: Manning beat Nelvis by .03 in 7.77 (finish 1st and 2nd)
Feb 10 Boston: Nevis beat by Manning by .007 as both ran 7.89 (finishing 1st and 2nd)
The good news is the US should get 3 spots at Worlds in the event as Nelvis leads the IAAF World Indoor Tour standings.
Women's 400: Shakima Wimbley Pulls Off the Upset
World champion Phyllis Francis had to settle for second as Shakima Wimbley, the 2017 NCAA indoor champ for Miami, went wire-to-wire to pull off the upset, winning in a meet record of 51.82 after going out in 24.25 at 200.

Women's high jump: Kinsey wins
Erika Kinsey, who was 8th at World Indoors in 2016 and third at Millrose last week, got the win with the 2nd best indoor mark of her career.

Men's Triple jump: Carter wins
Chris Carter, the 2016 US indoor champ, got the win with two 16.67m jumps.

Read about the men's 3k here: Edward Cheserek Destroys Hagos Gebrhiwet at 2018 NBIGP to Complete Epic 3:49/7:38 2-Day Double.
Talk about the NBIGP on our messageboard.