2018 USA Indoors 3K Preview: It's Bowerman TC vs. WCAP, Featuring World Medalists Paul Chelimo & Ryan Hill; Shelby Houlihan Should Dominate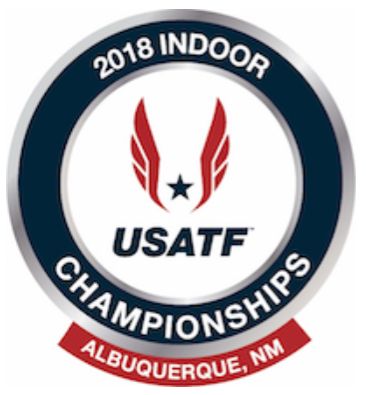 February 16, 2018 to February 18, 2018
By LetsRun.com
February 15, 2018
Believe it or not, it's already time for USA Indoors. And you're going to want to be watching because this is the meet that will determine Team USA for the only global championship of 2018: World Indoors. We're going to be previewing the mid-d and distance events all week long and will have boots on the ground in Albuquerque providing coverage of this weekend's big meet. Today we're taking a look at the 3000 meters.
The men's race projects as a battle between WCAP (two-time global medalist Paul Chelimo, Shadrack Kipchirchir) and Bowerman TC (reigning World Indoor silver medalist Ryan Hill, Woody Kincaid), and, as we would in most battles, we're giving the Army guys the advantage. In the women's race, Bowerman also has a pair of strong entries in Shelby Houlihan and Marielle Hall, who moved to #2 and #3 on the U.S. all-time list earlier this year, but they'll face stiff competition in steeplechase world champion Emma Coburn and Katie Mackey, who will be looking to make her first World Championship team.
Article continues below player
Here's what to watch for in each race.
What: 2018 USATF Indoor Championships
When: February 16-18, 2018
Where: Albuquerque Convention Center, Albuquerque, N.M.
Previous event previews:
LRC 2018 USA Indoors 800 Preview: Ajee Wilson Should Dominate, But Brazier Vs. Windle Vs. Murphy Vs. Sowinski Is Must-See TV
LRC 2018 USA Indoors 1,500 Preview: Craig Engels Tries To Make His First U.S. Team; Can Anyone Prevent A Bowerman TC Sweep In Women's Race?
TV/streaming information * Schedule * Entries * All LRC coverage * 2017 LRC coverage
Men's 3000 (Saturday, 6:45 p.m. ET)
Athletes in bold have the World Indoor standard (7:52.00 indoors in 2017 or 2018, or 7:40.00 or 13:10.00 5000 outdoors in 2017)
| | | | |
| --- | --- | --- | --- |
| Name | PB | SB | Comment |
| Shadrack Kipchirchir | 7:42.71 | 7:42.71 | Has been on fire in '18 with wins at BU & Millrose |
| Emmanuel Bor | 7:44.93 | 7:44.93 | His 7:44 at BU was a 12-sec PR |
| Ryan Hill | 7:34.87 | 7:46.65 | US champ in '15 & '16; World Indoor silver in '16 |
| William Kincaid | 7:47.19 | 7:47.19 | 2nd at USA Indoors in '17 but missed outdoors with injury |
| Garrett Heath | 7:37.40 | 7:47.36 | 3rd in the mile at USA indoors last year |
| Kirubel Erassa | 7:47.48 | 7:47.48 | 13th in 5k at USAs in '17 |
| Reid Buchanan | 7:51.98 | 7:51.98 | Snuck under standard by winning at Dr. Sander Invite |
| Paul Chelimo | 7:39.00 | 7:52.88 | Dominated USA indoors & outdoors last year |
| Izaic Yorks | 7:50.20 | 7:53.54 | 4th at NCAA indoors in '16 |
| Tyler Day | 7:54.59 | 7:54.59 | 3rd at NCAA XC for N. Arizona in November |
| Thomas Curtin | 7:52.92 | 7:54.71 | |
| George Parsons | 7:54.82 | 7:54.82 | |
| Willy Fink | 7:55.87 | 7:55.87 | |
| Zachary Zarda | 7:57.18 | 7:57.29 | |
| Jeremy Greenwald | 8:02.82 | 8:03.63 | |
Entering this meet two years ago (Full 2016 USA Indor Coverage here), Paul Chelimo was mostly an afterthought in a loaded field that featured Ryan Hill, Hassan Mead, Eric Jenkins, Evan Jager, Lopez Lomong, Bernard Lagat, and Galen Rupp (BTW, it's still crazy that Rupp ran the 3k at USA indoors 27 days after winning the Olympic Marathon Trials). Yes, Chelimo had run 7:44 earlier that year to defeat Jenkins, and he had twice finished as the NCAA 5,000 runner-up at UNC Greensboro. But he hadn't broken 13:30 for almost four years and was just 11th in the 5,000 at USAs in 2015. In our preview of the race, we wrote the following about Chelimo, he "isn't a guy we were anticipating contending for a spot on the team at the start of the year (but aren't ruling it out now)." At the bottom of the preview, we had 8 guys you could vote for to make the team, he wasn't one of those eight. The "other" category got a grand total f 1% of the votes.
We all know what happened next. Chelimo surprisingly hung with the big dogs and finished second at USA Indoors to qualify for the World Champs, the first of many huge results from the Kenyan-born star. Now, two years and two global medals later, Chelimo is unquestionably the top dog in the United States and among the very best in the world.
Chelimo's performance two years ago reminded us to never count anyone out, but he and his training partner Shadrack Kipchirchir have to be regarded as the clear favorites to make this team. Chelimo, in case you forgot, totally embarrassed the field to win the 2-mile at USA Indoors last year by over 10 seconds and proceeded to do the same thing outdoors, soloing a 13:08 in Sacramento to win by 7+ seconds. He was simply in a different class than every other American in 2017, and it's hard to imagine the gap has closed enought this year.
Chelimo spent most of the winter building strength by training in Kenya and racing some cross country in Europe, but he returned to the track two weeks ago at Camel City and looked good. He cruised to a 7:52 flat-track 3k and came back less than an hour later to run 3:58 in the mile and defeat Craig Engels in the process. Chelimo should be ready to go at USAs.
Based on 2018 form, the man with the best chance of defeating Chelimo is Kipchirchir. Though Kipchirchir is a 10,000 specialist and plans to remain that in the future, he has dropped down in distance this year to work on his closing speed and so far it has been a smashing success. He ran a US #1 7:42.71 in Boston on January 27, doubled back the next day to clock a 3:55.52 mile, and won the 3k at Millrose, defeating Woody Kincaid and Ryan Hill in the process — the guys who went 2-3 at USA Indoors last year.
But we're not counting out Ryan Hill — or his kick — in a USA championship. The guy makes a lot of teams — 2013, 2015, and 2017 outdoors, as well as 2016 indoors — and the 3k is his best distance Among Americans, only Rupp and Lagat have run faster than Hill's 7:34.87 indoor PR; outdoors, his 7:30.93 is also #3 on the U.S. all-time list, behind Lagat and Bob Kennedy. And did we mention that he is the reigning World Indoor silver medallist? We wouldn't want to see Hill on our shoulder with 200 meters to go. Hill ran well in his only indoor race this year, finishing third at Millrose, though he was 1.16 seconds behind Kipchirchir in that race. That gap could definitely close by USAs.
Hill's Bowerman Track Club teammate Woody Kincaid shouldn't be overlooked either. Like Hill, Kincaid, a 2016 Portland grad, has a monster final 200 — he closed in 26.01 to beat out Hill for second at USA Indoors last year. Unfortunately, that was Kincaid's last race for almost a year as he missed the entire outdoor season with injury. He was 4th at Millrose (.54 behind Hill) two weeks ago — not bad for his first race in 11 months. If he's in it with a lap to go, watch out.
The thing is, there's a good chance that Hill and Kincaid aren't in it with a lap to go. As great as he is, Chelimo's late-race tactics still need improvement. On the world stage, that's an issue he has to confront head-on. Domestically, Chelimo found a solution. Last year, Chelimo was easily the best 3000/5000 guy in the U.S. He also has guts and toughness. And when you consider those two things, Chelimo's tactics at USA Indoors and Outdoors are actually quite brilliant — why open the door for anyone else by letting the pace go slow when you can force a pace that no one else can match?
We would not be surprised at all if Chelimo attempts the same strategy this year, especially if his coach Scott Simmons thinks Kipchirchir is in similar shape and that the two of them could drop everyone else. Remember, another thing about this race is that it's being contested at altitude. Chelimo and Kipchirchir were born and raised at altitude and train at altitude year-round. No one in this race is more prepared for an all-out 3,000 at 5,300 feet. With two guys to share the work, this may actually be WCAP's best strategy to land both Chelimo and Kipchirchir on the team. We wonder if the BTC guys were upset when they found out the meet would be held at elevation again in 2018, even though Worlds will be at sea level in Birmingham.
One other guy we'll throw some love to is Emmanuel Bor. We're not saying he's the next Chelimo, but the 29-year-old Alabama grad ran a 12-second PR of 7:44 at BU and has made big strides since joining WCAP last year. He's worth keeping an eye on, at the very least.
LRC prediction: Kipchirchir is the hot hand but Chelimo is the king of US 3k/5k running until proven otherwise. We'll take Chelimo FTW and Kipchirchir for second, though BTC's Hill and Kincaid have a chance if the WCAP guys let he pace go slow.
[gravityform action="

polls

" id="646″ mode="

poll

" cookie="1 month" show_results_link="false" display_results="true" percentages="true" counts="false" ajax="true"]
Women's 3000 (Saturday, 6:28 p.m. ET)
Athletes in bold have the World Indoor standard (8:50.00 indoors in 2017 or 2018, or 8:28.00 or 14:45.00 5000 outdoors in 2017)
| | | | |
| --- | --- | --- | --- |
| Name | PB | SB | Comment |
| Shelby Houlihan | 8:36.01 | 8:36.01 | Her 8:36 in Boston is 2nd fastest ever by an American indoors. National champ at 5k last year. |
| Marielle Hall | 8:40.20 | 8:40.20 | She got crushed by new training partner Houlihan in Boston but 8:40 is #3 time by American ever. |
| Emma Coburn | 8:41.16 | 8:41.16 | Got beat at Millrose and NBIGP but her 8:41.16 is 7th fastest by American |
| Katie Mackey | 8:43.15 | 8:43.15 | 5th at Millrose but 8:43 is quick indoors and has won a Diamond League 3k |
| Lauren Paquette | 8:47.81 | 8:47.81 | 6th at Millrose but has gone 9:02, 8:53, and 8:47 in her 3 3ks this year. |
| Marie Lawrence | 8:50.96 | 8:50.96 | 8th at Millrose |
| Katrina Coogan | 9:01.16 | 9:09.97 | |
| Kathryn Lazarchick | 9:12.07 | 9:12.07 | |
| Eleanor Fulton | 9:14.57 | 9:14.57 | |
| Kira Garry | 9:20.11 | 9:20.29 | |
| Maddie Van Beek | 9:16.97 | N/A | |
Shelby Houlihan only turned 25 years old last week, but she's already won three U.S. titles on the track and looks set to rack up a few more over the next few years. At this meet last year, Houlihan swept the titles in the mile and 2-mile and she's double-entered in the 1500 and 3000 this weekend in Albuquerque with the chance to pull off another sweep. This race, the 3000, comes first, and though Houlihan has a chance to win both events, this is the one in which she is the clear favorite.
Houlihan has only run one race in 2018, but that race was incredible. Not only did she run 8:36.01 in Boston on February 3 — only Shalane Flanagan has run faster indoors among Americans — but she did it by closing in 28.6 seconds for her final 200 meters. And so the problem the rest of the field faces in this race is that Houlihan not only has the most speed, but the most strength as well. Her PRs at 1500 (4:03.39), 3000 (8:36.01), and 5000 (15:00.37) are all tops in the field. We don't see how anyone beats her on Saturday.
So if Houlihan has one spot to Birmingham locked up, who will take the other? That is a more interesting debate. The favorite on paper is Marielle Hall. Hall made the U.S. 5,000 team in 2015 and the 10,000 team in 2016 but after sliding back to 5th at USAs in the 5,000 last year changed coaches from Derek Thompson to Jerry Schumacher. Now training alongside Houlihan and a host of other talented women, Hall made her Bowerman TC debut a good one by running 8:40.20 in Boston on February 3 — #3 all-time by an American indoors (#4 if you count doper Regina Jacobs, which we don't). But Emma Coburn only ran marginally slower at Millrose — 8:41.16 — and looked solid in running 8:43.57 in Boston last week, leading a good chunk of that race. Coburn has some wheels as well (4:05 1500 pb compared to Hall's 4:12) and she's trained her entire life at altitude so ABQ's elevation won't bother her. Remember, she ran a 4:38 mile at 7,700 feet earlier this year.
The other woman with a realistic shot to make the team is Katie Mackey. Now 30 years old, Mackey has never made a U.S. team, but this may be her best chance yet. As a woman who has alternated between the 1500 and the 5000 throughout her career, the 3k is the ideal event for Mackey; in fact, if you recall, she won a Diamond League 3000 back in 2015. Mackey has already raced once at altitude this year, running a 4:35 mile in Albuquerque on January 20 (defeating NCAA XC champ Ednah Kurgat by six seconds in the process), and though she lost to Coburn at Millrose, she still ran an impressive 8:43 — an indoor/outdoor PR. Finishing in the top two will still be a challenge — Houlihan, Hall, and Coburn have all made multiple U.S. teams and have all run faster than Mackey this year — but it would be a great story if Mackey were to make it onto Team USA.
Lauren Paquette is the only other woman in the field with the standard, and while she's steadily improved this year, going 9:02-8:53-8:47 in her last three races. Like Mackey, the 31-year-old Paquette, a Baylor grad who was 6th in the 5k at USAs last year, has never made a Worlds team.
LRC prediction: Houlihan wins this race. That we're sure of. The battle for second should be a great one, and since we expect this to come down to a kick, we'd normally take Mackey to make her dreams come true and finish second, but instead are going with Coburn as she considers herself to be an excellent altitude runner. Plus the pride of the steeplers is on the line here. If the world champion in the steeplechase can't make the US team indoors for 3k, then the notion that steeplers aren't great runners in an absolute sense will live on.
[gravityform action="

polls

" id="647″ mode="

poll

" cookie="1 month" show_results_link="false" display_results="true" percentages="true" counts="false" ajax="true"]
What do you think will happen? Tell us on the messageboard. MB: 2018 USA 3ks: Does Ryan Hill stand a chance against the WCAP studs? Can Emma Coburn make a team on the flat?