Weekend Preview: Clayton Murphy vs. Robby Andrews; Ajee Wilson vs. Charlene Lipsey; an AR Attempt in the 3K; & the Return of the LetsRun.com Singlet
By LetsRun.com
January 25, 2018
Do you realize how short the 2018 indoor track season is?
Millrose is next weekend.
The New Balance Indoor Grand Prix is the weekend after that.
USAs are the week after that.
Article continues below player.
And World Indoors are two weeks after that — so just five weeks from now.
Yet as of today, January 25, there have been barely any meets of note this year. But athletes need qualifying marks — the qualification window closes for World Indoors on February 19 — so expect to see a flurry of fast times over the next three weekends as the world's top pros race against the clock — and each other. This weekend features the John Thomas Terrier Classic in Boston, the Dr. Sander Invitational in New York, and the UW Invitational in Seattle, with several big-name pros in action at each meet. The highlights are the 800 in New York, with Clayton Murphy vs. Robby Andrews in one and Ajee Wilson vs. Charlene Lipsey in the other, but Galen Rupp, Shalane Flanagan, Yomif Kejelcha, Sifan Hassan, Justyn Knight, and Craig Engels will all be in action. Plus Shadrack Kipchirchir has his eye on the American 3k record in Boston, where the LRC singlet will be making an appearance.
We tell you everything you need to know about each meet below.
Dr. Sander Invitational (The Armory)
When: Saturday, January 27
How to watch: The pro portion of the meet will be streamed live on NBC Sports Gold from 1:00 – 3:00 p.m. ET. The NBCSN TV network will air the same coverage, tape-delayed, from 5:00 – 7:00 p.m. ET.
| | |
| --- | --- |
| Overall | |
| Comfort | |
| Cushioning | |
| Durability | |
| Appearance | |
| Value | |
Men's 800 (1:40 p.m. ET): Murphy vs. Andrews vs. Sowinski vs. Loxsom
USA Indoor standard: 1:49.50   World Indoor standard: 1:46.50
| | | |
| --- | --- | --- |
| Athlete | Nationality | Affiliation |
| Clayton Murphy | USA | Nike OP |
| Erik Sowinski | USA | Nike |
| Cas Loxsom | USA | USA |
| Chris Giesting | USA | Hoka One One/NJNY TC |
| Wesley Vazquez | Puerto Rico | Juventus TC |
| Jesse Garn | USA | Hoka One One/NJNY TC |
| Robby Andrews | USA | adidas |
| Joe McAsey | USA | Hoka One One/NJNY TC |
This is the best race of the entire weekend. The headline matchup is Clayton Murphy vs. Robby Andrews, a battle of two multi-time U.S. champions. Their last meeting, in the USA 1500 final last June, brought complete joy for Andrews (his first U.S. outdoor title) and devastation for Murphy (he finished last and was forced to scratch from the 800 final the next day due to injury). Though the stakes aren't as high, this race offers Murphy the chance for a measure of revenge. And did we mention Murphy is 2-0 against Andrews indoors (he beat him at Millrose and in the 1000 at USAs last year)?
Neither man has tipped his hand about his 2018 fitness. Two weeks ago in Seattle, Murphy ran his first race since joining the Nike Oregon Project, but considering he ran 1:51.44 in a race where the runner-up couldn't break 1:53, we didn't learn much about where he's at right now. Andrews, meanwhile, has yet to race at all this year.
UPDATE: Andrews actually has run a race in 2018: he clocked 1:53.63 to win a low-key 800 at the Towson Tiger Invitational at the Armory on January 13.
But to zero in on those two guys would be foolish. Erik Sowinski is always fit, and though he's a fine outdoor runner, he's even better under a roof. Sowinski has won three U.S. indoor titles in the past five years, as well as a bronze medal at World Indoors in 2016. He ran a solid 1:16.40 600 last weekend (.05 faster than he opened up last year) and will be ready to go in New York. And don't forget about Cas Loxsom either; all he did a year ago was set the 600-meter world record indoors (1:14.91).
In a race with so many fast guys, positioning will be important; remember that Loxsom was in great shape at USAs last year but lost to Sowinski after a tricky lane draw left him in bad position early in the race. Getting out early will be vital, and Andrews, who is at his best running people down late in the race, will have to be extra cautious about timing his kick as it's not easy to pass a lot of guys in an indoor 800. Of course, Murphy has a big kick as well.
LRC Prediction: Murphy may want to be a 1500 guy but he's an Olympic medallist at 800. As a result, it would be foolish to pick against him. Murphy FTW. That being said, we wouldn't be shocked if he loses. He's just changed training groups and the NOP has little experience with 800 stars.
Women's mile (1:48 p.m. ET): NCAA champ Karissa Schweizer steps down
USA Indoor standard: 4:28.50   World Indoor standard: 4:28.50

| | | |
| --- | --- | --- |
| Athlete | Nationality | Affiliation |
| Lauren Johnson | USA | BAA adidas |
| Shannon Osika | USA | Saucony |
| Rachel Schneider | USA | Under Armor |
| Kate Van Buskirk | CAN | Canada |
| Karissa Schweizer | USA | U. Missouri |
| Lilli Burdon | NZL | U. Oregon |
| Lucia Stafford | CAN | U Toronto |
| Angel Piccirillo | USA | Juventus TC |
| Eleanor Fulton | USA | Sketchers Performance |
| Danielle Aragon | USA | Hoka One One/NJNY TC |
Three-time NCAA champ Karissa Schweizer of Missouri has already made some noise this indoor season by running 15:17.31 for 5,000 meters in Boston — the sixth-fastest ever by a female collegian. That came mainly off of her cross country strength back on December 2, and while Schweizer has had time to take a break sicne then we doubt she decided to fly all the way to New York to run slowly. Schweizer's PR is 4:35.61; look for her to try to run in the low-4:30s on Saturday. That may not be enough to win the race, however. Lauren Johnson has been one of the U.S.'s most underrated milers in recent years, but her results don't lie: 4th at USA outdoors in 2015 and 2017, 2nd at USA indoors (in the 1000) last year. She's the presumptive favorite.
LRC Prediction: Johnson FTW, Schweizer with a PB.
Men's mile (1:58 p.m. ET): Craig Engels takes on Olympic finalist Charlie Grice
USA Indoor standard: 3:57.50   World Indoor standard: 3:55.00
| | | |
| --- | --- | --- |
| Athlete | Nationality | Affiliation |
| Craig Engels | USA | NIKE Oregon Project |
| Pat Casey | USA | NIKE Oregon Track Club |
| Drew Piazza | USA | Nike |
| Brannon Kidder | USA | Brooks Beasts |
| Ford Palmer | USA | Hoka One One/NJNY TC |
| Sam Prakel | USA | Oregon |
| Blake Haney | USA | Oregon |
| Brodey Hasty | USA | Brentwood Track Club |
| Marcus Dickson | USA | BYU |
| Will Geoghegan | USA | NIKE |
| Charlie Grice | GBR | NIKE |
| Julian Oakley | NZL | Ocean State AC |
| Rob Napolitano | USA | Hoka One One/NJNY TC |
| Alfredo Santana | Puerto Rico | Neptune |
Craig Engels, who has finished 5th and 4th at the last two U.S. outdoor champs in the 1500, is the big U.S. name here and will likely be going for the World Indoor standard of 3:55.00. The most accomplished guy in the field is 24-year-old Brit Charlie Grice, though he's coming off a down year after 9th at Worlds in 2015 and 12th in the Olympics in 2016 (he didn't even make the British team for London 2017). A trio of current/future Oregon Ducks also bear monitoring. Blake Haney has run 3:56.36 indoors and was the NCAA runner-up two years ago. Sam Prakel was 7th at USAs last year.
And high schooler Brodey Hasty owns a 4:01.76 outdoor pb; he's looking to join Alan Webb and Drew Hunter as the only U.S. preps to break 4:00 indoors. He's at the right place for it — all three HS indoor sub-4:00s have come at the Armory.
LRC Prediction: Predicting early-season contests is hard so we like to pick guys whom we know are in shape. One who fits that is Kiwi Julian Oakley who ran 13:49 and 7:44 in December. That being said, Engels is more accomplished and recently ran 7:55 and we know the NOP isn't shy about having their athletes hit it hard indoors. Engels FTW.
P.S. It's hard to believe that Grice is only six months older than Engels as Grice has accomplished a lot.
Women's 800 (2:08 p.m. ET): Training partners Ajee Wilson & Charlene Lipsey square off
USA Indoor standard: 2:03.00   World Indoor standard: 2:02.00
| | | |
| --- | --- | --- |
| Athlete | Nationality | Affiliation |
| Cecilia Barowski | USA | Hoka One One/NJNY TC |
| Ce'aira Brown | USA | Hoka One One/NJNY TC |
| Jenna Westaway | CAN | Brooks |
| Siofra Cleirigh Buttner | IRL | Villanova |
| Kendra Chambers | USA | Oiselle |
| Chrishuna Williams | USA | NIKE |
| Ajee' Wilson | USA | adidas |
| Charlene Lipsey | USA | adidas |
| Natoya Goule | JAM | adidas |
The last time Ajee Wilson and Charlene Lipsey raced on this track, both of them ran faster than Nicole Teter's 1:58.71 American indoor record, yet neither was officially credited with the record. Wilson's result was stripped after testing positive for zeranol, though USADA ruled that Wilson was not at fault; Lipsey's 1:58.64 time still stands but wasn't ratified as she didn't take a drug test after the race (she had no reason to, since it looked as if Wilson had broken the record).
It would be asking a lot to ask Wilson and Lipsey to run 1:58 again on Saturday (that's really fast indoors) but, with both women coming off career years, they'll be heavily favored to go 1-2, with Wilson winning (Wilson is 13-0 in her career against Lipsey). Both women already have the World Indoor standard thanks to their fast outdoor times in 2017 (if you ran under 1:58 outdoors, that counts), so they don't need to worry about the clock here. But with Wilson and Lipsey both lining up in the 4×800 relay at Millrose next week, this may be their only chance to get in a quick 800 before USAs. Watch out too for 2016 Olympian Chrishuna Williams, who was 5th at USA outdoors last year.
LRC Prediction: Wilson FTW and American record. With Natoya Goule in this race, we imagine it gets out fast enough for the AR.
P.S. Random fact: Many may not realize it but new pro Raevyn Rogers — who isn't in this race — has joined Wilson's training group even though Rogers is a Nike athlete (Wilson and Lipsey are adidas).
John Thomas Terrier Classic (Boston University)
When: Friday, January 26 – Saturday, January 27
How to watch: Live on FloTrack (requires subscription)
Men's 3,000 (Friday, 7:10 p.m. ET): Shadrack Kipchirchir chases 7:30 as the LetsRun.com singlet returns to action!
USA Indoor standard: 8:00.00   World Indoor standard: 7:52.00
Heat sheets aren't out yet (you can view entries at the link above) so we can't give you the start list, but if you only watch one race in Boston, make it the men's 3,000. The main storyline is WCAP's Shadrack Kipchirchir, who will be looking to run very fast. When we spoke to Kipchirchir's coach Scott Simmons earlier this week, he didn't want to overhype Kipchirchir, but he confirmed that he thinks Kipchirchir can run close to 7:30 (Galen Rupp's American record is 7:30.16). One of the limiting factors may be finding someone fast enough to rabbit the race: 7:30 is 4:01 mile pace, and running a 4:01 mile from the front is no easy task. Right now, the pacer is likely to be either Eliud Rutto (who ran 4:00 in a mile last weekend) or Mikey Brannigan (3:57 pb). Simmons coaches Rutto (but not Brannigan) and told LRC that whichever man is fitter right now will be the one pacing Kipchirchir on Friday.
"I think we'll look for 60 seconds [per lap] for a pacer for 1200 or 1600 meters," Simmons said. "He's in really good shape and I think he's sharp, too. We're gonna push the envelope and see. It kind of really comes down to the pacers. If we feel like someone can evenly run 60 seconds [per lap], then I think he can go with that."
For the record, the best runner in the WCAP group, Paul Chelimo, isn't doing this race as he only returned from Kenya recently. Simmons said he's not quite sharp enough to chase 7:30 right now but will open up at Camel City next week and plans to run USAs and Worlds if he qualifies.
Kipchirchir had a big year in 2017, running 27:07 for 10,000 and winning the US road 5k champs in November. When Rupp set the record in February 2013, he was coming off an Olympic silver medal and had PRs of 12:58/26:48. Kipchirchir is definitely capable of faster than his 13:18 5k pb, but hasn't raced anything below a 5k on a track since he was in college at Oklahoma State in 2014.
7:30 is going to be a big ask, but Kipchirchir and his WCAP teammates are not afraid to dream big. Remember, after he ran 27:07 last year at Worlds (a 25-second PR), he wasn't close to satisfied.
"We're going to keep on going to 26:40s or something," Kipchirchir told LRC. "27:07, it's still a PB but seeing where the rest are, I feel like I'm nothing."
Two more of Simmons' athletes, Kirubel Erassa (7:49 pb) and Emmanuel Bor (13:28 5k) are entered and looking to run fast (not quite 7:30, though), but if you're looking for an underdog, consider rooting for Ben de Haan. A Heps champ at Cornell, Ben is being coached by LRC guru John Kellogg in Flagstaff and has been logging his training for all to see on the messageboard. You may recall Ben rocking the LRC singlet last year as Ben Rainero, when he challenged Galen Rupp in Portland and competed at USAs, and he plans to don it again on Friday in Boston. Since then, the California-born Ben has reconnected with his Dutch roots (he's a dual citizen and is fluent in Dutch) and will be trying to hit the 7:52.00 World Indoor standard to compete for the Netherlands (his PR is 7:58). If you're in Boston and want to see some Dreams Become Reality, check out the men's 3,000.
LRC Prediction: Kipchirchir may be in AR shape but his group doesn't have the resources of the NOP and thus the AR isn't going down in a small meet in Boston like it did for Rupp, who always had big-time rabbiting. Kipchirchir FTW and sub-7:40.
And a PR for the LRC singlet. We'll have to ask LetsRun.com co-founder Weldon Johnson what the LRC singlet PR is for 3k. We don't think it's 7:52.00 as that's 13:06 5000 pace.
Men's mile (Saturday, 3:10 p.m. ET): How fast can Justyn Knight go?
USA Indoor standard: 3:57.50   World Indoor standard: 3:55.00
This will be the first race for Syracuse's Justyn Knight since he won the NCAA XC title in November, and expectations are high. Even though Knight's best distance is 5,000 meters, he still has some wheels as he ran 3:56 at this meet two years ago. Considering how much better Knight is now (since then he's lowered his 5k PR from 13:34 to 13:17 and finished 9th at Worlds), a very fast time could be in the cards. The Canadian indoor record is 3:54.32, set by Nate Brannen in 2014. That seems doable for Knight on the right day, though to run that fast, Knight (or someone else in the field) will have to be willing to chase the time from the gun.
For others, BU is an opportunity to break the fabled four-minute barrier. Neither Kipchirchir nor Bor have ever broken 4:00 but both are entered and may double back depending on how Friday's race goes. Then there's Hoka One One NAZ Elite's Scott Smith who, at 31 years old with a 4:01 pb, will be trying to dip under 4:00 for the first time in his career. We love to see athletes step out of their comfort zones and think it's awesome that a marathoner with a 2:12:21 pb like Smith is trying to join the sub-4:00 club. He's actually one of several NAZ Elite marathoners stepping down this weekend as Aaron Braun will be trying to do the same thing a few hours later in Seattle while Kellyn Taylor is chasing sub-4:30 in Boston on Friday.
Beer mile world record holder Corey Bellemore (4:33 beer mile pb, 4:00 mile pb) and Kiwi Hamish Carson (who ran 3:57 at BU in December and is being coached by Nick Willis) are also entered.
LRC Prediction: Carson has a 3:36 PB but Knight is the class of this field — Knight FTW. Scott Smith breaks 4:00.
UW Invitational (Dempsey Indoor, Seattle)
When: Friday, January 26 – Saturday, January 27
How to watch: Live on FloTrack (requires subscription)
Note: Times here don't count for World Indoor qualifying purposes since Dempsey is an oversized track
Women's 3,000 (Saturday, 7:25 p.m. ET): Shalane Flangan vs. Sifan Hassan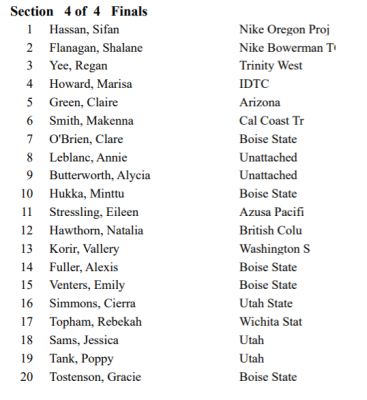 On paper, this should be no contest. Hassan, the reigning World Indoor champ at 1500, is in her track prime at 25 years old coming off a year where she ran 1:56/3:56/14:41 and medalled in the 5k at Worlds. Flanagan is 36, and though she holds the American record in this event at 8:33, that mark is now 11 years old. Still, Flanagan won 8:55 to win in Seattle two weeks ago, not far off Hassan's 8:50 from this meet last year (where she was upset by Kate Grace). Both women are studs, so it should be fun to watch.
LRC: Hassan FTW.
Men's 5,000 (Friday, 10:20 p.m. ET): Galen Rupp returns to the track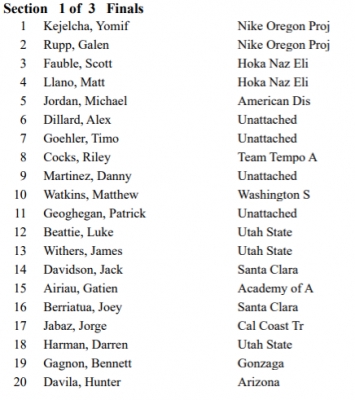 When Galen Rupp blew through the mixed zone after finishing 5th at USAs in the 10,000 last year, some observers thought that was the last time the running world would see the two-time Olympic medalist race on the track. But he told LRC in Chicago last fall that he wasn't done with the track quite yet, and on Friday, he'll run his first track race since June. Rupp's ultimate focus is April's Boston Marathon, but as Flanagan showed a couple weeks ago, world-class marathoners can still mix it up on the track.
We're not picking Rupp to win, however, as his new NOP teammate Yomif Kejelcha — he of the 12:53 pb and 4th-place finish at the last two World Champs — is also entered. Rupp is 0-3 against Kejelcha in his career, and those results are all from 2015, back when Rupp was still a track runner. Now that he's a marathoner, we don't expect that he'll beat Kejelcha, but since they're the class of the field, it's possible they go 1-2 and cross together.
LRC: Kejelcha FTW. Kejelcha could very well end up dominating the world like Mo Farah, and if he does, there will be fewer doubts as Kejelcha has always been a superstar. Remember, he's only officially 20.