2017 LRC World & US Rankings, M Marathon: Eliud Kipchoge Is the World's Best Marathoner but Geoffrey Kirui is World #1
By LetsRun.com
January 4, 2018

LetsRun.com is once again rolling out its 2017 year-end rankings of the mid-d and distance events (2014 rankings here; 2015 rankings here; 2016 rankings here). We rank the top 10 men and women in the world (plus the top five Americans) in the 800, 1500/mile, 3000 steeplechase, 3,000/5,000 and marathon. We hope you enjoy reading these rankings as much as we enjoyed putting them together.
Since these rankings are obviously subjective, we'll lay out the criteria we're using for them:
Not all marathons are created equal. Tirunesh Dibaba was only second at the London Marathon, but her 2:17:56 in that race was the second-best performance of the year.
Season-best times were given some consideration, but we didn't penalize a runner for having a slow sb if they ran tougher courses (such as New York).
Head-to-head results factor heavily in the ranking criteria if it's close between two runners for a spot.
While we strive to be objective with our rankings, with only two (occasionally three) data points for each marathoner, it's inevitable that some subjectivity comes into play in these rankings, more so in the marathon than any other event.
LRC 2016 men's marathon rankings * LRC All 2017 Year-End Rankings
LRC's coverage of the 2017 World Marathon Majors
LRC Wilson Kipsang Enters All-Time Great Status with 2:03:58 Japanese All-Comers Record at Tokyo Marathon
LRC Geoffrey Kirui Outduels Galen Rupp Over Final 5 Miles To Win 2017 Boston Marathon
LRC After An Epic Battle, Daniel Wanjiru Outduels Kenenisa Bekele To Win The 2017 London Marathon
LRC Kenya's Geoffrey Kirui Follows Up Boston Victory by Winning 2017 World Title
LRC Eliud Kipchoge (2:03:32) Holds Off Debutant Guye Adola (2:03:46) to Win 2017 Berlin Marathon as World Record Attempt Fizzles
LRC American Galen Rupp Wins 2017 Chicago Marathon – 1st American-Born Winner in 35 Years
LRC Geoffrey Kamworor Blitzes 4:31 25th Mile To Grab Lead and Holds On To Win 2017 New York City Marathon
World Rankings
Before we begin, a shoutout to LRC visitor David Graham. Graham puts out his own men's marathon rankings every year, and he did a great job as, after analyzing the available data, LRC's rankings match up very closely to Graham's. So a tip of the hat to Graham, who came up with some interesting facts and provided a baseline for our own analysis.
1. Geoffrey Kirui • Kenya • 24 years old
2017 results: 1st Boston (2:09:37), 1st Worlds (2:08:27)
Article continues below player.
Eliud Kipchoge is the best marathoner in the world right now, was undefeated in 2017 with the fastest time in the world, and had the most impressive victory on the year in Berlin. Yet, Geoffrey Kirui is our #1 ranked marathoner for 2017.
Let us explain. Kirui did what no one else did in 2017: he won two World Marathon Majors. Kirui entered the year as a relative unknown but ended it as one of the most feared marathoners on the planet thanks to wins in Boston and at the World Championships in London.
Kipchoge was his usual incredible self in 2017, running 2:00:25 and mesmerizing the world at the Nike Breaking2 exhibition in the spring, and then coming from behind to win Berlin in 2:03:32 in the fall. You couldn't ask for much more. However, since Kipchoge ran Breaking2 instead of a marathon major in the spring, he only had one major victory on the year and falls behind Kirui in our rankings.
Eight months after Breaking2, the running world still isn't quite sure what to make of it. Kipchoge covered 26.2 miles in 2:00:25 — albeit with the aid of rotating pacers and personal drinks service — but there's no context for how the performance stacks up to a traditional marathon. However, after much internal debate, we determined we couldn't give full credit to Kipchoge for his Breaking2 run in our rankings, even though it may have been the most impressive attempt at the marathon distance for the year.
Why? Mainly because it did not follow the official rules of the sport and came at the expense of him running another major competition (in essence he forfeited his title defense at London). It's not a perfect analogy, but let's say Under Armour came up with a device to block the wind from blowing on a golf course and had Jordan Spieth skip the Masters to try to shoot a 55. If he did it, but some other guy won two majors on the year, and Spieth only one, the other guy would be ranked #1 in the world.
2. Eliud Kipchoge • Kenya • 33 years old
2017 results: 1st Breaking2 (2:00:25), 1st Berlin (2:03:32)
Breaking2 was not a real marathon (but was an incredible display of running), but Kipchoge deserves a ton of props for going out and running most of the exhibition race at 2:00:00 pace before "settling" for 2:00:25 when the two other guys making the attempt — Lelisa Desisa and Zersenay Tadese — both fell off before halfway.
We just can't give him credit in our rankings to rank him ahead of Kirui.
There was no doubt about Kipchoge's other 2017 marathon, as in Berlin he took on an incredible field (Wilson Kipsang and Kenenisa Bekele dropped out and five guys still ran under 2:06:15), and he clocked a world-leading 2:03:32 to win despite a spirited challenge from debutant Guye Adola, who ran 2:03:46 in second. Kipchoge has now won an astonishing seven marathons in a row and eight of nine in his career. As a reminder, this is not normal. Kipchoge's win streak in majors is six; in the WMM era (2006 – present), no other man has won more than three straight. Next up is a return to London, where Kipchoge will attempt to become the first man to win three London titles since Martin Lel turned the trick a decade ago.
LRC Breaking2 Falls Short, But Eliud Kipchoge Runs an Astonishing 2:00:25 for the Marathon Distance
3. Tamirat Tola • Ethiopia • 26 years old
2017 results: 1st Dubai (2:04:11 CR), 2nd Worlds (2:09:49)
Because it happened back in January, you might not remember Tola's 2:04:11 course record in Dubai, but it was one of the most impressive performances of the year. In what was billed as a world record attempt for Kenenisa Bekele (who wound up dropping out by 25k after being trampled at the start), seven men hit halfway in 61:36 or faster in tough conditions (68 degrees, 70% humidity). Tola was the only one who survived, winning by a massive 2:35 and coming in 13 seconds ahead of the old course record. Tola's silver at Worlds behind Kirui was a fine second marathon of the year.
LRC 2017 Dubai Men's Recap: Olympic 10K Bronze Medallist Tamirat Tola Runs 2:04:11 CR (#9 All-Time) as Kenenisa Bekele Drops Out and Everyone Else Blows Up
4. Lawrence Cherono • Kenya • 29 years old
2017 results: 2nd Rotterdam (2:06:21), 1st Amsterdam (2:05:09 CR), 1st Honolulu (2:08:27 CR)
Cherono didn't run a major in 2017, but he ran so well — including course records at two of the best non-major marathons — that he comes in at #4 on our list. In Amsterdam, Cherono led a flood of men in the 2:05s — five in all, the first marathon outside of Dubai to feature five men under 2:06 (hat tip David Graham). His 2:08:27 in Honolulu may have been more impressive. Before last year, no one had ever broken 2:10 in Honolulu, despite a list of former champions that includes Ibrahim Hussein (three-time Boston champ), Josia Thugwane (1996 Olympic champ), and Wilson Kipsang. Cherono has now done it twice in 12 months as he ran 2:09:39 last year and crushed that time on December 10 by running 2:08:27. Cherono has never won a major, but looks destined to win one in the near future.
5. Wilson Kipsang • Kenya • 35 years old
2017 results: 1st Tokyo (2:03:58 CR), DNF Berlin, 2nd New York (2:10:56)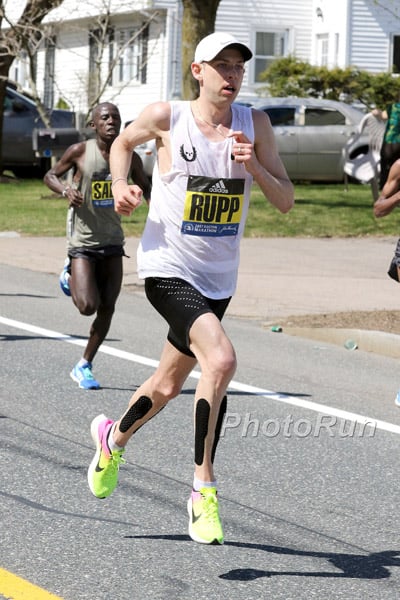 6. Galen Rupp • USA • 31 years old
2017 result: 2nd Boston (2:09:58), 1st Chicago (2:09:20)
Both Kipsang and Rupp had a first and a second in majors, but Kipsang's win (2:03:58 in Tokyo) was better than Rupp's (2:09:20 in Chicago). That's not to say that Rupp's win in Chicago wasn't impressive — he absolutely crushed the end of the race (he ran his final 5.22 miles at 2:00:45 pace), suggesting he could have gone much faster. But Kipsang actually did run much faster in Tokyo- 2:03:58 (in both of Rupp's marathons he had more than a mile to go at the 2:03:58 mark).
And the New York field was also marginally stronger than Boston this year, so Kipsang gets extra credit there as well. Unlike Rupp, Kipsang does have a DNF on his record, but we're not going to penalize him for going after the world record, particularly when he returned just six weeks later to run New York (where he came just three seconds from victory).
Rupp has now firmly established himself as the U.S.'s #1 marathoner, and with an Olympic medal and a major victory, and could potentially become America's best-ever over 26.2 miles. Next up is another crack at Boston in April, where he came one place shy of victory this year. After that, Rupp will have some options. If he wants to run a fast time, Frankfurt or Berlin could be an option in the fall. As the defending champion, Chicago will pay him a pretty penny to return and there is nothing from stopping him from running fast there (16 men have broken 2:06 there and 33 have gone sub-2:07), but New York — a bigger, more prestigious race than Chicago — will also be appealing.
7. Guye Adola • Ethiopia • 27 years old
2017 results: 2nd Berlin (2:03:46)
Adola only ran one marathon in 2017, and he didn't even win it. But that one marathon was still incredible. His 2:03:46 was the fastest debut in history (record-eligible course) by a full 30 seconds, and it came in wet conditions that were not ideal for marathoning. Even though the story about Adola finding out he was racing Berlin just four days earlier wasn't quite true, Adola's low-key approach to his debut — no big pronouncement or expectations — worked like a charm.
Given how well marathon #1 went — he was the first man in years to actually gap Kipchoge — we can't wait to see what Adola has in store for marathon #2.
8. Daniel Wanjiru • Kenya • 25 years old
2017 results: 1st London (2:05:48), 8th Worlds (2:12:16)
London is usually the most competitive marathon in the world. And though that was not the case this year (Berlin with Kipsang, Kipchoge, and Bekele and a few others was great this year), it's still a damn hard race to win. Wanjiru outlasted Kenenisa Bekele in April in a classic duel, prevailing against a field that also included 2016 Chicago champ Abel Kirui, 2016 New York champ Ghirmay Ghebreslassie and stud half marathoner Bedan Karoki. Wanjiru's second marathon — also in London, at Worlds in August — was not as good, but it was not a disaster, either. Wanjiru, who held the Amsterdam course record until Cherono broke it this year, is firmly in the top 10.
9. Geoffrey Kamworor • Kenya • 25 years old
2017 results: 1st New York (2:10:53)
Kamworor debuted in the marathon in 2012 at age 19, running 2:06:12 for third in Berlin, and ever since then he's been knocking on the door of a major marathon victory. He finally earned it in November in New York, taking down a quality field (Kipsang, Desisa, Lemi Berhanu Hayle) thanks to a killer 4:31 25th mile. With two World XC titles, two World Half titles, and a NYC victory, Kamworor has already put together quite the career. Expect him to add a few more medals before he's finished.
10. Shura Kitata • Ethiopia • 21 years old
2017 results: 1st Rome (2:07:30), 1st Frankfurt (2:05:50), 3rd Xiamen (2:10:36)
Kitata got two impressive dominant wins this year. First he took over a minute off his PR to win Rome by over a minute, and then in the fall he was even better winning in Frankfurt by over a minute in a quick 2:05:50. Two wins in fairly big cities was enough for us, for Kitata to crack the top 10.
Others We Considered: 
Amos Kipruto (1st Seoul (2:05:54), 5th Amsterdam (2:05:43)), the only guy to run sub 2:06 in two legitimate marathons in 2017, was also a candidate for spot #10, but we went with Kitata for his impressive wins.
Sondre Moen (2:05:48 Fukuoka) and Sammy Kitwara (2:05:15 Valencia) both went sub 2:06 this year, and got wins, but it wasn't enough to crack the top 10.
Discuss our rankings here:  Men's Marathon World Rankings: Geoffery Kirui is #1, Eliud Kipchoge #2… Galen Rupp #6 
U.S. Rankings
1. Galen Rupp (see above)
2. Abdi Abdirahman • Nike • 41 years old (on January 1)
2017 results: 6th Boston (2:12:45), 7th New York (2:12:48)
Abdirahman revived his career last year by finishing third in New York at age 39, and he showed he was still full of run in 2017 by finishing sixth in Boston and taking top American honors in New York, making him one of two Americans to break 2:13 twice this year (Rupp was the other). When Abdirahman missed the 2016 Olympic Trials with an injury, it looked as if his dream to make a fifth Olympic team was dead, but, two years out from the 2020 Trials, Abdirahman remains one of the country's best marathoners. He's already signed up for 2018 Boston, and until he starts showing his age, he has to be considered a contender for the 2020 Olympic team.
3. Shadrack Biwott • Hansons Brooks Distance Project • 32 years old 
2017 results: 4th Boston (2:12:08), 10th New York (2:14:57)
Just like Abdirahman, Biwott used a strong run in New York last year (fifth in a PR of 2:12:01) as a springboard to a strong 2017 season. It was a toss-up between Abdirahman and Biwott for the #2 spot in our rankings; we went with Abdi because he beat Biwott by more in New York than Biwott beat him in Boston. Biwott is running Boston again in April, which makes sense considering his recent results on tough courses in Boston and NYC. But we'd also like to see Biwott take a run at a fast time somewhere in the next year or two as he is capable of much faster than his 2:12:01 pb.
4. Tim Ritchie • Saucony Freedom Track Club • 30 years old 
2017 result: 1st Cal International/U.S. Champs (2:11:56)
Though it seemed as if USATF was handing out PRs in Sacramento, no one ran faster than Ritchie, who not only won the national title in commanding fashion (32 seconds up on runner-up Tyler McCandless) but became the first American other than Rupp to break 2:12 in over two years.
5. Augustus Maiyo • U.S. Army WCAP • 34 years old
DL results: 7th Boston (2:13:16), DNF Worlds
After the top four, it's very difficult — four or five guys have a legitimate claim for #5. Part of the reason is that, after our top four, the next seven fastest guys in the U.S. this year only ran one marathon each, and the eighth (Maiyo) ran two but only finished one. In the end, it came down to these guys:
Scott Smith (8th in Frankfurt in 2:12:21)
Augustus Maiyo (7th in Boston in 2:13:16)
Tyler McCandless (2nd at Cal International in 2:12:28)
Ryan Vail (8th in Berlin in 2:12:40)
Chris Derrick (9th in Chicago in 2:12:50)
All of these performances are pretty similar, and you can't go wrong with picking any of them for the #5 spot. We went with Maiyo because he finished seventh in a major marathon and his 2:13:16 time wasn't that far off the rest on a course that was tougher than Frankfurt, Cal, Berlin or Chicago.
Discuss our rankings here:  Men's Marathon World Rankings: Geoffery Kirui is #1, Eliud Kipchoge #2… Galen Rupp #6 
---
David Graham's 2017 Marathon Rankings.
LRC 2016 men's marathon rankings * LRC All 2017 Year-End Rankings
LRC's coverage of the 2017 World Marathon Majors
LRC Wilson Kipsang Enters All-Time Great Status with 2:03:58 Japanese All-Comers Record at Tokyo Marathon
LRC Geoffrey Kirui Outduels Galen Rupp Over Final 5 Miles To Win 2017 Boston Marathon
LRC After An Epic Battle, Daniel Wanjiru Outduels Kenenisa Bekele To Win The 2017 London Marathon
LRC Kenya's Geoffrey Kirui Follows Up Boston Victory by Winning 2017 World Title
LRC Eliud Kipchoge (2:03:32) Holds Off Debutant Guye Adola (2:03:46) to Win 2017 Berlin Marathon as World Record Attempt Fizzles
LRC American Galen Rupp Wins 2017 Chicago Marathon – 1st American-Born Winner in 35 Years
LRC Geoffrey Kamworor Blitzes 4:31 25th Mile To Grab Lead and Holds On To Win 2017 New York City Marathon