2017 Dubai Men's Recap: Olympic 10K Bronze Medallist Tamirat Tola Runs 2:04:11 CR (#9 All-Time) as Kenenisa Bekele Drops Out and Everyone Else Blows Up
By LetsRun.com
January 20, 2017
Olympic 10,000-meter bronze medallist Tamirat Tola of Ethiopia showed on Friday morning that he may be an even better marathoner than track runner, blitzing a spectacular 2:04:11 to set the course record and win the 2017 Standard Chartered Dubai Marathon by two minutes and thirty-six seconds. Seven men went through the halfway mark in 61:36 or faster, a ridiculous split given the 68-degree temperature and humidity around 70%, but pre-race favorite Kenenisa Bekele, who fell and hurt himself at the start, was not among them. The Ethiopian legend fell off the lead pack between 10k and 15k and by 25k he was out of the race, pulling up in discomfort and grabbing his left leg. Almost everyone else would pay for the hot early pace, as aside from Tola and runner-up Mule Wasihun, nobody else broke 2:08. By winning, Tola claimed the richest first-place prize in global marathoning: $200,000.
LRC Unbelievable: Kenenisa Bekele Falls at Start, Gets Injured, and Later Drops Out of the Dubai Marathon
Article continues below player
The Race Play by Play
Starting in darkness at 6:30 a.m. local time, the race produced drama as soon as the gun went off as several runners fell down immediately after the race started. Among them: Kenenisa Bekele. According to Bekele's manager Jos Hermens, the runners were given no warning that the start was imminent and Bekele, unprepared for the start of the race, was one of several athletes pushed down by athletes running behind them once the starting horn (followed very quickly by a gun) went off. Bekele quickly got up and rejoined the lead pack, but only after injuring his arm, which Hermens said was bleeding during the race, and his leg, which would eventually cause him to drop out with a slight limp.
The television commentators and world-wide viewers had no idea that Bekele fell as it wasn't visible on the race broadcast but some members of the Sub-2 Hour project did get video of Bekele being trampled which you can see here.
Unofficial footage from the Dubai marathon. Incident involving Bekele at the start resulting in a hard fall. Updates to follow. pic.twitter.com/5ElKCtPYEF

— Sub2hrsmarathon (@Sub2hrs) January 20, 2017
The runners who did stay on their feet went out exceptionally fast, hitting 5k in 14:26 (2:01:48 marathon pace). Bekele managed to get up and was running just off the front of the lead pack at 5k (14:26) and 10k (28:58 for leaders, 29:03 for Bekele), but he began to fall off the suicidal pace between 10k and 15k, which the lead group of nine passed well under world record pace in 43:34 (2:02:33 pace). Bekele was 28 seconds back in 44:02.
Though Bekele was not close to the 2:02:00 pace Hermens discussed before the race (Bekele planned to pass halfway in 61:00), he was still under 2:04 pace. Was Bekele holding himself back, knowing that, in the hot temps, the pace up front was too fast for him to handle? Or was something seriously wrong?
We didn't have to wait long for an answer. Even as the leaders were slowing down, passing halfway in 61:33 (the first four 5k splits got progressively slower: 14:26-14:32-14:36-14:46), Bekele was falling further behind and was 1:16 off the pace at that point. Shortly thereafter, he would slow to a halt, trying to massage his lower left leg before walking along the side of the road in search of someone, anyone, to escort him off the course and put an end to his misery. His day was done: for the second time in three years, he had dropped out of the Dubai Marathon.
Up front, a good race was developing. Seven men passed halfway together, but the brutal pace and the elements were beginning to take their toll and by 25k, the pack was down to four men: Tola, Sisay Lemma (4th in Dubai and Berlin last year), last year's 5th placer Mule Wasihun and the rabbit, Amos Kipruto. Wasihun, already losing ground after the most recent drinks station, was quickly dropped and by 28 kilometers, Lemma could not hang on to Kipruto's pace up front. That left only Tola. If he was to win, he would have to run the final 12 kilometers alone after Kipruto dropped out as planned at 30k.
The 25-year-old was more than up to the challenge. By 35k, he had more than doubled his lead to 58 seconds and would double it again over the next 5k to over two minutes. Not until the final 100 meters, with the finish line in sight, did Tola ever look anything other than smooth. The sweat on his chest was the only sign that he was working hard.
With no one to chase, Tola, who hit 40k on exactly 2:04:00 pace, could not become the ninth man in history under that barrier, but his 2:04:11 still made him the ninth-fastest man in history and shaved 13 seconds off Ayele Abshero's 2012 course record. Wasihun ran down Lemma for second, clocking 2:06:46 to improve on his fifth-place finish last year. No one else would break 2:08, with Lemma's 2:08:04 the best of the rest in third.
Analysis below results.
Top 15 in Dubai (more 2017 Dubai Results here)
1 Tola Adere, Tamirat (ETH) 2:04:11
2 Wasihun Lakew, Mule (ETH) 2:06:46
3 Lemma Kasaye, Sisay (ETH) 2:08:04
4 Jigsa, Sisay (ETH) 2:08:09
5 Lokwanamoi, Mark Pkorir (KEN) 2:08:37
6 Ayenew, Mekuant (ETH) 2:09:23
7 Bekele Molalign, Azmeraw (ETH) 2:10:22
8 Dechasa Beyene, Chele (ETH) 2:10:24
9 Getachew Yizengaw, Limenih (ETH) 2:11:16
10 Mekonnen Asefa, Tsegaye (ETH) 2:11:54
11 Debele, Dejene (ETH) 2:12:18
12 Beyene, Tilahun Amsalu (ETH) 2:12:19
13 Bommier, Timothee (FRA) 2:14:50
14 Jimma, Shambel Tufa (ETH) 2:16:55
15 Kemboi, Edwin Kipchirchir (AUT) 2:18:22
Quick Take #1: You don't set a WR in 68-degree weather/Tamirat Tola's CR run today was one of the better runs in history.
You know the phrase, "Father Time is undefeated." Well we have a new one: "Mother Nature is undefeated." The idea that a world record was going to be set in a race that started in 68-degree weather was a fairy tale from the very start. You don't run fast in 70-degree temps. End of story.
Remember when Sammy Wanjiru blew everyone's minds and moved marathoning into a new era of attack, attack, attack by running 2:06:34 – an Olympic record by 2:49 – at the 2008 Olympics? If you are over 22, you probably do. Well guess what the temperature was at the start of that race? 74.
So the fact that Tamirat Tola ran a big course record of 2:04:11 is very impressive (Tola was on 2:03:17 pace at 30k) as conditions were far from ideal for running fast. If you don't believe us, well then maybe this stat will help. Tola's 2:35 margin of victory was the largest in Dubai Marathon history.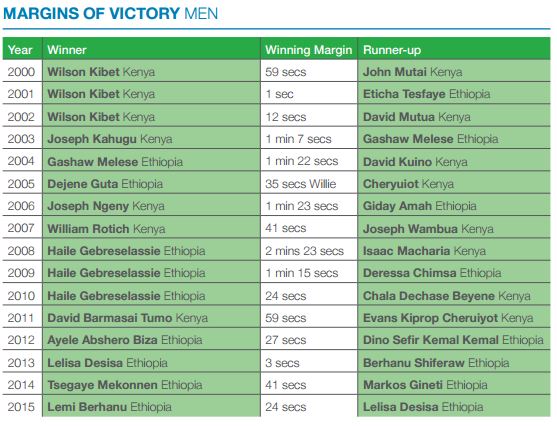 In our pre-race podcast, marathon expert Sean Hartnett estimated that if Bekele did break the WR, he'd have to run at least a time that was equivalent to a 2:02:15 in Berlin, indicating he thought the conditions were at least 45 seconds worse than ideal. So it could be argued Tola's time is equal to a 2:03:30 in better conditions. Only six men in history have ever run a 2:03:30 on a record-eligible course.
And don't pretend for a second that Tola won by a big margin because Dubai is not deep. Dubai has more prize money than any other race in the world and with $80,000 for 2nd and $40,000 for third there is a big incentive to not drop out.
MB: 2:04:11 in 69 degree weather, with dew point of 59. world record-quality performance?
Quick Take #2: What if Bekele hadn't fallen… Will he be ready for London???
If Bekele isn't hurt in the long term, then this race means close to nothing to us in terms of Bekele moving forward as the conditions weren't suitable for a fast time and he fell at the start. If Bekele is healthy, then this tweet by Brett Larner sums up our feelings perfectly.
A good tempo run for London. https://t.co/RoilO4PjBx

— Japan Running News (@JRNHeadlines) January 20, 2017
There's nothing wrong with running a 62:48 half marathon before your major marathon goal (2017 London).
Given the fact that Bekele has struggled with Achilles issues in the past, the fact that Bekele was grabbing his lower left leg when he dropped out was a major worry of ours when he initially dropped out. We feel a little better now knowing his leg issue may have been a result of his fall at the start. A short-term injury won't hurt him for London – heck dropping out might even help him as he's not spent from a marathon – but a long-term one is a concern.
Update: Bekele has issued a statement on his injury.
Bekele's thoughts of today's race. Although he could not finish, he is determined to be back in good shape in @LondonMarathon in April! pic.twitter.com/6fEoV5yHgy

— Global Sports Comm (@GlobalSportsCom) January 20, 2017
Marathon fans are left to wonder what if Bekele hadn't fallen. While we think the conditions were too hot for a world record, Bekele's manager Jos Hermens disagreed after the race on the broadcast. He said with the cloud cover and lower-than-expected temperatures compared to earlier in the week they were "perfect conditions." We totally disagree. He noted that Bekele is a much better marathoner than Tola. That was true in the past for sure. Hermens said on the broadcast, "Kenenisa is not one to bluff and say I'll do it (break the world record) unless he can do it."
Bekele may have been in great shape, but this year was not the year temperature wise to set the world record in Dubai. Here's how the weather has been the last five years:
Dubai Marathon weather, last 5 years
2017: 68 degrees, 70% humidity
2016: 62 degrees, 82% humidity
2015: 60 degrees, 72% humidity
2014: 60 degrees, 77% humidity
2013: 59 degrees, 94% humidity
3) A rough way to earn a payday
With almost zero dollars in appearance fees, pretty much the only way to make money in Dubai is to finish in the top 10. And with $200,000 for first, there's a big incentive to go out hard and hope that you feel good enough to hold on the rest of the way. That strategy worked for Tola, but for almost everyone else it resulted in an extremely painful second half. Here are the half marathon splits for the top 10 men's finishers:
Tamirat Tola 2:04:11 (61:34/62:40)

Mule Wasihun 2:06:46 (61:34/65:12)

Sisay Lemma 2:08:04 (61:34/66:30)

Sisay Jigsa 2:08:09 (61:34/66:35)

Mark Pkorir Lokwanamoi 2:08:37 (61:33/67:04)

Mekuant Ayenew 2:09:23 (63:04/66:19)

Azmeraw Bekele 2:10:22 (61:56/68:26)

Chele Dechasa 2:10:24 (63:49/66:45)

Limenih Getachew 2:11:16 (63:24/67:52)

Tsegaye Mekonnen 2:11:54 (61:36/70:18)
So of the top 10 finishers, Tola was the closest to negative-splitting and he still ran a positive split of over a minute. The combination of the ridiculous first half and warm conditions led to slow times across the board: over the past five years in Dubai, no one ran 2:10 and finished in the top 10. This year, almost half of the top 10 ran 2:10 or slower.
Want more on Dubai?
Women's race recap: Worknesh Degefa's Marathon Debut is a Huge Success as She Runs 2:22:36 to Win $200,000 in Dubai
Check out our messageboards:
MB: Official 2017 Dubai Marathon Live Discussion Thread
MB: Why don't more Kenyans run the Dubai Marathon?
MB: Bekele is DONE
MB: Bekele drops out of race halfway
Update: Photo of Fall with Bekele on Ground
by Giancarlo Colombo Sent by Pat Butcher
(click to enlarge)
Picture of Start (We believe Bekele is in mid-fall directly to the right of Amos Kipruto, the runner in the black and white adidas singlet)
Women's race recap: Worknesh Degefa's Marathon Debut is a Huge Success as She Runs 2:22:36 to Win $200,000 in Dubai