The Grades Are In: USA Distance Runner Report Cards from the World Championships in London
by LetsRun.com
August 18, 2017
A fantastic 2017 World Championships concluded last Sunday in London.
After taking some time to recover, we've taken a look back at Worlds and are glad to present to you our US mid-distance and distance report cards. We give each US distance runner their report card below.
The US women stole the show getting four medals and 5 A+ rankings or better. We start with the A+ rankings and then go by distance after that.
A++ Emma Coburn (New Balance, gold medal, 9:02.58 pb)
When you run a 5.05-second PB in the final of Worlds, you are getting an A. When you run that PB and win the gold medal, you are getting an A++.
Her gold might have been the biggest shock gold for a US distance runner since Billy Mills in 1964. Consider this: even after her amazing 9:02.58 run, Coburn is still just the 5th fastest performer on the year. Like her former collegiate teammate Jenny Simpson, Coburn got one fortuitous break that made it possible – the race favorite (Beatrice Chepkoech) both forgot to hurdle the first water jump and fell (Simpson won her 2011 Worlds gold after a big fall took out both Hellen Obiri and Morgan Uceny) but that's sport. Even if Chepkoech had won gold, we'd have given Coburn an A+ for running a 5-second PB and winning silver.
A++ Courtney Frerichs (Nike, silver medal, 9:03.77 pb)
Frerichs also gets the highest grade of the year. Yes, a silver medal isn't as nice as gold, but come on, she had to run a 15.32-second PB to earn the silver. What impressed us the most is Frerichs wasn't happy to just be up there. Far from it. On the backstretch of the final lap, Frerichs boldly moved up and challenged for the lead.
We are convinced that Frerichs helped make Coburn's gold possible as Frerichs went by Coburn on the final lap and was going for gold.
Coburn said, "Seeing Courtney right there again provided a little bit of motivation like, Hey, she's doing this, you can do it too."
If Frerichs had won gold, she would have received the highest grade available: A+++. Seriously, it doesn't get much better than what she did in London. Anything better and you are looking at a PED situation (Just to be clear, for the record, we think Frerichs is clean).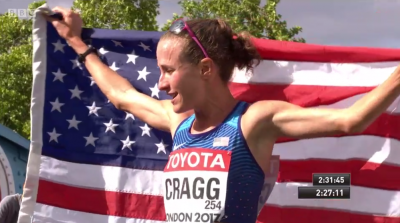 A+ Amy Cragg (Nike, bronze, 2:27:18)
The women's marathon field at Worlds was LOADED with 10 sub-2:22 women on the start line. This wasn't some watered down field in ridiculous weather. It was a good field run in decent weather and Cragg ran the race of her life to snag bronze, ending America's 34-year medal drought in the event at Worlds.
Cragg would get an A++ but Coburn and Frerichs' runs need to stand out a little bit.
A+ Jenny Simpson (New Balance, silver medal, 4:02.76)
Simpson was fantastic at Worlds, just as she is at nearly every global championship. Every year, she seems to time her peak well and then perhaps more importantly runs a near perfect tactical race. Simpson is the 15th fastest 1500 runner in 2017, but she's got a silver medal. It doesn't get much better than that. She only ended up .17 away from gold.
A++ Serena Burla (Nike, 11th, 2:29:32)
Burla just missed a top 10 in the marathon but ran very well. She's been having a great 2017 as this is her 2nd sub-2:30 on the year (ran a 2:26:53 pb in Osaka in January) when she'd only broken 2:30 twice before in her career.
Then it came out she did all of that while having a cancerous tumor (that she didn't realize she had). Amazing.
MB: Most overlooked performance of Worlds? Serena Burla got 11th in the marathon with a cancerous tumor in her leg!!! – Let
We wish her the best:
Prayers for @serena_burla who is facing cancer again one week after finishing 11th at #London2017 Marathon (stmt from her mgt) #SerenaStrong pic.twitter.com/Hd4WjNmoV7

— David Monti (@d9monti) August 13, 2017
No one else got an A+ rating so we break them down by events below, starting with the men.
Men's 800
B Drew Windle (Brooks Beasts, 5th in semifinal, 1:46.33)  If we told you at the beginning of the year that Windle, who had just a 1:45.65 pb, would make it to the semifinals of Worlds, you'd probably have thought we were crazy. Just making the team was a real long shot given the amount of American talent in the event right now. Think about it. Clayton Murphy and Boris Berian both have global championships medals on their resume (Berian's is indoors) and Donavan Brazier ran 1:43 as a 19-year-old.
But Windle did make the team, so for the season as a whole he gets an A, but he may look back on the 2017 Worlds with a tinge of regret in the years to come. For starters, making another appearance in a US vest certainly isn't a given for Windle. But even if he does make it, he may never have the opportunity he had this year. Murphy and Brazier weren't the only ones struggling with injury this year. David Rudisha also didn't show and medals were there for the taking. Windle didn't run his best in the semifinal (just 7th in 1:46.33) and thus will always have to wonder what he could have done in the pedestrian final where 1:45.21 won a medal in a non-tactical race. In our pre-Worlds podcast, we threw out the bold prediction that there was an outside shot Windle could medal if he made the final given his fast close.
Windle had the 9th fastest seasonal best of those who started in the semis, so making the final was very realistic once he was there.
C+ Donavan Brazier (Nike, 7th in semifinal, 1:46:27)
Brazier didn't bomb out in the first round like he did at the 2016 Trials and almost did in the first round of 2017 USAs, so that's a positive. However, he didn't run like a guy who ran 1:43 just a few months after turning 19 in 2016. He needed to make the final at a minimum to have a successful Worlds, particularly given the fact that he was in the third semifinal where the top four guys all got in on time.
Moving forward, we hope Brazier focuses on the positive — he made his first US team this year and got out of the first round — but if he doesn't win a medal before his career is finished, it will be a disappointment.
A- Isaiah Harris (Penn State, 4th in semifinal heat, 1:46.66)
We're giving Harris a higher grade than Windle even though they both went out in the same round and even though Harris was 2nd at USAs and Windle 3rd. Why? Because Harris is just 20 and two years ago had a pb of 1:49.
Women's 800
A Ajee Wilson (adidas, bronze medal, 1:56.65)
Wilson entered Worlds with big expectations as just before Worlds she ran an American record in Monaco, and she lived up to them by running for gold and securing a bronze medal.
There is no shame in losing to two women who likely have at least three times the amount of testosterone as Wilson. Maybe down the road, hormone treatments or an intersex division will be created to open up a pathway for gold for Wilson, but we love the fact that she's not worried about any of that and is just trying to get fast enough where she can beat the likes of Caster Semenya straight up.
Wilson might deserve an A+ if our expectations weren't so high for her. She did exactly what she thought she would.
A Charlene Lipsey (adidas, 7th in final, 1:58.73)
Lipsey is the 7th fastest woman in the world in 2017 and she finished 7th at Worlds. If the IAAF's regulations on hyperandrogenism are reinstated, she'll be a medal contender in the years to come. Regardless, she's had a remarkable season in 2017, lowering her pb from 2:00.60 to 1:57.38. As a whole, her seaosn is an A++ as she's had the most remarkable improvement of any US runner this year not named Courtney Frerichs.
B- Brenda Martinez (New Balance, 3rd in semifinal heat, 2:01.31)
Martinez ran great in Worlds. In her semifinal, she finished just .12 behind Margaret Wambui. Had Martinez done that in the final, she would have been 5th. So there certainly is no shame in not making the final after finishing 3rd in a semifinal, particularly one that included Wambui and Francine Niyonsaba. However, Martinez does deserve criticism as her tactics in the semi were just flat-out stupid. She should have run for time. We'd give her an F for tactics.
Personally, we think the 800 final should be run with nine competitors (take the top three from each semi) if they are going to continue using a three-heat semifinal round. Another option would be to make the first round much more cutthroat. Since there were six first-round heats, one option might be to take the first three in each heat (no time qualifiers) to the semis and then in the semis you could run two heats of nine. From a two-heat semi, you could take the top four from each heat and maybe one time qualifier if you wanted a nine-person final.
Men's 1500
A Johnny Gregorek (Asics, 10th in final, 3:37.56)
Making the final was more than could be expected from Gregorek. Yes, he got lucky in that he was in the third heat of the first round and second semifinal, so it was easy to snag time qualifiers but he still brought his A game. In his semi, he was just .04 from being an auto-qualifier to the final.
C Robby Andrews (adidas, DNF is semifinal)
Since he made the final in 2015 and would have made the final in 2016 had he not been DQ'd, anything less than the final is disappointing for Andrews. Yes, an injury prevented him from giving it a real go in the semifinal, but staying healthy is a big part of the sport.
D+ Matthew Centrowitz (Nike, last in 1st round heat, 3:48.34)
The grade may seem harsh, but he's the Olympic champion. We do think Centro deserves praise though for not pulling the plug on the season before USAs, which is what he almost did. We hate it when stars simply don't show up as they are afraid of losing. David Rudisha just didn't show. Centro deserves props for giving it a go. A+ for effort to get to Worlds. D+ for Worlds result.
Women's 1500
A+ Jenny Simpson (New Balance, silver medal, 4:02.76)
See up top.
A- Sara Vaughn (Brooks, 10th in semifinal heat, 4:06.83)
By making her first team at age 31 as a mom of three, Vaughn was one of the most inspiring stories of the year. Making the semifinals is about all that one could expect of her realistically.
C Kate Grace (Nike, 11th in semifinal heat, 4:16.70)
Grace was an Olympic finalist last year at 800. She certainly didn't move up to the 1500 this year to go out in the semifinals. Grace faces an interesting dilemma moving forward. Getting a medal in the 800 seems next to impossible unless the hyperandrogenism rules are reinstated, but at this point in time, she appears to be a better 800 runner than 1500 runner.
We think if she wants to medal the 1500 is the right call, but it's not going to be easy.
The good news is 2018 is an off year, so she can focus on trying to get that 4:03 pb down to 4:00 or better, which is where it needs to be if she's going to be a player in the 1500.
Men's Steeplechase
B Evan Jager (Nike, bronze medal, 8:15.53)
Maybe a B for America's first World Championship medal ever in the steeple is harsh, but we are grading people based on expectations. Jager won silver in 2016 and the level of competition in 2017 seemed to be weaker than it was last year.
When you win a medal, you've had a good Worlds unless you are an overwhelming favorite/world record holder. Jager had a good but not great Worlds.
Some might argue Jager should get his grade bumped up for trying to lead, but that is what he thought was his best way to win.
A- Stanley Kebenei (Nike, 5th, 8:21.09)
In his last race before Worlds, Kebenei moved to #2 all-time on the US ranks with a 8:08.30 in Monaco. That moved him to #5 in the World for 2017 and he finished 5th at Worlds. However, he wasn't close to the guys ahead of him (5.29 seconds from 4th).
C- Hillary Bor (US Army, 5th in 1st round heat 8:27.53)
With a seasonal best (and personal best) of 8:11.82, Bor is the 10th fastest steepler of 2017. He was in the third heat and all he had to do was run 8:25 and he'd be in the final. Not making it was a disappointment. There is no way to ignore that.
Women's Steeple
A++ Emma Coburn (New Balance, gold medal, 9:02.58 pb)
See up top.
A++ Courtney Frerichs (Nike, silver medal, 9:03.77 pb)
See up top.
Incomplete Colleen Quigley (Nike, DQ'd in 1st round)
It's a shame we don't have any idea right now (maybe we'll get an idea if she steeples again after Worlds) what Quigley would have done in the final had she not been DQ'd after stepping on the line in the middle of the semifinals.
Some might say that Quigley broke a rule of the sport which is true but a) it's a stupid rule and b) the meet organizers practically asked for it to happen by not putting down a rail on the turn and also not making sure that the cones stayed where they were placed (we were told a photographer moved one).
Men's 5000
A Paul Chelimo (US Army, bronze medal, 13:33.30)
Even though Chelimo won silver in 2016 and bronze in 2017, we're certainly not going to give him anything less than an A as he ran fantastic. In Rio, he was .60 behind Farah. In London, he almost beat the 'unbeatable' Farah as he was just .08 behind.
C Eric Jenkins (Nike, 10th in 1st round heat, 13:31.09)
We were shocked that Jenkins, who has great mile speed (3:53, beat Centro at 5th Avenue last year), didn't make the final. Yes, being in the first heat of the two-heat 5000 is a big disadvantage but anything less than the final was disappointing for Jenkins. Justyn Knight made it out of the first heat – so should have Jenkins.
Incomplete Ryan Hill (Nike, DNS final due to illness)
Hill made the final by running 13:22 in the second of the two semis. But making the final is what we expected him to do. He pulled out of the final with a virus. If you get sick, that's just unlucky particularly, when lots of athletes were getting sick.
Women's 5000
C Shannon Rowbury (Nike, 9th, 14:59.92)
Rowbury was 9th in the final, which is lower than what we'd expect for the American record holder. Sure, the top five positions weren't going to happen, but coming into Worlds, we would have thought she'd beat someone like Susan Krumins (nee Kuijken), who has a 14:53 PB, given the fact that Rowbury has run 14:38.
B Shelby Houlihan (Nike, 13th, 15:06.40) 
For the second straight year, Houlihan made the final but she finished lower in London (13th) than she did in Rio (11th). However, she did PR in the semis by running 15:00.37 and we always say you can't complain too much if you are PRing. Her time in the final (15:06.50) was just off her PB coming into Worlds.
C Molly Huddle (Saucony, 12th, 15:05.28)
We like how Huddle didn't mess around in her semi and ran for time to make sure she got into the final. However, 12th in the final in a time over 15 minutes isn't good for a woman of Huddle's stature. Considering the US women basically have medal odds of zero in the event, it's nothing to get too worked up over, however, particularly since she was doubling back from the 10,000.
We were going to say we wish she'd just skipped the 5000 and let the 4th placer at USAs run it but then realized it was Karissa Schweizer of Missouri, the reigning NCAA XC champ. We think it's better for collegians not to race into mid-August so we're glad Huddle ran it.
Men's 10,000
A Shadrack Kipchirchir (US Army, 9th, 27:07.55 PB)
9th may not sound great but the guy ran a massive pb to move to #3 all-time in US history. Coming into the year, he sported a 27:58.32 PB, which he lowered to 27:32.18 and now 27:07.55.
He ran excellent and A is what you get when you run excellent.
B+ Leonard Korir (US Army, 13th, 27:20.15 PB)
He PR'd by 15 seconds and improved his finish position from Rio by one. That's good whether 13th sounds low or not.
B- Hassan Mead (Nike, 15th, 27:32.49 PB) 

Ok, we are going to violate our own rule of "You can't complain if you PR" here by giving him a B-, but given the fact that Mead won USAs, it was disappointing that he was the third American at Worlds. And his PB was by a tiny margin — just 0.55 of a second.
Women's 10,000
B Emily Infeld (Nike, 6th, 31:20.45 pb)
Infeld PR'd but considering she was a medallist in 2015, her previous PB of 31:22.67 was incredibly misleading. We'd give her an A if she had finished as the top non-African, but she lost to Krumins.
C+ Molly Huddle (Saucony, 8th, 31:24.78) 
Last year, she ran 30:13.17 and was 6th. This year, she only managed 31:24 and was 8th. 5th was as high as she was possibly going to finish, but she also moved down from US champ to 2nd American at Worlds.
B Emily Sisson (New Balance, 9th, 31:26.36)
In her first showing at Worlds, she finished in the top 10 and just missed her PB (31:25.64). That's solid running if you ask us. We hope she moves up to the roads sooner than later as we feel she'll have much more success at 26.2 than 10,000.
Men's Marathon
B Elkanah Kibet (US Army, 16th, 2:15:14)
Considering this was his 3rd marathon of the year, he ran a solid race and it was better than his first marathon in Houston in January (2:17:25). Only two people ahead of him had worse PRs than his 2:11:31.
C Bobby Curtis (Hansons-Brooks, 42nd, 2:21:22)
2:21 isn't good but we aren't going to rip someone who ended their career by putting on the US vest one last time. American NCAA distance champs are few and far between (Curtis won the 5000 in 2008) and Curtis will be missed.
Curtis never made a big impact as a pro (never made a US team on the track) and that's a testament to the strength of US distance running during the last decade as he retires with PBs of 7:43, 13:18, 27:24 and 2:11:20.
D Augustus Maiyo (US Army, DNF)
Running Worlds for free isn't easy for marathoners so we give him credit for trying.
Women's Marathon
A+ Amy Cragg (Nike, bronze medal, 2:27:18)
See up top.
A++ Serena Burla (Nike, 11th, 2:29:32)
See up top.
C Lindsay Flanagan (Mizuon, 37th, 2:39:47)
For each of the last three years, Flanagan has finished two marathons each year and one has been significantly better than the other. That continued with this result as after running 2:34:44 in Boston she ran 2:39:47 here, not great for someone who has a 2:29:28 pb.
More Post Worlds Coverage: Random Thoughts From Worlds: What a Year Sam Kendricks is Having and Hope You Didn't Bet Big on the Favorites