Clayton Murphy Is Stepping into Paul Chelimo's Lion's Den, Centro is Still Motivated, Why Jenny Simpson Rarely Runs Indoors & the Pros' Super Bowl Picks – Notes from the 2017 NBIGP
By Jonathan Gault
January 27, 2017
BOSTON — On Saturday, some of the United States' best distance runners — who, after the events of last summer are now some of the world's best distance runners — will take to the track at the Reggie Lewis Track & Athletic Center for the 2017 New Balance Indoor Grand Prix. Today, those stars were at the tony Lenox Hotel in the Back Bay to field questions from the press.
The pros came through in three groups — first Jenny Simpson, Emma Coburn and Brenda Martinez (who will be teaming up in a world record attempt in the women's DMR), then Olympic pole vault champions Ekaterina Stefanidi of Greece and Jenn Suhr of the U.S., and finally American Olympic medallists Matthew Centrowitz, Clayton Murphy, and Paul Chelimo. The highlights are below, including Chelimo welcoming Murphy to his domain at 3,000 meters, Centrowitz explaining why his motivation hasn't waned after winning Olympic gold and Simpson explaining why her Olympic bronze means as much to her as her World Championship gold.
Article continues below player
If you missed our meet preview, which has start lists, TV information and analysis of the distance races, check that out here.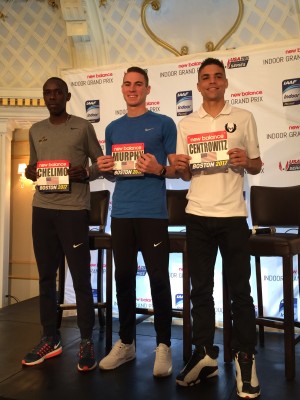 1) Matthew Centrowitz didn't have any trouble getting motivated for 2017, but his time is more valuable; his workouts have been a bit longer this year
Centrowitz accomplished every runner's ultimate goal last summer by winning an Olympic gold medal, and after the race, some non-track fans even asked him whether he had any plans to retire. Rest easy, running nerds: the 27-year-old Centrowitz doesn't want to stop anytime soon and said that he was eager to get back to work for the 2017 season.
"Training, that's what I love to do," said Centrowitz, who will run the mile tomorrow.
Centrowitz has goals to run PRs at a number of distances this year and noted that the biggest issue hasn't been one of motivation, but rather of time. He's had more obligations and distractions now that he's an Olympic gold medallist and has had to learn to say no so as not to disrupt his training too much.
Speaking of training, Centrowitz, who is running the 2 mile at the Millrose Games in two weeks and plans to run a 5k outdoors, said that while his mileage has remained the same as last year, his workouts have been longer, with more mile repeats and longer tempos. One of Centrowitz's biggest strengths as a 1500 runner is his endurance, which enables him to navigate the rounds at global championships and still have something left for the final. But he believes doing longer distance work can also help him lower his 3:30.40 PR outdoors.
"Having these longer races such as a 3k and possibly a 5k makes that 1500, that mile feel a little bit shorter, a little bit easier for me versus going down in distance and running something a little bit faster," Centrowitz said. "For me to be able to run under 3:30 is just more like being able to grind that pace in these Diamond League races. Being able to do that is what these 3k/5ks will help me do."
For a while, Centrowitz was the youngster in the Nike Oregon Project, and while he's now a seasoned veteran with an Olympic gold medal, the older guys still like to pick on him from time to time. After the Olympics, he saw a post on social media of teammates Mo Farah and Galen Rupp going golfing. Centrowitz responded by saying "thanks for the invite" and NOP coach Alberto Salazar joked that Centrowitz needed to be a multiple Olympic medallist to get that invitation.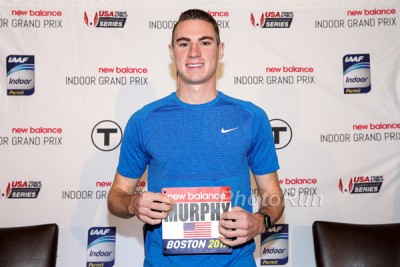 2) Welcome to the lion's den, Clayton Murphy
One of the biggest questions on many people's mind heading into the meet was why is the Olympic 800m bronze medallist, Murphy, running a 3000-meter race? For pure 800 guys, it's obviously a bit strange, but Murphy views himself as an 800/1500 runner and actually ran a 3000 in his first race of 2016 as well.
"It's kind of the plan we always had," Murphy said. "We wanted to step up [in distance] for the first one, coach and I. This kind of fell into our lap, in having an opening 3000. [I] didn't really want to race a mile early, so the 3000 was where we fell. I've always run cross country at Akron the last three years, so it wasn't a huge difference to train for the 3000, just keeping the strength work up and hopefully that extends the season as it has in the past."
I also asked Murphy whether he will be focusing on the 800 or 1500 during the 2017 outdoor season. He said that is the question everyone asks him, including his girlfriend and his parents, and that at the moment he's just taking things one race at a time.
"Training for me is pretty similar for most of the year, so it could be a decision that comes down to the last minute," Murphy said.
That's exactly what happened last year, with Murphy ultimately electing to run the 800 at the Olympic Trials after narrowly missing out on the Olympic standard in the 1500. That approach ended up working out okay for the Olympic bronze medallist.
Paul Chelimo, who was sitting directly to Murphy's left, is one of the best quotes in the sport and he didn't disappoint when asked about his goals for tomorrow's 3,000-meter race.
"They always say when the lion goes to its own habitat, you can't go in there and mess with the lion," Chelimo said. "So I'm just telling Clayton tomorrow,  you're coming to my own zone. You come into my own home, come expecting it's going to be a big fight. So I'm going to make it hard for him. But when I go to the 800, I'm gonna respect him."
Chelimo also announced that he had a bold new year's resolution: "Don't lose any races. I'm tired of losing."
3) Why don't the women of New Balance — Jenny Simpson, Emma Coburn and Brenda Martinez — more indoor races?
The DMR tomorrow (Simpson is running the 1600 leg, Coburn the 1200 and Martinez the 800) will be the only indoor race this year for Simpson and Coburn, while Martinez will be running one more. Running a limited indoor season has usually been their M.O.: aside from this meet, Coburn's only run one indoor race since turning pro, while Simpson hasn't run an indoor race other than this meet since 2012 (Martinez did run a full indoor season last year with World Indoors in the U.S.).
Martinez and Coburn offered similar reasons for not putting more emphasis on indoors: their focus is on a strong outdoor season, and with a dearth of indoor tracks on the West Coast, they prefer to avoid interrupting their winter training by making multiple trips east for indoor races. Both women did add, however, that when New Balance approached them with the idea of setting the world record in the DMR, they were very excited by the possibility.
"I appreciate that with indoor I have the opportunity to do a fun relay or the mile or the flat 3k or something," Coburn said. "But it is a big interruption into the overarching training for a strong summer. I think in my experience, when I try and force too much speed or too many track sessions to sharpen up for indoors, I'll either have a little nagging injury or some interruption. Most years, that's happened in the indoor season when I've tried to prep for it. So my preference is to skip indoor and get ready for a strong outdoor."
Simpson said that an indoor season has never really fit into the rhythm of her training (she was tempted last year but was hurt during the winter), though she does hope to run another full one at some point before she retires.
"When you run such a long and intense outdoor season — I typically finish with the 5th Avenue Mile in September — so then you take September and part of October off. By January, I'm just not really kicking at the stall yet. You've taken a little bit of time off, winter is not a super easy time to train in Colorado. You're grinding through the winter season and meet directors are calling you about running in a race and you think 'Ah, I don't know…'"
Finally, I asked Simpson which medal she values more: her Olympic bronze or her World Championship gold from 2011. She said that's been a common question this offseason.
"I have a little bit of a cop-out answer, that I'm glad that I don't have to choose. I get to have both. They're both so meaningful in their own way. The gold medal in 2011 and the bronze medal at the Olympic Games, both have really been pivotal for me as a human and really stamped my legitimacy as an athlete in this sport. So both are, I think, on level ground for me. And I would say level with them, in my mind, in the peaks and valleys of my career, would be breaking 4:00 at Prefontaine in 2009. Those are kind of the three moments in my career where I think, 'That was a moment that changed me.'"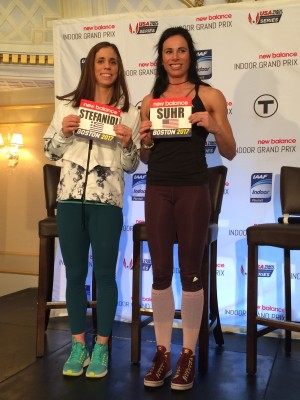 4) The moment Katerina Stefanidi knew she won the Olympics
The women's pole vault competition at the Olympics was a thriller, with Stefanidi and American Sandi Morris both clearing 4.85 meters. Ultimately, it came down to Morris' third and final attempt at 4.90 meters. If she cleared the bar, she would become Olympic champion; if she didn't, Stefanidi would win the competition. Morris came agonizingly close but ultimately dislodged the bar, handing the crown to Stefanidi, a Stanford grad who trains at the SPIRE Institute in Geneva, Ohio, and is ironically scared of heights. Though Morris' miss was the moment where Stefanidi officially became champion, the 26-year-old Greek knew she had it won well before that.
"At one point in the competition, Sandi came up to me and said, 'It really doesn't feel like we're in the Olympic Games.' And at that point, I knew I had won. [The bar] was still at 4.70 and I knew that I had the mentality in every jump that we're in the Olympic Games, you do anything it takes. And the second she said that, I realized I wanted it more."
5) Advice to high schoolers from the pros
There were several students from a local high school asking questions at the press conference and one of them asked Centrowitz, Murphy and Chelimo if they had any advice to high schoolers looking to follow in their footsteps.
Centrowitz advised younger athletes to be patient when it comes to training and racing and not feel the need to accomplish all their goals immediately. That's something that applies to Chelimo, who didn't start running until 2010 and who said that for high school runners, it's more important to train smart than it is to train hard. Murphy, who ran every distance from the 100 to the 2-mile in high school, encouraged young runners to take steps out of their comfort zone by running a variety of different races and to use those races as an opportunity to learn tactics and how to compete. It's advice Murphy kept following into college, as his international experience in the summer of 2015 (Pan Ams, NACACs, Worlds) helped him become a far better tactician than a typical 21-year-old. For examples, just look at his Olympic semifinal and final, where he ran almost no extra distance and moved up smartly to claim the bronze medal.
6) Who are the pros rooting for in the Super Bowl?
With Boston gearing up for another Patriots Super Bowl appearance next weekend, I wanted to know who the U.S.'s top runners will be rooting for in the big game. Centrowitz said that under normal circumstances he'd root for the Falcons, but said that, "I'm actually pulling for the Patriots for other reasons that I won't disclose right now." Perhaps he has some money on the game? Murphy, on the other hand, will be rooting for Atlanta because he had their quarterback, Matt Ryan, on his fantasy team this year. Before the season, Murphy was mocked for picking Ryan in the fifth round of his league's draft, but he ultimately rode Ryan's big year to the playoffs, where he was upset in the first round.
Chelimo said that didn't have a pick as he's a fan of the other football, something that ran him into trouble when he first moved to the U.S. Several years ago, some friends told him they needed a referee for a football game. Chelimo volunteered his services.
"I showed up," Chelimo said. "First thing they told me was, do you know what a snap is?"
Chelimo responded by snapping his fingers.
"I was doing it because I thought like, that's an easy question. So always when you go to an interview, you answer the simple questions really quick. So they told me what a snap is, [then] they told me to turn around, we don't want to see you back. Leave. Because they thought I was playing, but I was serious."