What a Great Pole Vault Competition: Sandi Morris Almost Wins Gold on Final Vault, Then Talk Turns to Isinbayeva's Retirement and Russian Doping Aftermath
by LetsRun.com
August 19, 2016
RIO DE JANEIRO —The women's pole vault competition was tremendous.
It came down to one jump.
Article continues below player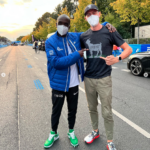 Kipchoge loves the 1:59:40 Shirt Get Yours Today
What a legend!
If America's Sandi Morris cleared her final attempt at 4.90, she was the Olympic champion. If she did not, then Greece's Ekateríni Stefanídi was the Olympic champion. US visitors watch video of the final attempt below. UK visitors can watch it here.
Sandi Morris' left thigh just barely touched the bar on the way over and barely dislodged the bar, and as a result, Stefanídi was the Olympic champ, Morris the gold medallist and 19-year-old Eliza McCartney of New Zealand the bronze medallist.
Morris described how she saw the last jump, "For a split second in the air I thought I had the gold medal and when I knocked if off I hit the mat and grabbed my head for a second. I was a little bit upset and then I hit myself in the face and was like, 'How can you bet upset with any medal at the Olympics? That is ridiculous'. It was a moment where I tasted gold and believe me it's going to light my fire and drive me to Tokyo."
While video replay showed Morris just braised the bar with her thigh, she didn't even know that. Afterwards, she said she wasn't sure what hit the bar thinking it was her ankle on the way up.
The three medallists represent a new generation in the pole vault (Stefanídi is 26 and Morris 24) as two legends, world outdoor record holder Yelena Isinbayeva of Russia and world indoor record holder and defending Olympic champ Jenn Suhr of the USA, were not on the podium. Isinbayeva, who was not competing here because of Russia's Olympic track and field ban, announced her retirement Friday before the competition started. Then Suhr, who has been battling a severe illness in Rio, went out at 4.70. Afterwards Suhr was in tears in the mixed zone. She said this is the 10th day of her illness and it got worse today. She was coughing up blood this morning according to husband/coach Rick and said she threw up twice in the competition. "I'm getting nervous. I just want to get out of here, go home and figure it out," she said.
Isinbayeva Says Champion Isn't "Fully-Fledged" Because She Wasn't Allowed to Compete
Afterwards, attention turned to Isinbayeva retiring from the sport. All three medallists praised Isinbayeva the vaulter. Morris said, "It's unfortunate she wasn't able to be out there with us. She's legendary in the pole vault world."
When the medallists were asked about Isinbayeva's comments that since she wasn't competing the winner wouldn't be a "fully-fledged" champion, they took umbrage.
Stefanídi was the most circumspect in her response saying, "I don't feel like it's an incomplete gold. What do the results say? I do feel bad for her (not being allowed to compete). And not just her, there are other good Russian pole vaulters too. Every single one of these athletes would have liked the chance to beat her. Things are how they are. There were other good athletes who couldn't compete today because of injuries or luck or whatever." When asked if the comments were disrespectful she said, "I think it is a little bit. But it was in the heat of the moment. She was upset. She has made some other comments in the heat of the moment too. It is a little upsetting to all of us because we had nothing to do with this decision. It is disrespectful and I wish she were here. I wish she were here and beat me too. I think it still would have been a great Olympics for me."
Morris's response was a little bit stronger, "I think that's disrespectful of her to say of everybody. We have all worked so hard to get to this point. I'm kind of hurt by that because I looked up to her as a kid growing up and those comments are hurtful. Regardless of her being there we put on a really great show. We jumped high and fought it out and it was exciting."
She did say, "I can understand how she can be so frustrated" but also added, "it's kind of disappointing to hear comments like that," noting the comments were disrespectful to those competing who "put on a great show for the crowd and jumped really high."
When asked by LetsRun.com if the medallists had confidence that Isinbayeva competed clean in the light of the exposed Russian doping program, all three medallists said they thought it was possible. McCartney said we'll never know for sure, but they all praised Isinbayeva's technique and speed and Morris noted she could do it clean so why couldn't Isinbayeva?
Isinbayeva fired a broadside at IAAF President Seb Coe for banning her from the Games, but her anger might be better directed towards the state-sponsored doping program of her own country.
POS
BIB
ATHLETE
COUNTRY
MARK
DETAIL
4.35
4.50
4.60
4.70
4.80
4.85
4.90
1
805
Ekateríni

STEFANÍDI

GRE

4.85

–
–
O
O
XO
XO
XXX
2
1360
Sandi

MORRIS

USA

4.85

–
O
O
XO
XO
XO
XXX
3
1076
Eliza

MCCARTNEY

NZL

4.80

NR

–
O
O
O
O
XXX
4
319
Alana

BOYD

AUS

4.80

–
O
O
XXO
XO
XXX
5
697
Holly

BRADSHAW

GBR

4.70

SB

–
O
XO
O
XXX
6
1203
Nicole

BÜCHLER

SUI

4.70

–
O
XXO
O
X-
XX
7
1375
Jennifer

SUHR

USA

4.60

–
–
XO
XXX
7
584
Yarisley

SILVA

CUB

4.60

–
O
XO
XXX
9
782
Martina

STRUTZ

GER

4.60

O
O
XXO
XXX
10
776
Lisa

RYZIH

GER

4.50

–
O
–
XXX
11
1187
Tina

ŠUTEJ

SLO

4.50

O
XO
XXX
12
465
Kelsie

AHBE

CAN

4.50

XXO
XXO
XXX