2017 New Balance Indoor Grand Prix Preview: Two Loaded 3000s, Matthew Centrowitz in the Mile and a World Record Attempt in the Women's DMR
By LetsRun.com
January 26, 2017
BOSTON — The 2017 professional indoor track & field season kicks off in earnest on Saturday in Boston with the 22nd annual New Balance Indoor Grand Prix (NBIGP). The meet serves as the first competition in the 2017 IAAF World Indoor Tour, a points competition similar to the Diamond League. The NBIGP is the only US meet in the tour that also features stops in Düsseldorf (February 1), Karlsruhe, Germany (February 4), Torun, Poland (February 10), and Birmingham, England (February 18). The series winner of each scoring event gets $20,000 and a buy into the 2018 World Indoors.
We're really excited for pro track opening day. The 3000s are the marquee races in Boston. The men's race features Olympic medallists Paul Chelimo (2nd 5k in 16), Clayton Murphy (3rd 800 in 16) and Dejen Gebremeskel (2nd in 5k in 12) plus Scot Andrew Butchart (6th in 2016 Olympic 5k) and U.S. star Eric Jenkins. 2016 Olympic silver medallist Hellen Obiri of Kenya headlines the women's event, where she'll take 2016 World Indoor medallists Sifan Hassan and Shannon Rowbury, who are now new training partners. Other names to watch include Olympic champ Matthew Centrowitz in the men's mile, Donavan Brazier vs. Duane Solomon in the 600, Lynsey Sharp in the 800, 4:00 high schooler DJ Principe in the junior mile and a world record attempt by the team of Emma Coburn, Sydney McLaughlin, Brenda Martinez and Jenny Simpson in the women's distance medley relay.
In field action, there's a terrific showdown between the last two Olympic champs in the women's pole vault, Ekaterini Stefanidi and Jenn Suhr, plus teen stars Noah Lyles and Candace Hill will both be in the 300s (Hill is racing Courtney Okolo (300) and English Gardner (60) is in the sprints.
We preview the mid-d and distance events in detail below. We'll be on-site in Boston this weekend, so check back for updates after the press conference on Friday and the meet on Saturday.
What: 2017 New Balance Indoor Grand Prix
When: Saturday, January 28, 3:20 p.m. to 6 p.m. ET
Article continues below player.
Where: Reggie Lewis Track and Athletic Center, Boston, Massachusetts
How to watch: Live on NBC Sports Network and online on NBC Sports Live Extra from 4:00 p.m. to 6:00 p.m. ET
Schedule (with links to start lists)
All LRC coverage * 2016 LRC coverage * Meet website
Distance Events
Women's 800 (4:03 p.m. ET): Lynsey Sharp faces world champ Marina Arzamasova of Belarus
| | |
| --- | --- |
| Athlete | Nat. |
| Habitam Alemu | ETH |
| Marina Arzamasova | BLR |
| Charlene Lipsey | USA |
| Lynsey Sharp | GBR |
| Yuliya Stepanova | |
| Samantha Watson | USA |
| Olicia Williams | USA |
| Marisa Turner | USA |
Lots of stuff going on in this race. Competitively, Sharp is the class of this field: she was sixth in Rio last year, running a PR of 1:57.69 in the final. We don't expect her to be in top shape this early in the year, but we don't expect the rest of the field to be, either. Arzamasova, the 2015 world champ who finished a spot behind Sharp at the Olympics, should give Sharp a serious run for her money. It's the season opener for both women, however, so it's anyone's guess as to who prevails.
Beyond the top two, you've got Ethiopian Habitam Alemu (World Indoor finalist last year) and Russian whistleblower Yuliya Stepanova. Stepanova has already run four races this season, though none were particularly impressive. She ran 2:10.32 in her only 800, in Albuquerque on January 14. Olympic Trials semifinalist Charlene Lipsey is coming off a massive mile PR last weekend (she went from 4:40 to 4:31), while high schooler Sammy Watson has a chance to run really fast. Watson, the World U20 champion last year as a 16-year-old, is a true phenom and last weekend broke the national high school record for 600 meters, running 1:28.67. The 800 mark is significantly more challenging (2:01.8 by Mary Decker in 1974), but Watson has a great shot to lower her 2:05.11 indoor PR here against the pros (she's run 2:02.91 outdoors).
LRC prediction: It's a toss-up between Sharp and Arzamasova. We'll go with Sharp. An outright PR for Watson.
Boys' Junior Mile (4:18 p.m. ET): Could we see the U.S.'s 10th sub-4:00 high school miler?
| | |
| --- | --- |
| Athlete | State |
| Brendan Balthis | DE |
| Mars Bishop | RI |
| Jack Carleo | MA |
| Nicholas Dahl | PA |
| Kyle Faddis | MA |
| Josh Hoey | PA |
| Alexander Korczynski | CT |
| Ben Kovacs | MA |
| Connor Lane | NC |
| Patrick O'Brien | NH |
| DJ Principe | RI |
Principe is obviously the guy we'll be watching, but if he's going to break 4:00, we doubt it comes in this race. Consider: Pennsylvania's Josh Hoey is the closest to Principe's 4:00.97 PR, and he's almost 10 seconds slower (4:11.90). A U.S. high schooler has only broken 4:00 indoors on three occasions, and all three times it came against professionals. As good as Principe is, it would take a Herculean effort for him to break the barrier on his own without pros to chase. We expect him to get the win, but even breaking 4:05 would be a terrific achievement in this race.
LRC prediction: Principe wins but sub-4:00 will have to wait.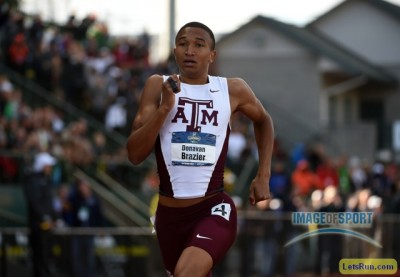 Men's 600 (4:43 p.m. ET): Donavan Brazier & Duane Solomon square off
| | |
| --- | --- |
| Athlete | Nat. |
| Donavan Brazier | USA |
| Christian Harrison | USA |
| Renny Quow | TTO |
| Duane Solomon | USA |
| Michael Stigler | USA |
| Tyrone Ross | USA |
This race offers a glimpse of past vs. future in the middle distances with 32-year-old Solomon vs. 19-year-old Brazier. The two men were briefly training partners last year in Orlando before Brazier returned to Texas A&M to train under Alleyne Francique and now they'll race each other for the first time. Both are speed-oriented 800 runners, which makes 600 a good distance for them, though we're giving the edge to Brazier. For one thing, he ran significantly faster than Solomon last year (1:43.55 to 1:45.47). For another, he's already raced this season, splitting 45.95 on a 4×400 relay last month at Texas A&M, while this is Solomon's season opener. Chances are one of those two wins it, but Renny Quow does have a 44.53 400 PR and a World Championships bronze medal (2009). However, Quow wasn't close to peak form last year (45.54 SB) and hasn't raced indoors in two years.
LRC prediction: Brazier wins it. The American record is 1:15.33, BTW. The world record is 1:14.97.
[gravityform action="

polls

" id="475″ mode="

poll

" cookie="1 month" show_results_link="false" display_results="true" percentages="true" counts="false" ajax="true"]
Women's 3000 (4:58 p.m. ET): A slugfest between Hellen Obiri, Sifan Hassan and Shannon Rowbury
| | |
| --- | --- |
| Athlete | Nat. |
| Stephanie Garcia | USA |
| Sifan Hassan | NED |
| Paige Kouba | USA |
| Kate Maltby | GBR |
| Leah O'Connor | USA |
| Hellen Obiri | KEN |
| Shannon Osika | USA |
| Shannon Rowbury | USA |
| Dominique Scott | RSA |
| Nicole Sifuentes | CAN |
| Lauren Wallace | USA |
Obiri, Hassan and Rowbury all won global medals last year, so this race should be a treat for fans. Though Rowbury's medal came in this exact event at World Indoors (Obiri took silver in the Olympic 5k while Hassan was World Indoor champion at 1500), based on past performance Obiri is the top dog here. She has medalled in the 3k twice at World Indoors (gold in 2012, silver in 2014) and her 8:20.68 PR is the fastest non-Chinese (read: legitimate) time ever outdoors. And though she's been focusing on longer events since returning from pregnancy last year, her 3:57.05 1500 PR is only a hair slower than Hassan (3:56.05) and Rowbury (3:56.29).
Obiri has also looked great in her two races this year, defeating Olympic 1500 champ Faith Kipyegon and reigning World XC champ Agnes Tirop in a 6k XC race in Italy on January 6 before hopping up to 10k and crushing Olympic marathon champ Jemima Sumgong by 28 seconds at the Kenya Defense Forces XC Champs last weekend. Hassan debuted with an 8:50 3k in Seattle on January 14, but she ran out of gas late in that race and was run down by Kate Grace, who put over three seconds on her on the final lap. This will be Rowbury's (8:31 pb outdoors) 2017 opener.
We should note that Hassan is now training with Rowbury in Portland under Alberto Salazar. Hassan isn't listed as an official member of the Nike Oregon Project yet on the team's website, but she did wear an NOP singlet two weeks ago in Seattle.
LRC prediction: Considering Hassan tried (and failed) to drop Kate Grace and only wound up running 8:50 two weeks ago, we don't think she can hang with Obiri if the Kenyan runs a time in the low 8:30s. And that figures to be Obiri's best strategy: she's preparing for World XC in March (a 10k race), so her kick may not be sharp but her strength appears to be on point. Rowbury may have a better chance to defeat Obiri than Hassan simply because we haven't seen her race yet this year.
Obiri wins, and based on her current form and past accomplishments, it may not even be close.
[gravityform action="

polls

" id="476″ mode="

poll

" cookie="1 month" show_results_link="false" display_results="true" percentages="true" counts="false" ajax="true"]
Men's 3000 (5:19 p.m. ET): What a race — U.S. Olympic medallists Clayton Murphy and Paul Chelimo do battle
| | |
| --- | --- |
| Athlete | Nat. |
| Thomas Awad | USA |
| Andrew Butchart | GBR |
| Kemoy Campbell | JAM |
| Paul Chelimo | USA |
| Dejen Gebremeskel | ETH |
| Debeli Gezmu | ETH |
| Garrett Heath | USA |
| Eric Jenkins | USA |
| Rob Mullett | GBR |
| Clayton Murphy | USA |
| Brian Shrader | USA |
| Lawi Lalang | KEN |
For decades, the U.S. struggled to medal in the mid-d/distance events at the Olympics. Then in 2016, a flood: seven medals between the men's and women's teams from the 800 through the marathon. A matchup that was once rare will become commonplace over the next few years: American mid-d/distance medallists squaring off against each other on the track. We'll get the first such matchup of 2017 on Saturday as 800 bronze medallist Clayton Murphy takes on 5k silver medallist Paul Chelimo. Their race got us to thinking: how many times have American mid-d/distance medallists faced each other on the track? Here's every such matchup we could find since 1980:
| | | | | |
| --- | --- | --- | --- | --- |
| Date | Location | Distance | Medallist #1 | Medallist #2 |
| 8/23/2012 | Lausanne | 1500m | Leo Manzano (10th, 3:34.08) | Galen Rupp (DNF) |
| 5/17/2013 | Los Angeles | 1500m | Galen Rupp (6th, 3:36.98) | Leo Manzano (8th, 3:37.04) |
| 2/8/2014 | Boston | Mile | Leo Manzano (7th, 4:04.92) | Galen Rupp (DNF) |
| 9/5/2014 | Brussels | 1500m | Galen Rupp (11th, 3:34.15) | Leo Manzano (15th, 3:42.62) |
| 9/1/2016 | Zurich | 5000m | Paul Chelimo (2nd, 13:16.51) | Evan Jager (3rd, 13:16.86) |
| 1/28/2017 | Boston | 3000m | Paul Chelimo | Clayton Murphy |
In fact, before 2012 such races were so rare that we don't know the last time it happened. As far as we can tell, the last time it happened before 2012 was when Jim Ryun and Dave Wottle squared off in 1974 (h/t to the MB posters in this thread). If you know, email us.
MB: Before 2012, when was the last time 2 American distance medallists raced each other on the track?
The fact of the matter is, there simply weren't many American mid-d/distance medallists from 1980 to 2008, and when they were, they usually didn't overlap in distance. But with Chelimo, Jager, Manzano, Murphy and Matthew Centrowitz all owning medals on the men's side (Galen Rupp's days on the track are numbered), we should see plenty of battles between them in the years to come.
What's particularly interesting about this race is that it's coming at 3000 meters. That's a natural distance for Chelimo, who was the U.S. runner-up at 3k in 2016, but it's on the longer end for Murphy. Murphy's 800 PR is 1:42.93, and history shows when you're that fast, you generally don't stray from the two-lap event too much. Consider: 37 men have run under 1:43 for 800 meters. Only 10 have even attempted a race longer than a mile, per All-Athletics. And those that do step up to 3000 meters usually find it is well beyond their range.
Complete list of sub-1:43 800 runners who have run a 3000
1. Ayanleh Souleiman, Djibouti 7:39.81i
2. Steve Cram, Great Britain 7:43.1
3. Sammy Koskei, Kenya 7:53.48
4. Sebastian Coe, Great Britain 7:54.33i
5. Clayton Murphy, USA 8:18.44i
6. Nick Symmonds, USA 8:20.42i
7. Hezekiel Sepeng, South Africa 8:21.58
8. Nijel Amos, Botswana 8:33.93
Though Murphy's current 3k PR is nothing special, there's reason to believe he's capable of a lot more. He ran that time in January 2016, his first race of the season. And at the time, he had never even won an NCAA title, let alone an Olympic medal. Not only is Murphy a far better 800 runner than he was this time a year ago, but he also proved himself an exceptional 1500 runner, winning NCAAs in that event in 3:36.38, the fastest winning time in 29 years. If you look at the list above, the 800/1500 guys (Souleiman, Cram, Coe), logically are the ones who've been able to run relatively fast at 3000. Murphy's not on their level as a 1500 runner yet, but he's definitely an 800/1500 guy. Plus, he's only 21 years old and ran three seasons of cross country at the University of Akron (he was 20th at the Great Lakes Regional in 2015). We'd bet everything we have that Murphy runs way faster than 8:18 on Saturday.
With that said, Murphy has his work cut out for him if he wants to contend in this race. Chelimo, it's worth repeating, is the Olympic silver medallist at 5000 meters. This will be his 2017 opener after a training stint in Kenya, but even if he's a little rusty, 3000 suits him way more than it does Murphy. But the fact that Murphy is event attempting to run a 3000 impresses us. If he does well here, Olympic gold medallist Matthew Centrowitz may have competition for US #1 at the 1500 in 2017. Remember, Murphy wanted to run the 1500 at USAs last year but didn't have the Olympic 'A' standard.
All of that being said, it's entirely possible that, a race with two U.S. Olympic medallists, another American is your winner. That would be Eric Jenkins, who opened his season with an impressive 2:23/3:58 1k/mile double (both wins) at the UW Preview two weeks ago. Jenkins will have some extra motivation against Chelimo, who kept him off not one, but two U.S. teams last year, most notably holding Jenkins off at the line for the final Olympic berth in the 5000 meters.
Chelimo vs. Jenkins in 2016
| | | | | |
| --- | --- | --- | --- | --- |
| Date | Location | Distance | Paul Chelimo | Eric Jenkins |
| January 22 | Portland | 3000m | 1st, 7:44.68 | 2nd, 7:45.14 |
| February 5 | Portland | 1500m | 2nd, 3:42.49 | 1st, 3:42.32 |
| March 11 | Portland (USA Indoors) | 3000m | 2nd, 7:39.00 | 3rd, 7:41.19 |
| July 9 | Eugene (Olympic Trials) | 5000m | 3rd, 13:35.92 | 4th, 13:35.98 |
Assuming Chelimo is fit, Saturday's race should be another close, exciting encounter. We also expect 2012 Olympic 5k silver medallist Dejen Gebremeskel of Ethiopia to factor significantly. He was the world leader at 3000 last year indoors (7:38.03) and has won this race three times, including the last two years. However, his competition is far stiffer this time around than it was in either 2015 or 2016. Andrew Butchart of Great Britain, sixth in the Olympic 5000 in Rio, will also be dangerous if fit.
LRC prediction: This could be the race of the night. We think it comes down to Chelimo, Jenkins and Gebremeskel. Despite the US's amazing success in Rio, when it comes to picking a winner in a pro distance race, the smart option is "normally someone born in Africa" but we'll go with Jenkins in an upset. We think 2017 is going to be big for him.
[gravityform action="

polls

" id="477″ mode="

poll

" cookie="1 month" show_results_link="false" display_results="true" percentages="true" counts="false" ajax="true"]
Women's DMR (5:35 p.m. ET): The world best should tumble to a squad of US Olympians
TEAM
USA
Emma Coburn
Sydney McLaughlin
Brenda Martinez
Jenny Simpson
NB BOSTON
Katrina Coogan
Megan Krumpoch
Olicia Williams
Cory McGee
NB EUROPE
Lisanne De Witte
Esther Guerrero
Ana Silvander
Sarah McDonald
CENTRAL PARK TC
Meg Manley
Asha Ruth
Stephanie Harrick
Rolanda Bell
Why is there a women's DMR in this meet? Here's why. Coburn, Martinez and Simpson are three of New Balance's most popular professional athletes and this is New Balance's showcase professional meet. So even though they don't generally run indoor seasons (Martinez did last year but likely only because World Indoors was in the U.S.), New Balance trots them out to Boston where they can run an odd event, set a world record* and generate positive press. From a marketing perspective, it makes perfect sense and there's no pressure on the athletes: if they fail to set the world record, nobody will remember a month from now. Plus there's the added bonus of sticking high school phenom Sydney McLaughlin (whose high school uniforms are manufactured by New Balance and who wore a New Balance jersey, shorts and spikes at the Olympic Trials last year) on the 400 leg. McLaughlin, who made the Olympics in the 400 hurdles as a 16-year-old in 2016, is already committed to the University of Kentucky next year but would be an attractive candidate for a pro deal. Setting a world record with three of their biggest stars would give New Balance a nice leg up in the race to win McLaughlin's services.
The downside for fans is that this is a race in name only. Team USA is stacked, and it will be them against the clock for the world record, with the three other squads battling it out for second. So can they do it?
*Officially, the IAAF recognizes the DMR as a world record event (current WR: 10:36.50), but not the indoor DMR specifically (current best: 10:42.57, set at this meet two years ago). So if Team USA runs 10:40, it will count as a "world best" for the indoor DMR, whereas if they were to run 10:35 it would count as a world record (since it doesn't matter if the WR is set indoors or outdoors).
Here are the two marks Team USA will be shooting for, broken down by leg:
| | | | | | |
| --- | --- | --- | --- | --- | --- |
| | 1200 | 400 | 800 | 1600 | Total time |
| World indoor best | 3:15.54 (Sarah Brown) | 53.59 (Mahagony Jones) | 2:05.68 (Megan Krumpoch) | 4:27.77 (Brenda Martinez) | 10:42.57 |
| World record | 3:18.38 (Treniere Moser) | 50.12 (Sanya Richards-Ross) | 2:00.08 (Ajee Wilson) | 4:27.92 (Shannon Rowbury) | 10:36.50 |
Now let's estimate what each woman could run for each leg on Saturday. Coburn's 1500 PR is 4:05.10. That's 3:16.08 pace for 1200. Even though it's 1200 is shorter than 1500, we have to factor in that Coburn will be running indoors and isn't in 1500 PR shape. So let's give her a 3:17. McLaughlin's indoor 400 PR is 51.84 from last year. Let's give her a 52 with a running start. Martinez ran 2:00.14 last year indoors, so let's say 2:01.5 for her. Simpson's mile PR is 4:22, and while we doubt she's in that kind of shape right now, we think Simpson coming off an Olympic bronze is capable of running faster than Martinez did two years ago. So let's say 4:26 for Simpson (that's equivalent to just a 4:07.8 1500). 3:17+52+2:01.5+4:26= 10:36.5, which conveniently is the WR. Even if we were a bit optimistic in our projection, the quartet should have no problem breaking the world indoor best. The more interesting question is whether they can get the world record. If our math is right, it should be close. And if it's close, we think Simpson will get it.
LRC prediction: The world indoor best goes down for sure. The WR is a tall order as they won't have much competition and because of that our initial thought was "No way do they get the WR" but then we realized that Martinez and Simpson are both very good at running their own races so maybe the lack of competition won't hurt them as much. If Coburn breaks 3:18, we think they get it.
Men's mile (5:52 p.m. ET): Matthew Centrowitz should cruise, Ben True hopes to sharpen his tactics
| | |
| --- | --- |
| Athlete | Nat. |
| Guillaume Adam | FRA |
| Matthew Centrowitz | USA |
| Hagos Gebrhiwet | ETH |
| Vincent Kibet | KEN |
| Chad Noelle | USA |
| Cristian Soratos | USA |
| David Torrence | PER |
| Ben True | USA |
| Jake Wightman | GBR |
| Samuel Ellison | USA |
As an Olympic gold medallist, Centrowitz is going to get top billing at almost every meet he enters in the United States, and as a result, meet organizers have elected to make the mile the final event here. Centro shouldn't have much trouble with this field as the best guys in it aren't milers. Hagos Gebrhiwet was an Olympic bronze medallist at 5000 meters last year, but per All-Athletics, this will be his first race shorter than 3000 meters. Ben True ran 3:36 last year, but his best distance is 5000. David Torrence ran 3:34 in 2016 and Vincent Kibet was third at this meet and seventh at World Indoors, but neither of them are in Centro's class as milers. Centro cruised to a 7:49 3k in Seattle two weeks ago in his 2017 opener and has been almost untouchable indoors since the start of 2015, winning 11 of his 12 races. He has the closing speed of an Olympic champ and is a better tactician than anyone in this field. He's not losing this race.
We're interested to see how True fares here. The 31-year-old was a cross country skier in college and as a result didn't run an indoor race until his fifth year at Dartmouth in 2009. He quickly grew to dislike the indoor track, however. As a bigger guy with a long stride, True found himself feeling tight and unnatural indoors, in particular when he ran on banked tracks. As a result, he hasn't raced indoors since 2010 and said it's been about four years since he's stepped foot on a banked track. But his return indoors is less seven-year itch and more a desire to improve tactically. By running in Boston and in the 3k two weeks from now at the Millrose Games, True hopes to gain experience navigating the close quarters of the 200-meter oval, which should serve him well once he transitions to the larger outdoor track.
In addition, his return indoors was driven in part by his experiences the past two winters. In 2015, he trained in Boulder to prepare for the U.S. Cross Country Championships but didn't respond well and finished 11th after taking 6th at World XC just two years earlier. Last year, True planned to run the NYC Half in March, but after increasing the volume of his hard days, he developed a left leg injury, which he says was likely related to that bump in intensity. True's coach and agent had lobbied for him to do indoor track last year to work on his speed and tactics, and he felt it made sense to pursue that route in 2017. USAs and World XC are both at moderate altitude this year, so True ruled those out, and he didn't want to run the long, grinding sessions that contributed to his injury last winter (he's also replaced some of his doubles with sessions on the stationary bike in an effort to keep his legs fresher). That left the track.
True, who recently returned from a warm-weather training stint in Arizona, said when it comes to a goal for this weekend, he's just trying to "see how my body goes on a 200-meter banked track." But he's also hoping to hone his tactics, and he'll get the chance to do so against one of the best in the business in Centrowitz.
"It'll be good," True told LetsRun.com over the phone on Monday. "Hopefully I'll be able to learn something from him. I know indoor track is much more tactical, makes it much harder to pass so hopefully I'll be able to learn some tips from him."
LRC prediction: Centrowitz cruises to the win and crushes a world-leading time.
[gravityform action="

polls

" id="478″ mode="

poll

" cookie="1 month" show_results_link="false" display_results="true" percentages="true" counts="false" ajax="true"]
PS. What about the sport? An LRC staffer was on the phone with a friend when it came out that Matthew Centrowtiz was going to run the 2-mile at Millrose on February 11. We mentioned it to our friend and he couldn't believe it. He said, "People wonder why the sport isn't more popular. The first US Olympic 1500 champion in 108 years should run the Wanamaker Mile under the lights in NYC". We agree. Imagine how much better for the fans it would be if Centrowitz's race selection was reversed and he was running the longer event (3000) this week against the fellow Olympic medallists Chelimo, Gebremeskel and Murphy and then the mile in NY.
Of course, we can't fault Centrowitz too much. If anyone is deserving of the Mo Farah treatment for race selection, it's him.