Unbelievable: Kenenisa Bekele Falls at Start, Gets Injured, and Later Drops Out of the Dubai Marathon
by LetsRun.com
January 19, 2017
The biggest development at the Standard Chartered Dubai Marathon, the world's richest prize money marathon, happened at the start. Kenenisa Bekele, the world record holder at 5,000m and 10,000m and the second fastest man in a record eligible marathon, fell. Bekele's fall was not picked up on the race broadcast, but the runners were not given an advance countdown and were crammed close together with the entire field right up on the professional runners.
After the race, Bekele's manager Jos Hermens said that Bekele's arm was bloodied in the fall and he injured his calf, but the details were not totally known. To viewers watching the race on tv, there was no evidence early on Bekele was injured as the fall wasn't shown and because he soon caught the leaders and they were on a suicidal pace. Some members of the Sub-2 Hour project did, however, film the start and Bekele getting trampled which you can see here.
Unofficial footage from the Dubai marathon. Incident involving Bekele at the start resulting in a hard fall. Updates to follow. pic.twitter.com/5ElKCtPYEF

— Sub2hrsmarathon (@Sub2hrs) January 20, 2017
Article continues below player

Bekele and the leading pack started out the first 5k (14:26) very fast, perhaps too fast, as they were on 2:01:48 pace in 69 degree weather.
By 10k (28:58) Bekele was 5 seconds back of the leaders, but they were still on world record pace. At 15k he was 36 back of the leaders and no longer on world record pace, although the leaders were still on world record pace.
Bekele was clearly slowing and he'd reach halfway in 1:02:48 and soon after drop out grabbing his left calf. He's still scheduled to run the Virgin London Marathon in April.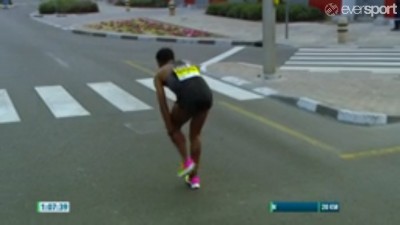 Olympic 10,000-meter bronze medallist Tamirat Tola of Ethiopia won the race in 2:04:10 by an amazing 2 minutes and 36 seconds as the rest of the field fell apart due to the fast opening pace. (Full race recap here: 2017 Dubai Men's Recap: Olympic 10K Bronze Medallist Tamirat Tola Runs 2:04:11 CR (#9 All-Time) as Kenenisa Bekele Drops Out and Everyone Else Blows Up)
Top 10 Results
Men's Race Result #DubaiMarathon pic.twitter.com/LkcuDPAYtG

— René Kalmer (@ReneKalmer) January 20, 2017
Quick Thought on Bekele: If Bekele isn't hurt in the long term, then this race means close nothing to us in terms of Bekele moving forward as the conditions weren't suitable for a fast time and he fell at the start. If Bekele is healthy, then this tweet by Brett Larner sums up our feelings perfectly.
A good tempo run for London. https://t.co/RoilO4PjBx

— Japan Running News (@JRNHeadlines) January 20, 2017
There's nothing wrong with running a 62:48 half marathon before your major marathon goal (2017 London).
Given the fact that Bekele has struggled with Achilles issues in the past, the fact that Bekele was grabbing his lower left leg when he dropped out was a major worry when he initially dropped out, but the fact that we later learned that he fell at the start makes us feel a little bitter. A short-term injury won't hurt him for London – heck dropping out might even help him as he's not spent from a marathon – but a long-term one is a concern.
Update: Bekele has issued a statement
Bekele's thoughts of today's race. Although he could not finish, he is determined to be back in good shape in @LondonMarathon in April! pic.twitter.com/6fEoV5yHgy

— Global Sports Comm (@GlobalSportsCom) January 20, 2017
Marathon fans are left to wonder what if Bekele hadn't fallen. While we think the conditions were too hot for a world record, Bekele's manager Jos Hermens disagreed after the race on the broadcast. He said with the cloud cover and lower than expected temperatures compared to from earlier in the week they were "perfect conditions." We totally disagree. He noted that Bekele is a much better marathoner than Tola. That was true in the past for sure. Hermens said on the broadcast, "Kenenisa is not one to bluff and say I'll do it (break the world record), unless he can do it."
Hermens on the fall. The tweet below has some of Hermens interview from the post-race broadcast:
https://twitter.com/BrendaCalis/status/822308511560318976
Update: Photo of Fall with Bekele on Ground
by Giancarlo Colombo Sent by Pat Butcher
(click to enlarge)
Picture of Start (We believe Bekele is in mid-fall directly to the right of Amos Kipruto, the runner in the black and white adidas singlet)
Full race recap here: 2017 Dubai Men's Recap: Olympic 10K Bronze Medallist Tamirat Tola Runs 2:04:11 CR (#9 All-Time) as Kenenisa Bekele Drops Out and Everyone Else Blows Up
*RESULTS: 2017 Dubai Marathon Results