Worknesh Degefa's Marathon Debut is a Huge Success as She Runs 2:22:36 to Win $200,000 in Dubai
by LetsRun.com
January 20, 2017
Worknesh Degefa's marathon debut was a rousing success as she ran 2:22:36 to win the 2017 Standard Chartered Dubai Marathon and $200,000, the largest first-place prize in the sport.
Degefa was one of the world's best half-marathoners prior to her debut in Dubai (66:14 pb, #8 all-time) and now she's one of the best marathoners, but her victory here was not an easy one.
Article continues below player
Nine Ethiopian women hit halfway in 1:11:06 under cloudy conditions and 69-degree weather. By 25k (15.5 miles), the lead pack was down to seven. By 30k it was a two-woman race as Degefa and Shure Demise (Ware) (2:20:59 pb, two-time defending Toronto champ) had separated from the rest of the women after running the fastest 5k split of the day – 16:35 from 25k to 30km.
They had two male pacers in front of them and one behind. Degefa broke away from Demise between 30 and 35km, opening up a 23-second lead (16:50 5k for Degefa). Four and a half miles separated her from the largest prize in marathoning.
Four and a half miles is a long way in the marathon, especially a debut, and Degefa began to slow even more. She ran 35k to 40k in 17:24 and Demise cut the deficit from 23 seconds to 10. Would Degefa fall apart the final 2km or would she be able to rally?
Rally was the answer as she managed to cover the final 2.1k at 17:02 5k pace, enough to give her a 22-second victory over Demise as Ethiopians swept the top nine places.
That made the Ethiopian-heavy crowd at the finish very happy.
Quick Take #1: Worknesh Degefa is going to be a very good marathoner
We were excited to see what Degefa, who had won several high-profile half marathons and has broken 69:00 13 times in her career, could do today and she didn't disappoint with a terrific victory that will help her bank account as well as her profile. It's unusual for someone to run as many half marathons as Degefa had (23) without making a marathon debut, but the 26-year-old's career has gone very well to this point, so perhaps she was right to avoid rushing into the distance. Now she's got one big payday in her pocket and as a 2:22 marathoner/Dubai champ, she's likely to command a nice appearance fee from her next marathon.
Quick Take #2: A great day for coach Gemedu Dedefo, whose stable of elite marathoners grows even deeper
Last year, Dedefo's athletes (Lemi Berhanu Hayle and Atsede Baysa) swept the victories at the Boston Marathon and he picked up another sweep today in Dubai with two different runners as Degefa and men's winner Tamirat Tola are both coached by him. As the coach of many of Ethiopia's top talents, Dedefo has has plenty of success in Dubai over the years. His athletes also swept the titles in 2015 (Hayle and Aselefech Mergia), claimed the men's crown in 2014 (Tsegaye Mekonnen) and the women's title in 2013 (Tirfi Tsegaye).
Dubai Women's Results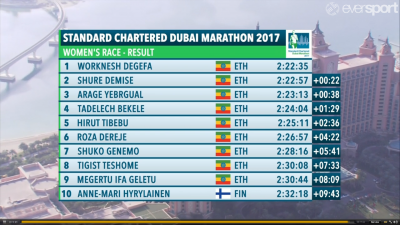 1 Degefa Debele, Worknesh (ETH) 2:22:36
2 Demise Ware, Shure (ETH) 2:22:57
3 Melese Arage, Yebrgual (ETH) 2:23:13
4 Bekele Alemu, Tadelech (ETH) 2:24:04
5 Tibebu Damte, Hirut (ETH) 2:25:12
6 Dereje Bekele, Roza (ETH) 2:26:58
7 Genemo Wote, Shuko (ETH) 2:28:16
8 Teshome Ayanu, Tigist (ETH) 2:30:09
9 Ifa Geletu, Megertu (ETH) 2:30:45
10 Hyrylainen, Anne-Mari (FIN) 2:32:19
11 Utura Gedo, Sule (ETH) 2:37:27
12 Lobacevske, Diana (LTU) 2:44:20
13 Aga Sora, Ruti (ETH) 2:46:16
More: LRC 2017 Dubai Men's Recap: Olympic 10K Bronze Medallist Tamirat Tola Runs 2:04:11 CR (#9 All-Time) as Kenenisa Bekele Drops Out and Everyone Else Blows Up