The Week That Was In Running – August 29 – September 4, 2016
Past editions of The Week That Was can be found here. Questions or comments? Please email us or post them on our fan forum.
The week was highlighted by the Zurich Weltklasse Meet where American Shannon Rowbury won the Diamond League finale in the 1500, Evan Jager went for it in the 5000m, Caster Semenya kept winning, and Elaine Thompson, Allyson Felix, and Dafne Schippers clashed at 200m. We don't discuss Zurich below (click here for everything Zurich), but we do start off talking about the other big event of the week, the 5th Avenue Mile.
Last week also saw the final track race in the amazing career of Bernard Lagat. We recapped that here: LRC Bernard Lagat Has Run His Final Track Race – What an Amazing Career it Was .
******
Putting The 5th Avenue Mile Times In Perspective
In case you were doing something fun with your family on Saturday during the Labor Day weekend and missed it, the 2016 New Balance 5th Avenue Mile produced two thrilling race in New York as Jenny Simpson narrowly won the women's race and Eric Jenkins the men's race.
The winning times – 3:49.4 for the men and 4:18.3 for the women – were fast. That makes sense given the fact that the NYRR offered $1000 to whoever was in the lead at halfway (assuming they still broke 4:00 and 4:32) and the fact that T-Mobile CEO and track fan extraordinaire John Legere offered $5,000 to anyone breaking 3:50 or 4:20.
Article continues below player
But please don't walk around town thinking now that Eric Jenkins is a 3:49 miler or that Colby Alexander, who was third in 3:50.3, is a 3:50 guy. What many casual fans don't seem to understand is that the times were also fast because the course is both downhill (and downwind). The downhill nature of the course is the biggest aid.
Overall, David Monti told us the course is a net 27 feet downhill (there is some uphill but overall it's -27 feet). How much does that help your time? A lot.
LetsRun.com stat/coaching guru John Kellogg famously came up with the rule that for every 10 feet in elevation drop you gain 1.8 seconds (we think it's accurate having run the old downhill Las Vegas Marathon). So according to that formula, the times were aided by 4.9 seconds but Mr. Kellogg wanted to make it clear that he's only tested his formula for a marathon-type effort. "I don't know what the numbers are for a mile. I haven't looked into that," said Kellogg who added that at milespeeds, you are probably going to get yourself in the hole on the uphill more but you might also benefit more from that speed on the downhill.
"I don't know what the numbers are for a mile. I haven't looked into that," said Kellogg, who added that at mile speed, you are probably going to get yourself in the hole on the uphill more but you might also benefit more from that speed on the downhill.
We think it's safe to say the elevation drop is worth at least 4 seconds.
There's no way that 7 of the top 10 finishers ran big seasonal bests in their last meet of the year without assistance.
| | | |
| --- | --- | --- |
| Men's Top 5 | 5th Ave Time | Previous SB* |
| 1. Eric Jenkins, 24, Nike Oregon Project | 3:49.4 | 3:53.3 |
| 2. Matthew Centrowitz, 26, Nike Oregon Project | 3:49.5 | 3:50.7i |
| 3. Colby Alexander, 25, HOKA/NJ-NY Track Club | 3:50.3 | 3:52.2 |
| 4. Clayton Murphy, 21, Nike | 3:52.3 | 3:53.6 |
| 5. Charles Philibert-Thiboutot, 25, Asics (CAN) | 3:52.5 | 3:51.5 |
| Women's Top 5 | Time | Previous Best SB* |
| 1. Jenny Simpson, 30, New Balance | 4:18.3 | 4:17.3 |
| 2. Laura Muir, 23, Nike (GBR) | 4:18.4 | 4:14.1 |
| 3. Heather Kampf, 29, Asics/Team USA Minnesota | 4:19.7 | 4:24.1 |
| 4. Amanda Eccleston, 26, Brooks | 4:20.6 | 4:22.8 |
| 5. Kate Grace, 27, Oiselle/NorCal Dist. Proj. | 4:22.7 | 4:25.4 |
*We looked at each runner's seasonal best at 1500/mile and converted it to a mile using the 1.0802 conversion if it was a 1500 time.
Additionally, the runners also likely had a tailwind. Weather Underground indicates when the men's gun was fired at 1:30 p.m. there was a wind out of the NE at 8 mph which would be a diagonal direct tail wind (course runs northeast to southwest). Now how much of that was at ground level and not blocked by the buildings is anyone's guess. And of course, not having to turn is an advantage that makes things faster as well (maybe counteracted by not getting to wear spikes).
In the end, all we are asking you to understand is the times are definitely aided at the 5th Avenue Mile. Back in 1995, Spain's Isaac Viciosa ran a 3:47.8 at 5th Avenue. That's equivalent to a 3:30.9 1500. His PR at the time was just 3:34.75.
But go ahead and believe the times are 'real' if you want, as in 1998 Viciosa did run a 3:30.94 pb.
Update: A messageboarder doesn't believe us and has started a thread, wanting to believe the fast times were not aided: MB: GIVE THOSE 5th AVE GUYS CREDIT!!
###
In looking at the 5th Avenue results, we were wondering if Kate Grace, who was 5th, should stay focused on the 800. This year, at the Olympics, she was 8th in the world at the distance and #1 in the US. Will she ever be top 8 in the world in the 1500? It's certainly possible but not a guarantee. We'd agree that her odds of being #1 in the world are better at 1500 than 800 but it's a tall order to even make the US 1500 team with Jenny Simpson and Shannon Rowbury as virtual locks. Then again, the odds of Kate making the US Olympic team at 800m were a tall order this year and she ended up winning the Trials and making the Olympic final.
More: LRC Eric Jenkins (3:49.4) & Jenny Simpson (4:18.3) Win Fast, Thrilling Races at 2016 New Balance Fifth Avenue Mile 
****
The Most Disturbing Quote of The Week
In case you missed it, during the Olympics Gary Cohen published a lengthy Q&A with former world record holder Henry Rono – Q&A With Henry Rono – who in the span of 81 days in 1978 while at Washington State broke four world records (3000, steeple, 5000 and 10,000). We highly recommend you read the Q&A if you haven't already done so. There are a lot of great quotes in the interview but the following excerpt blew us away.
Question:  Since you were already a good distance runner upon your arrival in the United States, what effect did Coach John Chaplin have on your adjustment to a new country?
Answer: I had a formula for training before coming to college at WSU, but I didn't have basic education. However, I didn't understand the English well and know what coach was saying. All I heard was yelling and cursing words out of his mouth calling names. 'Son of a beach' and 'F U'- those words were his common words towards me, so I became guilty for no reason. But the good thing was he would give me $20. The Cougar Cottage is a few hundred yards close by. Pretty soon I'm back with a large pitcher, while waiting for Samson Kimombwa to come by. Beers in those days were not that expensive, so $20 could last me few days before I received another $20 from Coach. I'm a happy person and never curse or swear. There are no bad words coming out of my mouth even up to now and I' m known as a humble person. I never quarrel or fight with anyone. So I think being the way I was – in America you became valueless. That's why my coach thought I might not survive in America because he thought you have to be a jerk to make it here in this country. My discipline of running is to be a nice good hearted person…
So there you have it. Rono says he was brought over here when he could barely understand English, was cursed out by his coach at Washington State, John Chaplin, who according to Rono told him you have to be a jerk to survive here, only to be given $20 regularly so he could placate himself with alcohol (he later became an alcoholic). Rono does give Chaplin credit for being the one who helped him get a green card.
The Q&A has another fascinating tidbit about Chaplin, who went on to become a Nike consultant and was accused by some of pro-Nike decisions as chair of USATF's Men's Track & Field Committee. When Chaplin was coaching at Washington State, Rono says Chaplin went out of his way to make sure that Rono set zero of his world records at Hayward Field – the symbolic home of Nike.
Rono wrote:
"Earlier at the NCAA meet my coach pulled me away from competing in 10,000 meters because he knew I will break the World Record in the event but he didn't want the people of that stadium or Oregon to be honored with my good performances. He did it earlier in the season in the same Stadium pulling me off the track. I took my World Record in the steeplechase to Seattle Washington on May 13, 1978. That was my second World Record, but while I was planning my third World Record in June at the NCAA meet, he refused me to let me race and do it in the meet. So I took the World Record effort to Europe two weeks later."
*****
Email of The Week / Free PR Advice for Mo Farah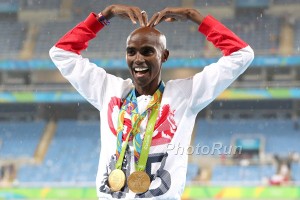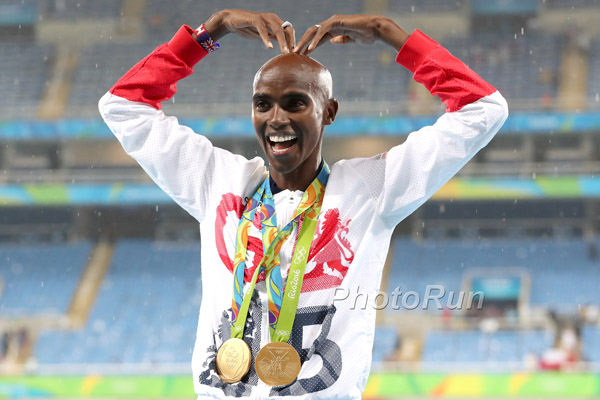 Last week, we published a piece to let our readers learn about what we learned from actually being in Rio – the few things that you had to be at the press conferences to glean. The uncomfortable and some would say misleading way that Mo Farah answered questions about Jama Aden definitely caught our attention: LRC What You Missed Not Being There: Mo Farah Doesn't Like Answering Questions About Jama Aden and SAFP Doesn't Like Taking Questions About Usain Bolt.
After reading the piece, LetsRun.com visitor Seth Green, a Kenenisa Bekele fan and previous correspondent on Kenyan boasting, wrote in with a great email on how he wishes Mo Farah had replied to the questions. We've reprinted it below.
Hi letsrun,
Long-time reader here. I liked your article about Mo Farah not wanting to talk about Jama Aden. It inspired me to write something up about what I wish he would say regarding the allegations. Perhaps you'll enjoy.
"Yes, I have been wondering when this would come up. I've been sad to learn that my acquaintance is probably involved in distributing performance-enhancing drugs. I don't stand for that. I don't want to be too hasty to say anything more definitive, at least partly for liability reasons. Lance Armstrong going after his accusers in court set a very frightening precedent, and as you know, British libel laws are unusually punitive.
Having said that, here is my take on Aden and Salazar. I know Aden somewhat well. I found him personable, and we've had dinner together a few times. I would not say we are friends. It's a small sport. I've had personal contact with most if not all of the usual suspects of distance coaches. It looks like he is probably involved with PEDs. I never saw any evidence of that myself in the time I spent with him, but then, would I? If you're a coach, being associated with me and my brand is status-enhancing. That's just the way it is. So if you were Aden, there's no way you'd let someone like me see the inner workings of your camp, if there were things you wanted to hide, because you'd know that I'd either leave immediately or potentially out you to the authorities. So naturally someone like Aden would be cautious around me.
I've been working with Salazar for about five years now. I have never in that time used any performance enhancing drugs, nor have I seen any evidence of his other athletes using steroids in my time with the training group. I'm happy to testify to either of those propositions under oath with potential criminal penalties if I'm proven to have been lying. 
My belief is that Salazar is probably innocent of all charges. I think he consistently looks for edges in unexpected places, like switching out Galen's hats in the marathon. When some of those bets pan out, some people resent that his athletes got an advantage doing something they hadn't thought of. A lot of his critics acknowledge that the practices they dislike are not banned, but the critics think they should be. But that's not really germane to whether he broke the rules, which is what we're really discussing. I know the man. He is more neurotic about protocol than anyone I've ever met. That's why I joined his group in the first place. In my experience, he is also neurotic about following the exact letter of the law. So I don't think any of his gamesmanship ever crossed the line. But if what people object to is his gamesmanship, I'd just want to remind them that, after all, track and field is a game. We play to win, within the rules. That's what makes it a game.
I also know that my personal testimony, that I have never doped, isn't worth much. Whether an athlete dopes or not, it's obviously savvy to say they haven't doped. What we need is a system of costly signals. That's why I offered to testify under oath. I would personally favor contracts that stipulated that athletes would, if caught doping, pay back all of their earnings to the company that sponsored them and the races that paid them, and then dip into their personal accounts to donate extra money to, say, a hated group or disliked political party. I am borrowing this idea from a website called stickk.com, which sets such contracts up.
But until we've set that system up, all we have is people testifying that they haven't doped, and all we can do is judge athletes based on the credibility of their responses. To do that, we need journalists asking hard questions, like you. Thank you for your service, and I hope you and your peers ask similarly hard questions to all the athletes you interview. 
Next question?"
****
Quotes of the Week (that weren't quote of the day)
#1 We give him an A+ for effort. 
"I just came up 100 meters short, which is brutal, but I'm happy with how I raced for sure."
-steeplechaser Evan Jager talking to Race Results Weekly after going out hard and nearly stealing the 5000 in Diamond League finale in Zurich, where he ended up third. Not bad since the race contained the guys who crossed the line 2-3-4-5-6 at the Olympics in the 5000.
More: Full 2016 Zurich DL Coverage
#2 It's official, the world is corrupt
"I represented my country for a long time but if I can't compete like I used to compete, because they've brought in people who are not like me in terms of disability, what's the point?"
-2012 British Paralympic silver medallist Bethany Woodward, talking to The Guardian about why she has quit competing rather than compete for the UK at the 2016 Paralympics. She's accused the UK governing body of purposely falsifying people's classifications so they can win medals.
More: Paralympian withdraws from Team GB over UKA classification concerns
*****
Ruth Jebet's Magnificent Year
If you missed our recap of the first of the two IAAF Diamond League finales in Zurich, please catch up now: Full 2016 Zurich DL Coverage
Zurich marked the end of a simply brilliant 2016 campaign for Ruth Jebet. 
Coming into 2016, a grand total of one time had anyone broken 9:00 in the women's steeple. Ruth Jebet did it three times this year, including the one time when she destroyed the world record by 6.03 seconds when she ran 8:52.78 in Paris.
The Ten Fastest Women's Steeples In History (via alltime-athletics.com)
        1      8:52.78    Ruth Jebet                     BRN     17.11.96    1      Saint-Denis                 27.08.2016


        2      8:58.81    Gulnara Galkina                RUS     09.07.78    1      Beijing                     17.08.2008


        3      8:59.75    Ruth Jebet                     BRN     17.11.96    1      Rio de Janeiro              15.08.2016
        4      8:59.97    Ruth Jebet                     BRN     17.11.96    1      Eugene                      28.05.2016
        5      9:00.01    Hyvin Jepkemoi                 KEN     13.01.92    2      Eugene                      28.05.2016


        6      9:01.59    Gulnara Galkina                RUS     09.07.78    1      Iráklio                     04.07.2004


        7      9:01.96    Hyvin Jepkemoi                 KEN     13.01.92    2      Saint-Denis                 27.08.2016


        8      9:05.36    Habiba Ghribi                  TUN     09.04.84    1      Bruxelles                   11.09.2015
        9      9:06.57    Yekaterina Volkova             RUS     16.02.78    1      Osaka                       27.08.2007
       

 10     9:07.00    Ruth Jebet                     BRN     17.11.96    1      Zürich                      01.09.2016
****
Stat of the Week I
1 – number of days that passed after Olympic 1500m champ Faith Kipyegon's father pleaded with the President of Kenya to connect his village to the electrical grid that work began to do just that.
Last week, the work was successfully completed and everyone in the village, including Faith's dad, was quite happy.
"I only thank God for giving me such a wonderful daughter who has transformed our village and I pray to God to give her strength and good health so that she could win more medals for Kenya," said Mr. Kipyegon to the Daily Nation. A neighbor, Mr. Benard Lang'at (not the American record holder at 5000), was thrilled as well, "We thank Faith for delivering us from the powers of darkness because as long as we live we shall remember her and the gold she won because today our village has been connected to power because of her sterling performance at the Olympic Games."
More: Faith Chepng'etich's Olympic win triggers electricity supply to her village
****
Stat of the Week II
1 – the number of gold medals won by the Muslim American Dalilah Muhammad. During the Olympics much was made of the fact that US fencer Ibtihaj Muhammad was Muslim as she competed in a hijab. But US 400 hurdler Dalilah Muhammad won 400h gold and next to nothing was said about her faith – even though her father is an imam in Queens. Kudos to Sarah Barker for helping spread the word about Muhammad.
Blessed to share this moment with my sister and Olympic Champion @DalilahMuhammad !! #TeamUSA🇺🇸🏅🏅 pic.twitter.com/MRoOqwMgju

— Ibtihaj Muhammad (@IbtihajMuhammad) August 20, 2016
More: Dalilah Muhammad Covers Herself In Gold
****
Stat of the Week III
0 – number of Diack family members that spoke to Japanese investigators investigating whether the Tokyo 2020 organizers paid a $2.3 million bribe to a consultant with ties to Papa Diack, son of former IAAF head Lamine Diack. Somehow the Japanese have said that the $2.3 million payment most definitely wasn't a bribe, it was a legitimate fee for consulting.
We have little faith in that conclusion ourselves as the Japanese report also said there was no way that the Japanese could have been aware of the fact that the consultant was very good friends with Papa Diack. Considering the consultant named his son after Papa Diack in 2014 and the Games were awarded in 2013, we find that extremely hard to believe. Only an idiot paying $2 million to a consultant wouldn't know he was great friends with the son of the head of the track federation.
We imagine the consultant would be bragging about those type of connections and that's the whole reason why you would pay him $2.3 million.
More: Japanese Olympic Committee clears Tokyo bid leaders of illegal activity
****
Odds and Ends
Kudos to Arkansas resident Dominique Scott of South Africa for destroying the Oklahoma road 5k record of 16:06 by running 15:36 at the Gateway Mortgage Brookhaven Run 5-K in Norman on Saturday. She picked up $2,500 for her effort.
Since Scott isn't a US citizen (though she's married to an American), she isn't eligible for the US road circuit and couldn't compete at the US 20k champs which were held at the Faxon Law New Haven Road Race. Given the fact that Scott is an Olympian and was born in Africa, we imagine she'd have done quite well as African-born runners went 1-2 on the men's side and won the women's race.
Top 10 Men's Results at 2016 US 20k Champs (Via RRW)
1. Leonard Korir, Colorado Springs, CO     59:15  $10,000
2. Sam Chelanga, Tucson, AZ                59:16    4,000
3. Christopher Landry, Charlotte, NC       59:24    2,000
4. Elkanah Kibet, Fayetteville, NC         59:25    1,400
5. Timothy Ritchie, Brighton, MA           59:29    1,000
6. Diego Estrada, Superior, CO             59:44      700
7. Jim Spisak, Woonsocket, RI            1:00:04      500
8. Shadrack Biwott, Mammoth Lakes, CA    1:00:10      400
9. Ridouane Harroufi, Fort Collins, CO   1:00:13
10. Luke Puskedra, Eugene, OR             1:00:14
Top 10 Women's Results at 2016 US 20k Champs (Via RRW)
1. Aliphine Tuliamuk, Santa Fe, NM       1:05:47  $10,000
2. Emily Sisson, Providence, RI          1:06:03    4,000
3. Brianne Nelson, Golden, CO            1:07:53    2,000
4. Lindsey Scherf, High Falls, NY        1:08:08    1,400
5. Maddie Van Beek, Fargo, ND            1:08:30    1,000
6. Sarah Crouch, Lexington, KY           1:09:06      700
7. Semehar Tesfaye, Everett, MA          1:09:23      500
8. Kelsey Bruce, Dallas, TX              1:09:34      400
9. Alia Gray, Boulder, CO                1:09:57
10. Tara Welling, Portland, OR            1:11:48
Do you want detailed results like that for every major road race sent to your inbox? Subscribe to Race Results Weekly for only $1.50 per issue.
###
Speaking of South Africa and Arkansas. Scott may have graduated but Arkansas has a new South African runner in Carina Viljoen, who won her first cross country race of the year s at Oklahoma State last weekend. In 2013, at the age of 16, she ran 4:28.42 for 1500 but hasn't improved on that since.
****
Recommended Reads
Olympic 400H Champ Dalilah Muhammad Is A True Symbol Of Progress For Muslim Women
LRC Bernard Lagat Has Run His Final Track Race – What an Amazing Career it Was
Wayde Van Niekerk Says It's Still "Unreal" To Him That He's The WR Holder
34-Year-Old Singapore 10-Minute Steepler Quits His Job As A PE Teacher To Train
Ashton Eaton Ponders Life After Retirement From Track And Field
Former Aussie Paralympian Pentathlete Don Elgin: "I don't live a politically correct life. I think society is getting a bit soft."
Leaders of 17 national anti-doping organizations meet in Copenhagen and demand Wada overhaul with clean sport 'at crossroads'
Previous Recommended Reads from other weeks can be found here.