Shannon Rowbury Wins 2016 Diamond League 1500 Finale at Weltklasse Zürich Meeting
by LetsRun.com
September 1, 2016

Shannon Rowbury does not have a medal from Rio, where she finished an agonizing 4th, but she got a nice consolation prize tonight by winning the stacked Diamond League 1500m final in 3:57.78, edging Diamond League champion Laura Muir at the line.
The Race
Splits:400m 62.59 800m 1:08.10  1200m 3:11.28
Last 3 laps (leader to leader) 65.72, 64.00, 62.05
Muir showed five days ago in Paris that it is possible to run fast off a moderate opening pace (she ran 3:55 off an opening 800 of 2:09) and the plan today was for the women to hit 800 in 2:08 and then see what happened from there.
Jenny Meadows took the field out in 62.59 and was followed by Muir, Olympic champion Faith Kipyegon, Rowbury and Olympic bronze medallist Jenny Simpson of the US.
Meadows hit 800 in 2:08.10 with the same women behind her. When Meadows dropped out, the other women, unlike in Paris, were not willing to let Muir go. They stayed right on her heels and with 500m to go Kipyegon took the lead from Muir. Kipyegon hit the bell in 2:55.73 and needed to finish ahead of Muir to guarantee she'd win the $40,000 Diamond League title.
Article continues below player.
Kipyegon led around the final turn with Muir behind her, followed by Rowbury and Simpson. Coming off the turn Muir went by Kipyegon and took the lead. Muir powered towards the line knowing if she won she'd take home $50,000. Kipyegon had no response and soon faded backwards. Behind them, rounding the final turn, Simpson had moved wide to put herself in a position to pass Rowbury but that never happened. Rowbury had been hugging the rail biding her time. She passed Kipyegon on the outside, but otherwise stayed close to the rail, and she had something left in the tank the final 50. She put on a burst of speed and went for the inside pass on Muir who had drifted into lane 2 after passing Kipyegon. Was there enough real estate left for Rowbury to catch Muir? Just barely.
Right before the line, Rowbury snuck by Muir on the inside and then put her arms out awkwardly, making contact with Muir. Rowbury clearly crossed first before Muir and then Rowbury tumbled to the track from the contact. It was a little messy but the lean meant Rowbury but was the Zurich champion.
Video of Race, Quick Takes and Results
https://www.youtube.com/watch?v=Y-OEsvnSKf8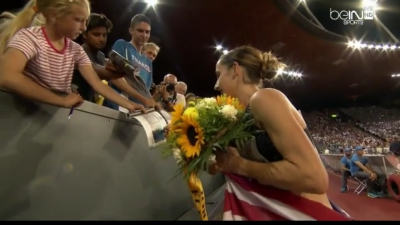 QT #1: A Near-Perfect Way for Rowbury to End Her 1500 Season
Rowbury will not run the 5th Avenue Mile on Saturday, so this was the end of her season in the 1500/mile and this a great way for her to make up for her Olympic disappointment in Rio, where after finishing fourth she was so crushed she didn't speak to the media. A perfect ending might have been a win here and a new AR but this had to be special for Rowbury, who also ran well and beat her American rival and the woman who denied her bronze in Rio, Simpson, in Paris last week. Prior to tonight, Rowbury had never won a Diamond League 1500 so to win the DL finale is quite an accomplishment (she had one DL victory on her resume – a 2013 win in a watered-down 3000).
Winning a Diamond League finale is big, especially when you have come very close like Rowbury in the past. In 2014, Rowbury came within .01 of beating Simpson in Zurich to win the Diamond League finale, but came up just short while trying to pass on the inside thanks to a Simpson dive at the line.
Falling to the track at the Diamond League finale is becoming a trend for Rowbury, but it was a lot sweeter today. She told Runnerspace, "At least this time I got the win." She talked about her disappointment in Rio saying, "I was disappointed coming off the Olympics, coming in fourth was heartbreaking. I knew I was in great shape… (It was a) fun way to end my season with a fifteen (win)."
QT #2: Laura Muir Drifts Into Lane 2 But Still Wins the Diamond League
Muir also bounced back nicely from her own disappointment in Rio with her incredible 3:55 in Paris and the DL title tonight.
An old adage is never get passed on the inside in a distance race and while Muir did have to go a little wide to pass Kipyegon, she drifted wider after that and that gave Rowbury the opening she needed. Muir would really be kicking herself for her poor tactics if drifting into lane 2 cost her the Diamond League title, but because Kipyegon faded all the way back to 7th (Kipyegon only needed to finish 5th with Muir 2nd to win the title), Muir won the Diamond League title and its $40,000 bonus.
Muir was pleased with her season and the DL title saying, "This is amazing, I never expected anything like this. The World Championships will be at home next year. There is not really something I will need to improve for next year. I am the Diamond Race winner, this is big, big for me. Because running in a Diamond League race is already something special for me. I did not know first that I won the Diamond Race because it depended on Faith Kipyegon, whether she would finish third or fourth."
QT #3: What Does The Future Hold For Genzebe Dibaba?
Genzebe Dibaba, the world record holder in this event and the Olympic silver medallist, didn't race here tonight. She looked great in winning the women's 3000 in Lausanne last week but with her coach Jama Aden being investigated for doping, the big question heading into 2017 is, "What will Genzebe Dibaba's future hold?'
Talk about the race and meet on our messageboard:
Jenny Simpson also spoke to Runnerspace afterwards saying she was in a perfect spot, but just didn't have it the last 100. "I'm a litlte disapointed my last 100 wasn't stronger. I just didn't quite have it today," she said, and looks forward to ending her seaosn Saturday at the 5th Avenue Mile in New York.
Screenshots