2016 Olympic Men's Marathon Preview: Can the Greatest Marathoner in the World, Eliud Kipchoge, Become the Greatest Marathoner of All Time? Can Galen Rupp Medal After Doubling Back from 10K?
by LetsRun.com
August 19, 2016
This is it. The ultimate event in the ultimate meet: the men's Olympic marathon – the traditional close to the Olympic track and field action. And the field just happens to contain the ultimate runner: Kenya's Eliud Kipchoge. When the 31-year-old Kipchoge toes the line on Sunday, there will be more than just a gold medal on the line. Win the race, and Kipchoge will cement his status as the greatest marathoner of all time. There are a host of guys lined up to stop him: countryman Stanley Biwott, the New York City Marathon champ who pushed Kipchoge for 24 miles in London in April; reigning world champ Ghirmay Ghebreslassie of Eritrea; Ethiopians Tesfaye Abera (Dubai champ), Lemi Berhanu (Boston champ) and Feyisa Lilesa (Tokyo champ); and of course, Galen Rupp, who after finishing 5th in the 10,000 in Rio will return eight days later in attempt to become the first American to win the Olympic marathon since Frank Shorter in 1972 or medal since 2004. Oh yeah and some 41-year-old named Meb Keflezighi – the guy who medalled in 2004 – will be running. Surely he couldn't medal…right?
Well, that's what they were saying in 2004.
Race Time: Sunday, August 21, 8:30 a.m. ET
2016's Fastest performers (among men entered)
1. Eliud Kipchoge, Kenya 2:03:05
2. Stanley Biwott, Kenya 2:03:51
3. Tesfaye Abera, Ethiopia 2:04:24
4. Lemi Berhanu, Ethiopia 2:04:33
5. Kaan Kigen Ozbilen, Turkey 2:06:10
Article continues below player
Course Map
The course is the same one the women ran last week. It's mostly flat and athletes will run three loops along Guanabara Bay before heading back into the city to finish in the Sambadrome, site of the famed Rio Carnival.
***
The Favorite
Eliud Kipchoge — Kenya, 31 years old, 2:03:05 pb (2016 London), 59:25 half
Marathons since start of 2015: 1st 2015 London (2:04:42), 1st 2015 Berlin (2:04:00), 1st 2016 London (2:03:05)
No runner in history has had a more impressive start to a marathon career than Kipchoge. He's run seven career marathons and won six of them — the only time he lost, it took a world record to beat him and he still ran 2:04:05. His PR of 2:03:05 is second all-time (record-eligible courses); his average time of 2:04:21 would put him #9 on the all-time list, #8 if you remove Kipchoge himself (record-eligible courses). The slowest marathon he's ever run was his first – a 2:05:30 – a time that only 78 men have ever battered. His slowest after that is 2:05:00 – a time only 49 men have ever battered.
You can make a convincing argument that he's already the greatest marathoner in history and that his virtuoso performance in London in April — slashing 84 seconds off the course record and coming eight seconds shy of the world record — was the single greatest marathon ever run. Just take a look at Kipchoge's resume. You won't find another one like it.
Kipchoge's Marathons
Spring 2013 Hamburg 2:05:30 1st
Fall 2013 Berlin 2:04:05 2nd
Spring 2014 Rotterdam 2:05:00 1st
Fall 2014 Chicago 2:04:11 1st
Spring 2015 London 2:04:42 1st
Fall 2015 Berlin 2:04:00 1st
Spring 2016 London 2:03:05 1st (CR)
Kipchoge isn't beating up on scrubs, either: his 2015 London win came over perhaps the greatest field in history, and London 2016 was loaded as well. Chicago and Berlin are both World Marathon Majors. Winning six out of seven marathons is extremely rare for any runner. Winning four majors in a row — including London, the most stacked marathon on the planet, twice — is unheard of. So is Kipchoge destined to add the Olympic title to his growing list of accomplishments?
He's certainly the favorite, that much is clear. But picking the winner of any marathon is a difficult task, and that is doubly true for the Olympic marathon. It's usually hot, there are no rabbits, and it's the biggest stage in the sport. Four years ago in London, Uganda's Stephen Kiprotich walked to the start line with a 2:07:20 personal best in three career marathons. Six months earlier, he had finished third in Tokyo — not even a World Marathon Major at that point. No one expected him to walk away with the gold medal, but that's exactly what he did. We've already outlined above why Kipchoge should win. Here are three reasons why he might lose.
1) This is his first non-rabbitted race
All seven of Kipchoge's career marathons have been fast. That is in large part due to his immense talent, but also due to the presence of pacemakers in every single one of them. The Olympic marathon is never that fast. While Sammy Wanjiru's Olympic record of 2:06:32 from 2008 took marathoning into a new era (LRC 2008 Olympic Men's Marathon Recap:Outrageous Pace Pays Off; Wanjiru Hammers to Kenya's First Marathon Gold), it does not rank among the top 200 fastest marathons ever run; only one other man has broken 2:08 in the history of the race.
That doesn't preclude him from winning in Rio of course, but an Olympic marathon is very different from a rabbitted affair. Instead of turning your brain off through 30k, you have to be paying constant attention. Which move do I go with? Should I surge now? Am I running too fast? Some guys adapt to it just fine, but it can be tough to get right on your first try. Consider Wilson Kipsang. Back in 2012, Kipsang entered London as the favorite for gold. He was coming off a killer stretch — four straight victories, including three course records. His last two races went about as well as they could possibly go — a 2:03:42 in Frankfurt (missing the world record by four seconds) and a 2:04:44 victory in London (missing the course record by four seconds). Of course, both of those marathons featured rabbits. So what happened when Kipsang returned to the British capital for the Olympics in August?
He made a huge move 10 kilometers into the race, dropping a 14:11 third 5k — 1:59:42 marathon pace! Though he led by 16 seconds at halfway, he wound up giving it all back and Kiprotich ran away from him over the final three miles. Kipsang had to settle for bronze. Of course, you can play devil's advocate and say that a bold early move is exactly what carried inexperienced Sammy Wanjiru to Olympic gold in 2008 — he hammered the pace early (including a 4:30 11th mile) and destroyed the field en route to crushing the Olympic record.
Like Kipchoge, both Wanjiru and Kipsang are among the greatest marathoners in history. One got his tactics right and produced a legendary performance. One got it wrong and wound up third on a day he should have won. We can't know how Kipchoge will respond. His last two London victories weren't total runaways; despite the fast times, Kipchoge was part of a pack of four men with just over two miles to go in 2015 and Kipsang hung with him until the final mile; this year, Biwott was with him until 24 miles. You don't win marathons like that without making the right decisions late in the race. But the Olympic marathon is a different beast. Only time will tell if Kipchoge has the tactical savvy required for gold.
2) The heat
It may be winter in Rio de Janeiro, but it's still going to be much warmer than your average marathon. As of now, the forecast is calling for a constant temperature of 78 degrees with a humidity of more than 70% for the entire race (yes weather.com has a constant temperature forecast). There are certainly more comfortable ways to spend a Sunday morning than running 26.2 miles in that.
The concern here is the same one raised in the point above. Just as Kipchoge has never run a marathon without pacemakers, he's also never run a marathon in warm weather. In fact, all seven of his marathons have taken place in great conditions for running fast: high-40's to low-50's. Check it out:
| | | |
| --- | --- | --- |
| Marathon | Temp at start (F) | Temp at finish (F) |
| 2013 Frankfurt | 47 | 54 |
| 2013 Berlin | 46 | 51 |
| 2014 Rotterdam | 52 | 54 |
| 2014 Chicago | 46 | 53 |
| 2015 London | 46 | 48 |
| 2015 Berlin | 48 | 56 |
| 2016 London | 45 | 48 |
Past data courtesy WeatherUnderground.com
Kipchoge has never run a marathon where the temperature has cracked 60 degrees for any part of the race, and yet when you factor in humidity it will feel like low 80s for the entire race in Rio. But he won a world title on the track at 5000 in 2003? Yes, but FYI, it was 64 degrees with 50% humidity in that race. Kipchoge may have no problem running in the heat and humidity, but we don't know for sure, and that means he could be vulnerable.
3) It's almost impossible to stay on top for long in the marathon
This is certainly the weakest of the three arguments as we're essentially backing one trend (history has shown it's almost impossible to win seven of your first eight marathons) versus another (Kipchoge's race history has shown it's foolish to bet against him). In fact, we made the same point in our London preview this April before Kipchoge made us look silly and won in a romp. But the brutal nature of marathon training, the all-or-nothing nature of the event and all the variables on race day mean that it's harder to stay on top in this event than any other in the sport of running. So far, Kipchoge has answered almost all challenges, even when something goes horribly wrong on race day (say, his insoles falling out of his shoes). Perhaps Kipchoge is the Usain Bolt of the marathon and holds his peak longer than anyone else. But history has shown that's unlikely to be the case.
Medal Contenders Who Could Win if Kipchoge Slips Up
Stanley Biwott, Kenya, 30 years old, 2:03:51 pb (2016 London), 58:56 half
Marathons since start of 2015: 4th 2015 London (2:06:41), 1st 2015 New York (2:10:34), 2nd 2016 London (2:03:51)
Prep race: 60:46 for 1st at Olomouc Half Marathon on June 25
If not for Kipchoge's brilliance, Biwott would be the favorite here. He has experience in championship-style marathons, winning New York last fall, and would have crushed the course record in London in April had Kipchoge not beaten him to the punch. Biwott is unafraid to mix it up with anyone — since the start of 2013, he's run London and New York exclusively, the toughest spring and fall marathons, respectively — and he's usually done pretty well, taking 2nd, 4th and 2nd in London the last three years and 1st in New York in 2015. Biwott is also fit right now, as he clocked 60:46 to win the Olomouc Half Marathon back in June — 4:31 ahead of second place.
If Kipchoge falters for some reason, Biwott is the best bet for gold.
Lemi Berhanu, Ethiopia, 21 years old, 2:04:33 pb (2016 Dubai), 61:37 half
Marathons since start of 2015: 1st 2015 Dubai (2:05:28), 1st 2015 Warsaw (2:07:57), 15th 2015 Worlds (2:17:36), 2nd 2016 Dubai (2:04:33), 1st 2016 Boston (2:12:45)
Berhanu (also known as Hayle Lemi or essentially any combination of the names "Lemi" "Berhanu" and "Hayle") has the best of both worlds: he's run fast (2:04 in Dubai in January) and excelled in a non-rabbitted race, winning Boston in April. That run in Boston was a magnificent performance, as he put away two-time champ Lelisa Desisa — an outstanding runner in championship-style marathons — with ease, putting 47 seconds on him over the final two kilometers. He also beat another top Ethiopian, Yemane Tsegay (2nd at Boston and Worlds in 2015), who finished third.
Though Berhanu has not run nearly as fast as Kipchoge, he's had a very impressive start to his marathon career. Check out his results since debuting in 2014:
2014
2:10:40   1st Zürich April 6
2:13:10   1st Taiwan Sep 13
2015
2:05:28   1st Dubai Jan 23
2:07:57   1st Warsaw April 26
2:17:37   15th Beijing Aug 2
2016
2:04:33   2nd Dubai Jan 22
2:12:45   1st Boston April 18
That's certainly the resume of an Olympic medallist. However, Berhanu's 2015 season is cause for concern. Obviously, his first two races went great, but when he tried to tack on a third marathon in seven months at Worlds, he faltered and only finished 15th. Now he's attempting the same thing in 2016. Will the strain of three marathons in seven months (and six in 19 months) prove too much for him in Rio?
Tesfaye Abera, Ethiopia, 24 years old, 2:04:24 pb (2016 Dubai), 60:32 half
Marathons since start of 2015: 1st 2015 Mumbai (2:09:46), 8th 2015 Hamburg (2:10:49), 2nd 2015 Hengshui Lake (2:10:00), 1st 2016 Dubai (2:04:24), 1st 2016 Hamburg (2:06:58)
Abera is the latest 2:04 Ethiopian to emerge from obscurity and win the Dubai Marathon. He followed that up with a win in Hamburg three months later, and those two victories (coupled with his winning time in Dubai, tops among Ethiopians this year) got him onto the Olympic team. The good news about Abera, in addition to his 2016 results, is that he's a good hot-weather runner. In his debut in Mumbai in 2015, he won in 2:09 with temps in the 70's and humidity above 50%. Then in Dubai in January, he won with temps in the 60's and humidity above 80%.
The bad news is that, like Berhanu, this will be his third marathon in seven months. That doesn't mean he can't run well at the Olympics, but it's really tough to run three good marathons in such a short time span.
Ghirmay Ghebreslassie, Eritrea, 20 years old, 2:07:46 pb (2016 London), 60:01 half
Marathons since start of 2015: 2nd 2015 Hamburg (2:07:47), 1st 2015 Worlds (2:12:27), 4th 2016 London (2:07:46)
Prep race: 47:01 for 1st at Bern Grand Prix 10-miler on May 14
Ghebreslassie's win at Worlds last year is the perfect example of the unpredictability of a hot championship marathon. The Kenyans, with the best team on paper, went 22nd, DNF, DNF while the unheralded Ghebreslassie — who was 6th in Chicago and 2nd in Hamburg in his two career marathons to that point — managed the sweltering conditions best and became world champion.
Ghebreslassie is coming off a one-second pb in London but lost to Biwott by almost four minutes and lost to Kipchoge by even more. The transitive property suggests that he should not be close to them in Rio, but the transitive property rarely applies in the Olympic marathon. Consider Abel Kirui, who was only 6th at the 2012 London Marathon, losing to Wilson Kipsang by over three minutes. Naturally, you'd expect Kipsang to beat Kirui when they raced four months later at the Olympics, but that was not the case: Kirui was second, Kipsang third.
Ghebreslassie has only run well in one championship marathon, but at the Olympics, you'd much rather be him than a 2:04/2:05 guy who's never won a major. The two guys who preceded Ghebreslassie as world champ — Kirui and Stephen Kiprotich — both carved out careers as championship specialists (Kirui was world champ in 2009 and 2011 in addition to his Olympic silver; Kiprotich won Olympic gold in '12 and Worlds in '13) and Ghebreslassie has the potential to occupy a similar space. So we view his result in London not as evidence that he's way behind Kipchoge and Biwott but that his overall fitness has improved — which can only help when he gets to Rio.
Stephen Kiprotich, Uganda, 27 years old, 2:06:33 pb (2015 Tokyo), 61:16 half
Marathons since start of 2015: 2nd 2015 Tokyo (2:06:33), 6th 2015 Worlds (2:14:42), 4th 2016 Tokyo (2:07:46)
Kiprotich was only fourth in Tokyo in February in 2:07:46, but that doesn't mean he can't be a major factor in Rio. He was only third in Tokyo in 2012 (2:07:50) and wound up winning the Olympics that summer. Kiprotich has proven time and again that he's going to be in the hunt at a global championship: he was 8th in Daegu, 1st in London, 1st in Moscow and 6th in Beijing. It's impossible to say whether Kiprotich will be 6th or 1st this time around, but his result in Tokyo is similar to what he did in his last marathon before his Olympic title in 2012 and his world title in 2013 (6th in London in 2:08:05). Expect him to be in the mix during the second half.
Other Non-Americans to Watch
Because anything can happen in a hot championship marathon, the list of contenders is pretty deep. Most likely, your winner is one of the six men above (or perhaps Galen Rupp) but we expect at least one of the medallists — and possibly more — to come from outside that list. We've tried to cover everyone else who could possibly medal below (plus a few interesting names), but with 159 guys in the field, we can't get to everyone.
Feyisa Lilesa, Ethiopia, 26 years old, 2:04:52 pb (2012 Chicago): Lilesa earned World Championship bronze in 2011 and enters the Olympics on a high note after winning Tokyo in February. His track record is fairly good (top four in six of his eight career major appearances), but he also has a history of DNF's (three of his last eight starts, including Worlds in 2013).
Wesley Korir, Kenya, 33 years old, 2:06:13 pb (2012 Chicago): We'll state it again – Korir really shouldn't be on the Kenyan team. Yes, he was the top Kenyan in Boston (4th overall) but he hasn't finished higher than fourth in a marathon since winning Boston in 2012. And he hasn't run faster than 2:09:17 since setting his PR in Chicago almost four years ago. Essentially, Korir was picked over runners like Bernard Kipyego and Dickson Chumba for his performance in Boston and his ability to run well in the heat — he's won the LA Marathon twice and won Boston back in 2012 when temps were in the 80's – and possibly for being a well-spoken politician (he's a member of Kenya's Parliament). Running well in hot weather is obviously a good skill to have at the Olympics and he could run great on Sunday and make us look foolish. But one skill is not enough to earn a medal in Rio; Korir will have to produce a much better performance than what he's shown himself capable of in recent years.
Solomon Mutai, Uganda, 23 years old, 2:10:42 pb (2015 Hannover): Mutai's non-championship resume doesn't suggest that he could medal (he's never broken 2:10 and was only 11th in the Lake Biwa Marathon in March, running 2:14:57), but he was the bronze medallist in Beijing last year and was fourth at the Commonwealth Games in 2014.
Kaan Kigen Ozbilen, Turkey, 30 years old, 2:06:10 pb (2016 Seoul): Formerly Mike Kigen of Kenya, Ozbilen set the European record of 2:06:10 in Seoul in March and was most recently second in the half marathon at the European Champs in July, running 62:27. He's gradually improving in the marathon (he ran 2:07 twice last year before getting down to 2:06:10 this year) but the Olympics will be a big step up in competition for him.
Shumi Dechasa, Bahrain, 27 years old, 2:06:43 pb (2014 Hamburg): The Ethiopian-born Dechasa was fifth at Worlds and fourth in Tokyo last year and ran well in 2014, taking sixth in Dubai and first in Hamburg. Unlikely to win, but he could be in the hunt for a medal with a good race.
Marilson Gomes dos Santos, Brazil, 39 years old, 2:06:34 pb (2011 London): dos Santos has essentially zero shot to medal, but as a two-time NYC champ (2006 & 2008) and the fifth placer at the last Olympics, we have to mention the Brazilian native. He's only finished one marathon since the start of 2014, however, running 2:11:00 for 9th in Hamburg last year.
Tsepo Mathibelle, Lesotho, 25 years old, 2:16:21 pb (2014 Commonwealth Games): Wejo's Athlete of the Year for 2015 for his bold move just before 30 kilometers into last year's World Champs, Mathibelle got out to a 25-second lead before eventually being caught and finishing 14th. For more on Mathibelle's unique story, check out this brief documentary on him here.
Ruggero Pertile, Italy, 42 years old, 2:09:53 pb (2009 Turin): The Italian version of Meb. He was 15th and 10th at the last two Olympics, but since turning 41 last August, he's taken fourth at Worlds and won the Padua Marathon in 2:12:17. Now 42, could he possibly contend?
The Americans
Of the three Americans competing in Rio, Galen Rupp has the best shot to medal, followed by Meb Keflezighi. Jared Ward has a history of running well in the heat (he won the U.S. marathon title in LA in 2015 and obviously qualified at this year's Olympic Trials in LA) but we don't see any way he medals in Rio. So let's break down the two Americans with a shot.
We'll start with Meb.
Keflezighi may be 41 years old, but we learned several years ago to stop counting the guy out. Keflezighi has made his reputation on running his own race, whether that's going out conservative at the 2012 Olympics and catching stragglers to finish fourth or breaking away early when the race was there for the taking, as in Boston 2014. If there's craziness on Sunday, such as a suicidal opening half, you can count on Meb to keep his cool. Another thing to note: Meb's results in his last three marathons are a bit deceiving. At Boston 2015, where he finished eighth in 2:12:42, Meb had trouble getting fluids down late in the race and had to stop to throw up no less than five times. Last fall, Meb was seventh in New York but ran cautiously as he knew he had to recover quickly for the Olympic Trials in February. Then at the Trials, Meb suffered from cramping early and had to hold himself back from vomiting during the final six-mile loop. Marathons rarely go perfectly, and at 41, Meb's body is not as prepared to withstand the rigors of the marathon as well as it was when he earned silver 12 years ago in Athens. But if everything breaks right, we could get one last look at the Meb of 2014 that won Boston and finished fourth in New York. However, it needs to be remembered that Meb's 4th four years ago was viewed as an on overachievement. A medal four years later would be a miracle.
If an American wins a medal, it's going to be Galen Rupp. Fans are very excited about Rupp's marathon chances and contemplating gold.
Rupp has only run one career marathon, which is obviously a disadvantage, but you don't necessarily need a lot of marathons to have success at the global level. Ghebreslassie won Worlds last year in his third career marathon. Kiprotich won the Olympics in 2012 in his fourth career marathon. Wanjiru won the Olympics in 2008 in his third career marathon. Some people are just made for the marathon, and if you look at Rupp's history — the ability to handle high volume and high intensity in training, and the fact that he's a far better 10,000 runner than 5,000 runner — he appears to be one of them. Plus his coach, Alberto Salazar, was a legendary marathoner himself. Rupp may never run 2:03 or 2:04 like the Kipchoges and Biwotts of the world, but you don't have to do that to medal at the Olympics.
Rupp looked magnificent in his marathon debut at the Trials. He hammered out a 4:47 23rd mile to drop Meb and cruised home from there, winning in 2:11:13. The ease with which dropped Meb suggested that Rupp had a lot more in the tank than what he showed over those final four miles. Factor in his massive lifetime base from over a decade of uninterrupted training, his success in hot weather (2015 Worlds 10,000, 2016 Marathon Trials, 2016 10,000 Trials) and that he's been crushing 145-mile weeks during his buildup and it would be far from a stretch – some might say you'd expect it – to say that he's capable of sub-2:10 in the heat and humidity of Rio. And guess what? No one in history has ever broken 2:10 in the Olympic marathon and not medalled.
As a result, fans are very excited about Rupp's marathon chances and contemplating gold.
However, as good as Rupp looked in LA, we believe a medal in Rio will still be incredibly tough. Remember, back in 2008, Ryan Hall entered the Olympic marathon in a similar situation. He had come to the marathon just the year before and took to it immediately, running 2:08 in his debut (London '07), destroying the field at the Trials (fall '07) and going 2:06:17 in London in the spring of '08 — the fastest ever by an American-born athlete. But Hall was only 10th at the Olympics. That's nothing to be ashamed of; there are a lot of good marathoners in the world. The same thing could happen to Rupp.
For everyone who is saying, "But Rupp looked great in winning the Trials," our responses is, "He better have." He's going to have to run A LOT better than he did in LA to contemplate a medal. Just because you look good in the equivalent of a 13:25 race doesn't mean you'll be able to run the equivalent of 12:55. But if you are going to run a 12:55 equivalent, it certainly helps to look good in running the slower Rupp.
Plus, it concerns us a great deal that Rupp hasn't been training as a marathoner; he's been training as a 10,000 guy/marathoner, and Salazar said their focus was on both events. After the 10k in Rio, he revealed that he had been hitting speed workouts hard ever since the Trials and felt that his speed was the best its ever been. Craig Masback said on NBC that Rupp recently broke 50 in a 400 in practice.
Is it possible to take such an approach and still have the endurance to handle 26.2 grueling miles on the streets of Rio? Salazar thinks so but it seems to us there must be a reason that no one else in the world tries to train for both events any more. Of course, it never made any sense to us that a guy who used to struggle to break 4:00 for the mile is now a 3:50 indoor miler so Salazar's focus on the speed clearly paid off in that case.
But those 400's on the track won't help him when Kipchoge drops a 4:45 at mile 25. No one has been able to successfully train and compete in both events simultaneously in the modern era. Yes, marathoners may run a fast 10,000 on the track during the same year they run a fast marathon, but no one has medalled in both the marathon and the 10k at the Olympics since 1968. The disciplines have become too specialized.
That being said, we've always thought Rupp's best event would be the marathon. If we were coaching him, we would have moved him up to 26.2  before 2008 (clearly that silver medal proved us wrong). But when you watch him win the Trials 10k or marathon with such ease, or look like he's jogging when running a 61:20 half, it seems that Rupp was just made to run and run and you can't imagine him ever losing. Considering Rupp's tremendous aerobic ability, maybe he'll be allright despite his 10,000 training.
There's also a concern about how Rupp bounces back from the 10,000 in Rio. Rupp has come back from the 10,000 to run the 5,000 at the past four global championships, and finished an impressive fifth in Beijing last year seven days after taking fifth in the 10,000. But a 27:08 10k takes something out of your legs, and that will put Rupp at a slight disadvantage compared to the rest of the marathon field.
Rupp's approach may dictate whether or not he medals: does he run for gold or a medal? If it's hot and Kipchoge takes it out really fast — say 63:00 or faster for the first half — Rupp will have to go with them if he wants to win, because chances are someone (Kipchoge, Biwott, Abera, Berhanu, etc.) is going to hang on to that pace and run 2:06/2:07. But his best chance to medal might be to be patient roll guys up at the end of the race, in which case we think he'd have a good chance to land on the podium. The same thing could be said if a big late race move is made. Trail the 5th place guy and run for third.
LRC Prediction: 1. Kipchoge 2. Biwott 3. Ghebreslassie
There are questions about Kipchoge's ability to run well in a hot championship race (for some it's almost like a different sport), but this is still running, and Kipchoge has shown himself to be, by some margin, the best marathoner on Earth. We're still picking him for the win, and he's a surer bet than rolling the dice with someone like Ghebreslassie, Kiprotich or Korir, who have run well in the heat but haven't been anywhere near as fast or consistent during their careers as Kipchoge. We like NYC champ Biwott for the same reason, and Ghebreslassie, coming off a world title and a PR in his last two races, feels like a sensible pick for third. But really, there are a dozen guys who could land on the podium in pretty much any order, and that certainly includes Galen Rupp. Rupp is one of the greatest American distance runners of all time, and his one career marathon could not have gone better. Even doubling back from the 10k, he is a serious medal threat in Rio, but we aren't predicting it.
Why? Just look at Shalane Flaangan. Last week in the women's marathon, Flanagan ran WAY better than what it took to win the women's Olympic Trials but didn't medal.
Wejo's note: I think one thing not stressed enough here is how prepared Alberto Salazar's runners are to run in the heat. The heat is a MAJOR advantage to Rupp. At the Olympic Trials 10,000m where Rupp was the heavy favorite to begin with and we're sure most runners were hoping for a decent temperature day, Salazar said they were hoping for it to be as hot as possible because they consider it an advantage. One thing to watch Sunday is whether the sun is out. The temperature is measured in the shade, so if its 78 and sunny, that is very different than 78 and cloudy, even though that is the exact same temperature. Rain is expected later in the day on Sunday and as of Saturday morning the forecast is for there to be a little sun at the 9:30 am start.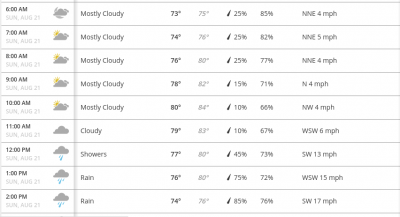 [gravityform action="

polls

" id="439″ mode="

poll

" cookie="1 month" show_results_link="false" display_results="true" percentages="true" counts="false" ajax="true"]