A Look Back at 2015: Tsepo Mathibelle is My Athlete of Year, Evan Jager's 8:00:45 Is My Race of Year, Plus My Unknown Person Of Year and One Regret
by: Weldon Johnson, LetsRun.com
December 31, 2015
It's the end of 2015 and that means it is time to look back. LRC's co-founder Weldon Johnson shares his thoughts below. LRC's Robert Johnson shares his thoughts here and Jonathan Gault shares his here. 
It's the end of 2015 and that means it is time to look back. I'll get the ball rolling and just share some of my personal favorite moments from 2015 below and one regret.
Article continues below player
Person of the Year – Unknown
I wish I knew his or her name, but it is the leaker of the IAAF historical blood test results (from the early 2000s to before the 2012 Olympics) to German journalist Hajo Seppelt. Seppelt originally received a leaked list of 150 athletes with suspicious blood values in 2014, and then at some point in 2015, according to the TV documentary by Seppelt, he received a thumb drive in the mail that had all the blood test results on it. Seppelt then got together with the Sunday Times, which did a front page expose using the blood test data that showed the public at large that track and field is a dirty sport and most importantly put a lot of public scrutiny on the IAAF's anti-doping program. Since then, the former head of the IAAF and the the former head of the IAAF anti-doping have been detained on bribery charges in France, and the IAAF has announced it went back and found 32 positive tests from retesting samples from the 2005 World Championships.
Now some of this may have come about without the leak of the blood data, but we'll never know, and it takes a lot of courage for someone within the IAAF to leak confidential data. At LetsRun.com, we believe there is almost no reason to keep the blood profile results of athletes private, and definitely believe the integrity of the sport is more important than the privacy of athletes' blood values.
LetsRun.com received an anonymous email in the past about Liliya Shobukhova's positive doping results possibly being covered up and can't but wonder if it was from the anonymous leaker of the blood tests. We had no way to respond to the anonymous emailer, and hope in the future we are able to create some sort of anonymous messaging system for tips, but if you are the leaker and read reading this, I just want to say, "Thank you."
Biggest Regret of the Year:
I was the primary writer of the piece, "LetsRun.com's Thoughts on the Sunday Times Doping Investigation" and one of my points was "2. We see no evidence of a direct IAAF cover-up (but the IAAF could do better)". This may be 20/20 hindsight, but I feel like an idiot for writing that.
While I stand behind the contention that the blood values themselves discussed in the Sunday Times are not evidence of an IAAF cover-up, one thing I was forgetting was the bigger context. Seppelt had already reported possible financial links between Lamine Diack's son and potential bribes paid to cover up Liliya Shobukhova's positive test. The article was meant to be more of an "inside baseball" look at the drug issue as we at LetsRun.com already knew doping was a huge problem in the sport. However, when the former head of the IAAF and its anti-doping get arrested on bribery charges a few weeks later, I still feel stupid for being oblivious to there being a huge cover-up.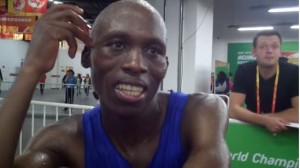 Athlete of the Year: Tsepo Mathibelle
I'm not sure anyone else at LetsRun.com will know who Mathibelle is without looking him up (and if they look him up they might want to use the name Tsepo Ramonene). Officially, Mathibelle, from the tiny landlocked nation of Lesotho, was the 14th place finisher at the World Championship marathon in Beijing on Day 1 of the World Champs.
However, it was not where he finished in the race, but what he did during it that makes him my athlete of the year. Coming into Worlds, Mathibelle had personal bests of 14:30, 31:03, and 2:16:21, which if he were American would make him a decent collegiate runner who had managed to qualify for the Olympic Marathon Trials but had no shot of making the Olympics.
Mathibelle was having the run of his life in Beijing and at 25k (15.5 miles) was one of 21 guys still in the lead pack. Then before 30k, he did the unthinkable. He not only took the lead, but he extended it, running away from the world's best marathoners. At 30k, he led by 13 seconds and would extend the lead to more than 25 seconds. Eventually, the world's best had to make a concerted effort to catch Mathibelle and when they did it wasn't pretty for anyone. Mathibelle had troubles of his own, having to stop while having the lead as he got his water bottle just before 35k. He still led by 10 seconds at 35k (21.7 miles) but by then former world record holders Dennis Kimetto and Wilson Kipsang were out of the race and Olympic and World Champ Stephen Kiprotich was out of the medals. Mathibelle wasn't going to win, but he was leaving destruction behind him.
Mathibelle would fade badly over the final 7k and end up 14th, but in a sport that doesn't have a ton of surprises, he not only surprised me, but he reminded me of that dream we all have when we start this sport.
We dream of taking on the world's best and holding our own. And while we dream of winning, ultimately, all we can do is our best and Mathibelle was aware of that even as he was beating the world's stars.
"I was determined to lead the race. I tried to push, I wasn't thinking I could win the race… My plan was to lead to push hard, hard, hard… If they catch me, they catch me," he said. Full post-race video with Mathibelle below.
I'd love to see Mathibelle go train with a top group. He's clearly both talented and fearless, which are two things needed to be a star.
Note: During the World Champs, Tsepo Mathibelle was listed in the results as Tsepo Ramonene, now he is listed as Tsepo Mathibelle on the IAAF site and is listed as Tshepo Ramonene on All-Athletics.com and Tilastopaja.com
Race of the Year: Evan Jager's 8:00.45 Steeple
 Sure I'll always remember Usain Bolt outgunning Justin Gatlin in the 100m and having a perfect view in person of the finish where Gatlin stumbled, but no doubt my race of the year was Evan Jager's 8:00.45 American Record run in the steeplechase on July 4th in Paris where he was going to smash the American record and be the first American under 8:00 until he fell over the final barrier and had to settle for the AR and a second place finish. It's my race of the year for a few reasons.
One, it totally shocked me. I haven't seen an American male distance runner totally dominate all of the world's best in a Diamond League long-distance event ever. Jager was not only taking on the world's best, he was running away from them. In my life, I've never contemplated whether an American male distance runner can break a world record, but now with Jager the thought has entered my mind.
Two, the way it ended. Jager's run was almost too good to be true, so of course he had to clip the final barrier and just miss 8:00. What drama.
Three, how I saw it or didn't see it. It was July 4th and I was at Glacier National Park. I decided to leave the park and try and get Internet to watch the meet. Everything was closed and I was trying to watch using very spotty Internet from a closed sports bar outside of the park. I saw parts of the race live, but my video was cutting in and out so I was left to follow it on the LetsRun.com thread and it reminded me of some of the mystique of trying to follow track and field in the US in the late-1990s.
Race highlights below:
More 2015 in Review:
*Rojo: 2015 The Year of Corruption, Plus the Domination of the Men's Stars, and the Emergence of Eric Jenkins and Emily Sisson
*Jonathan Gault: Eliud Kipchoge's 2:04:00 With His Shoes Falling Apart, Bolt vs Gatlin and Dibaba's 3:50.07