Lemi Berhanu Hayle Drops The Hammer On Lelisa Desisa To Win Boston and Get His First World Marathon Major Win
by LetsRun.com
April 18, 2016
BOSTON — After a hard-fought duel between Ethiopia's 21-year-old former Dubai Marathon winner Lemi Berhanu Hayle and defending champion Lelisa Desisa, Hayle came through with a dominant final 2 km to win the 2016 Boston Marathon in 2:12:45.
After a controlled start that saw 17 men go through halfway together in 1:06:44, two-time Boston winner Desisa broke the race open a little after 25k by dropping a 4:33 for mile 16 (splits here). Initially, it was countrymen Lemi Berhanu Hayle, Yemane Tsegay and Tsegaye Mekonnen that responded, but it was only Hayle who was able to stick with him as other two fell off in mere minutes.
Desisa and Hayle ran side-by-side for most of the rest of the race with Desisa throwing in minor surges to try and break Hayle. However, Hayle could not be shaken and was the one with the best legs at the end. Hayle did not go for water at the water stop at 40km, and put in his surge as Desisa went for water. Desisa's only response was to look over his shoulder to make sure runner-up honors were secure as Hayle absolutely crushed Desisa in the final mile, motoring away to win in 2:12:45. Desia came in 47 seconds later in 2:13:32 while Yemane Tsegay (2:14:02) just held off 2012 Boston champion Wesley Korir (2:14:05) to make it a clean Ethiopian podium sweep. 2:16:40 man Zach Hine (who was coached by LRC co-founder Rojo at Cornell and is now coached by Steve Magness) was the top American in 10th place in 2:21:37.
Quick Thought #1: Lemi Berhanu Hayle Proves He's Not Just A Time Trialer
Before today Hayle had some impressive marathon performances to his name including winning Dubai 2015 (2:05:28) and a runner-up finish in Dubai this year (2:04:33), but he had not run well in a non-flat, non-rabbited race. His only tactical marathon came at Worlds last year where he finished a lackluster 15th place, well behind Yemane Tsegay (2nd) and Lelisa Desisa (7th). But today he turned the tables on Desisa and Tsegay and his impressive victory shows he can run well on a hilly course in a tactical situation. Desisa challenged Hayle with uneven pacing and surging, but Hayle covered every move and had plenty left to pull away at the end.
We guess when he told us on Friday that he felt "fantastic" he wasn't joking. He was very confident for good reason. Hayle has run seven marathons in his career and now won five of them.
2014
2:10:40   1st Zürich April 6th
2:13:10   1st Taiway Sep 13
2015
2:05:28   1st Dubai Jan 23
2:07:57   1st Warsaw April 26
2:17:37   15th Beijing Aug 22
2016
2:04:33   2nd Dubai Jan 22
2:12:45 1st Boston April 18
Hayle put on an impressive celebration during the final straightaway and even did a bit of a dance after he crossed the finish line first. He was still ecstatic when he came to the post-race press conference and said that through his coach/translator Gemedu Dedefo that he felt like it was "birthday."
QT#2: The "De Facto" Ethiopian Olympic Trials
Article continues below player.
In our Boston men's preview, we said today was essentially the "de facto Ethiopian Olympic Trials" as most of the top Ethiopians contending for Olympic spots were here. The Ethiopian selectors have a tough choice to make and they're notorious for making some incredibly foolish decisions, but after today we don't see how Hayle isn't on the team, unless maybe the Ethiopians in London (which include Kenenisa Bekele, though the gossip we've heard on his fitness isn't good), all run crazy well. We say that because not only did Hayle dominate today over some of his main competitors (namely Desisa, Tsegay and Mekonnen), but he also has the second fastest time by any Ethiopian for the last two years (2:04:33 when he was runner-up in Dubai in January). Following that up with this performance should all but guarantee him a spot in Rio.
QT #3: Too Many Marathons For Lelisa Desisa?
After controlling the race from 25K onwards, it was somewhat surprising to see Desisa get dropped at the very end with absolutely no response. When Hayle finally made his move, he opened up a huge gap on Desisa almost instantaneously and put 47 seconds on him in the final mile and a quarter. Maybe Hayle was that just much better, but we guess it's also possible that Desisa is feeling the toll of the last year and a half of marathoning.
This was Desisa's sixth marathon in the last 18 months as he's racked up finishes at NYC in November 2014, Dubai, Boston, Worlds and NYC in 2015 and now again in Boston. Pre-race, he spoke about coming to the realization that he needs to race less often and only focus on two marathons a year. That is certainly a smart decision and while he had an acceptable gap between NYC and today, that doesn't mean the previous five marathons didn't happen and aren't holding him back.
After today's race, Desisa will likely have to keep his fingers crossed when London is run next week when thinking about Olympic selection as in addition to Lemi Berhanu Hayle looking like a lock it also seems as if 2016 Dubai winner Tesfaye Abera, who also won Hamburg on Sunday, should be selected as well.
If Desisa misses Rio, it could be a blessing in disguise as far as his career longevity is concerned. He was planning on doing Boston, Rio and NYC in 2016 if he made the Olympics and that's still a lot of marathons for a guy who was already feeling fatigued. Maybe now he can just focus on being fresh for the fall.
That being said, if no Ethiopian runs stellar in London, the Ethiopians would be foolish not to pick Desisa. We know the Ethiopians selectors are often focused on seasonal best time but Desisa has been incredibly good in recent years and he made today's race. Plus his last six marathons have all been very solid.
2014
2:11:06   2nd New York 2 Nov
2015
2:05:52   2nd Dubai 23 Jan
2:09:17   1st Boston 20 Apr
2:14:54   7th Beijing 22 Aug
2:12:10   3rd New York 1 Nov
2016 
2:13:32 2nd Boston 18 Apr
After the race, he said he got frustrated with the pace being so slow for the first 23k so he decided to push it. The problem was late in the race, starting at 32k, he said he started feeling a little bit of pain his upper left leg (it wasn't clear if he meant hamstring or thigh) and thus he had to reduce his pace.
Quick Take #4: The Effort Took A Toll On Hayle
The fact that Hayle put 47 seconds on Desisa in the final mile, and that he literally jumped for joy after he crossed the finish line, gave the impression that he might have finished with a lot left in the tank today, but his actions a few minutes after finishing indicate that he was spent. In the screenshots below you can see he quickly transitioned from celebrating to needing to sit on the curb and then he had to excuse himself in the first interview attempt as he couldn't speak.
QT #5: Some of You Saw the Break in the Men's Race 
It's a well known joke/complaint that major road race broadcasts always seem to miss showing the big break. Whether they're showing the wheelchair finish, interviewing random people in the crowd, on commercial, or just panning over the scenery, they always seem to miss that crucial moment when someone makes a big move to break a race open. This leaves running fans frustrated as when the broadcast returns to the actual race, the positions have completely changed and you have no idea how it happened.
Well, if not for modern day technology that has been available for years, everyone watching today would have missed the defining moment in the men's race. There were two broadcasts in the U.S. today. One on NBCSN featuring the Olympic marathon TV crew. There also was a live stream on BAA.org that was the international race feed. The NBCSN broadcast had gone to commercial and returned to show Neely Spence Gracey finishing when Hayle made his break. They tried to go to a split screen but Hayle was already ahead. Not good.
Those watching on BAA.org were being treated to an interview with women's race winner Atsede Baysa via a translator that took up 80% of the screen when the men's break was made, but at least they were showing the men's race in the tiny split screen at the bottom. They definitely should have reversed the screens and made the men's race the big screen, but at least people saw the break. Surprisingly, the BAA.org crew did a better job with split screens today than NBCSN with its presumably bigger budget.
Quick Thought #6: A Special Day For Massachusetts Native Zach Hine
The top American at the race today was 28-year-old Zach Hine, who won three Ivy league titles for LetsRun.com co-founder Robert Johnson at Cornell.
Today, Hine got some redemption after having to drop out of the Olympic Trials. The 10th place showing was extra special for Zach as this is his hometown marathon as he grew up in Western Mass. in South Hadley. Hine had to give it his absolute all to finish 10th as once he crossed the finish line he celebrated by throwing up three times and being wheeled off in a wheelchair. He said he's ended up in the medical tent at every marathon he's finished.
Post-collegiately, Hine tried the full-time running gig as he joined the Hansons-Brooks program and then ran for Brad Hudson. Now he's got a full-time job as a "pipeline integrity engineer" in Dallas, Tex., and is coached by Steve Magness, who also coached the top American in the women's race, Neely Spence Gracey. Hine's marathon pb is 2:16:40 from Houston in 2012 but he ran 2:16:53 in Boston in his debut in 2011.
Hine talks post-race:
Hine said he was surprised to have such a good performance. "My prep race went horribly. It was probably the worst half-marathon I've ever run. [I ran] about 70-minutes. I came through two minutes faster today and held on. … When you run 70-minutes and crash and burn it's hard to think 'Oh, I just need to run 68 and do it again.' So I didn't want to broadcast too much or set my expectations too high."
On finishing 10th, he told the Boston Globe, "I was hoping to finish in the top 20, but having the 10th place is even better. Having a great race in Boston is something that I was hoping for, and finally this was a great finish. I've been watching this race since I was a kid. This race means a lot to me."
Magness post-race:
MB: Steve Magness just coached two athletes to top American honors at the 2016 Boston Marathon.
MB: Congrats to MA native and formell Cornell star Zach Hine – Top American at Boston Marathon –
Quick Thought #7: Third-placer Yemane Tsegay tried to pull out of the race last week but is glad he came
Yemane Tsegay said that he tried to pull out of the race a week ago as he was having a knee problem after falling on asphalt but was talked into coming. As a result, he was pleased with his showing.
Tsegay said it was very hard to run on the roads in Ethiopia (and implied that's how he he fell) and mentioned the car accident involving Ethiopian runners that LetRun.com has raised money for.
Men's Results
| Place | Bib | Name | Official Time | State | Country | Ctz |
| --- | --- | --- | --- | --- | --- | --- |
| 1 | 5 | Hayle, Lemi Berhanu | 2:12:45 | | ETH | |
| 2 | 1 | Desisa, Lelisa | 2:13:32 | | ETH | |
| 3 | 6 | Tsegay, Yemane Adhane | 2:14:02 | | ETH | |
| 4 | 11 | Korir, Wesley | 2:14:05 | | KEN | |
| 5 | 14 | Lonyangata, Paul | 2:15:45 | | KEN | |
| 6 | 3 | Kitwara, Sammy | 2:16:43 | | KEN | |
| 7 | 9 | Chebogut, Stephen | 2:16:52 | | KEN | |
| 8 | 17 | Nageeye, Abdi | 2:18:05 | | NED | |
| 9 | 7 | Feleke, Getu | 2:18:46 | | ETH | |
| 10 | 43 | Hine, Zachary | 2:21:37 | TX | USA | |
| 11 | 16 | Nyasango, Cutbert | 2:22:02 | | ZIM | |
| 12 | 4 | Mekonnen, Tsegaye | 2:22:21 | | ETH | |
| 13 | 21 | Burrell, Ian | 2:22:22 | CO | USA | |
| 14 | 15 | Kiprop, Jackson | 2:24:44 | | UGA | |
| 15 | 27 | Okuti, Harbert | 2:24:46 | NY | USA | UGA |
16.Da Silva, Solonei (BRA)2:24:54
171 Wells, Clint (USA) 2:24:55 (Masters champ)
Leader's Splits: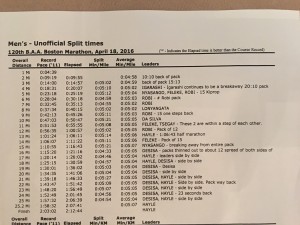 Screenshots: