The Week That Was in Running – July 18-24, 2016
by LetsRun.com
July 27, 2016
We take a look at what we found interesting about last week's action below. We already recapped the successful conclusion of the 2016 American Track League in Houston as well as the 2016 London Diamond League separately:
LRC Clayton Murphy Versus Centro Lives Up To The Hype, De Grasse Defeats Powell & Gives The Stare, Prandini Gets The Double
LRC 2016 London Diamond League Full Coverage
One more quick word on the Houston meet. Ashton Eaton can have a career in broadcasting if he wants it. He threw the javelin in Houston, ran the 400, and then joined the live ESPN TV broadcast. He was great behind the microphone.
Article continues below player
A major thing the American Track League has going for it is Ashton Eaton's support. Eaton's agent Paul Doyle founded the American Track League, and Eaton is a big supporter.
Past editions of The Week That Was can be found here. Questions or comments? Please email us or post them on our fan forum.
****
Keni Harrison's World Record Was A Race We'll Remember Forever, But That Doesn't Mean We Think She Should Be On The Olympic Team / Might She Be The Michael Johnson of The 2020 Games?
The performance of the week was without a doubt Keni Harrison's world record in the women's 100 hurdles. Whenever someone breaks a 28-year-old world record, it's a performance to cherish but to do so in your first meet after failing to make the Olympic team makes it all the more memorable.
The BBC's Rob Walker did an incredible job in summing up Harrison's accomplishment when he said the following while interviewing her trackside:
"You've broken a 28-year-old world record. It's just the most amazing way for you to bounce back from heartache. You're not in Rio but you've proven tonight that you are a great, great champion."
Harrison's world record resulted in people once again wondering whether the US Olympic qualification process of "top 3 at the Trials go" should be scrapped and replaced with the "top 2 + 1" selection system that the Brits use. Our response: most definitely not. We tell you why.
1) It would ruin one of the greatest track meets in the world – the US Olympic Track and Field Trials.
The US Olympic Trials just wouldn't be the same if it didn't matter what the top stars like Harrison, Galen Rupp, Justin Gatlin, etc did. That drama of them competing all-out and needing to be fit is what makes the Trials so special.
In American football, the NFL doesn't put the best two teams from the regular season in the Super Bowl. The same applies for all of the major US sports. The playoffs are unscripted drama at its finest. The same should be true of the US Olympic Track and Field Trials.
2) Implementing it in practice would be a nightmare.
So if the US went to a top 2 + 1 system, what the hell would they have done in the women's 800 this year? Kate Grace and Ajee Wilson are on the team but who gets the third spot? Do you give it to Alysia Montaño, who was undefeated coming into the year and won the US champs in 2015? Or do you give it to Brenda Martinez, who had run faster this year and won bronze at Worlds in 2013? And when do you decide by? Brenda needs to know immediately as the 1500 heats are starting.
3) We're not sure it would result in drastically better results for the US.
Look at the other world #1s besides Harrison that bombed at the US Olympic Trials, most of them aren't setting the world on fire like Harrison. 400 hurdle world #1 Shamier Little didn't even make the finals at the US Trials, but she hasn't exactly shown that poor performance to be a fluke since then as she was just 6th in Monaco and 6th in London. Do you really want her placed on the team over HS sensation Sydney McLaughlin? We don't. The same thought process applies to world #1 Johnny Dutch (48.10 sb) in the 400 hurdles (49.02 and 49.60 in his post-Trials races).
Harrison clearly is running well but the US still has the top 7 performers in the world in the 100 hurdles –  so they've got a great shot at sweeping all of the medals. The US team of  Brianna Rollins (#2 in world), Kristi Catlin (#3 in world) and Nia Ali (#4 in world ) should definitely bring home some major hardware. There's no guarantee that Harrison would win gold in Rio. It must be remembered that the US Trials are far from the first time that Keni Harrison has faltered under intense pressure.
She's cracked under pressure three times in the last 12 months.
At 2015 World Outdoors in Beijing, she false started in the semi-finals and was DQ'd.
At 2016 World Indoors in Portland, she had the #2 time in the world but was dead last in the final.
At the 2016 US Olympic Trials, despite having the number one time in the world, she was just 6th in the final.
Harrison very well could end up being the modern day Michael Johnson. In 1992, Michael Johnson, who crushed everyone at Worlds in 1991 by .33 of a second, didn't even make the final of the 200 at the Olympics as he got food poisoning before the Games. Four years later, he came back and made history as he became the first man to win the 200 and 400 at the Olympics.
Harrison could be on a similar path as we look ahead to 2020. With the world record achieved this year and the Olympics not an option, Harrison is already looking ahead. She said in 2017 she'll focus on the 400 hurdles, where she also wants to "get the [world] record" before trying to do both hurdle races at Worlds. How good of a 400 hurdle racer is Harrison, you ask?
Very good. She got second at NCAAs last year in the 400 hurdles in 54.09, the world's 5th best time for 2015 (Sydney McLaughlin made the Olympic team this year with a 54.15). The world record is 52.34.
Not many pros do the short and long hurdles but that doesn't mean it's not possible. At the Trials, Devon Allen's high school coach told us he thought Allen's best event would have been the 400m hurdles. At the same time, don't expect Allen to ever run the long hurdles (he ran the 300m hurdles in high school) because of the success he's had the short hurdles. The same coach told us he though Allen could break the world record in the short hurdles eventually.
In case you are wondering, no woman has ever medaled at the Olympics in both the 100 hurdles and 400 hurdles.
One last thing about Harrison: don't feel too bad for her. Not making the Olympics this year might end up helping her financially. As the world record holder who isn't going to the Olympics, her profile is already much higher than it was before. If she adds a second event to her professional resume, the bidding war for her before the 2020 Games between the shoe companies will be intense. Of course, the bonus for winning the Olympics would be pretty big, but down the road in say 30 years on the motivational speaking circuit, it's nice to have a few low points to talk about.
More: LRC American Keni Harrison Rebounds In Incredible Fashion From Not Making Olympic Team, Breaks 28-Year-Old World Record In Women's 100 Hurdles 
*MB: 12.20 WR For Keni Harrison in Hurdles
****
Two All-Time Greats Will Duel At Berlin 2016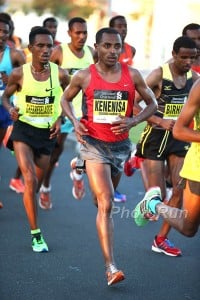 Harrison's world record run wasn't the only positive development last week that originated from a big name not making the Olympics.
As fans, we certainly were disappointed that Kenenisa Bekele didn't make the 2016 Olympic marathon team for Ethiopia (although we don't think he deserved to be on it as one of the three best marathoners over the last few years for Ethiopia). To see arguably the GOAT go for marathon glory in Rio would have been special, but alas it was not to be.
The Olympics' loss, however, is the BMW Berlin Marathon's gain. Last week, Berlin announced that both Bekele and 2013 Berlin champ Wilson Kipsang will be racing on September 25.
More:  Wilson Kipsang And Kenenisa Bekele Will Go Head-To-Head At The 2016 Berlin Marathon Maybe something positive will come out of the madness that was Ethiopia not selecting Bekele for their Rio marathon squad.
*MB: Bekele and Kipsang in Berlin, also Yuki Kawauchi
****
World U20 Age Cheats
We got an impassioned email from a top agent complaining about the rampant age cheating that undoubtedly took place at last week's World U20 Championships in Poland (formerly known as World Juniors).
Our thoughts.
1) Yes, of course, it goes on and it's "cheating, just like doping."
There is no doubt that much of what you see at World Juniors is a farce.  The problem is that officials – whether at World Juniors or just your random Diamond League event – don't really care too much about clamping down on it. It kinds of reminds us of doping 20 years ago. People just want to ignore it and act like it's not that big of a deal, instead of trying to stop it. The justification of "we're trying to give a poor kid a life-changing opportunity" by making him look like a young talented phenom is one that many fall for. We don't like that logic as then it almost forces everyone to cheat. With doping, if everyone else is doing it, you are pressure to do it yourself. The same is true of age cheating – whether it's used to star at World Juniors or simply appear as a more promising prospect to a shoe company or university.
2) That being said, we're not going to say someone is definitely an age cheat because they put up an amazing performance at a young age.
The messageboard was going bonkers last week as Uganda's Jacob Kiplimo ran 27:26 to snag a bronze in the men's 10,000 and he's allegedly just 15 years old. The idea that a 15-year-old could run 27:26 is mind-boggling, but plenty of Americans have done some crazy things at a young age. Case in point, last week was the 50th anniversary of Jim Ryun's 3:51.3 mile world record that he ran as a 19-year-old.
Now 15 is A LOT younger than 19, but take a look at the post-race interview with Kiplimo. He definitely looks young.
Messageboard poster "Ben L Wrong" made a great point last week on the forum. Just because the World Junior stars don't go onto to become pro stars doesn't mean they are age cheats. In 1997, American Obea Moore ran 45.14 for 400 as a 16-year-old. He never ran faster than that and didn't develop into a star (and Ryun only ended up running .2 faster than the 3:51.3 he ran at 19).
MB: 15 yr old just ran a 27:26 10K at the World Junior Championships!
3) And that being said, should the event be scrapped?
We'd love to know how much the IAAF spends putting on the World Youth and World Juniors. If you know, email us. Given the rampant cheating, it seems that the IAAF should either scrap the events (we'd 100% scrap World Youth) or get serious about making sure the people are the right age. The messageboard poster who suggested doing an MRI wrist scan might be on to something, but we think that might only be accurate for men.

MB: Does anyone know how much the IAAF spends on World Youth and Juniors? With the age cheating, should it canceled?
****
Who Won The Mid-D and Distance Medals at World U20s?
The 2016 World Juniors were not cancelled. Below you will see all of the medallists in the 800 – 10,000 as well as the finish of any Americans in the finals. In the mid-d events, the US won three medals, all in the women's competition. Gold and silver in the 800 went to Sammy Watson and Aaliyah Miller and a bronze in the 1500 went to Olympic Trials semi-finalist Christina Aragon, who PR'd at 4:08.71, not Olympic Trials finalist Alexa Efraimson (5th 4:10.23). It's worth noting that while Efraimson has been in the public's consciousness for a lot longer than Aragon, they are similar in age. Both are 19 but Efraimson is 117 days older.
Men's 800
1. Kipyegon BETT, KEN, 01 Feb 98                1:44.95 SB  GOLD
2. Willy Kiplimo TARBEI, KEN, 30 May 98         1:45.50     SILVER
3. Mostafa SMAILI, MAR, 09 Jan 97               1:46.02     BRONZE
US 7.  Brian BELL, USA, 06 Feb 97                   1:47.68
Men's 1500
1. Kumari TAKI, KEN, 06 May 99                  3:48.63  GOLD
2. Taresa TOLOSA, ETH, 15 Jun 98                3:48.77  SILVER
3. Anthony KIPTOO, KEN, 19 Aug 97               3:49.00  BRONZE
Men's 3000 Steeple
1. Amos KIRUI, KEN, 09 Feb 98 WU20L             8:20.43 WU20L/PB GOLD
2. Yemane HAILESELASSIE, ERI, 21 Feb 98         8:22.67          SILVER
3. Getnet WALE, ETH, 16 Jul 00                  8:22.83 WYL/PB   BRONZE
14. Kai BENEDICT, USA, 14 May 97                 8:49.13 PB
Men's 5000
1. Selemon BAREGA, ETH, 20 Jan 00              13:21.21 PB       GOLD
2. Djamal A. DIREH, DJI, 97                    13:21.50 NU20R/PB SILVER
3. Wesley LADEMA, KEN, 02 Jul 99               13:23.34 PB       BRONZE
16. Zachary SNIDER, USA, 15 Jan 97              14:15.89
19. Olin HACKER, USA, 21 May 97                 14:23.33 PB
Men's 10,000
1. Rodgers Chumo KWEMOI, KEN, 03 Mar 97        27:25.23 CR/PB*    GOLD
2. Aron KIFLE, ERI, 20 Feb 98                  27:26.20 NU20R/PB  SILVER
3. Jacob KIPLIMO, UGA, 14 Nov 00               27:26.68 WYL/PB    BRONZE
16. Thomas POLLARD, USA, 17 Apr 97              29:53.84 PB
20. Colin BURKE, USA, 08 Apr 97                 30:20.80 PB
Women's 800
1. Sammy WATSON, USA, 10 Nov 99                 2:04.52  GOLD
2. Aaliyah MILLER, USA, 28 Aug 98               2:05.06  SILVER
3. Tigist KETEMA, ETH, 15 Sep 98                2:05.13  BRONZE
Women's 1500
1. Adanech ANBESA, ETH, 23 Jan 98               4:08.07 PB GOLD
2. Fantu WORKU, ETH, 29 Mar 99                  4:08.43    SILVER
3. Christina ARAGON, USA, 17 Jun 97             4:08.71 PB BRONZE
5. Alexa EFRAIMSON, USA, 20 Feb 97              4:10.23
Women's 3000
1. Beyenu DEGEFA, ETH, 12 Jul 99                8:41.76 CR/WJL/WYL/PB* GOLD
2. Dalila Abdulkadir GOSA, BRN, 27 Jun 98       8:46.42 NU20R/PB       SILVER
3. Konstanze KLOSTERHALFEN, GER, 18 Feb 97      8:46.74 NU20R/PB       BRONZE
7. Katie RAINSBERGER, USA, 18 Aug 98            9:00.62 PB
12. Kate MURPHY, USA, 15 Aug 99                  9:17.01
Women's 3000 Steeple
1. Celliphine Chepteek CHESPOL, KEN, 23 Mar 99  9:25.15 CR/WU20L/U18WR* GOLD
2. Tigist GETNET, BRN, 07 Jul 97                9:34.08                 SILVER
3. Agrie BELACHEW, ETH, 20 Jan 99               9:37.17 PB              BRONZE
Women's 5000
1. Kalkidan FENTIE, ETH, 09 May 98             15:29.64 PB     GOLD
2. Emmaculate CHEPKIRUI, KEN, 00               15:31.12 WYL/PB SILVER
3. Bontu REBITU, BRN, 12 Dec 97                15:31.93        BRONZE
11. Anna ROHRER, USA, 24 Feb 97                 15:49.42 PB
16. Bella BURDA, USA, 16 Sep 97                 16:43.87
****
Russia Doesn't Get Blanket Ban
The big news over the last few weeks on the anti-doping front was WADA issued its report on Russian doping for sports besides track and field and recommended that the IOC consider, under its Charter, banning all Russian athletes from the Olympics. In the end, the IOC didn't ban all of Russia. It said anyone that had previously been banned for drugs couldn't compete and left any additional bans up to the individual sports federations – some of which (like swimming) have banned, others (like badminton) have not (full list here)). The only person it did ban was whistleblower Yuliya Stepanova.
Our thoughts?
In general, our main thought about the WADA report was almost exactly the same as those of former Providence runner (and Irish Olympian) Róisín McGettigan-Dumas who said to the Irish Examiner, "Am I surprised about this week's revelations of doping in Russian sport? No, but I have to admit that how elaborate it all seemed is beyond my imagination."
Of course, anyone with a brain knew most of the top Russian athletes were dirty. That didn't surprise us, but the extent of the cover-up certainly did. This paragraph from Sean Ingle's story in the Telegraph, "Five things we learned from Wada's report," tells you almost all you need to know.
All doping positives found by the Moscow laboratory were reported up to the Russian deputy minister for sport along with the athlete's name. The order would then come back to either 'save' the sample – report it as negative in Wada's anti-doping management system, allowing that athlete to continue competing while dirty, or 'quarantine' it. Foreign athletes, or Russian athletes deemed unpromising, were ordered quarantine by the ministry for sport and therefore went through the regular laboratory analytical process [and were banned].
So there you have it. The Russian anti-doping agency was basically doing the exact opposite of what it was supposed to do. Instead of catching drug cheats, it was actively making sure that drug cheats didn't get caught – well at least those it thought were promising. So RUSADA had all domestic tests covered. And then when international observers were around – say at the Sochi Olympics – the Russians bore a hole into the wall of the room where the samples were stored so they could swap out dirty samples with clean ones.
Does that action warrant a blanket ban for all Russians?
We certainly wouldn't have been opposed to it.
Some have argued that a blanket ban is fundamentally unfair as you have to give innocent athletes a chance to compete. Normally, we almost always side with the individual athlete but not in this case. You don't enter or qualify for the Olympics as an individual. You are entered by your home country and your entry is conditional on the fact that you are supposed to be a clean athlete. When an entire country's anti-doping agency is doing the exact opposite of what it's supposed to do, collective punishment is appropriate. Plus how would we know if any of the athletes are innocent when there has been no real drug testing going on in the country.
Russia's actions are much different than what is alleged to have happened in other countries. Not actively seeking to root out doping due to individual corruption or a lack of will or funds (Kenya/Ethiopia) is a lot different than actively supporting it with a well-organized, state-run enterprise.
That being said, we aren't irate that a blanket ban wasn't issued for a number of reasons.
For starters, it's going to now be harder for Vladimir Putin to argue, as he so often does, that this all part of some Western political witch-hunt against Russia. Secondly, there were a number of athletes who were almost certainly innocent that now will get to go Rio. We doubt doping really helps the Russian sailing team (although maybe not as 1 of 7 Russian sailors was banned by the sailing international body) and professional tennis players are subject to international tests all the time. Lastly, a blanket ban at such a late date would cause all sorts of logistical problems. If Russia's handball or volleyball teams were banned, how would group play work with the wrong number of teams in the competition?
The one thing we are irate about is the International Olympic Committee did specifically ban the one woman who brought all of the Russian doping to the forefront – whistleblower Yuliya Stepanova. The IOC Ethics Commission – who knew that an organization that has routinely allowed itself to be sold to the biggest briber had an Ethics Commission? – wrote the following about Stepanova.
"While it is true that Mrs Stepanova's testimony and public statements have made a contribution to the protection and promotion of clean athletes, fair play and the integrity and authenticity of sport, the Rules of the Olympic Charter related to the organisation of the Olympic Games run counter to the recognition of the status of neutral athlete. Furthermore, the sanction to which she was subject and the circumstances in which she denounced the doping practices which she had used herself, do not satisfy the ethical requirements for an athlete to enter the Olympic Games."
The IOC also falsely claimed that Stepanova had refused to run for Russia and banned her from the Games.
The IOC made a big mistake. In our mind, Stepanova should 100% be a huge part of the 2016 Olympic Games. She should be carrying the Olympic or Russian flag and we personally feel she should be leading the parade of nations. The fact that she doped in the past makes her the perfect role model for Russians to aspire to. She did harm to sports and the Olympic movement in the past but has atoned for that and more than made up for it since then. We hope Russia follows her lead and urge the IOC to reconsider their tone-deaf decision.
If you agree with us, please sign our petition on change.og: Get the IOC to have whistleblower Y. Stepanova lead the parade of nations at the Olympics.
On a related note, if the IOC wasn't going to outright ban Russia, they should have fined them. There needs to be an incentive for whistleblowers to come forward. If the Russians were fined $10 million, that could be put into a whistleblower support fund. The Stepanovs currently could use some financial assistance. They had to quit their jobs in Russia, move to an undisclosed location in the U.S. and try to restart their lives. We hope you donate to the support fund that has been started for them: Support The Stepanov Family (note on the site you donate in Swiss Francs so it's a little ocnfusing, but one Swiss Frank is basically exactly equal to $ 1(technically it's 1 Swiss Franc = 1.01 US Dollars)).
We know one thing for sure. We 100% agree with the tweets below.
If I ran IOC & had been "shocked" at Russia, I'd:
a) be incompetent,granted. But
b) invite the Stepanovas & give them Olympic freedom medals

— Ross Tucker (@Scienceofsport) July 25, 2016
If Yuliya #Stepanova gets to run in Rio, her race would be the only standing ovation I'd be willing to give out for a T&F athlete.

— Ross Tucker (@Scienceofsport) July 25, 2016
More: Whistleblowers Yuliya And Vitaly Stepanova Issue Statement On "Unfair" IOC Decision To Exclude Yuliya From Rio
****
Quote of the Week (that didn't make it as quote of the day).
"The IOC sent a giant F*** you to the very people who have done more to save the integrity of sport than the IOC has done in 40 years."
–Steve Magness, himself a whistleblower against the Nike Oregon Project, talking about the IOC's decision to ban Yuliya Stepanova from the Olympics. He's written an excellent column on how difficult it is to be a whistleblower on medium.com: No one really wants a Whistle Blower: Russia, the IOC, and Doping.
*****
Speaking of Last-Minute Decisions – Whatever Happened With The Jama Aden Raid?
One of the inherent problems with the IOC Russia decision was that everything was being done just days before the Olympics.
In that light, we're wondering if WADA or the IAAF is going to update us on the Jama Aden raid. His training camp was raided way back on June 20. Since then, we've heard basically crickets from the IAAF/WADA/Spanish police. The only news in recent weeks is Aden did a Q&A with Paul Gains where he declared his innocence.
The track and field action at the Olympics start on August 12. The authorities need to either level sanctions/charges or at a minimum issue some sort of statement before the Olympics. Six weeks is more than enough time to figure out what you did or didn't find in the raid and make a decision on what you want to do.
In case you are wondering, Aden's athletes have started competing and have been doing very well. Women's 1500 world record holder Genzebe Dibaba ran 3:59.83 in Barcelona on July 9, winning by 4+ seconds. World 1k indoor record holder Ayanleh Souleiman ran 1:44.06 in the 800 in the same meet (winning by more than a second) before running and winning a 1500 in Heusden, Belgium, a week later in 3:31.68 (also winning by more than a second).
If silence continues, the IAAF is going to have yet another PR nightmare on its hands in Rio. As if the Russian doping scandal and hyperandrogenism domination of the 800 wasn't enough to deal with.
*****
Recommended Reads
Other articles we've tagged as a Recommended Read can be found here.
****
Quotes Of The Day And Last Week's Home Pages