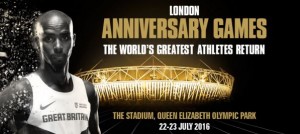 London, UK
July 22, 2016 to July 23, 2016
Outside Letsrun
Gibson writes that "attempts of positivity at the Olympic Stadium feel forced as teh hangover from London 2012 kicks in hard."
Harrison said the thought of breaking the WR was "the only thing that kept" her going after not making the Olympics. *Teleconference Quotes With USATF Harrison says next year she wants to switch to the 400H and possibly do the 100H/400H double at Worlds.
Bolt: "For me I felt it was a joke - I felt it was a disrespect they think I'd back out of a trials. ... I was disappointed, especially in Justin Gatlin."
"I'm just over the moon. It's not just any record, it's Kelly Holmes' Olympic gold medal record."
Memo to Taylor, even though PPP is out, you lost the US Olympic Trials.
He'll face sub-20 Brit Nethaneel Mitchell-Blake as well as Adam Gemili.
De Vos claims that there is "still huge appetite to watch track" and that they've sold 50,000 tickets to the Anniversary Games without even announcing any of the fields.
Race Results
Analysis
Event Recaps
Event Previews