Week That Was: A U.S. Star Shares Their "Red Flags For Doping," Penn State's Latest Mid-D Star, Super-Fast NCAA Times (2 X 3:53), And Two Distance Schools Win Big Conference Crowns
by LetsRun.com
March 2, 2016
Past editions of The Week That Was can be found here. Questions or comments? Please email us or post them in our running message board.
*****
The Doping Problem Moves To Ethiopia
Last week was quite a week in terms of U.S. action as the major conferences held their conference meets. Plus the first Abbott World Marathon Major of 2016 was held – Tokyo – and the Abbott World Marathon Majors prizes were awarded for Series IX (which ran from 2015 Tokyo to 2016 Tokyo). To read our Tokyo recap (including news of a Japanese 19-year-old running 2:11) click here.
However, we'll start with a major doping bust. In the last year, big doping stories have come out about athletes in Russia and Kenya and allegations in America. During that time, whenever people have ripped on Kenya, we've always thought to ourselves, "What about Ethiopia?"
Article continues below player.
Now, it has come out that Ethiopian-based Swede Abeba Aregawi – the 2013 World 1,500 champ – was popped in an out-of-competition test in Ethiopia in January for a PED. (Her "B" sample needs to confirm this result to be an official positive). At the same time, an Ethiopian anti-doping official said that nine athletes may soon be sanctioned with five of them being considered "top athletes." It looks like the first of those names has come out as 2015 Tokyo Marathon champ Endeshaw Negesse has tested positive.
We hope all of these recent positives will make the people in charge of our sport officially realize that doping is a huge problem for our entire sport. It's not something we solved 10 years ago with BALCO. And it's not a problem limited to specific countries.
After the Aregawi positive was announced, we got a great email from a top U.S. middle distance runner that we think helps all of you visual learners understand how big of a problem doping is for our sport.
The athlete, who asked to remain anonymous, decided to update his or her unofficial 2012 women's 1,500 results from the London Olympics.
And they also updated their unofficial all-time 1,500-meter word list.
We loved the list but pointed out that 2012 Olympic silver medalist Gamze Bulut has never tested positive (nor has she been upgraded to gold, which is weird), and that none of the 11 names scratched off from the top 12 on the all-time list have ever tested positive, nor have three of the names scratched off from #13-25. As a result, we asked for the logic behind the list (even though we personally believe the list likely underestimates the number of dopers) and got an epic response in return, which we now want to share with you.
A U.S. Athlete's Red Flags For Doping
That Turkish chick never tested positive?!?!! Where's her progression? She has to be dirty. WHAT THE HELL. So. I was thinking. This is my list of RED FLAGS! with doping. 
1. Having a coach that has previously been involved in doping allegations. The idea that a coach can go from dirty to clean is as ridiculous as a "born-again virgin."
Actually. Coaches make me nervous in general. In the sport, it's a do-or-die mentality. Which sucks. It breeds egos. And egos are fucking terrifying. Because egos don't give a shit about morals or relationships. A strong ego only cares about itself.
That's why I get scared for athletes–especially young athletes–when I see a coach that has an ego. They have to control that athlete, and an athlete can easily be manipulated.
Gimmicks don't work, so don't give me that shit. And there's only so many ways to run. Coaching isn't as big of a game changer as you'd think. Talent>coaching. Team atmosphere > coaching. The best coaches create a culture, that's it
It's really really bad out here. The money is all top heavy. There is no middle class. This does something to the psychology of people.
2. Being from Russia
3. Being from Turkey
4. Being a loner on the circuit…You can almost feel the people who are sketchy. They aren't friendly and don't trust people and don't let people get close. They want to keep their life a secret.
5. Having a husband that is a coach/agent/affiliation with the athlete's career (I am assuming a wife that is a coach is also sketchy, I just haven't seen it). It means everything is in-house and they don't have to trust people. It also means there are 2 people in the family financially and emotionally invested in performance.
6. If there is a blood doping irregularity or a positive A sample. It is hard to have a false positive.
7. If the group/coach is constantly looking for "legal" advantages. This eats me up. I don't care if the drug is not banned, are you taking it solely to get a competitive edge on your competitors?  That's doping. Did you have to go through a doctor to get it? Doping 100%. This is a doper's mentality and it is a matter of time before their moral line gets shifted.
8. A long plateau followed by a massive breakthrough after the age of 30. I'd say the 26-29 are the golden years, and you can have a breakthrough because this is when consistency meets experience. But older than 30? Red flag it. This only applies to track events.
9. Being on all year… it is soooooo hard to naturally be at the best for more than 3 months at a time.
10. Doping shows up in the last 200m of the race usually. It's like dopers still hit the wall, but they can power through it. This coupled with number 9… red flag. Especially if they previously didn't have a kick and now have one.
11. The people who come out of the woodwork in Olympic years. These are those Turkish ladies that have never run fast ever and waltz on to the track to take gold and silver. What the hell. Don't mock us like that.
12. It looks like being from Ethiopia, Kenya, or Jamaica should also be on this list. Any time you have a small population of people taking over a large proportion of the medals… red flag. We saw it with the Chinese. Or the East Germans. And now it is happening with the Kenyans and Jamaicans. But we somehow don't see it the same? I don't know why. I guess we justify it because it's hard to witness it and have a face to the performances and think it's not real?
13. Getting greedy. They always get greedy. They want more records and more medals. They double or triple at major championships. The greed is usually the downfall.
If you feel in your gut something is off, and then you start doing the "well….but….maybe…." to justify it, they are probably doping.
That's my inside knowledge and theories anyways.
More: MB: Epic fail: Abeba aregawi tested positive for doping
****
NCAA Indoor Track & Field
Over the years, track and field purists have criticized distance-focused schools like Colorado, Oklahoma State, and Syracuse for not being well-rounded. "Of course they are good at cross country. They put all of their scholarships into it. Look how bad at the they are in track," goes the argument.
Case in point, Colorado won the 2014 NCAA men's cross country championship and proceeded to finish seventh out of 10 at Pac-12s in track and field the following spring.
But every once in a while, the stars align and these distance-focused schools are able to do well in track. The Colorado men won a Big 12 outdoor track championship back in 2008 when they hosted it and last weekend both the Oklahoma State men and Syracuse men won their conference titles.
NCAA cross country champion Syracuse used success in the distance events (and a huge result in the 60m hurdles) to win its first conference track title of any kind (men's or women's, indoors or outdoors) at ACCs in Boston. Before this weekend, the SU men had not finished in the top three at their conference meet, indoors or outdoors, since 1992 (in the past, the Orange was in the Big East before switching to the ACC beginning with the 2013-14 season). Here's the points breakdown:
Syracuse 2016 ACCs Points Breakdown
60m: 4
Mile: 14
3000m: 15
5000m: 20
60m hurdles: 23
Distance medley relay: 8
Long jump: 4
ACC Team Scores (Men)
The Orange scored in just seven of the 17 events but managed to compile 57 points in the distance events (mile, 3k, 5k and DMR), led by Justyn Knight (wins in the 3k and 5k and anchor leg on the runner-up DMR). Syracuse also went 1-2-4 in the 60m hurdles. The scored just four points in the field events (fifth in the long jump) and given the fact they won by 11.5, they didn't need those 4 points for victory. Syracuse did not enter a single thrower in the meet. Heck, Syracuse doesn't even have a thrower (or a throws coach) listed on its men's or women's roster.
Here's the breakdown of Oklahoma State's 130 points, which earned the Cowboys their second Big 12 indoor title in three years in Ames, Iowa:
Oklahoma State 2016 Big 12s Points Breakdown

60m: 11
200m: 4
600y: 3
800m: 10
1000m: 18
Mile: 15
3000m: 28
5000m: 16
4x400m relay: 4
Distance medley relay: 8
Long jump: 13
OK State scored just 13 of their 130 points in the field events, and they all came in the same event, the long jump. Like Syracuse, Oklahoma State did not enter a single athlete in the throwing events. But the Cowboys scored in 10 of the 12 running events (they were shut out in the 60m hurdles and 400m), piling up 95 points in the distance events (800, 1000, mile, 3k, 5k, DMR). By contrast, runner-up Texas scored just 16 in the distances.
Josh Thompson, whom we interviewed last week, was one of the heroes for Oklahoma State, claiming titles in the 1000 and mile barely an hour apart. But the key event was the 3000. Entering the 3000, the penultimate event of the meet, OK State trailed Texas by 22.5 points. The Cowboys, led by Craig Nowak's individual victory, proceeded to go 1-3-4-5-6 for 28 points, taking a 5.5-point lead into the deciding 4x400m relay. Though Texas would make up ground in the 4x400m (they finished second to OK State's 5th), the Cowboys had enough to hold on for their second title in three years.
There is more than one way to construct a championship track and field team. On the opposite end of the spectrum, check out the points breakdown of Miami women, who like Syracuse, won the ACC title last weekend.
Miami 2016 ACCs Points Breakdown
200m: 14
400m: 17
60m hurdles: 8
4x400m relay: 10
High jump: 11
Pole vault: 8
Triple jump: 1
Weight throw: 12
Between the 800, mile, 3k and 5k, Miami entered two athletes, neither of whom came close to scoring. The Hurricanes did not enter a DMR. Yet they still piled up 85 points to edge Clemson for the ACC title.
So both 'distance' and 'non-distance' schools can win conference track titles. In terms of 'distance schools' doing it, we certainly believe it's more likely to happen on the men's side than the women's. The Colorado women, Syracuse women and Oklahoma State women have never won a conference crown. With basically 50% more scholarships in women's track than men's (18 versus 12.6), the top women's teams are going going to have nearly all of the events covered so it's harder for a distance school to win. The lower the point total it takes to win a title, the better it is for a distance school, so being in a really large conference like the ACC is a boon for Syracuse. Syracuse won the ACC title but would be hard-pressed to win the Patriot League title simply because Navy is a complete track and field team that scored 225 points to win the Patriot League. It's hard to score a whole lot higher than 100 points in the distances no matter how dominant you are.
###
Speaking of winning and losing with or without a lot of distance points, the Arkansas men managed to win the 2016 SEC Indoor Championships last weekend despite being outscored in the 800 on up 75 to 28 by Ole Miss.
| | | |
| --- | --- | --- |
| | Ark | Ole Miss |
| 800 | 9 | 2 |
| Mile | 2 | 28 |
| 3k | 8 | 24 |
| 5k | 4 | 11 |
| DMR | 5 | 10 |
| Total | 28 | 75 |
Ole Miss only ended up 3rd as the rest of the team could only manage 5.5 points.
SEC Men's Team Results
1. Arkansas, 109.0
2. Texas A&M, 85.83
3. Mississippi, 80.50
4. Florida, 64.33
5. Georgia, 52.0
6. Alabama, 49.0
6. LSU, 49.0
8. Tennessee, 47.0
9. South Carolina, 35.33
10. Missouri, 33.0
11. Kentucky, 32.0
12. Auburn, 24.0
More: MB: Ole Miss Men at SEC Indoor. *Miami women win ACC *Henry Wynne dusts Justyn Knight at ACC meet 
Molly Seidel jogs a 15:19 at ACCs *Virginia Tech a non qualifying 13th for DMR

*ACC Results *Big 12 Results *Patriot League Results *SEC Results
*****
U.S. 800 Runners Are Running Out of Time To Hit The World Standard
Are you American? Do you want to compete at World Indoors? All you have to do is go out this weekend and run an 800 in 1:46.50 or faster on a regulation indoor track and you are in.
Only two Americans have the men's standard – Boris Berian and Donavan Brazier – and Brazier is going to NCAAs so Berian will be on the World Indoor team by default unless some others run fast this weekend as the final day for qualifying is Monday — you can't hit the time at next week's US Championships.
Last week, fresh off his 3:53 mile at Millrose, Robby Andrews ran and won an 800 in 1:46.98 – a new indoor pb as he'd never been under 1:47.00 indoors before. He'll now be running the 1500 at USAs as a result (his 3:53 gives him the World Indoor standard in that event).
*World Indoors Is Less Than Three Weeks Away; Which Americans Have The Standard?
****
Some Fast Collegiate Mid-D Action
Speaking of 1:46.50 800s, how about a thumbs up to the many collegians who ran fast in the middle distances last week.

1. Penn State's super frosh Isaiah Harris destroyed Canadian Olympian Nate Brannen's meet record of 1:47.74 by 1.50 seconds by running a huge 1:46.24 to win the Big 10 title (note that's under the 1:46.50 World Indoor standard but it came on the oversized SPIRE track). Harris has yet to lose an 800 in college. He ran a 1:48.12 on January 29 (other guys in the fast heat ran faster but he won the 'B' heat), then a 1:47.31 in early February and now 1:46.24. His HS pb was 1:49.63 and he was the 3rd placer at the New Balance Nationals. But all HS times aren't equal. Harris is a rare specimen in that he's a top mid-d guy from Maine, where the winters are long and there's not much time to get in speed work for track. Even if he wasn't from Maine, Harris might not have met his full potential in track as he was also a basketball player in high school (13+ PPG). His range in track was unreal as at the Maine state meet he won the 200 (22.25), 800 (1:55.42), 1600 (4:18.92) and anchored the winning 4 x 400 team, which gave his team the state title. Now that he's able to focus exclusively on track and train in the winter, he's world-class. Watch the race for yourself below.
Check out FR @Iharris33 race his way to a @BigTen Championship in the men's 800-meters #B1GTF #WeAre #PennState https://t.co/zQVqUZ4f4F

— Penn State Track & Field/Cross Country (@PennStateTFXC) February 28, 2016
Big 10 800
1. Isaiah Harris (1996)  FR Penn State           1:46.24 MR/FR/PB*
2. Goaner Deng           SR Minnesota            1:47.13 PB
3. Brennan Munley        SO Michigan             1:48.38 PB
4. Jordan Makins         SO Penn State (AUS)     1:48.96 PB
5. Pavlo Hutsalyuk       FR Iowa                 1:50.27
6. Shane Streich         FR Minnesota            1:50.41
7. Will Teubel           SR Iowa                 1:50.57
8. Jared Fleming         JR Ohio State           1:52.16
*Meet Record; previous 1:47.74, Nate Brennen, Michigan (CAN), 2004.
Also Facility Record; previous 1:46.80, Brandon McBride, Mississippi State (CAN), 2015
Harris records the fastest time in @bigten indoor history in the 800-meters with his winning time of 1:46.24 #B1GTF pic.twitter.com/JTf5OJc35B

— Penn State Track & Field/Cross Country (@PennStateTFXC) February 27, 2016
Couldn't hold on to that school record forever. What a talent ???? @Iharris33 1:46.24 as a freshman #WeAre #800U

— Casimir Loxsom (@cazzylox) February 27, 2016
2. At the SEC meet on the regulation 200-meter track in Arkansas, the top three finishers all broke the 1:46.50 barrier but the second and third placers represent Puerto Rico internationally (despite attending U.S. high schools).
Big 12 800
1. Donavan Brazier, FR, Texas A&M      1:46.08 MR*
2. Andres Arroyo, JR, Florida (PUR)    1:46.20 AR/PB
3. Hector Hernandez, SR, Texas A&M(PUR)1:46.32 PB
4. Carlton Orange, FR, Arkansas        1:49.10
5. Blair Henderson, JR, LSU            1:49.31
6. Andrew Pisechko, SR, Arkansas       1:49.66
7. Craig Engels, JR, Mississippi       1:49.86
8. Ryan Thomas, SR, Arkansas           1:53.28
*Meet Record; previous 1:46.28, Mark Everett, Florida, 1990
3. Villanova's Angel Piccirillo deserve props for beating Kate Van Buskirk's 2:41.00 collegiate 1k record with a 2:40.82 win at the Big East champs.
Big East 1k
1. Angel Piccirillo, Villanova        2:40.82 NCAA/MR/PB*
2. Sabrina Southerland, Georgetown    2:45.72
3. Sammy Bockoven, Villanova          2:50.55 PB
4. Kayla Spencer, Marquette           2:52.71 PB
5. Meghan Carroll, Marquette          2:54.41
6. Caterina Karas, Xavier (Ohio)      2:55.11
7. Molly Keating, Providence          2:55.85
8. Kerri Butler, St. John's           2:58.92
9. Haley Jerabek, Xavier (Ohio)       3:01.94
10. Caroline Kaplan, Butler            3:06.96
*NCAA Record; previous 2:41:00, Kate Van Buskirk, Duke (CAN), 2011. Also Meet Record; previous 2:43.69, Emily Lipari, Villanova, 2014
Angel Piccirillo Breaks 1000m Collegiate Record With 2:40.82
MB: Big East DMR-Men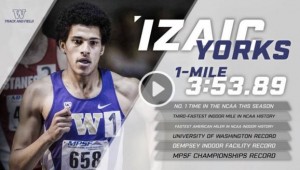 4. This is the one a lot of you all were talking about this past weekend. Kudos to Washington's Izaic Yorks (3:53.89) and Stanford's Sean McGorty (3:53.95) for running 3:53 in the mile last week on the oversized track last week at the MPSF champs. Watch the race here yourself. These guys crushed it. Yorks, who ran 4:04 for the mile in HS, is a senior at Washington. Believe it or not, he's never scored at NCAAs an now has run the fastest mile time ever by an an American in the NCAA indoors. A 1:47 guy in the 800, Yorks was much improved in XC this year (went from 159th to 30th). McGorty, who is a redshirt sophomore, was 8th in the 5000 at NCAAs last year as a redshirt frosh and has twice been top-20 in XC (7th last fall, 20th in 2014). In HS, he won the New Balance National 2-mile in 8:45.61,  ran 4:04 for the mile and was the Foot Locker runner-up to Edward Cheserek.
Men 1 Mile Run
1 658 Yorks, Izaic SR Washington 3:53.89!
2 473 McGorty, Sean SO Stanford 3:53.95!
3 190 Zouhry, Anass SR Cal St. Nort 3:58.87
5. Ok, this isn't mid-d but Notre Dame's Molly Seidel, the reigning NCAA XC champ, made meet records in the 5000 (15:19.64, moving her up to #5 all-time in NCAA) and 3000 (9:02.24) at the ACC champs look super easy. MB: Molly Seidel jogs a 15:19 at ACCs

###
Speaking of Stanford distance stars, super frosh Grant Fisher didn't race at the MPSF championships so he is officially a redshirt this season. Fisher ran a 7:50.06 3000 unattached earlier in the winter, but would have had to run a qualifier for Stanford if he wanted to compete at NCAAs.
MB: With McGorty (So.), Fisher (Fr.), and Hunter (HS Sr.), the future of American distance running looks VERY bright
MB: Izaic Yorks (Washington) & Sean McGorty (Stanford) Run 3:53!
*GoHuskies.com: Izaic Yorks Runs #3 Fastest Mile Time In NCAA History (Oversize Track)
****
The Mid-D Runners Weren't The Only Ones To Impress Last Week
Kudos need to go out to Texas' Ryan Crouser, who tied Ryan Whiting's collegiate mark in the shot put with a 71-3.5 heave (21.73m) at the Big 12 Champs.
However, the best athlete in the NCAA isn't someone by the name of Edward Cheserek. No, it's Kansas State senior Akela Jones. At the women's Big 12 meet, Jones won the long jump, high jump and 60 hurdles and ran a leg on the 3rd-place 4 x 400 team.
But to say she won three events is an understatement. She PR'd in all three events and became the national leader in both jumps (long jump – 6.75m/22-1¾) and high jump (1.93m/6-4). In the hurdles, she is the NCAA's #4 performer at 8.00, just .03 out of first.
And oh yeah, she's also the nation's #1 in the pentathlon (4664) which makes sense as she's the reigning NCAA champ in the heptathlon. Last summer, she became the first collegiate athlete to score more than 4000 points on the first day of the two-day competition.
At NCAAs, Jones, who won world junior gold for Barbados in the long jump in 2014, is entered in just the high jump and pentathlon as that way she can do the pentathlon uninterrupted on day 1 and then the high jump uninterrupted on day 2.
However, imagine if the meet schedule was set up so she could do all of her events. If she just lived up to her seeds, she'd score 34 points.
HJ – 10
Pentathlon – 10
Long Jump – 9 (she's tied for #1)
60mh – 5
Total – 34 points.
She could be ranked in the top five in the team standings all by herself. As it stands, if she wins two events, she'll likely put Kansas State in the top 10 in the country all by herself.
2015 NCAA Indoor Results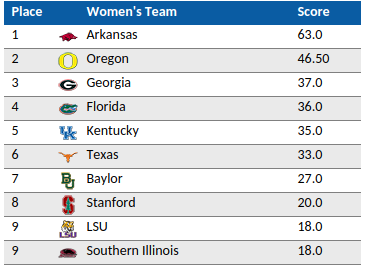 ****
Weekly Free Coaching Advice From The World's #1 Marathoner Eliud Kipchoge – Don't Fret About Being Injured and Don't Overdo It In Practice
"When I was low-key with my tendon injury, he encouraged me. He said 'brother, don't worry about the injury, just manage it, be patient, don't push it.'
"One of his pieces of advice was, 'When you are training, do the training. Do not compete or be intimidated by people who sometimes come to training to show off.'"
-Kenyan Augustine Choge talking about what Eliud Kipchoge told him last year when Choge was injured.
More: After missing 2015 with Achilles injury, Augustine Choge eyes gold at Portland World Indoors
****
What About The Sport?
Every now and then we try to include ideas that might grow the sport. This week we include an excerpt from a provocative blog post from a few weeks ago calling for an emphasis on team competition in college track and field by Wichita State coach John Wise on johnwisewsu.blogspot.com. We doubt Wise's proposal goes anywhere but one thing LetsRun.com co-founder Robert Johnson was very much aware of when he was coaching at Cornell was they were putting on meet after meet with almost zero spectator appeal. Here's what Wise had to say:
If you read any college website's recap of the track and field weekend, it will generally always be very positive on how well it went.  This is because in college track there are multiple definitions of what a successful track meet is.  You can win the meet as a team, you can win multiple events even though you lose as a team, you can set a whole bunch of personal records and get last place and still call it a great meet.  It happens all the time.
Can you imagine a football team getting beat 56-0 but the headline is "Football team excited about successful weekend" and then there is no mention of the score, just highlights of the best plays.  This happens quite often in our sport so the general public has got to be confused as to what it means to have a successful meet.
Think about a basketball player scoring a career high 30 points when his team just lost by 20 points.  In the post-game press conference would you ever hear the player sounding overly enthusiastic and happy about his own performance when his team was thoroughly defeated?  If he did he would not make his teammates or coaches very happy.
Opponents to this would say track and field is an individual sport and that is the most important part.  While I don't disagree with that statement I would counter with the fact that our current system is set up to be individualistic and it appears to be failing.  So maybe we should try something different.
Read John's ideas here: How I would solve the problems of college track and field
Give us your thoughts on the piece on the messageboard: MB: Provocative ready by Wichita State coach: How I would solve the problems of college track and field
******
Quotes of the Week (that weren't quote of the day)
#1 Fans Deserve To Know Whether The Athletes Are Racing Meets For Practice or Going All-Out
"Though it's unknown whether [Aisling] Cuffe will make a concerted try for an NCAA qualifier in this race, [Elise] Cranny, [Vanessa] Fraser, and [Rebecca] Mehra seem to be in position to do so. Fraser is on the bubble at No. 15 with a 9:14.06. It may take a time of around 9:10 to get in."
-excerpt from a pre-MPSF press release issued by Stanford Athletics talking about Aisling Cuffe's first track race since 2014. If the sports information department doesn't even know if athletes are racing all-out, how in the world are fans supposed to know?
For the record, Fraser qualified for NCAAs as she ran 9:09.89 (#15 in the country), Cuffe did as well as her 9:10.59 got in as the next-to-last qualifier. Cranny, who ran 8:58 indoors last year, only ran 9:18.18 (#39) and didn't qualify along with Mehra (9:25.48).
 Top 10 At MPSF Women's 3000
1. Erin Clark              SO Colorado               9:08.29 PB
2. Bethan Knights          SO California (GBR)       9:08.77 PB
3. Kaitlyn Benner          SO Colorado               9:09.75 PB
4. Vanessa Fraser          SO Stanford               9:09.89 PB
5. Alli Cash               SO Oregon                 9:10.55 PB
6. Aisling Cuffe           SR Stanford               9:10.59
7. Maddie Meyers           SR Washington             9:15.37
8. Elise Cranny            SO Stanford               9:18.18
9. Sarah Feeny             SO Utah                   9:24.55
10. Rebecca Mehra           JR Stanford               9:25.48 PB
#2 When You Go From 4:10 to 3:58, It's Special
"We've had 11 sub-4:00 milers in our program since 2009. You get kind of numb to it. But watching that little dude run 3:58 brings a spark and enthusiasm back to the program. It makes you appreciate how special it really is. I think he might be the only guy in history to be sub-4:00 who's never run 4:0x or the 1500 equivalent."
-Oklahoma State coach Dave Smith, talking about watching the 5'9″ Josh Thompson, who had a 4:17 pb last year, run 3:58 when his pb was 4:10. After we profiled Thompson last week, the revelation of the NCAA season won the 1000 and mile at Big 12s, defeating reigning NCAA 1500 champion Chad Noelle in the 1000.
More: Meet The Most Interesting Man In NCAA Running: He's 5'9″, Can Dunk A Basketball And In One Year Has Gone From 4:17 To The #3 Time In NCAA History: Meet Oklahoma State's Josh Thompson
#3 Doping Is A Huge Problem For The Marketability Of The Sport
"Absolutely [I feel let down by the IAAF]. It needs to be disbanded and start again with people who put the sport's interests first. It sounds drastic. But we are talking about spectators not believing what they are seeing, and sponsors pulling out. I put myself through torture, physically and mentally, trying to find out what I can do. Yet I'll never know what I might have achieved. I hope future generations can believe what they are seeing is true. Unfortunately I think athletics is light years from being in that position."
-British 800 runner Jenny Meadows, who has lost a ton of money and medals over the years to dopers, talking to The Guardian last week.
#4 Brendan Foster Agrees The Sport Is In Crisis
"It's the worst time I've ever known. The sport of athletics, or at least elite athletics, is in a terrible state. The IAAF is a corrupt organisation, there's no getting away from that. But we are sitting here with an event (the Great North Run) that is about ordinary people running, and that's its great strength.
"In my view, there is very little connection between ordinary human beings doing what they love doing, and doing it for their own self-satisfaction or to raise money for charity, and the headlines from the elite end of the sport that are doing so much damage.
"This is what we're doing – what you're doing in the IAAF is a completely different thing and it's up to you, but you've got to get better. At the moment, they're simply not good enough. They're not representing all of the people who will be taking part in the Great North Run."
–Brendan Foster, 1976 Olympic bronze medallist at 10,000, talking last week.
More: Brendan Foster: 'Athletics is in crisis – but could learn a lot from the Great North Run'
#5 Running 373.75 Miles In A Row Without Sleep Is A Lot Easier Than Being Abused
"Well the pain of running beats getting a nail hammered through my foot. Not really anything is as painful as that."
– Robert Young, talking  to The Telegraph about how overcoming abuse as a child has resulted in him being able to achieve superhuman feats in running. Two years ago, he ran the London Marathon on a whim as his wife bet him the night before he couldn't do it and now he's run the longest distance in history without sleep (373.75 miles).
More: Meet GB Runner Robert Young, Who Set The Record For Longest Run Without Sleep
****
Other News of Note
All 6 IAAF Continental Presidents Sign A Statement Offering Their Full, Unequivocal Support Of Sebastian Coe In His Role, His Reform Proposals And Actions As IAAF President Now And In The Future
LRC Some Star-Studded Action At Boston University Last Chance Meet As Dejen Gebremeskel, Dawit Seyaum And Asafa Powell ImpressOlympic silver medalist Gebremeskel dropped a world-leading 7:38 in the 3K, while Seyaum ran 4:00 in the 1,500. Sheila Reid won a competitive mile in 4:27.
*Asafa Powell Wins 60m In 6.54 Seconds At Boston University Last Chance Meet
****
Recommended Reads
LRC: Awesome interview with Alan Webb. Does he think Hunter can break 3:53? Who had the better career – Ritz/Hall/Webb?
10-Minute Video Interview With Harry Marra, Coach Of Ashton And Brianne Eaton
Meet GB Runner Robert Young, Who Set The Record For Longest Run Without Sleep
The Damage Done By Doping: GB 800 Runner Jenny Meadows Says She Almost Quit The Sport Because She "Didn't Think Clean Athletes Could Win"
A Teen Prodigy Derailed By Injuries, Ireland Mid-D Runner Ciara Mageean Is Finally Back Where She Should Be
GB's Former Commonwealth Games 110H Champ Andy Turner Is Now A Professional Bodybuilder
Previous Recommended Reads from other weeks can be found here.
****
Quotes Of The Day And Last Week's Home Pages
To see the actual quotes of the day from last week or last week's home page or any home page, go to our archive page.
Past editions of The Week That Was can be found here. Questions or comments? Please email us or post them in our running fan forum.